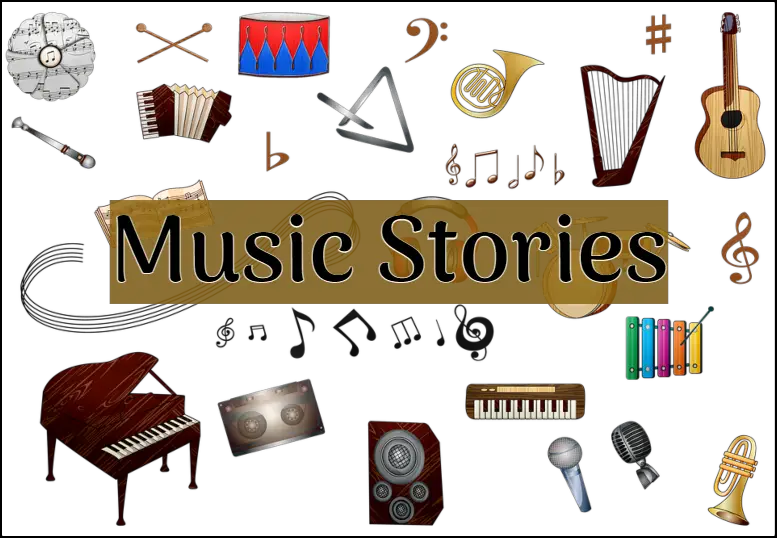 Music is an important part of the plot of these stories. Some will show the struggles a musician faces, or the benefits they receive from their chosen pursuit.
"Dead Song" by Jay Wilburn
A voice actor is in a studio, working on a documentary about Tiny 'Mud Music' Jones, a musician who traveled around after the zombie outbreak, collecting music where ever he could find it. He braved the zombies and was admitted into many isolated groups. He recorded many of the most notables artists from that era.
"Dead Song" can be read in the preview of Zombies: More Recent Dead.
"A Mother" by James Joyce
Mrs. Kearney arranges for her daughter to play the piano at a series of concerts. The concerts are poorly attended, and Mrs. Kearney worries that her fee will be withheld.
This story can be read in the preview of Dubliners. (select in table of contents)
"Nimram" by John Gardner
Benjamin Nimram is sitting in the first-class section on a plane. He's a renowned symphony conductor, with a good life and aware of his good fortune. A sixteen-year-old girl on crutches is seated next to him. She bears a remarkable similarity to his wife, Arline. She's nervous about the flight. Nimram can see she looks unwell.
This story can be read in the preview of The Art of Living: & Other Stories. (13% into preview)
"The Evan Price Signature Model" by Junior Burke
A former musician, Andy, opens a guitar store, The Fret Gallery. He has accumulated twenty-two guitars over the years, but he has no intention of selling them. He hangs them up, but brings in new stock to sell. One day, an old acquaintance comes in with a newly discovered Gibson guitar from the family's motor lodge. Andy's never seen one like it, so he looks into it.
This story can be read in the preview of the anthology Collectibles. (31% into preview)
"The Hidden Violin" by M. McDonnell Bodkin
Sylvia invites Dora to a small private performance by the famed violinist Nicolo Amati, whom her father has persuaded to come to London. He has a unique violin, and the public is eager to hear the genius play. Another accomplished player, Monsieur Gallasseau, will also be in attendance.
This story can be read in the preview of The Big Book of Female Detectives. (88% in)
"Sonny's Blues" by James Baldwin
The narrator, a teacher in Harlem, reads about his brother, Sonny, a jazz musician, in the paper on his way to work. He was picked up in a raid for using and selling heroin. The narrator has managed to keep away from the bad influences around him, and he and Sonny haven't stayed close. He thinks about their history, and wants to reach out to Sonny.
"A Wagner Matinee" by Willa Cather
Clark gets a visit from his aunt, Georgiana, who's in town on business. He thinks of how hard she has worked in her life. He takes her to a Wagner concert, and wonders if she'll be able to appreciate it.
"The Blues I'm Playing" by Langston Hughes
Mrs. Ellsworth, a wealthy widow, serves as patron for Oceola Jones, a young black pianist. Oceola tries to maintain some distance while Mrs. Ellsworth pries into her life, trying to control whatever she can. Mrs. Ellsworth doesn't agree with all the music Oceola plays, and she doesn't approve of her boyfriend.
"The Wind Blows" by Katherine Mansfield
Matilda is awakened by the wind; it makes her feel unsettled. Her mother doesn't want her to go to her music lesson because of the high wind, but Matilda wants to go anyway.
"Wunderkind" by Carson McCullers
Frances, fifteen, arrives at the home of her piano instructor, Mr. Bilderbach. She is nervous; her playing has deteriorated lately. She has her lesson, and thinks about her history with her instructor, recent events that worry her, and her hopes and concerns.
"The Reunion" by Maya Angelou
The narrator, Philomena, is an African American jazz pianist. In 1958, at a Sunday matinee at the Blue Palm Café, she sees Beth, who's seeing a black man. Philomena's family used to work as servants for Beth's family. They were paid very little. When the band leader introduces Philomena, they look at each other with recognition.
"Solo on the Drums" by Ann Petry
Kid Jones has gotten his name on the marquee, something he's always wanted. He's proud, but the moment is bittersweet—this morning, the woman he loves said she's leaving. This disappointment intrudes on his thoughts during his performance.
"Edward the Conqueror" by Roald Dahl
A woman rescues a stray cat that seems to show appreciation for the piano music she plays. She comes to believe that the cat is the reincarnation of a famous composer.
"The Screamers" by Amiri Baraka (LeRoi Jones)
An audience is gathered in a nightclub, waiting for Lynn Hope, a jazz musician, to start playing. Most of the audience is African American. The narrator (and many of the other men) is trying to pick up a woman, particularly a light-skinned one.
"The Tragedy of a Comic Song" by Leonard Merrick
A poet and a composer write a song for a woman whom they both love. The song is a big success.