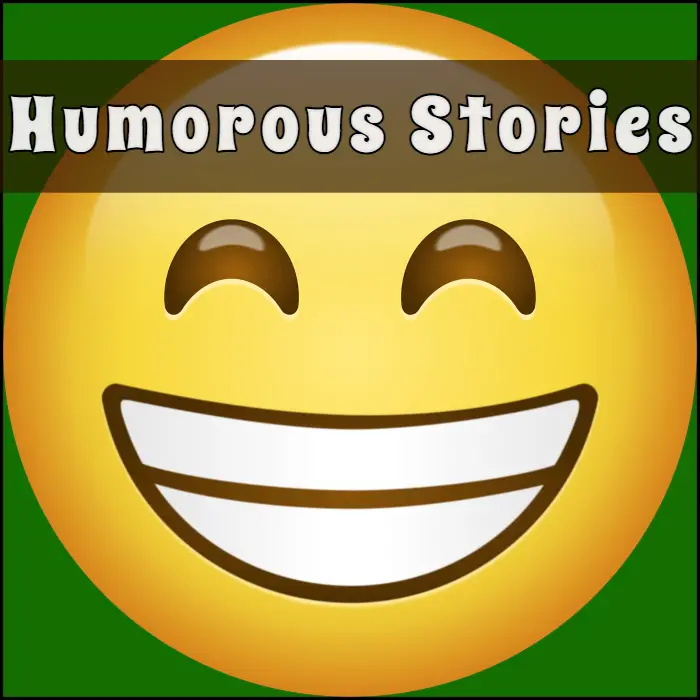 Since humor is subjective it's difficult to classify a story as humorous; not everyone is going to find a particular story funny. These stories are generally considered funny, or they're stories that I've found somewhat funny.
Some of the stories have funny lines, some have comic premises, some have situations that spiral out of control, and some have ironic situations. My taste in funny stories tends toward the witty, jokey kinds, ones with lines that sound like jokes, even outside the context of the story. The stories of Woody Allen, Mark Twain, P. G. Woodehouse and Saki often have this type of line. But I enjoyed some of the others here too. There should be something for every taste.
For an anthology of interest, you might like This is My Funniest: Leading Science Fiction Writers Present Their Funniest Stories Ever. There's also a second volume in this series. See also:
Humorous Short Stories
"The School" by Donald Barthelme
A teacher relates all of the experiences with death that his class has in a single school year. He starts by telling us that all the trees they planted died.
This is the second story in the preview of The Scribner Anthology of Contemporary Short Fiction. (41% into preview)
Mitya gets home at midnight, agitated and disheveled but also very happy. He wakes his parents and younger siblings. He has incredible news—he's going to be known all over Russia.
"Joy" is the first story in the Amazon preview of Fifty-Two Stories.
Mrs. Faniglia receives a letter from KidLuv, makers of the I CAN SPEAK™ device for babies. She returned the one she purchased, so an associate addresses her concerns. The device doesn't read the babies mind. It recognizes aural patterns and then makes it seem like the baby is speaking. The mask doesn't look like your baby, but the upgraded version does, which they are pleased to offer her at no extra charge.
This story can be read in the preview of In Persuasion Nation. (30% in)
"The Death of a Government Clerk" by Anton Chekhov
A government clerk, Ivan, sneezes while at the opera, accidentally spraying the man in front of him. The man works in another government department. Ivan is terribly embarrassed. He apologizes and is told to forget it. Ivan can't relax after his faux pas. He wants to be sure everything is fine.
This story can be read in the preview of Stories of Anton Chekhov.
"The Nose" by Nikolai Gogol
A barber, Ivan, cuts into a loaf of freshly baked bread only to find a nose inside. He recognizes the nose as belonging to a regular customer of his, Platon. Fearing he will be in trouble, Ivan thinks about how to get rid of the nose. Meanwhile, Platon wakes up in his home and the absurdities continue.
This is the first story in the preview of Big Book of Best Short Stories: Russian II.
"Ivan Yakovlevich, like any honest Russian working man, was a terrible drunkard. And although he spent all day shaving other people's beards, he never touched his own. "

—The Nose
Comedic, Funny or Humorous Short Stories, Cont'd
"Jeeves Takes Charge" by P. G. Wodehouse
Bertie Wooster, an idle and upper-class man, tells the story of how he hired his butler, Jeeves, and his first acts in his service. Bertie's fiancée is concerned about a memoir that could prove scandalous, so she asks him to help her get rid of it. Before Bertie leaves to help his fiancee he meets Jeeves and hires him on the spot.
This is the first story in the preview of The World of Jeeves.
"My Financial Career" by Stephen Leacock
The narrator goes to the bank to open an account. He's uncomfortable and awkward. Everything about the place rattles him. He's gotten a raise, though, so he feels an account is a must.
This is the first story in the preview of My Financial Career and Other Follies.
The Catbird Seat | James Thurber
Mr. Martin, head of the filing department at a law firm, decides to kill Mrs. Barrows, an annoying and overbearing adviser to the founder. She always asks him silly questions with odd expressions. Worst of all, Martin suspects she's planning a reorganization of his department.
This story can be read in the preview of The Thurber Carnival. (34% in)
"How We Went to Mars" by Arthur C. Clarke
The president of a rocket society addresses the accusations that have been made against his group. They worked up from unmanned test rockets to a passenger carrying spaceship. They didn't intend to go very far on their first flight, but an incident changed their plans. They ended up landing on Mars.
This story can be read in the preview of The Collected Stories of Arthur C. Clarke. (10% into preview)
"Travel By Wire!" by Arthur C. Clarke
The narrator recounts the troubles that were overcome during the development of the radio-transporter. They started with a block of wood, with acceptable results. An advancement using delta-ray scanners resulted in ultra-microscopic transmissions. They progressed to a guinea pig. It transported successfully, but it died. Progress continued steadily.
This is the first story in the preview of The Collected Stories. (7% into preview)
"Maddened by Mystery: or The Defective Detective" by Stephen Leacock
The Great Detective is sitting in his office when a baffling case is presented to him. The Prince of Wurttemberg has been kidnapped. The Great Detective devotes the full power of his analytical brain to the case.
This is the first story in the preview of Complete Nonsense Novels.
"The Model Millionaire" by Oscar Wilde
Hughie Erskine is a good-looking, popular fellow who has everything going for him but one thing—he can't make money. This prevents him from marrying Laura Merton, whose father insists Hughie have £10,000 in the bank. One day Hughie drops in on his painter friend, Alan, and his model, a beggar.
This is the first story in the preview of 50 Greatest Short Stories.
Comedic, Funny or Humorous Short Stories, Cont'd
"The Eyes Have It" by Philip K. Dick
While reading a paperback novel, the narrator discovers an alien threat to Earth. The author casually describes beings with inhuman abilities. The narrator's panic increases as their unusual abilities accumulate.
This is the first story in the preview of Philip K. Dick Super Pack.
"The Bloomsbury Christening" by Charles Dickens
Nicodemus Dumps, a fifty-year-old bachelor, is ill-tempered and enjoys making others miserable. His nephew, Charles Kitterbell, wants him to be godfather to his soon-to-be-born child. Nicodemus thinks of some ways he could be excused from this chore.
If you like the tone of the first paragraph, you'll probably enjoy this story.
Read "The Bloomsbury Christening"
"A Burlesque Autobiography" by Mark Twain
Twain goes back a long way to describe the important people in his family's lineage. His is a noble house. His ancestors were noteworthy citizens of their time. They had a tendency to die early.
This story can be read in the preview of The Complete Short Stories. (select in table of contents)
"Mr. Tallent's Ghost" by Mary Webb
A lawyer gets roped into taking on a client, Mr. Tallent, who wants to have his novels published when he dies. The lawyer draws up the will and makes the arrangements. Mr. Tallent's novels are extremely boring and unimaginative. The lawyer, and some others, end up dealing with considerable mental strain. (Summary)
A storyteller is constantly interrupted while trying to relate a traditional fairy tale. The listener objects to the many clichés and other details. (Summary)
Read here (Scroll down slightly)
"The Late Mr. Adams" by Steve Allen
George Adams was late his whole life—for his birth, all his life's milestones, his school and work. He had good qualities to offset this flaw.
"The Night the Ghost Got In" by James Thurber
At night a man hears footsteps downstairs. He thinks it's a ghost; his mother thinks it's burglars. The family is thrown into confusion and overreacts to the situation. The police soon arrive.
Read "The Night the Ghost Got In"
Comedic, Funny or Humorous Short Stories, Cont'd
"Luck" by Mark Twain
The narrator attended a banquet in honor of an English military captain. An old acquaintance, a clergyman, told him that in private the man was a fool. Surprised, the narrator gets the story from him. It seems all the captain's successful campaigns were the result of endless blunders.
'Wit Inspirations of the "Two-Year-Olds"' by Mark Twain
The narrator complains about the bad habit that infants have of making "smart" remarks. His parents ignored or spanked him when he tried it. He relates the memorable incident from his infancy when he was being named.
"The Mouse" by Saki
A man is riding in a train carriage with a woman who is a stranger. He feels a mouse crawling in his pants, and he struggles to remove it in a discreet and dignified way.
"A Letter to God" by Gregorio Lopez y Fuentes
Lencho is trying to grow enough food for his family. He is confident in this year's crop; a good rain is coming. It ends up raining and hailing, ruining the crop, inciting Lencho to write a letter.
This story has a funny ending.
"The Fable of the Preacher Who Flew His Kite, But Not Because He Wished To Do So" by George Ade
A preacher realizes that his congregation isn't impressed by his sermons—they're too clear and straightforward with familiar references. He decides to elevate his material with opaque quotations and esoteric references.
Read "The Fable of . . ."
"But the Pew-Holders were not tickled. They could Understand everything he said, and they began to think he was Common."

—The Fable of the Preacher . . .
"Complaint Department" by Katherine Best
Mr. Seeley calls a company that sent his wife a bag of flour infested with worms. He wants to make a complaint and order a replacement bag, but a series of communication problems makes it impossible.
Comedic, Funny or Humorous Short Stories, Cont'd
"The Secret Life of Walter Mitty" by James Thurber
A mild and ineffectual man has a series of daydreams while accompanying his wife on her weekly errands.
"The Kugelmass Episode" by Woody Allen
An unhappily married humanities professor, making no progress with his analyst, seeks help from a magician / entertainer. The magician says he can send the man into the world of any book he wants.
"You Were Perfectly Fine" by Dorothy Parker
A young man eases himself into a chair after getting up at 4PM. A young woman offers him a drink, but he says he is finished with alcohol. He claims to feel great, but he can't remember last night; she fills in the details for him.
The narrator recounts the time he was employed in Alfred Wunsiedel's factory. Wunsiedel was obsessed with taking action, and required his employees to be constantly busy. The narrator is a man of leisure, but he manages to fit in to the company culture.
"The Carriage (The Calash)" by Nikolai Gogol
A town is very dull until a cavalry regiment is stationed there. The brigadier general throws a dinner party, inviting some prominent officers and local landowners. Among the guests is Pythagor Chertokutsky, an aristocrat and former officer who retired after an unfortunate social incident.
Read "The Carriage"
"This Year It's Going to Be Different" by Will Stanton
A husband and father has been reading self-help books. He decides to apply the suggestions as his New Year's resolution. His family doesn't respond to the new-and-improved version of himself the way he thought they would.
"Borrowing a Match" by Stephen Leacock
The narrator assures us that borrowing a match on the street is far from simple. He relates a recent experience of his own that got out of hand.
Read "Borrowing a Match"
Comedic, Funny or Humorous Short Stories, Cont'd
"The Awful Fate of Melpomenus Jones" by Stephen Leacock
Melpomenus, a clergyman, has difficulty taking his leave when visiting people. One day, right before his vacation starts, he visits some acquaintances for tea and gets roped into staying much longer than he intended.
Read "The Awful Fate of Melpomenus Jones"
"The Soft Sell" by Art Buchwald
A young psychology major is hired at a dress shop. She analyzes the customers while helping them, costing the owner some sales.
"University Days" by James Thurber
Thurber relates the unusual experiences he had in university, starting with Botany class. He was unable to see through a microscope, which enraged his professor. He continues with an athlete's difficulties in economics and his own troubles in gym.
"No Kaddish for Weinstein" by Woody Allen
Weinstein is fifty, alienated and depressed. He was a precocious child, but things haven't gone well for him since. He visits his ex-wife and thinks about their relationship and his life.
"The sound of traffic was deafening at this hour, and in addition to all this his bed was on fire."

—No Kaddish for Weinstein
"Marjorie Daw" by Thomas Bailey Aldrich
John Flemming has slipped and broken his leg, leaving him confined to his couch. He begins corresponding with his friend Edward Delaney to pass the time. Delaney describes the mansion across from his place including the beautiful young woman who lives there.
"Lord Oakhurst's Curse" by O. Henry
Lord Oakhurst lies dying in his bed. He thinks sweet thoughts—how he wooed his beautiful young wife. She checks on him before the doctor arrives.
Comedic, Funny or Humorous Short Stories, Cont'd
"A Horse and Two Goats" by R. K. Narayan
Muni lives in poverty in a tiny village in India. While Muni is out grazing his two remaining goats, a well-off American stops his car and approaches. Neither speaks the other's language, but they try to converse.
"Soaked in Seaweed: or Upset in the Ocean" by Stephen Leacock
Mr Blowhard joins the Saucy Sally as second mate. He leaves with Captain Bilge and the rest of the crew. Everything goes well until the third day when Blowhard is told there was an incident involving the first and third mates.
"The Tip-Top Club" by Garrison Keillor
Bud Swenson is the host of the Tip-Top Club, a radio show with a loyal listener base. The show's focus is practical tips for living and positivity. The listeners love Bud and love the show. Calls are screened to ensure that only fans who will stay on appropriate topics will get through.
"Symphony No. 2" by Daniil Kharms
A fickle narrator begins telling the story of Anton Mikhailovich but doesn't get far.
This story and the next one are very short.
"Blue Notebook No. 2" by Daniil Kharms
The narrator talks about a redheaded man who is missing some important things.
Pat Hobby is forty-nine and a writer. During his morning's work, he comes up with a good line. The script he's working on has a doctor in it, so he goes to the Red Cross Station to make sure his writing is realistic.
Read "Boil Some Water—Lots of It"
"Grandfather and Toto" by Ruskin Bond
The narrator's grandfather buys Toto, a monkey, for five rupees. He brings home a lot of animals, so they want to keep it secret from his grandmother. Toto gets into mischief and causes many disturbances.
Comedic, Funny or Humorous Short Stories, Cont'd
"The System of Doctor Tarr and Professor Fether" by Edgar Allan Poe
While in France the narrator visits a mental institution. He had heard they used a "system of soothing" with the patients wherein punishments and confinement were avoided. To his surprise, his host informs him they have abandoned that system. The narrator is invited to stay for dinner.
Read "The System of Doctor Tarr and Professor Fether"
"Eve's Diary" by Mark Twain
Eve chronicles her life starting with her first day in existence. She relates her impressions as she discovers things in her environment.
"The Eyes Have It (The Eyes Are Not Here)" by Ruskin Bond
A blind man is riding the train. A young woman joins him in his carriage. He tries to navigate the social interaction without revealing his blindness.
"The Love Decoy" by S. J. Perelman
Dolores is a student at the Tunafish College for Women. A substitute, Russell Gipf, is teaching today, a man she knows. He berates her in class. Dolores schemes to get back at him.
"The Orphan and the Mob" by Julian Gough
The narrator relates the day of his eighteenth birthday. He says his failure to urinate immediately after breakfast led to his orphanage being burnt down. A letter arrived for him that morning. Before he could read it, Brother Madrigal took it, saying he could read it that evening.
"The Grey Parrot" by W. W. Jacobs
A sailor is concerned about what his young wife is going to do while he's away. He comes up with a plan. He gives his wife a parrot to keep her company. He tells her it has the ability to keep track of everything she does, even when she's out. It will tell him about anything inappropriate that she does.
"The Conjuror's Revenge" by Stephen Leacock
A stage magician runs through his repertoire of tricks—making a fishbowl appear, linking solid rings, drawing eggs from a hat and so on. Everyone is amazed until a man in the audience spoils the tricks.
Comedic, Funny or Humorous Short Stories, Cont'd
"The Byzantine Omelette" by Saki
Sophie Chattel-Monkheim is a wealthy Socialist. While she disapproves of social distinctions, she's still pleased that the Duke of Syria will be a guest at her house this evening. She wants everything to be perfect. The centerpiece of the dinner is to serve the Duke one of his favorite dishes—a byzantine omelette. A problem arises with the staff.
"A Piece of Pie" by Damon Runyon
The narrator is having dinner with his friend Horsey in Boston. They overhear a man say he would make a large bet that Joel Duffle could outeat anyone. Horsey knows a man, Nicely-Nicely Jones, who he knows can outeat anyone. They agree to a large wager. Horsey and the narrator go looking for Nicely-Nicely Jones.
Read "A Piece of Pie"
"The Quest" by Saki
Clovis's nap is interrupted with the announcement that the Momeby's baby has been lost. The villa is in an uproar with everyone searching frantically—except for Clovis. He proposes some unpleasant things that could have happened to the baby. Miss Gilpet, a neighbor, arrives, offering her belief that faith is needed.
Read "The Quest"
"'We've hunted high and low, in house and garden and outside the gates, and he's nowhere to be seen.'

'Is he anywhere to be heard?' asked Clovis; 'if not, he must be at least two miles away.'"

—The Quest
---
I'll keep adding humorous short stories as I find more.