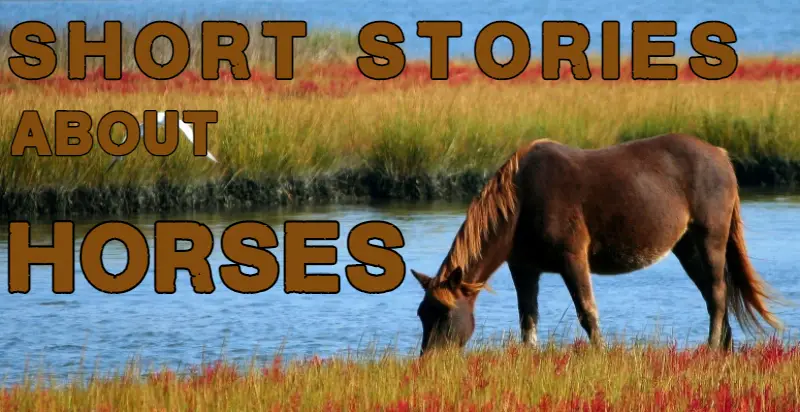 This page collects short stories featuring horses or ponies. You might be on this page because you love horses. If so, please be warned that many of the stories aren't happy.
If you're looking for an anthology, there are some excellent volumes available. Check out The Greatest Horse Stories Ever Told and Great Horse Stories: Wisdom and Humor From Our Majestic Friends. See also:
Short Stories About Horses
The Red Pony by John Steinbeck
The Red Pony is a novella made up of four connected stories. The first and the third chapters are about a pony.
Chapter 1: "The Gift"
It's morning on the Tiflin ranch and everyone is getting up. Mr. Tiflin and Billy Buck, the hired hand, are going to drive cattle to the butcher's. Jody Tiflin, a young boy, spends his days with the dogs on the ranch. When his father returns, he has a red pony for Jody.
The beginning of "The Gift" can be read in the preview of The Red Pony.
Chapter 3: "The Promise"
Jody takes one of their mares to a neighbor who owns a stallion to be mated. Jody will get the colt. There's an incident during the trip. Jody is also anxious about how long it will take for the mare to show any signs.
"The .50 Solution" by Lee Child
A rich man approaches an assassin about a job. The negotiation goes a little different than usual. He's very particular about the type of weapon that has to be used. The assassin always chooses the weapon based on the circumstances. They come to an arrangement.
This story can be read in the preview of Bloodlines: A Horse Racing Anthology.
"The Rocking-Horse Winner" by D. H. Lawrence
A middle-class woman, successful but perpetually short of money, lives with her two children. She is unlucky, but her son isn't: when he rides his rocking-horse, he's able to work himself into a state where he can pick the winner of a horse race.
Horses aren't the focus of this story, but I'm including it because they do play some part. It's also an excellent short story.
This is the first story in the preview of Big Book of Best Short Stories.
A teenage boy in small-town Kentucky loves horses and horse racing. He tries to make sense of an incident that affected him deeply. (Summary)
"The Wonder Horse" by George Byram
Red Eagle, a horse, is from two of the best bloodlines in the breed. His parentage was arranged by Costello, a veterinarian/trainer, and Ben, a jockey. They struck a deal with their last employer in lieu of their pay. The colt's bones are unusually long and its proportions give it powerful levers. It also has a strong heart, lungs and muscles.
The Lucas Farm is the largest and richest in the neighborhood. A very old white horse is kept out of nostalgia, it having been brought up by the mistress of the house. Zidore, a lad of fifteen, is assigned to care for it. He resents his work, and treats the animal very badly.
"The Old Hunter" by Liam O'Flaherty
Mr. Mullen goes to an auction. He arrives late after drinking in the town first. Everything has been sold except an old horse. It has an impressive pedigree, but it's in rough shape now. Mr. Mullen takes a liking to the beast and buys it. He rides his new horse, which leads to some unexpected happenings.
"The Colt" by Wallace Stegner
It is spring-time on a farm. Because of all the excitement, Bruce forgets to take in the mare, Daisy. She is going to give birth soon. The next morning, Bruce and his mother hear the dogs making a lot of noise, so they rush off to see if Daisy and her colt are alright.
"Midnight" by Will James
The narrator is a mustang runner: he traps wild horses and then sells them. The trouble is, he loves horses and doesn't like taking their freedom. He gives up his work, releasing the newest batch of caught horses, including a black one that comes to be known as Midnight. It's a highly prized horse, and the price for its capture increases.
"The Summer of the Beautiful White Horse" by William Saroyan
The narrator recounts the events of the summer he was nine. His cousin Mourad tapped at his bedroom window at four in the morning, riding a beautiful white horse. They went out riding together before everyone else was up.
Sal and Norah, sisters, are waiting for a bus with their friend Ev. They are going to Horse Camp, and talk about the cabins, the counsellors, and the head handler, Meredy.
"Twilight" by Wladyslaw Reymont
Sokol, an old horse, lies dying. He is neglected, aside from an occasional visit from the hunting-dogs. Sokol is miserable and afraid as he dies alone.
Herminia rides her sorrel pony out of the bayou, headed for Monsieur Labatier's. She has eggs and vegetables to sell. She had noticed a slight lump in its left fore foot, and now it refuses to walk any more. She ties the horse to a pine tree and continues herself. Left to its own devices, the horse thinks about what to do.
Read "A Horse Story"
"The Blood Bay" by Annie Proulx
Three cowboys ride in the bitter cold and stay in an acquaintance's shack with him and his horses for a night. A misunderstanding alarms the home owner.
Read here (First story)
---
I'll keep adding short stories about horses as I find more.