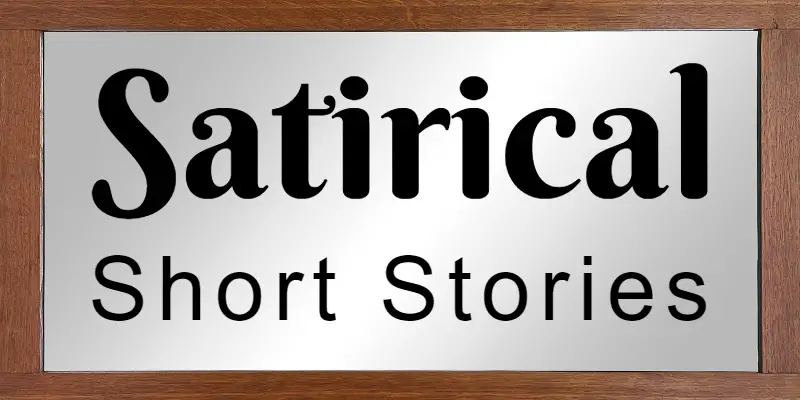 A satire short story makes fun of some quality in people or society, pointing out a flaw. In a sense, they hold a mirror up to something and give an exaggerated reflection. They are often humorous but they don't have to be. Irony and exaggeration are common elements.
Satire Short Stories
All Americans are equal—no one is allowed to be better than anyone else in any way. An exceptional fourteen-year-old, Harrison, is taken away from his parents by the government. (Satirizes the enforcement of equality and the effects of the media)
This is the first story in the preview of Welcome to the Monkey House: Stories.
"The Rocking-Horse Winner" by D. H. Lawrence
A middle-class woman, successful but perpetually short of money, lives with her two children. She is unlucky, but her son isn't: when he rides his rocking-horse, he's able to work himself into a state where he can pick the winner of a horse race. (Satirizes consumerism and equating money with happiness)
This is the first story in the preview of Big Book of Best Short Stories. (2% into preview)
Mrs. Faniglia receives a letter from KidLuv, makers of the I CAN SPEAK™ device for babies. She returned the one she purchased, so an associate addresses her concerns. The device doesn't read the babies mind. It recognizes aural patterns and then makes it seem like the baby is speaking. The mask doesn't look like your baby, but the upgraded version does, which they are pleased to offer her at no extra charge.
This story can be read in the preview of In Persuasion Nation. (30% in)
"Pastoralia" by George Saunders
The narrator isn't feeling his best. He's in his work area, sitting on his haunches, waiting in case someone looks in. No one has looked in for almost two weeks. His coworker, Janet, has been talking English more and more, which is against policy. There's a fresh goat provided for them in the Big Slot each morning along with matches. Others have it harder. He skins it with a flint and Janet makes a fire to cook it. Back when they got more visitors they would throw themselves into their roles more, grunting and tossing dirt. One morning, there's no goat in the Big Slot.
Some of this longer story can be read in the preview of Pastoralia. (20% in)
Satire Stories, Cont'd
"The Semplica Girl Diaries" by George Saunders
A forty-year-old father of three starts a diary to inform future readers how life is in the present. He chronicles the events leading up to the thirteenth birthday party of his oldest daughter, Lilly. The family is middle-class, but they live beyond their means. The father wants to buy his daughter an expensive present, and also wants a status symbol to show off to the neighbors. (Summary)
"My Flamboyant Grandson" by George Saunders
A boy loves show-tunes, singing and dancing, which alienates him from his peers and many adults. His grandfather accepts him and brings him to New York to see a show. He obtains a Promissory Voucher and they head to the Eisner Theater. Upon arriving he finds this isn't enough. He also needs Proof of Purchases from at least six of their sponsors and the real tickets from the Redemption Center. They're bombarded with ads as they walk. (Summary)
Laurie starts kindergarten and comes home every day with stories of a classmate, Charles, who's constantly getting in trouble for being "fresh". Laurie's parents wonder about Charles' parents and worry that he's a bad influence on their son. (Summary & Analysis) (Satirizes a parent's tendency to overlook the bad in their own children and judge other parents for the misbehavior of their children)
A storyteller is constantly interrupted while trying to relate a traditional fairy tale. The listener objects to the many clichés and other details. (Summary)
Read here (Scroll down slightly)
"The Indian Uprising" by Donald Barthelme
They tried to defend the city, but the Comanche's attack was too strong. There were too many arrows and war clubs to repel. They captured a Comanche and tortured and interrogated him. They put up barricades, but the narrator realized he knew nothing. He remembers a woman named Sylvia, some tables he made, and an actress who had to film some sensitive scenes. He's put in touch with Miss R., a teacher.
Satire Short Stories, Cont'd
"The Conversion of the Jews" by Philip Roth
Ozzie, a teenage Jewish boy, argues with his Rabbi about God. This has happened before, and his mother has been called to see the Rabbi, as she has been in this case. One of their arguments escalates beyond words, leading to a standoff. (Satirizes the Jewish community)
"The Toxic Donut" by Terry Bisson
In the future, all the world's environmental problems have been solved. Ron, an assistant for an annual awards show, walks the special guest, Kim, through a rehearsal. Kim has been chosen to represent all of humanity and nature on the show. (Satirizes corporations and consumerism)
"Christmas Not Just Once a Year" by Heinrich Boll
Shortly after WW I, a German family is showing "symptoms of disintegration".  In 1947, when the family's Christmas tree was being taken down, it fell over, causing Aunt Milla to scream for almost a week. Uncle Franz offers a solution to the problem that causes issues of its own. (Satirizes Germany's denial over WWII and the Holocaust)
"Vengeful Creditor" by Chinua Achebe
The African government is now offering free primary education, causing a lot of servants and low paid workers to return to school. The Emenikes, educated and affluent, are upset when they lose some servants, including their nurse. Things turn around for them when the government suspends the free program due to higher than expected enrollment. (Satirizes the preoccupations of the middle-class and their lack of understanding for the poor)
"The Elephant Vanishes" by Haruki Murakami
An elephant, the ward of a Japanese town, disappears along with its caregiver. The narrator follows the story of the elephant closely, clipping all the news articles and thinking about what happened. (Satirizes modern life—materialism, consumerism and lack of imagination)
Satire Stories, Cont'd
"The Kugelmass Episode" by Woody Allen
An unhappily married humanities professor, making no progress with his analyst, seeks help from a magician/entertainer. The magician says he can send the man into the world of any book he wants. (Satirizes Jewish culture, society and literary analysis)
"Happy Endings" by Margaret Atwood
John and Mary meet. What happens next varies greatly. The "A" story has a happy ending. Story versions "B" through "F" go differently. We learn a lesson about plots and how stories end.
Read "Happy Endings"
"Pierre Menard, Author of the Quixote" by Jorge Luis Borges
The narrator, a French academic, outlines the works of Pierre Menard, an author. According to the narrator, these are merely Menard's visible works. He is going to focus on what he believes to be the authors' unparalleled achievement—some chapters of the novel Don Quixote. (Satirizes literary interpretation)
Read "Pierre Menard, Author of the Quixote"
"Mrs. Spring Fragrance" by Sui Sin Far (Edith Maude Eaton)
Mrs. Spring Fragrance is a Chinese woman who's lived in Seattle for 5 years. She has adapted quickly to the English language and American customs. Next door lives a young woman named Laura, the daughter of Chinese immigrants. Laura's parents want to follow tradition and have her marry a man she's never met, but Laura is in love with an American man. Mrs. Spring Fragrance wants to help. (Satirizes the government's treatment of Asian Americans)
---
I'll keep adding examples of satirical short stories as I find more.