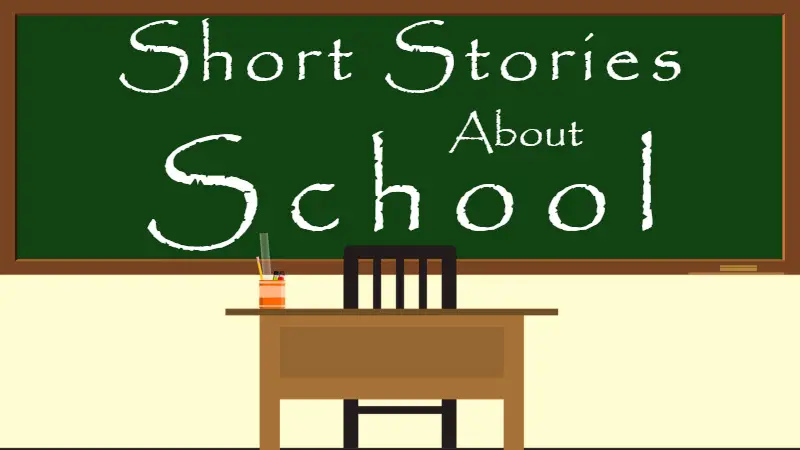 These short stories about school are set in schools or classrooms or at least have some scenes that take place there. Other stories might just have characters talking or thinking about school.
Short Stories About School
Here are some short stories about school to check out. I hope you find something great.
"Cookie Cutter Superhero" by Tansy Rayner Roberts
Joey has a newfound celebrity status at school. She's reminded of her first day when everyone was interested in her left arm. It's her last day for at least six months. She'll be going to live at Sky Tower with the team. Her friends speculate about who she'll become and who she'll be replacing. There's a lot of uncertainty and excitement about Joey's new path.
This story can be read in the preview of Kaleidoscope: Diverse YA Science Fiction and Fantasy Stories. 
"The School" by Donald Barthelme
A teacher relates all of the experiences with death that his class has in a single school year. He starts by telling us that all the trees they planted died.
This is the second story in the preview of The Scribner Anthology of Contemporary Short Fiction. (41% into preview)
"The Era" by Nana Kwame Adjei-Brenya
Ben is in school learning about the Long Big War and the Big Quick War. Ben isn't optimized; he's a clear-born. His sister, Marlene, is a rarity; her optiselection made her a para-one. She's highly ambitious. Everyone receives regular helpings of Good at breakfast to function normally. Ben goes to the nurse for more.
This story can be read in the preview of The Best American Short Stories 2019. (39% into preview)
In the year 2157 Tommy finds a real book. It is about how school was in the old days. He and Margie talk about how different school used to be with human teachers.
This story can be read in the preview of 50 Short Science Fiction Tales. (Pg. 25)
"The Scholarship Jacket" by Marta Salinas
A fourteen-year-old girl in a small town Texas school has been a straight A student for eight years. This means she will be awarded the school's scholarship jacket, but a complication arises. (Summary & Analysis)
Short Stories About School, Cont'd
Laurie starts kindergarten and comes home every day with stories of a classmate, Charles, who's constantly getting in trouble for being "fresh". Laurie's parents wonder about Charles' parents and worry that he's a bad influence on their son. (Summary & Analysis)
Read here (PDF)
"The First Day of School" by Jeffery Deaver
Jim Martin makes the morning walk to Thomas Jefferson Middle School. It's the first day, so he's excited and nervous. He remembers some significant moments from prior school years.
"Eleven" by Sandra Cisneros
An eleven-year-old girl tells the story of something unjust and humiliating that happened at school.
"The First Day of School" by R. V. Cassill
John Hawkins is at the breakfast table, but his sister Audrey hasn't come down yet. He wonders if she might want to wait until tomorrow to go, in case anything happens. John didn't get much sleep last night. Audrey comes down. Their mother says the National Guard has been called in. John and Audrey are going to walk to the Baptist church, and go with the group from there.
"All Summer in a Day" by Ray Bradbury
Humans are living on Venus. The children are eagerly awaiting an event that scientists have confirmed: it will stop raining for two hours, the only break from rain in seven years. The kids speculate about what the sun is like. One student remembers the sun from Earth, but the others don't believe her.
"The Kid Nobody Could Handle" by Kurt Vonnegut
Jim Donnini is a new kid in town. He is Mr. Quinn's nephew by marriage, and no one knows what to do with him. Jim is moody and a trouble maker at school. The head of the music department, George Helmholtz, tries to help the boy.
Read here (PDF)
"Celia Behind Me" by Isabel Huggan
Celia is a chubby, diabetic young girl. The narrator, Elizabeth, has been ordered by her mother to be nice to Celia. Elizabeth doesn't like Celia at all and tries to avoid being ostracized by her classmates. The mental strain escalates, bringing Elizabeth to a breaking point.
Short Stories About School, Cont'd
"Suzy and Leah" by Jane Yolen
In her diary, Suzy writes about the refugee camp in her town where she and other children have brought candy bars to the children inside. They will be attending her school soon, and she's not looking forward to it.
In letters to her mother (who is deceased), Leah writes about being in the refugee camp, and the conditions that she and others endured during the war and while fleeing from the Nazis. She is afraid of going to school in America.
They become classmates and are assigned to work together, but they don't understand each other.
"Indian Education" by Sherman Alexie
A chronicle of the life of Victor, from grade 1 through high school. Victor gets bullied, wrongly judged by teachers, and sees his peers take destructive paths.
"The Friday Everything Changed" by Ann Hart
In Miss Ralston's small-town classroom, the boys always carry water from a pump at the railway station to the school. Carrying the water is a status symbol and a break from the daily routine. One day one of the girls challenges this tradition.
"No Win Phuong" by Alden R. Carter
Ngo Huynh Phuong (pronounced "no win fong") starts school in central Wisconsin. Bull and Jeff, members of the baseball team, want him to join the team, assuming he's a great baseball player. He turns out to have a strong fastball but poor control. Phuong doesn't want to play on the team.
Read "No Win Phuong"
"The Loneliness of the Long Distance Runner" by Alan Sillitoe
A teenager is sentenced to a school for delinquents for robbing a bakery. He turns to long-distance running and excels. He's offered a reduced workload for the remainder of his sentence if he wins a prestigious race for his school.
Read "The Loneliness of the Long-Distance Runner"
---
I'll keep adding short stories about school as I find more.