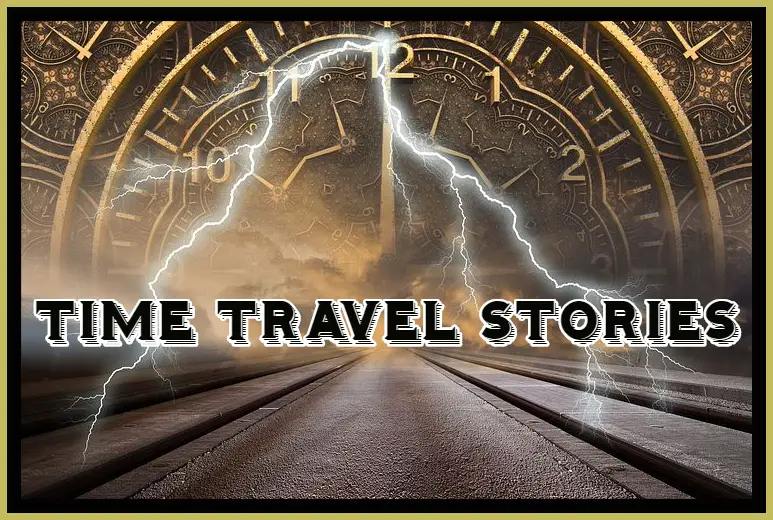 The short stories on this page all contain some form of time travel. They don't all involve obvious trips to the past or future. Sometimes, the story simply contains an element that is out of place in time. See also:
Short Stories About Time Travel
"Caveat Time Traveler" by Gregory Benford
The narrator spots the man from the past immediately. The visitor identifies himself. He's surprised to find he's not the first visitor from the past. He wants to take something back to prove he made it.
"Caveat Time Travel" can be read in the preview of The Mammoth Book of Time Travel SF.
"Absolutely Inflexible" by Robert Silverberg
A time traveler in a spacesuit sits in Mahler's office. He's informed that he'll be sent to the Moon, where all visitors from the past have to go. The man tries to get out of it, but Mahler explains why no exceptions are possible.
"Absolutely Inflexible" can be read in the preview of Time and Time Again: Sixteen Trips in Time.
"Yesterday Was Monday" by Theodore Sturgeon
When Harry Wright wakes up on Wednesday morning he realizes that yesterday was Monday. Somehow there is a gap. He notices that his environment doesn't quite seem complete.
"Yesterday Was Monday" can be read in the preview of The Best Time Travel Stories of the 20th Century.
The crew of a spaceship is collecting samples from various planets to determine their suitability for human habitation. While nearing a new planet, Mason spots a metallic flash. The crew speculates that it might be a ship. Captain Ross orders a landing to check it out.
"Death Ship" can be read in the preview of The Time Traveler's Almanac.
"The Third Level" by Jack Finney
The narrator has been to the third level of Grand Central Station, even though everyone else believes there are only two. He's just an ordinary guy and doesn't know why he discovered this unknown level. He relates how it happened.
"The Third Level" can be read in the preview of About Time: 12 Short Stories.
"A Touch of Petulance" by Ray Bradbury
Jonathan Hughes met his fate in the form of an old man while he rode the train home from work. He noticed the old man's newspaper looked more modern than his own. There was a story on the front page about a murdered woman—his wife. His mind raced.
This story can be read in the preview of Killer, Come Back To Me: The Crime Stories of Ray Bradbury.
Time Travel Short Stories, Cont'd
"Rip Van Winkle" by Washington Irving
Rip Van Winkle is lazy at home but helpful to, and well-liked by, his neighbors. He's out in the mountains one day to get away from things. With night approaching, he starts for home but meets up with a group of men. He has something to drink and goes to sleep, which changes everything.
This story can be read in the preview of The Big Book of Classic Fantasy.
"Twilight" by John W. Campbell
Jim picks up a hitch-hiker, Ares, who says he's a scientist from the year 3059. He says he traveled millions of years into the future, but came back to the wrong year. Life in 3059 is trouble free, with machines taking care of everything. Future Earth is in trouble, with all life extinct, except for humans and plants.
This is the second story in the preview of The Science Fiction Hall of Fame: Vol 1. (49% into preview)
"The Man Who Walked Home" by James Tiptree, Jr.
An accident at the Bonneville Particle Acceleration Facility decimated the Earth's population and severely damaged the biosphere and surface. Decades later, a huge flat creature emerges from the crater at the explosion site and promptly disappeared. There are other sightings in the years that follow.
This story can be read in the preview of the anthology Timegates. (18% into preview)
"An Assassin in Time" by S. A. Asthana
Navy Seal Jessica Kravitz recovers from the effects of the time jump. She's done it before, but there are always side-effects. She's on a highly classified, very important, and expensive mission. Previous jumps have familiarized her with the grounds. This time, she should be able to reach her target.
This story can be read in the preview of AT THE EDGES: Short Science Fiction, Thriller and Horror Stories. (17% in)
"The Merchant and the Alchemist's Gate" by Ted Chiang
Fuwaad, a fabric merchant, appears before the Caliph to recount a remarkable story. While looking for a gift, he entered a large shop with a new owner. It had a marvelous assortment of offerings, all made by the owner or under his direction. Fuwaad is led into the back where he's shown a small hoop that manipulates time. He also has a larger gateway that people can walk through. The owner tells Fuwaad the stories of a few who did just that.
This story is on the longer side but doesn't feel like it. Most of "The Merchant and the Alchemist's Gate" can be read in the Amazon preview of Exhalation: Stories.
"Time Locker" by Harry Kuttner
Gallegher is a scientist—drunken, erratic and brilliant. He invents things but pays them little attention after. His acquaintance Vanning, an unscrupulous lawyer, has made use of some of these inventions, including a neuro-gun that he rents out. During a visit he sees a locker that is bigger inside than out. Fascinated with the item's possibilities, he offers to purchase it.
Some of "Time Locker" can be read in the preview of The Best Time Travel Stories of the 20th Century.
Time Travel Short Stories, Cont'd
"All You Zombies" by Robert A. Heinlein
A young man explains to a bartender that he was born a girl. He (she) gave birth to a child and there were complications. The doctors noticed he (she) was a hermaphrodite and performed an emergency sex-change operation.
A lot of this story can be read in the preview of "All You Zombies—": Five Classic Stories.
"The Hundred-Light-Year Diary" by Greg Egan
The narrator meets his future wife, Alison, for lunch exactly when he knew he would. His diary told him. Everyone alive is allotted a hundred words a day to send back to themselves.
Most of this story can be read in the preview of Axiomatic. (Select Kindle first then Preview, 57% in)
Arnold Potterley, a Professor of Ancient History, wants to use the chronoscope—the ability to view a scene from the past—for his research on Carthage. The government maintains strict control over its use, and his request is denied. Frustrated, Potterley embarks on a plan to get around this restriction, which is professionally risky.
Some of this story can be read in the preview of The Complete Stories, Vol 1. (6% in)
"Signal Moon" by Kate Quinn
Working with the Royal Naval Service, Lily Baines intercepts radio communications to enemy vessels for decoding. One night, everything changes when she picks up an impossible message—a plea for help from another time.
Preview of "Signal Moon"
"Journey to the Seed" by Alejo Carpentier
An old man wanders around a demolition site, muttering a string of incomprehensible phrases. The roof has been removed and, by evening, most of the house is down. When the site is deserted, the old man waves his walking stick over a pile of discarded tiles. They fly back and cover the floor. The house continues to rebuild. Inside, Don Marcial lies on his deathbed.
In the future, a company offers guided hunting safaris into the past to kill dinosaurs. Extreme care is taken to ensure nothing happens that could alter the present.
Read "A Sound of Thunder" (PDF Pg. 3)
Time Travel Short Stories, Cont'd
"That Feeling, You Can Only Say What It Is In French" by Stephen King
Carol and Bill, married twenty-five years, are on their second honeymoon, driving to their destination. Carol experiences déjà vu; voices and images keep coming to her mind. Their drive comes to an end and she finds herself at an earlier point in their trip.
"The Clock That Went Backward" by Edward Page Mitchell
The narrator recounts the discovery surrounding a clock left to his cousin Harry by his Aunt Gertrude. As young boys they witnessed a strange event. Late one night Aunt Gertrude wound the clock, put her face to the dial, and then kissed and caressed it. The hands were moving backward. She fell to the floor when it stopped.
Read "The Clock That Went Backward" 
"Soldier (Soldier from Tomorrow)" by Harlan Ellison
Qarlo, a soldier, is fighting in the Great War VII. He doesn't expect to be able to go back. The odds are against it. Qarlo anticipates the Regimenter's order and gets warped off the battlefield. He's not sure where he is but his instincts kick in.
"The Men Who Murdered Mohammed" by Alfred Bester
Henry Hassel comes home to find his wife in the arms of another man. He could get his revenge immediately but he has a more intellectual plan. He gets a revolver and builds a time machine. He goes into the past.
"Cosmic Corkscrew" by Michael A. Burstein
The narrator is sent back to 1938 to make a copy of a rejected story by an unnamed writer. Unknown to Dr. Scheihagen, the narrator adjusts his arrival to three days earlier. He wants to make contact with the writer.
"Time's Arrow" by Arthur C. Clarke
Barton and Davis, geologists, are assisting Professor Fowler with an excavation. The professor receives an invitation to visit a nearby research facility. Barton and Davis are curious to know what goes on there. The professor says he will fill them in, but after his visit he says he's been asked not to talk about it. Henderson, from the research facility, returns the visit. Something he says starts the geologists speculating about a device that could see into the past.
"The Final Days" by David Langford
Harman and Ferris, presidential candidates, are participating in a televised debate. Ferris is struggling to connect with the audience while Harman relishes the attention. The technician signals Harman that there are fourteen watchers. His confidence increases.
Time Travel Short Stories, Cont'd
"Hwang's Billion Brilliant Daughters" by Alice Sola Kim
When Hwang is in a time he likes he tries to stay awake. Hwang jumps ahead in time when he sleeps. It could only be a few days; it could be years.
Read "Hwang's Billion Brilliant Daughters"
"Fish Night" by Joe R. Lansdale
Two traveling salesmen, a father and son, get broke down on a desert road. They sit by the car and talk about how hard it is to make a living. The father tells his son about an unusual experience he had on the same road years ago.
"The Fox and the Forest" by Ray Bradbury
William and Susan Travis have gone to Mexico in 1938. They're enjoying a local celebration. William assures Susan that they're safe—they have traveler's checks to last a lifetime, and he's confident they won't be found. Susan notices a conspicuous man in a café looking at them. She thinks he could be a Searcher, but William says he's nobody.
"A Statue for Father" by Isaac Asimov
The narrator tells the story of his father, a theoretical physicist who researched time travel. He's celebrated now, but it was a difficult climb. When time travel research fell out of favor, the dean forced him out. He continued the research independently with his son. Eventually, they succeed in holding a window open long enough for the son to reach in. He brings back some dinosaur eggs.
"The Pendulum" by Ray Bradbury
Layeville has been swinging in a massive glass pendulum for a long time. The people call him The Prisoner of Time. It's his punishment for his crime. He had constructed a time machine and invited thirty of the world's preeminent scientists to attend the unveiling.
Read The Pendulum
"Who's Cribbing?" by Jack Lewis
A writer has his manuscript returned by a publisher. The story he submitted was published years before—he obviously plagiarized it. They warn him against doing this again. The writer has never heard of the author who first wrote the story and claims it's an original work.
"Who's Cribbing" is in Time Machines: The Best Time Travel Stories Ever Written.
---
I'll keep adding short stories about time travel and time machines as I find more.