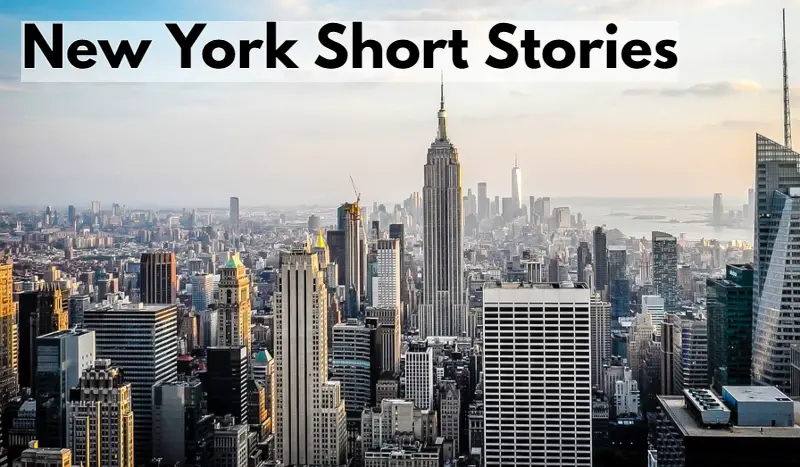 These New York short stories are set in New York, often in the city. There may be ones that take place somewhere else, but characters talk about New York.
See also:
New

York

Short

Stories
"The City Born Great" by N. K. Jemisin
A homeless, black man stands on a rooftop and yells—singing to the cityscape. As he leaves, he hears something basso-deep that feels both distant and intimate. He also hears a growl that could be police sirens. Later, he meets Paolo at a café, who buys him breakfast. Paolo is trying to explain something important about the city, but the man doesn't care. A cop comes in but doesn't seem to notice him. He takes off.
This is the second story in the preview of How Long 'Til Black Future Month? (50% into preview)
"Murder at the Metropole" by Robert J. Randisi
Detective Val O'Farrell is at the Hotel Metropolis in Times Square. A body is on the front steps. He's joined by Sgt. McKeever. The deceased is a man they both recognize—Herman Rosenthal, who ran an illegal casino. They know who the press is going to blame for this. O'Farrell has to find out if it's true.
This story can be read in the preview of Crime Square. (17% in)
"Amsterdam in the 90s" by Ed Park
The narrator has trouble remembering whether he took his pills, one in the morning and one in the evening. He's tried the pill sorter, but that brought its own problems. He recounts an incident he witnessed walking home one morning. A long black car barreled around the corner of Ninety-eighth and Amsterdam, running a red light and nearly hitting an old man.
This story can be read in the preview of Dark City Lights: New York Stories. (13% in)
"The Big Snip" by Thomas Pluck
Christina is the new girl in the van. She works with Sharon with Neuter Scooter, a mobile spay and neuter service. She's learning to do the job quickly and properly. One day, Sharon notices something about their supplies.
This story can be read in the preview of Dark City Lights: New York Stories. (33% in)
"Bowery Station, 3:15 A.M." by Warren Moore
A man descends into Bowery Station. He sees a girl standing alone on the Brooklyn-bound side of the platform. Her lips are moving and she's tense; he can tell what she's getting ready to do. The Brooklyn train approaches.
This story can be read in the preview of Dark City Lights: New York Stories. (78% in)
A boy loves show-tunes, singing and dancing, which alienates him from his peers and many adults. His grandfather accepts him and brings him to New York to see a show. He obtains a Promissory Voucher and they head to the Eisner Theater. Upon arriving he finds this isn't enough. He also needs Proof of Purchases from at least six of their sponsors and the real tickets from the Redemption Center. They're bombarded with ads as they walk. (Summary)
"Timor Mortis" by Annette Meyers
Olivia is a poet in Greenwich Village working on getting her first book published. She sometimes helps Harry Melville, a private investigator, with cases. One day, Harry takes her to see a client, Amy Lowell, a successful poet who had been critical of Olivia, personally and professionally. Fania, a woman with an extreme fear of death, is missing. The family tries to watch over her, but she's erratic. Her behavior is embarrassing.
This story can be read in the preview of The Mammoth Book Roaring Twenties Whodunnits. (13% in)
"The Geranium" by Flannery O'Connor
Old Dudley leaves his boarding house in the South to live with his daughter in her New York apartment. Dudley is unhappy with the change, and spends a lot of time looking out the window at a geranium on a neighboring windowsill.
This is the first story in the preview of The Complete Stories.
"A Brief Guide to Other Histories" by Paul McAuley
The narrator's platoon went through the Turing gate to another America. There are recognizable elements in this New York—buildings, taxis and various landmarks. This world is every bit as real as their own. It was taken over by a rogue General who made himself President-for-Life. The narrator's reality offered assistance in the civil war against this tyrant. Now, they're dealing with guerilla fighters.
This is the second story in the preview of Other Worlds Than These. (66% into preview)
"How the Pooka Came to New York City" by Delia Sherman
Liam O'Casey arrives in New York from Dublin with a great black hound named Madra. Liam is a horse trainer and he plays a tin whistle. He's come to improve his life. Right now, he has nowhere to go. Madra is indebted to Liam. He offers a suggestion to get them started.
This story can be read in the preview of New York Fantastic: Fantasy Stories From the City that Never Sleeps. (12% in)
"The Five-Dollar Dress" by Mary Higgins Clark
Jenny's grandmother died three weeks ago, and she's been clearing out her apartment near Union Square. Drifting into dementia before she died, her grandmother said something about a Sarah who was killed—not by Barney but by Vincent. When going through her grandmother's hope chest, Jenny finds a picture of Sarah with a note. There are also some news clippings that shed some light on the situation.
This story can be read in the preview of Manhattan Mayhem: New Crime Stories from Mystery Writers of America. (34% in)
"A Blow for Freedom" by Lawrence Block
Elliot returns to New York by plane. He's a bit concerned picking up his bag because it contains a gun he bought in Miami. He waits until he gets home to check it. He remembers his experience with Huebner, who helped him pick out the gun and showed him how to use it.
This story can be read in the preview of Enough Rope. (12% in)
"O City of Broken Dreams" by John Cheever
The Malloy family is on a train to New York, having left their home in Indiana the day before, and they're excited about their new life. Evarts, the husband and father, used to be in the army, then he worked as a bus driver. In his spare time, he wrote a play. One day, a producer from New York came to give a lecture about the theatre. Evarts wife, Alice, managed to get him to read the first act of her husband's play, which is all he had written so far. He liked it and invited the family to come to New York.
This is the fourth story in the above preview of The Stories of John Cheever. (62% in)
Robert and Katherine Tennyson were out with a business friend last night and had a lot to drink. Their three-year-old, Deborah, is allowed to come see them on Sunday morning. Soon after, the cook brings the Tennyson's their breakfast and tells them Mrs. Harley is there to take Deborah out. Deborah doesn't talk much about how she spends her days away from home, which benefits Mrs. Harley. Several times, they've gone to the movies instead of staying outside. Sometimes, on Sundays, she leaves Deborah with Renée Hall, a family friend.
"The Book Signing" by Pete Hamill
Carmody emerges from the subway, back in his old Brooklyn neighborhood after decades away. He sees his face on a flyer advertising the reading and book signing that starts in about half an hour. He writes commercial novels with the recurring theme that nothing lasts. He walks around first. The buildings are the same, but all the shops are different. He's never set any of his seventeen books in Brooklyn.
This story can be read in the preview of Brooklyn Noir. (19% in)
"Grand Central Park" by Delia Sherman
When the narrator was a young girl, she used to play in Central Park with a fairy. She was tiny and had wings like a dragonfly. At about eight years old, she stopped believing in fairies, and stopped seeing her. She spent more time with a girl at school, whom she called Elf. One day in eleventh grade, they were hanging out at the inlet when Elf notices something.
Some of this story can be read in the preview of The Green Man: Tales From the Mythic Forest. (57% in)
A couple, Margaret and Brad, are on their way to New York for a visit. They'll be using an friend's empty apartment, and everything has lined up right for this vacation. For a few days everything goes well, but then Margaret starts experiencing some unusual things.
This story can be read in the preview of The Magic of Shirley Jackson. (31% into preview)
"To Da-duh, in Memoriam" by Paule Marshall
The narrator, an adult, tells the story of when she was nine-years-old and went with her sister and mother to visit her grandmother, whom she had never met, in Barbados. The narrator and her grandmother are both strong-willed. They feel a competitive urge as they talk up where they come from—Barbados and New York.
"Zelig" by Benjamin Rosenblatt
Old Zelig lives in New York's East Side and works in a cloak shop. He moved there from his Russian village when his son fell on hard times. Zelig is miserly and spends much of his time working.
"Paul's Case" by Willa Cather
Paul gets suspended from his Pittsburgh High School. His father wants him to be a responsible wage-earning family man when he grows up, but Paul is drawn to a life of wealth and glamour, so he decides to go to New York.
"The Jewbird" by Bernard Malamud
The Cohen's lives change when a crow flies into their lower-middle class New York apartment seeking refuge from anti-Semitic birds. The Jewbird, Schwartz, wants to stay, but Mr. Cohen is against it.
---
---
I'll keep adding New York short stories as I find more.