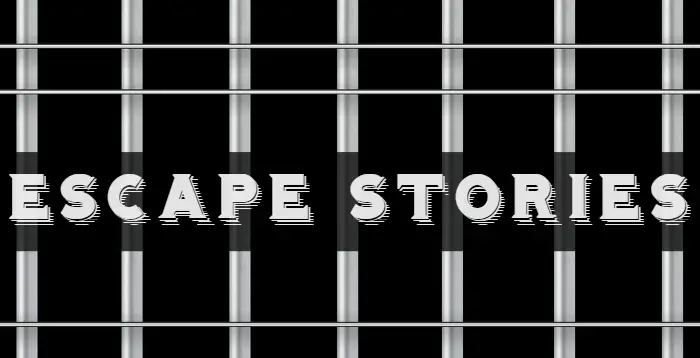 These short stories about escape all have a character who attempts to escape from something, or at least plans on trying. It could be a dramatic escape, or it could be an escape from a life situation. See also:
Short Stories About Escape
"Desperate Men" by Louis L'Amour
Four men in Yuma prison get an opportunity. An earthquake has left a hole in the perimeter wall. An escape is still difficult, and not dying in the desert is even more difficult. They talk about how they could get guns, horses and money.
"Desperate Men is the third story in the Amazon preview of The Collected Short Stories of Louis L'Amour: Volume 1. (55% in)
"Condensed Milk" by Varlam Shalamov
The narrator is in a Russian labor camp working in a mine. He envies Shestakov, an engineer-geologist who works in the office. While longing for some bread, the narrator is approached by Shestakov. They walk behind the barracks to talk. Shestakov has a plan. (Summary & Analysis)
Read "Condensed Milk"
"Mono no Aware" by Ken Liu
The remaining 1,021 humans are aboard the Hopeful, headed for 61 Virginis. Hiroto's family followed the evacuation plan of the Japanese government, as citizens of other nation's followed theirs. The situation didn't go smoothly. Hiroto monitors the solar sail that powers the vessel. (Summary)
This story can be read in the preview of The Future is Japanese (12% in)
"An Occurrence at Owl Creek Bridge" by Ambrose Bierce
A captured man stands on a railroad bridge in Alabama. A swift river flows below. Federal soldiers surround him. The man, a civilian, is going to be hanged. He's standing on a plank that's being held in place by a sergeant. He thinks about his wife and children, and wonders if there's a way out. The signal is given for the sergeant to step aside.
Read "An Occurrence . . ." (Includes Analysis)
"Hot Springs" by James Crumley
Benbow and Mona Sue are hiding out at a mountain cabin. They're waiting for her to give birth. Then they'll go to Canada; no one will follow them there. Mona Sue warns that R. L. is coming. Benbow took off with his money and with Mona Sue.
This story can be read in the preview of The Best of the Best American Mystery Stories: The First Ten Years. (18% in)
Jeff is an inmate at Spiderhead, a research facility. Along with others, he tests drugs that affect his speech, perception, and feelings for people. He's there because of a fateful day from his past. (Summary)
Short Stories About Escape, Cont'd
"The Problem of Cell 13" by Jacques Futrell
Augustus S. F. X. Van Dusen has had a brilliant scientific career and is known as The Thinking Machine. He accepts a challenge put forward by two of his friends, Ransome and Fielding. Augustus is to be incarcerated at Chisholm Prison and treated as any other inmate. Augustus claims he can escape within a week.
This story can be read in the preview of The Black Lizard Big Book of Locked-Room Mysteries. (29% in)
An orphan apprenticed to a shoemaker surreptitiously writes a letter to his grandfather, asking to be taken to live with him, so he can escape his life of deprivation and mistreatment.
This is the third story in the preview of Great Short Stories of the Masters.
"To the Man on the Trail" by Jack London
A group of men are in the Malemute Kid's cabin for the holidays. A stranger named Westondale comes in, tells a story about following some men who stole from him, talks about his family, and asks to be awakened in a few hours so he can continue his pursuit. Shortly after he leaves, the police arrive. (Summary)
Carla and Clark live in a mobile home. Their neighbor, Sylvia, returns from a trip to Greece. Carla stays out of sight in the barn. She wonders if Clark knows yet. He has a temper and has had run ins with several people in the area. Carla's worried about her goat, Flora, that's been missing two days. Sylvia calls for Carla to come help with the house tomorrow. Clark has been ruminating on a scheme for a while and he wants Carla to start it.
Some of this story can be read in the preview of Runaway. (12% in)
Hamid is flying to Turkey to buy his stock of carpets for his business in New York. Years ago he had been Saddam Hussein's Minister of Agriculture. When he was fired, he and his wife were able to flee the country before he "disappeared". He is thrilled with the freedom of the United States and, as a political refugee, must stay out of Iraq at all costs.
"The Fox and the Forest" by Ray Bradbury
William and Susan Travis have gone to Mexico in 1938. They're enjoying a local celebration. William assures Susan that they're safe—they have traveler's checks to last a lifetime, and he's confident they won't be found. Susan notices a conspicuous man in a café looking at them. She thinks he could be a Searcher, but William says he's nobody.
Short Stories About Escape, Cont'd
"The Death of Jack Hamilton" by Stephen King
Some people don't think it was John Dillinger the authorities shot outside the Biograph Theater. Among other things, they cite a scar on the dead man's lip that they claim Dillinger didn't have. Homer Van Meter, a member of John Dillinger's gang, says it's true—Dillinger is dead. He tells the story of how he got the scar. The gang escaped out the back of the Little Bohemia Lodge, commandeered a car and got out of there. The police pursued and there was a gunfight. Jack Hamilton was hit.
"In the Deathroom" by Stephen King
Fletcher is brought into a deathroom—they don't call it that, but he can tell. A guard leads him roughly to a chair. There are three people sitting behind a table—Escobar, Heinz and an older woman. Escobar tells Fletcher that he will soon be on a plane back to America. He just needs some information first. He asks about Fletchers role as an informant, to the benefit of a Communist insurgent named Núñez. Fletcher tries to maintain his composure under the extreme stress.
"On the Train" by Rebecca Cantrell
Joachim is in a train with other prisoners. He has a yellow triangle on his jacket. A man with a pink triangle, Herman, says he knows Joachim and starts talking to him. Joachim claims not to know the man. Herman starts talking about escaping.
"The Supper" by Tadeusz Borowski
In a concentration camp, a group of twenty Russians who tried to escape are lined up. The other prisoners have worked all day without food. They have to wait until the Russians are dealt with.
"The Fugitive" by Maxwell Gray
On a hot day, Everard is on a work detail with other inmates. When a storm suddenly breaks out, Everard uses the distraction to run off. The warders don't notice until he jumps a palisade leading to the road. One of the warders raises his rifle and fires, hitting Everard in the thigh.
Short Stories About Escape, Cont'd
A man is put on trial and condemned to death. He finds himself in a cell with a deep pit in the center and, above, a blade swinging back and forth on a pendulum.
"The Escape" by J. B. Stamper
Boris is being led down a long hallway to the solitary confinement cell. He was caught in an escape attempt. He's terrified of his punishment and begs to be spared. He promises he'll never do anything wrong again.
"The Chase" by Italo Calvino
The narrator is in a car chase: he's being pursued by an armed man in another car. They are separated by several cars, stopped at a traffic light. The narrator muses about their relative positions and his possible paths of escape.
"Strayed" by Charles G. D. Roberts
A young domesticated ox has a wild nature—he longs to break free of his yoke and flee into the forest. He remembers good times there and wants to live free in an endless summer.
"Tales of Houdini" by Rudy Rucker
Houdini is broke. He agrees to shoot a film where he'll complete a series of dangerous, unrehearsed escapes. Shortly after his door is kicked in at four in the morning, his ears, eyes, and nose are covered with wax, and he's bundled up with bandages and taken away.
---
I'll keep adding short stories about escape as I find them.