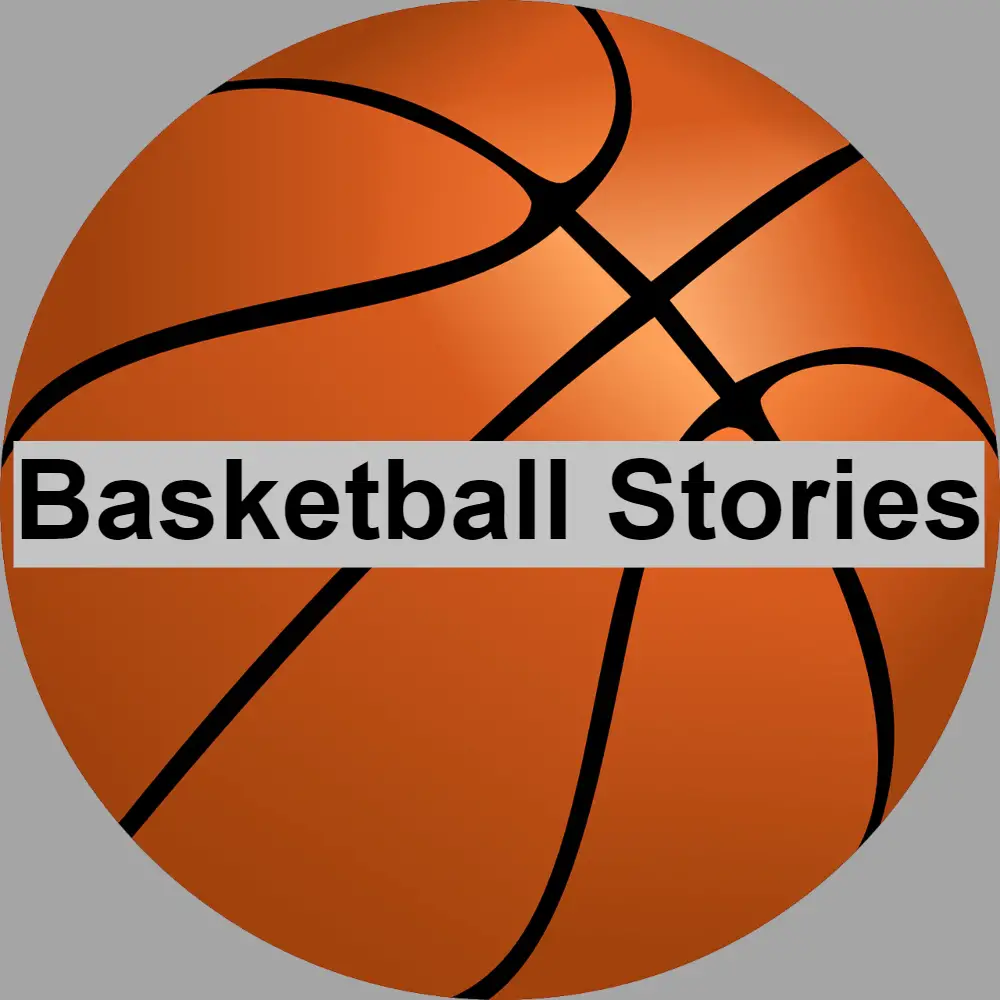 These basketball stories all feature basketball as an important part of the plot, usually with on-court action.
B
a

s

k
e
t

b

a

l

l
S
t

o

r

i

e
s
"How to Transform an Everyday, Ordinary Hoop Court Into a Place of Higher Learning and You at the Podium" by Matt De La Pena
It's summer and school is over. You did well even though all you really care about is basketball. All your free time is spent practicing. You want to be even better next year, in high school. You overhear people talking about a high-level game that's played in Balboa Park.
The beginning of this story can be read in the preview of the anthology Flying Lessons & Other Stories.
"Hailey's Shooting Star" by Steven Carman
Hailey's visiting her aunt and uncle at their new house. She goes down the street to a basketball hoop that a neighbor let's everyone use. Two boys arrive soon after. They say girls can't play there, especially girls with one hand.
This story can be read in the preview of Tales from the Bully Box. (45% in)
"Cage Run" by Walter Dean Meyers
The narrator gets a call from Fish. He wants to play basketball in the morning for twenty dollars a man. That's more than usual. He calls around to some friends and sets it up. They know Fish has something up his sleeve, maybe a big center, but they agree to the game.
The beginning of this story can be read in Pick-Up Game: A Full Day of Full Court.
The following four stories are also in Pick-Up Game.
Basketball Stories, Cont'd
"Laws of Motion" by Bruce Brooks
Kaysaan has agreed to play basketball with his brothers. He's six foot ten, but he prefers academic pursuits. His brothers, Han and Cy, love basketball, as does his dad. His brothers try to educate him about the game. Kaysaan finds himself distracted by other thoughts during play.
"Mira Mira" by Willie Perdomo
Caesar is at the Cage, ready to play ball. Rumor is there are going to be scouts there to check out the local star, ESPN. He's hoping Margie is going to show up. Caesar's not too impressed with ESPN; he's a half court player. He plans on showing the neighborhood what he can do.
"He's Gotta Have It" by Rita Williams-Garcia
The narrator is an aspiring filmmaker, particularly documentaries. He needs to shoot one now, as part of his admission application to NYU. He's going to shoot a documentary on Eddie Newcastle, a local basketball player. Eddie can be a bit annoying to deal with, but that's what a filmmaker has to go through.
"Just Shane" by Adam Rapp
Shane works as a dog walker. He especially likes walking the Ryan's dog, because then he gets to see Hazel. Shane was homeless for a while. One day after watching a game, he got talking to Waco, a vet who plays every day. Waco let him stay at his place and gave him some clothes.
---
Basketball Stories, Cont'd
"Swish: A Basketball Story" by Joseph Bruchac
It's Bruchac's second day trying out for the high school basketball team. The practice he's gotten in at home with his grandfather hasn't properly prepared him for a real game. He's sticking with it because he loves the sound of a swish, and his Grampa's support.
"The Carnival Dog, the Buyer of Diamonds" by Ethan Canin
Myron Lufkin calls his father, Abe, from medical school and tells him he's not going to be a doctor. Abe doesn't believe in quitting and is stubborn about everything. He believes in a sound and healthy body above all else. We learn about their relationship as Myron grows up. (Basketball recurs a few times but isn't the focus of this story.)
The Crossover by Kwame Alexander
The Crossover is the story of twin brothers Josh and JB, both great basketball players. Josh is a forward and can dunk. JB is a shooting guard and has a better jump shot. Josh loves his hair, while JB shaves his head. Their father used to play pro basketball. Their mother is the assistant principal of their school. Complications arise with a new girl at school, and from a secret of their father's.
This is a YA novel, but it's not terribly long. It's written in verse. If you're like me, that's not what you want to hear, but the form works very well in this story. It's definitely worth giving a try.
The beginning of The Crossover can be read in the Amazon preview.
---
I'll keep adding basketball stories as I find more.