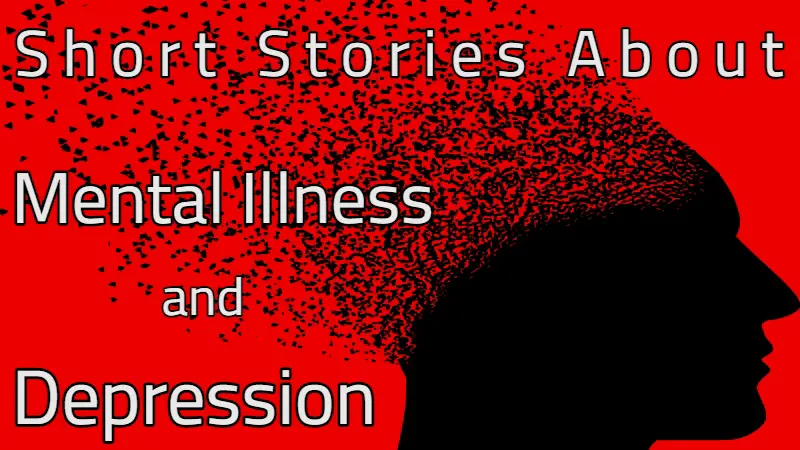 All of these short stories about mental health & mental illness have a main character dealing with something—depression, long term mental illness or madness, or a mental strain that suddenly causes insanity. Sometimes the character's perceptions are presented to us, other times we're shown the effects of their problem on themselves and others. Some stories have characters who are seeing a psychologist or psychiatrist.
Also included are stories with characters who live with some kind of psychological barrier. They might be getting psychotherapy or dealing with it on their own. Many of the short stories here are suitable for students, but you'll have to use your judgment on that. See also:
Find a Short Story About Depression or Mental Illness
A woman's husband, a doctor, confines her to the upstairs bedroom of their summer house. He diagnoses her with a "hysterical tendency" and "nervous depression". She chronicles her confinement in her journal; the treatment doesn't have a positive effect on her condition. (Summary)
This story can be read in the preview of The Yellow Wall-Paper and Other Writings. (31% into preview)
"They Call Me Hurricane" by Rocky Callen
Aida "the Hurricane" Maya is a boxer, the only girl on her team. She struggles with depression, but her routines and medication help. She's hoping to get into the Golden Gloves Tournament.
This story can be read in the preview of Ab(solutely) Normal: Short Stories That Smash Mental Health Stereotypes.
"The Moustache" by Robert Cormier
Mike, seventeen-years-old, is going to Lawnrest Nursing Home to visit his grandmother. She has a chronic circulatory disease and a badly fading memory. He isn't eager to make the visit, uncertain if his grandmother will be having one of her bad days. (Summary & Analysis)
"First Light" by Robert Russell Sassor
A mother sits at a hospital bed, reminiscing about her son who lies there. His face is partially covered with bandages. Later, the mother receives some visitors at home, to help her through this time.
This story can be read in the preview of Winds of Change: Short Stories About Our Climate. (31% into preview)
"Gimpel the Fool" by Isaac Bashevis Singer
Gimpel, the narrator, is an adult orphan who gets turned over to the baker as an assistant. He admits that he's "easy to take in", and the villagers all play him for a fool. When he talks about leaving, the villagers try to convince him to marry Elka, a prostitute.
"Gimpel the Fool" is the first story in the Amazon preview of Collected Stories. (7% into preview)
The narrator lives at his country house, twenty miles from Chicago. There is an old man in the area that the people call insane. When the old man hears a news story he always claims to be related to the person in question. The Chicago papers are reporting that a man murdered his wife for no apparent reason.
This is the second story in the preview of 100 Years of the Best American Short Stories. (55% into preview)
"The Decapitated Chicken" by Horacio Quiroga
Mazzini and Berta have four developmentally disabled sons, aged eight to twelve. They spend most of the day sitting on a bench in their own filth. Their parents neglect them. Their relationship has deteriorated, as each wants to blame the other for their sons' condition. They're hesitant to have any more children.
Warning: This is a rough one. It can be read in the preview of The Decapitated Chicken and Other Stories. (17% into preview)
The Whipples live in poverty and have three children, one of them mute and mentally challenged, the He of the title. Mrs. Whipple hates being pitied, and takes every opportunity to praise the boy. She is always worried about what everyone else will think of her.
This is the sixth story in the preview of Collected Stories and Other Writings. (84% into preview, select in TOC)
Short Stories About Depression & Mental Health, Cont'd
"Lamb of God" by Patricia Abbott
Kyle's mother first tried to kill him when he was nine. He was afraid every day. She had a mental imbalance and was always trying to keep him close to God.
This story can be read in the preview of Kwik Krimes. (30% in)
Neil Yanicky attends a self-help conference at the Hyatt. The audience wears paper hats colored to reflect how much help they need. A scene that illustrates the forces holding people back is acted out on stage. Tom Rodgers, the founder of the Seminars, tells his story of personal growth and success, which involved getting rid of someone who was holding him back. Neil feels the same way about his sister. (Summary)
Mrs. Arnold goes to a doctor and asks how to tell if someone is crazy. She then relates a story of her husband getting upset when he couldn't get his daily paper.
This is the third story in the preview of The Magic of Shirley Jackson. (28% into preview)
"The Black Cat" by Edgar Allan Poe
The narrator, a condemned man, relates how he came to blind and, later, kill a cat due to his loss of control from drinking. A second cat eventually came into his home, causing a further escalation of hostilities.
This is the third story in the preview of Complete Stories and Poems of Edgar Allan Poe. (79% into preview, select in TOC)
An African-American woman, La Folle, was frightened "out of her senses" as a child. As a result, she won't cross an imaginary line in her area; she has never been beyond the bayou. (Summary)
"The Tell-Tale Heart" by Edgar Allan Poe
An unnamed narrator describes how he killed a man; he tries to convince his listener of his sanity and wisdom. He believed his boarder, an old man, watched him with an "Evil Eye."
This is the second story in the preview of Great American Short Stories. (64% into preview, select in TOC)
"Signs and Symbols" by Vladimir Nabokov
An elderly couple intend to visit their son in a mental institution, but because of a recent suicide attempt, they are not allowed to see him. The husband decides to remove the son from the facility.
This is the third story in the preview of The Big Book of Modern Fantasy. (23% into preview)
Short Stories About Depression & Mental Health, Cont'd
"Spirits" by James A. Moore
Tyler and Dan, best friends, are at a flea market. Dan is drinking again to cope with his depression. Tyler has helped him with this before. They met because each of their wives was killed in the same accident by a tractor-trailer. They bonded over their grief. Early on, it was Dan who was able to provide more help.
This story can be read in the preview of My Favorite Story Podcast Author Anthology. (12% in)
"Today I Am Paul" by Martin L. Shoemaker
A Medical Care Android capable of emulation attends to Mildred as her mental condition deteriorates. She thinks her son Paul is present, so the android emulates him. While emulating, the android is bound by the personality of the person, but can override if Mildred's health is at risk. Her family has hired staff to help care for her. The android's emulation net—an expensive add-on—allows Mildred to have her family around even when they aren't there.
This story can be read in the preview of The Best Science Fiction of the Year Volume 1. (15% in)
"Sticks" by George Saunders
A father has a pole in his yard that he dresses according to the occasion. He's a stingy man and his family lives on edge. (Summary & Analysis)
This is the second story in the preview of Tenth of December: Stories. 
"Sunrise on Mercury" by Robert Silverberg
As the Leverrier approaches Mercury, Second Astrogator Lon Curtis decides to end his life. He suddenly leaves his station and heads for the reactor compartment. Flight Commander Ross notices the unusual behavior and follows. Curtis has got the disease and will have to be kept confined for the duration.
This story can be read in the preview of Born of the Sun: Adventures in Our Solar System. (40% in)
"The Diary of a Madman" (or "Lunatic") by Leo Tolstoy
The narrator has been evaluated before the provincial board, who have decided, contrary to the narrator's opinion, that he isn't mad. He can trace his current mental state to a few childhood incidents when he was confronted with the realities of strife and suffering. From adolescence until his current age of thirty-five, he lived normally—enjoying life's pleasures, getting an education, securing employment, and marrying and having a family. One day, he travels with a servant to an estate he might purchase. Along the way, he suddenly feels everything is hateful and starts questioning his actions. His anguish only intensifies.
This story can be read in the preview of The Death of Ivan Ilyich and Other Stories. (73% in)
"Black Man and White Woman in Dark Green Rowboat" by Russell Banks
During a heat wave, a man and woman go out on a boat and discuss a major decision that the woman has made. (Summary)
"Mr. Tallent's Ghost" by Mary Webb
A lawyer gets roped into taking on a client, Mr. Tallent, who wants to have his novels published when he dies. The lawyer draws up the will and makes the arrangements. Mr. Tallent's novels are extremely boring and unimaginative. The lawyer, and some others, end up dealing with considerable mental strain. (Summary)
Short Stories About Depression & Mental Health, Cont'd
"Game" by Donald Barthelme
Two soldiers monitor an underground console with instructions to turn their activation keys if certain data is received. Their expected relief hasn't arrived and they're feeling the strain of the confinement. (Summary)
Read "Game"
Nick Adams lies awake through the nights, feeling if he closes his eyes in the dark, his soul will leave his body. He passes the time by imagining his old fishing spots in great detail. Sometimes he fishes four or five streams in a night and makes up new ones. When he can't fish, he prays for all the people he's ever known. Other nights, he tries to remember everything that's ever happened to him, before the war and back to childhood. He shares the room with another man. (Summary)
"The Legend of Miss Sasagawara" by Hisaye Yamamoto
The narrator and her friend Elsie, both close to twenty, are living in a Japanese relocation camp along with many others. Everyone is curious about Miss Sasagawara, a new inmate of Block 33. She's thirty-nine years old, has never been married and used to be a ballet dancer. She's temperamental and aloof. On her first day, she threw a bucket of water at Mr. Sasaki, who offered to clean out the barracks with a hose. With the exception of one interaction with Mrs. Murakami, she doesn't respond to conversation and doesn't greet anyone. Miss Sasagawara's father, a Buddhist minister, is devoted to his prayer periods and never seems to talk directly to people.
"For Esmé—with Love and Squalor" by J. D. Salinger
The narrator is invited to a wedding in England that he won't be able to attend. He writes a few things about the bride, whom he knew about six years earlier. In 1944 he was with the American forces in Devon. After his training, he walked into town. He went into a church where a children's choir was practicing. He was affected by the performance, particularly that of a thirteen-year-old girl named Esmé.
As the narrator approaches Ploumar by carriage, the driver points out someone on the roadside he identifies as "the idiot." It looks to be a boy of about sixteen. The driver says there are four children with this problem who live with their grandmother on a farm. The narrator gets the story of this family from a few different sources. It begins when Jean-Pierre returns from military service and starts helping his elderly father with the farm. He marries a woman named Susan and they start a family.
Mrs. Washington owns a beauty parlor at the back of her father's funeral home, and they both do well in their businesses. Her life becomes more troubled when she falls in love with a quiet schoolteacher, Mr. Jerome Franklin Washington III, a man ten years younger. She wants to take care of him and buy him things. He was beating her while they were seeing each other, but they got married anyway. She eventually hears some gossip that affects her badly.
An aging man tells his wife about the vivid dream he had last night.
Short Stories About Depression & Mental Health, Cont'd
"Under the Weather" by Stephen King
Brad wakes up from a recurring bad dream and finds his dog, Lady, under the bed. His wife, Ellen, is still asleep; she hasn't been well lately. Brad takes Lady out for a walk, careful not to wake Ellen. He hears from Carlo, the doorman, that exterminators are coming to enter Mrs. Warshawski's suite. She's away in Vienna and there's a terrible smell that everyone has complained about. There must be a dead rat inside. Brad goes to his job at an advertising agency. He thinks about some significant moments in his life.
"Lunch at the Gotham Café" by Stephen King
Steven Davis's wife, Diane, tells him by note that she's left him and seeking a divorce. He's confused and unsettled, but eventually realizes his behavior contributed to this. He's contacted by Diane's lawyer, Humboldt, and they arrange a lunch meeting—Steven and Diane and the lawyers—to sort out some details. It turns out to be one of the worst days of Steven's life. The maître d' seems to be mentally unstable.
"Memory" by Stephen King
Back in Minneapolis, Edgar Freemantle was married with two grown daughters and was a big success in construction. After a terrible job site accident, he lost most of his right arm, some sight and a lot of his memory. His recovery was very difficult and his wife left him. Edgar's psychologist, Xander Kamen, helps him with his memory and recovery. He encourages Edgar to resume an old hobby.
Read "Memory" (PDF)
"Flowers for Algernon" by Daniel Keyes
A mentally retarded man undergoes a procedure to vastly increase his intelligence. He keeps a diary of his progress and personal interactions.
The beginning of the novel version of this story can be read in the preview of Flowers for Algernon. (14% into preview)
"Alicia" by Gabrielle Roy
A young girl tells the story of her older sister Alicia's mental illness. They're close but Alicia is very withdrawn.
"The Fall of the House of Usher" by Edgar Allan Poe
The narrator visits his friend Roderick who, along with his sister, is suffering from an unusual illness. Roderick's sister dies, so the narrator helps him entomb her in the house before a permanent burial is arranged.
"Making a Change" by Charlotte Perkins Gilman
Julia is a new mother and her baby cries often. Her husband, Frank, is annoyed with the situation, as is his mother, who also lives with them. She claims she knows how to stop the crying, but Julia wants to do her duty as a mother herself. Julia used to be a musician but doesn't play anymore. The strain of her new routine and her mother-in-law's interference are wearing her down. Everyone agrees that there has to be a change. Julia's thoughts start to get desperate.
Short Stories About Depression & Mental Health, Cont'd
"Average Waves in Unprotected Waters" by Anne Tyler
Bet Blevins is bringing her nine-year-old, mentally handicapped son, Arnold, to an institution.
"The Diary of a Madman" by Nikolai Gogol
A middle-aged government clerk keeps a diary that includes the times he is marginalized by others, with his fanciful explanations for what's really happening. His perceptions become increasingly outrageous as he loses grip on reality.
"Greatness Strikes Where It Pleases" by Lars Gustafsson
A mentally retarded boy is sent to an institution at age seven. He misses his old life on a farm, but tries to adjust to his new routine.
"The Scarlet Ibis" by James Hurst
The narrator, Brother, reminisces about the time a rare bird landed in his family's garden, and about his brother, Doodle, who was physically disabled and mentally challenged.
"Silver Water" by Amy Bloom
Violet tells the story of her sister Rose who suffers from schizophrenia and had her first psychotic break at fifteen. Rose is taken to many therapists with mixed results. When she goes to Dr. Thorne, she begins to make some progress.
"Night" by Tatyana Tolstaya
Mamochka is eighty-years-old and looks after her middle-aged retarded son, Alexie. She gets him through his daily routine, sets up his work space, and tries to guide his interactions with others.
"Silent Snow, Secret Snow" by Conrad Aiken
Paul, twelve-years-old, becomes distracted by something that happened a few days before. While home, he heard the postman's footsteps but they were muffled; Paul thought they were muffled by snow. When he looked out the window, there was no snow. He can't stop thinking about this "secret snow", increasing his alienation from the world.
"The Key" by Isaac Bashevis Singer
Bessie Popkin prepares to go out for some food shopping. She gets into her clothes, does her hair, and makes sure her neighbors don't break in and steal her things. She has paranoid complaints about many people she has come in contact with.
Short Stories About Depression & Mental Health, Cont'd
"The Lost Phoebe" by Theodore Dreiser
Henry and Phoebe are an aging couple who live on a farm. They only have each other; when Phoebe dies, it has a bad effect on Henry's mental state.
"Midair" by Frank Conroy
Sean Kennedy is six-years-old when his absent father shows up to take him home from school. No one has a key, so they climb in through the fire escape. His father is manic. Eventually, some staff arrive from an asylum to get Mr. Kennedy. The narrative jumps ahead to future incidents in Sean's life.
"Of This Time, Of That Place" by Lionel Trilling
Joseph Howe is an English instructor at Dwight College. One of his students, Ferdinand Tertan, is intelligent but mentally erratic. Howe, who is also a poet, is attacked in a literary journal as an irresponsible writer.
Marlene, the adult narrator, tells the story of her time at camp with her friend Charlene when they were about ten-years-old. While sharing information with each other, Marlene tells her about Verna, a girl two or three years older who moved in next to her. Verna was different; she was in a special class at school. Marlene didn't like her. Some unstated tragedy had occurred in her childhood.
"The Man Who Did Not Smile" by Yasunari Kawabata
The author of a screenplay has been watching the filming of his movie for a week. He is inspired to rewrite the last scene, having smiling masks appear all over the screen. The movie is set in a mental hospital, so he thinks he must add a happy ending.
"Trying to Save Piggy Sneed" by John Irving
The narrator became a writer because of his grandmother's kindness and a retarded garbage collector from his neighborhood when he was young. The man was Piggy Sneed. He lived with his pigs and acted like them too. The children took pleasure in teasing and scaring him.
Read "Trying to Save Piggy Sneed"
"Feather Your Nest" by Anne O'Brien
Anne makes breakfast and talks to her husband, Declan, about the overgrown pine trees next door. Anne is recovering at home after a breakdown. A few people come to look at the property next door.
"Big Bertha Stories" by Bobbie Ann Mason
Donald comes home, occasionally and unannounced, to see his family. He seemed to adjust after the Vietnam War, but then he lost his job and deteriorated. He tells his son, Rodney, tall tales of Big Bertha, a huge strip-mining machine. The stories start out light but always turn dark.
A celibate and repressed vicar rebuffs the advances of the many spinsters in his parish. He's a well-balanced person except for one thing. He's very uncomfortable with physical contact with women.
Short Stories About Depression & Mental Health, Cont'd
"The Good Doctor" by Adam Haslett
A psychiatrist makes a long drive to see a patient who's been getting her prescriptions renewed by phone. He wants to engage her in some talk therapy and better understand her situation.
The narrator talks about her therapist, Joseph. He told her about a Wales tradition where a person known as a Sin Eater would be called to eat a meal over a dead body. This would transfer the dead person's sins to the eater, thus clearing the person's way to heaven. When Joseph has an accident, the narrator finds out about his life from his ex-wives and other patients.
"Christmas Not Just Once a Year" by Heinrich Boll
Shortly after WW I, a German family is showing "symptoms of disintegration".  In 1947, when the family's Christmas tree was being taken down, it fell over, causing Aunt Milla to scream for almost a week. Uncle Franz offers a solution to the problem that causes issues of its own.
"Eupompus Gave Splendour to Art by Numbers" by Aldous Huxley
Emberlin is an academic, an encyclopedia of irrelevant information. While researching an obscure quotation, he becomes fixated on numbers and counting to the exclusion of everything else.
"The Second Tree from the Corner" by E. B. White
Mr. Trexler regularly visits a psychiatrist because of dizziness, despondency, and tension among other things.
"Pumpkins" by Francine Prose
A truck full of pumpkins collides with a car, killing the female driver. The report has an effect on several people in the small town.
"The Albatross" by Susan Hill
Duncan is an eighteen-year-old with limited mental ability. He lives with his mother, Hilda. She controls his life, and thinks him incapable of doing anything without her guidance. She's in a wheelchair and, thus, depends on him for help. Wanting some independence, Duncan is drawn to the sea. A fisherman, Ted, treats him well.
Albert Brock is ushered into a psychiatrist's office. He calls himself "The Murderer". He's been destroying machines lately, especially ones that keep him connected with others. He finds them intrusive and annoying.
"New Year for Fong Wing" by Monfoon Leong
Fong and Lee, restaurant workers, get paid. Lee wants to gamble, but Fong is worried about what his wife will think. Fong's sons were killed in wars, and now he has no male heir. Feeling depressed, he agrees to go gamble with Lee.
Short Stories About Depression & Mental Health, Cont'd
"The System of Doctor Tarr and Professor Fether" by Edgar Allan Poe
While in France the narrator visits an asylum. He had heard they used a "system of soothing" with the patients wherein punishments and confinement were avoided. To his surprise, his host informs him they have abandoned that system. The narrator is invited to stay for dinner.
Read "The System of Doctor Tarr and Professor Fether"
"Sleep" by Larry Brown
Louis, an older man, is woken up by his wife, as he is every night. She can hear noises, and he has to check the house. His wife's sleep has been disturbed for years. He stalls as long as he can, but eventually gives in and gets up.
"Miriam" by Truman Capote
Mrs. Miller is an elderly widow living by herself in New York. She stays close to home and keeps a consistent routine. While standing in line for a movie one night, she meets a young girl, Miriam, which is also Mrs. Miller's name. They have a conversation and part ways. A week later, Miriam shows up unannounced at Mrs. Miller's home.
"The Angel of the Bridge" by John Cheever
The narrator, a businessman, finds out that his mother is afraid of flying. He also finds out his brother has developed a fear of tall buildings, especially the elevators. He doesn't take an understanding view of his brother's problem. On the way back from New Jersey, he experiences a strong reaction to the George Washington Bridge.
"Graveyard Shift (Day of Reckoning)" by Richard Matheson
Luke sends his father a note saying the Widow Blackwell has been murdered. Her son, Little Jim, is scared and hiding. He tells his father to send the sheriff and coroner right away. In the next letter, Luke's father, Sam, informs the Widow Blackwell's brother of the tragedy.
"The Algorithms for Love" by Ken Liu
Elena is on a weekend leave from the institution. She's going with Brad to a bed-and-breakfast on the conditions that she take her medication every four hours and not be left alone. Elena designs dolls with A.I. that allows them to converse with their owners. The models have become increasingly complex, propelling her company to great success.
Read "The Algorithms for Love"
Mendel wakes up at supper time. He's in pain and gets himself together slowly. He puts what money he has in his pocket. He helps his adult son, Isaac, who's mentally much younger, put on his coat. They head for a pawnshop. Mendel needs thirty-five more dollars and he must have it tonight.
Read "Idiots First"
---
I'll keep adding short stories about mental health—depression, insanity, madness or mental illness—as I find more.