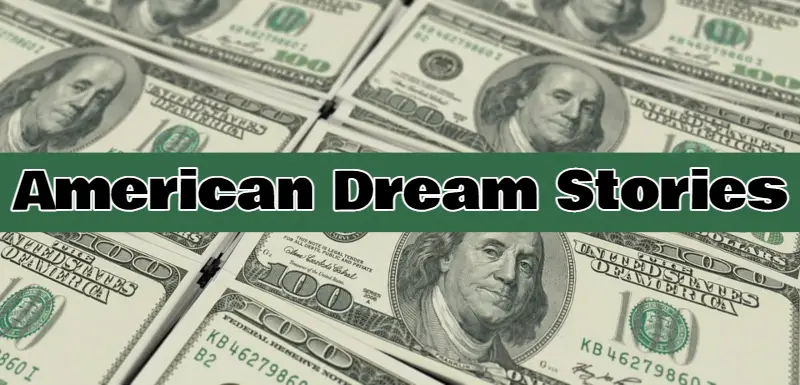 These American Dream short stories feature characters or families that are trying to better their lives, for themselves and their children. They often pursue the American Dream of home ownership and upward mobility through work and education. Some stories illustrate the same attitudes and behaviors, but take place before the term "American Dream" was used. Some characters are seeking a life of wealth and glamour. See also:
Am

er

ic

a

n

Dr

eam S

hor

t S

to

ri

es
A thirty-five year old farmhand gets married, has a child, and decides he should rise in the world. The family raises chickens and opens a restaurant to meet their goals.
This story can be read in the preview of Great Short Short Stories.
"An Hour with Abuelo" by Judith Ortiz Cofer
Arturo doesn't want to visit his grandfather in a nursing home during his summer vacation, but he gives in to his mother's urging. His grandfather's body is giving out but his mind is sharp. He tells Arturo the story of his life, which included teaching, the army, farming, and a love of books and learning. (Summary & Analysis)
"Shiloh" by Bobbie Ann Mason
Leroy has been off work for four months since getting hurt. His wife, Norma Jean, supports them both by working at a drugstore. Leroy is glad to be home with his wife, but he's worried that she's drawing away from him—maybe his presence reminds her of their son who died as a baby.
This story can be read in the preview of Shiloh & Other Stories.
"Borough of Cemeteries" by Irwin Shaw
A group of cab drivers gather at Lammanawitz's Bar and Grill for a drink before going home. Elias tries to get a beer on credit or get one from his friends. He complains about how long he works and how little he makes. The men talk about how good things were in 1928 during the boom time.
Read "Borough of Cemeteries" (second story in preview)
"The Legend of the Rubbish Heap" by Lillian Jackson Braun
Moose County was booming in the mid-nineteenth century. Otto and Carl, fifteen-year-olds, arrived from Germany. They stuck together and worked, learned and tried to rise in the world. In their thirties, they had become very successful.
This story can be read in the preview of Short and Tall Tales: Moose County Legends. (43% in)
Stories About the American Dream, Cont'd
Feld is a shoemaker who wants his daughter, Miriam, to marry Max, a young man pursuing his education. After Feld tries to set them up, his assistant, Sobel, quits. (Summary)
"Nineteen Fifty-Five" by Alice Walker
Two white men in a new convertible pull up in front of Gracie Mae's house. She wonders what they're doing in her neighborhood. The older man wants one of Gracie Mae's songs for the younger man, Traynor, to record. He gives her five hundred dollars for the song. He also buys all the recordings of the song for another five hundred. Traynor has a big hit with the song. They stay in contact over the years.
Most of this story can be read in the preview of You Can't Keep a Good Woman Down: Stories. (20% in)
"The Semplica Girl Diaries" by George Saunders
A forty-year-old father of three starts a diary to inform future readers how life is in the present. He chronicles the events leading up to the thirteenth birthday party of his oldest daughter, Lilly. The family is middle-class, but they live beyond their means. The father wants to buy his daughter an expensive present, and also wants a status symbol to show off to the neighbors. (Summary)
"An End to Dreams" by Stephen Vincent Benet
James Rimington is under anesthetic for an operation. He dreams of his personal and professional history, including all the stepping stones in his path to success.
Paul gets suspended from his Pittsburgh High School. His father wants him to be a responsible wage-earning family man when he grows up, but Paul is drawn to a life of wealth and glamour, so he decides to go to New York.
Stories About the American Dream, Cont'd
"America and I" by Anzia Yezierska
Despite wanting to live a life of creativity and self-expression, an immigrant encounters disappointments and injustice in America.
Baldasare Forestiere is a thirty-two-year-old Italian American immigrant living on seventy acres of California land. He tries to grow his own vineyard, but the land isn't fertile. He works for other people to make some money, and starts digging more rooms in his underground home. He eventually meets Ariadne, giving him a new goal—to get her to marry him.
"This Blessed House" by Jhumpa Lahiri
A newlywed Indian couple has just moved into a new house in America. As they prepare the house, the wife finds many Christian items left by the previous owners. She likes them and wants to keep them, but her husband disapproves.
"Sophistication" by Sherwood Anderson
The Winesburg County Fair is on, bringing many people into town. George doesn't feel a connection to his fellow townspeople but he is interested in Helen, who wants to escape small-town life, as he does.
"The Patented Gate and the Mean Hamburger" by Robert Warren Penn
The Yorks own their own house and like to go into town on the weekends. On one visit, Mrs. York asks about the cost of buying her favorite hamburger place.
"Falling Off the Empire State Building" by Harry Mazer
Lenny's father doesn't seem to be proud of him and they have trouble bonding over stickball, a game Lenny likes to play. When he grows up, Lenny is going to leave his father behind and live the American Dream.
"Two Kinds" by Amy Tan
The mother of a young Chinese American girl believes that people in America can be anything they want. This mother has high hopes for her daughter. One night while watching the Ed Sullivan Show, she figures out what her daughter should do.
Stories About the American Dream, Cont'd
"In the American Society" by Gish Jen
Callie Chang's parents are Chinese immigrants who started a successful pancake restaurant. Her family is adapting to American business standards and society.
"Snapshot, Harvey Cedars: 1948" by Paul Lisicky
A man and woman—young and attractive—are on a vacation at the beach. He is thinking about work and making a name for himself.
Dexter Green is a fourteen-year-old caddy, working for pocket money. He quits one day when Judy Jones, a beautiful eleven-year-old, treats him as an inferior. Years later he goes into business and becomes a success. He has another meeting with Judy Jones.
"The Son from America" by Isaac Bashevis Singer
A Jewish man who went to America when he was fifteen returns to his home village in Poland forty years later. He has become a millionaire and plans on helping his parents and the village.
"Dearly Beloved" by F. Scott Fitzgerald
Beauty Boy and Lilymary get married. They work to better themselves. They have a child and things get tough.
"Ace in the Hole" by John Updike
Fred "Ace" Anderson is a married twenty-six-year old. He's just lost his job. He was a basketball star in high school, but is struggling with post-school life. His wife, Evey, is concerned with practical things, including succeeding in business and rising in the world.
---
I'll keep adding American Dream short stories as I find more.