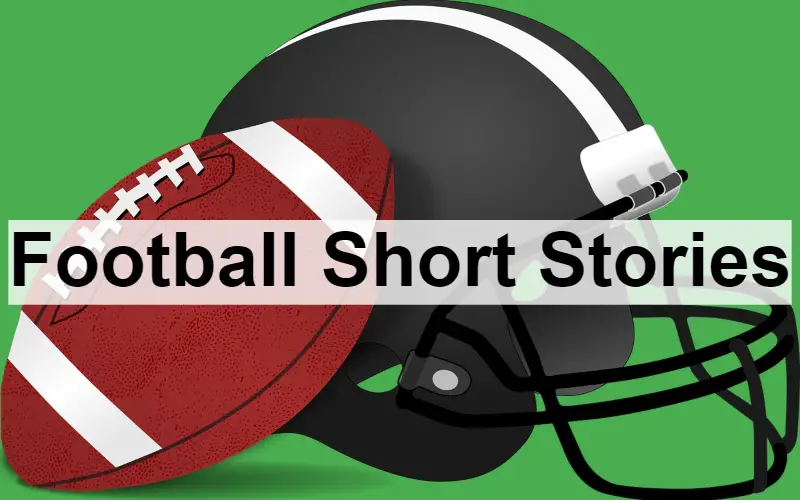 These short stories about American football have characters playing or talking about football.
American
Football
Short
Stories
Some of the short stories below and many others can be found in Football's Best Short Stories (Amazon).
"The Eighty-Yard Run" by Irwin Shaw
Christian Darling thinks about the time he ran for eighty yards in football practice at Midwestern University. He also thinks back on his college sweetheart, Louise, whom he married. He thinks about the wrong turns his life has taken.
This story can be read in the preview of Short Stories: Five Decades.
"Game Plan" by Don Delillo
The narrator remembers the plays from a big game against West Centrex Biotechnical Institute. The opponent's players were bigger and better, but his team's plays had better names.
"The Hawk" by Brian Doyle
A former football player who has fallen on hard times takes up residence on the town's high school football field.
"Just Once" by Thomas Dygard
Bryan "the Moose" Crawford plays left tackle for the Bedford City Bears, his high school team. He's good-natured but tough on the field. Despite his success as a blocker, he wants the crowd to cheer for him. After a great game, he tells his coach he wants to run the ball.
"Rookies" by Bill McGrane
A television crew is filming a rookie running back for a preseason telecast. He's uncomfortable and the interviewer asks about him not being a number one pick. It's very hot and practice is grueling. He has to deal with the initiation as a rookie.
Short Stories About Football, Cont'd
"Coach" by Mary Robison
Coach has moved to a small Ohio town to take over the freshman college football team. His wife, Sherry, wants to rent a place of her own where she can get away and paint. His teenage daughter, Daphne, is redoing algebra in summer school. Someone from the college paper is coming by to do a piece on Coach.
"56-0" by T. Coraghessan Boyle
Ray Fontinot has an arm in a cast and many other injuries besides. The injuries don't bother him, but the humiliating loss in yesterday's game, fifty-six to nothing, does. He's a twenty-two year old senior and the season is almost over. He can't imagine what it's going to be like when football is over for good. He sits in the cafeteria with some teammates who are also beat up pretty bad. He's so distracted thinking about how Suzie broke their date, he hardly hears his teammate say they're going to forfeit the final game.
"Big Foot" by Max Eliot Anderson
Jeff Spencer is new in town and plans on trying out for the football team. He has a problem with his right foot, which is immediately noticed by Denny, a football player and bully.
"Trojan Horse" by Ellery Queen
Paula Paris and Ellery Queen talk about the upcoming Rose Bowl game between the Spartans and Trojans. Paula Paris knows Pop Wing, a famous alumnus and Trojans super-fan, and she believes he'll get them tickets to the game. His daughter, Joan, is engaged to Roddy Crockett, the Trojans star player. Pop Wing has a valuable gift planned for her.
---
I'll keep adding short stories about football as I find more.