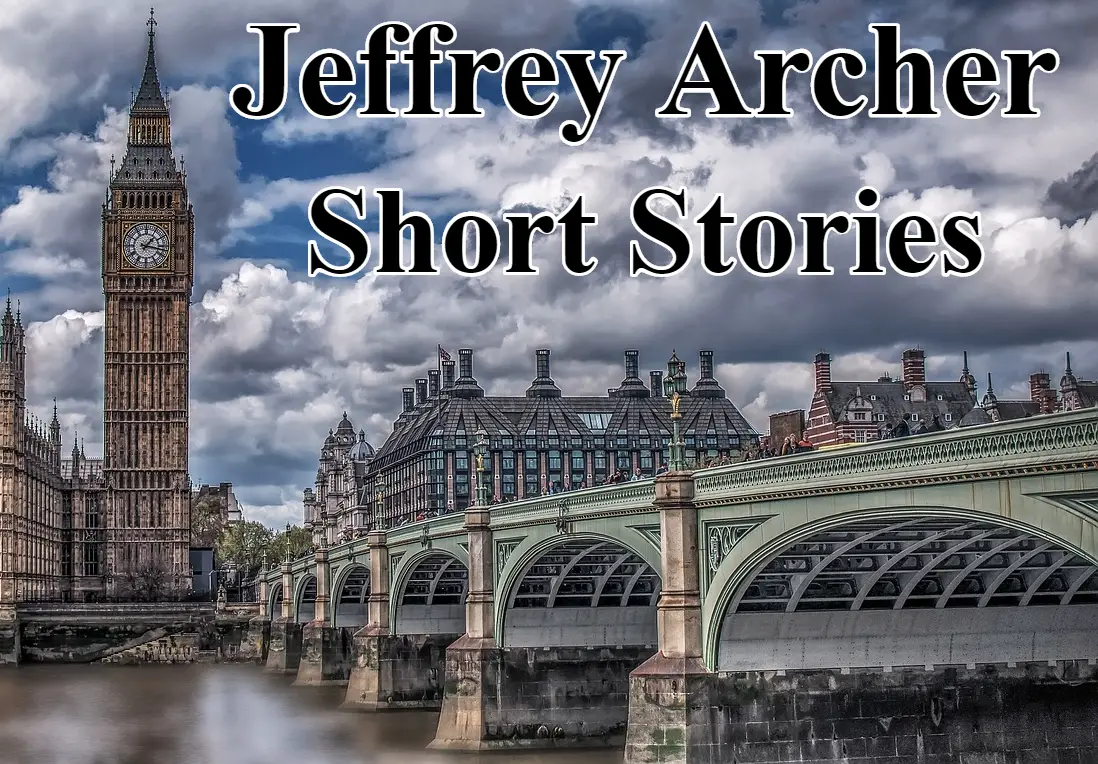 Jeffrey Archer's short stories are known for being clever and entertaining. Many of his stories have twist endings or some other type of significant reveal.
As for collections, my two favorites are The Collected Short Stories and The New Collected Short Stories. (Amazon) Each volume is a compilation of three previously published collections. Combined, they contain over 75 short stories. If you enjoy Jeffrey Archer short stories, these two books will keep you entertained for a long time.
The Jeffrey Archer short stories with PDF links are noted below.
Jeffrey Archer Short Stories
"Never Stop on the Motorway"
Diana is looking forward to going to her friend's farmhouse for the weekend. She gets held up at the office, and can't leave until 6. She's divorced, and it's her husband's weekend with the kids. She doesn't like being by herself. It's slow going getting out of the city. When she finally gets her speed up, there's an incident.
This story can also be read in the preview of The Short, the Long and the Tall. (6% in)
Cheap at Half the Price 
Consuela, a former model, is married to her third husband, Victor, a rich American banker. They have flown to London for Victor to close a big deal and for Consuela to look for a birthday present for herself. Consuela searches the usual high-end stores without success. She finds a new shop with an exquisite item, but the price is steep even for her husband.
This story can also be read in the above preview of The Short, the Long and the Tall. (40% in)
The Chinese Statue
The narrator is at an auction at Sotheby's. The next item is a magnificent little Chinese statue. Curious about it, the narrator researched its history. He relates how it came to be up for auction. It all started over a hundred years ago. Sir Alexader Heathcote, ambassador to China, was shown the little masterpiece by a craftsman outside Peking.
Read "The Chinese Statue" (first story in preview)
The Expert Witness
Toby, a solicitor, is on the golf course with Harry, an expert witness. They've been in court together many times, as confederates and as rivals. Several days later, Harry appears as an expert witness for Toby. The week after, Harry is testifying for Toby's opponent.
This story can be read in the preview of To Cut a Long Story Short. (14% in)
"'I intend to call a witness whose reputation is beyond reproach. I am confident that he will leave you, members of the jury, with little choice but to return a verdict of not guilty . . .'"

—The Expert Witness
Stuck on You
Jeremy met Arabella at a horse race. She gave him a tip that ended up paying out. They're from different social classes, but she asked him to take her to dinner. They're engaged now. Arabella wants Jeremy to do something that he has reservations about. He doesn't want to lose her so he agrees.
This is the first story in the preview of And Thereby Hangs a Tale. (20% in)
"Jeremy looked across the table at Arabella and still couldn't believe she had agreed to be his wife. He was the luckiest man in the world."

—Stuck on You
The Queen's Birthday Telegram
Albert Webber receives a congratulatory telegram from the Queen on his 100th birthday. It's a prized possession. He's been a local celebrity for the past week. There have been interviews, pictures, and the meeting of some notables, including the mayor who also gave a speech at his party. Albert looks forward to when his wife, Betty, who's ninety-seven, will receive her telegram.
This story can also be read in the above preview of And Thereby Hangs a Tale. (70% in)
An Eye for an Eye
Sir Matthew Roberts has been engaged to defend Mary Banks at her murder trial. She maintains her innocence, claiming a blow from her husband caused blindness and that she was in the hospital at the time of his death. Sir Matthew believes a manslaughter plea is preferable. (Summary)
Clean Sweep Ignatius 
The new Nigerian Financial Minister, Ignatius, sets his sights on eliminating all corruption. He does so well that the President gives him the special task of uncovering all Nigerians who are keeping their bribe money in Swiss accounts. (Summary)
Read "Clean Sweep Ignatius" (PDF Page 9)
Broken Routine 
Septimus is a claims adjuster at an insurance company. He maintains a strict daily routine in his work and home life. One day he is asked to stay a little late, throwing off his routine and putting him at odds with someone.
Just Good Friends 
Roger's significant other chronicles their history and relationship. They met at the Cat and Whistle, the local pub. Roger was with Madeleine at first, but it didn't last. The narrator didn't waste any time moving in.
Read "Just Good Friends" (PDF)
Checkmate
A beautiful woman shows up at a chess tournament, sparking a lot of interest among the competitors.
Chunnel Vision 
The narrator visits his friend Duncan when he's in New York. The narrator is promoting his new novel while Duncan has an idea for one. They go out to dinner to talk about their writing. They are joined by a woman Duncan is breaking up with.
Do Not Pass Go 
Hamid is flying to Turkey to buy his stock of carpets for his business in New York. Years ago he had been Saddam Hussein's Minister of Agriculture. When he was fired, he and his wife were able to escape the country before he "disappeared". He is thrilled with the freedom of the United States and, as a political refugee, must stay out of Iraq at all costs.
Dougie Mortimer's Right Arm
Bob Kefford has stroked Cambridge to a rowing victory for three consecutive years. His father tells him he must present a memento to the University Boat Club to remember him by. Bob hears about a bronze arm of Dougie Mortimer, a famous alumni, and thinks this would be an ideal item.
The Hungarian Professor 
The narrator sees the obituary of a distinguished Hungarian professor of English and translator. He recounts the time he met this man ten years after the Hungarian Revolution when he was in Budapest for a student athletic event. Although the professor lived in Budapest, he was immersed in English literature and England.
The Letter
Anna and Robert Clairmont are spending the weekend at the Arbuthnot's place. Surprisingly, a letter arrives for Anna. She reads it discreetly at the breakfast table, while Robert is preoccupied with the morning paper.
"A puzzled look came over Anna Clairmont's face. Who could possibly know that she was spending the weekend with the Arbuthnots?"

—The Letter
The Loophole
Philip and Michael are having lunch at the Haslemere Golf Club when their conversation becomes heated. Michael is unemployed, having lost his most recent job amid some scandal. Michael defends himself while Philip points out some of his suspicious behavior. Their argument gets the attention of the club president.
The Luncheon 
A struggling writer gets roped into taking the wife of a famous movie producer to lunch. He only has thirty-seven pounds in his account. She makes their reservation at an expensive restaurant; he is worried about being able to cover their bill.
Read "The Luncheon" (PDF)
The Perfect Murder 
A married man who's having an affair sees a man leaving the home of his mistress. He confronts her and they argue, leading to an accident. Another man ends up getting arrested for the crime.
"I stopped and would have backed into the space had I not noticed a man coming out of the entrance to her block of flats. I wouldn't have given it a second thought if Carla hadn't followed him a moment later."

—The Perfect Murder
Shoeshine Boy 
Ted Barker's political career progresses until he is appointed Governor of St George's, a group of islands and British colony. His duties aren't difficult but the Governor's mansion is understaffed and under-maintained. He and his wife get by just fine until they are informed they will be visited by Admiral Mountbatten, who will see how things are going and then brief the Queen.
The Steal 
Christopher and Margaret save all year for their one month vacation. They decide on Turkey this year and their extravagant purchase will be a carpet. Margaret researches Turkish carpets so they can get a quality piece at a good price. At the airport they see some acquaintances who they'd like to avoid.
You'll Never Live to Regret It 
David decides to leave everything to Pat. He plays it cool with the insurance agent so it won't look suspicious. Everything progresses according to plan. Of course, the insurance company will require a medical check from their own doctor.
The Blind Date
The narrator sits in a restaurant. The scent of jasmine tells him the person at the next table is a woman. He's blind. He likes to discern what he can about the people near him while hiding his blindness.
Read "The Blind Date"
---
I'll keep adding Jeffrey Archer short stories as I find more.