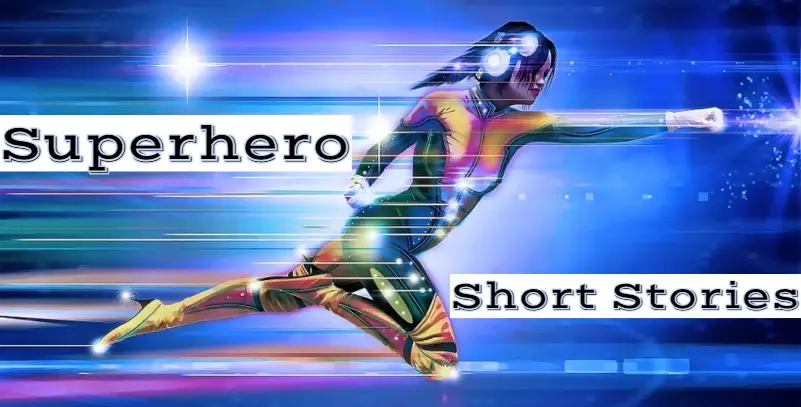 Regular short stories starring famous super heroes are hard to come by. The ones available seem to be written for children. If you're looking for this kind, here are a few volumes to check out (Amazon):
See also:
Superhero Short Stories
The following short stories feature other heroes. These ones are written for teens or adults.
"Cookie Cutter Superhero" by Tansy Rayner Roberts
Joey has a newfound celebrity status at school. She's reminded of her first day when everyone was interested in her left arm. It's her last day for at least six months. She'll be going to live at Sky Tower with the team. Her friends speculate about who she'll become and who she'll be replacing. There's a lot of uncertainty and excitement about Joey's new path.
This story appears in the anthology Kaleidoscope: Diverse YA Science Fiction and Fantasy Stories. It can be read in the Amazon preview.
"Boom" by Andrew Gladman
The narrator wakes up with a nurse looking at him. His senses are heightened. He doesn't know what's wrong. He was working for a man named Hunt in a lab. He's going to be sent back.
"Boom" can be read in the preview of Superhumanity: Superhero Short Stories.
"Geek Gurl Rising" by Chris Pourteau
Carrie sits by herself for lunch in the cafeteria. She gets harassed regularly by four popular students, and starts to view it as an experiment. She plans different ways of responding to them to see how they'll react. Carrie is a big fan of superheroes. She heads to the library to get away from everyone. The librarian, Mr. Johns, has a surprise.
This story can be read in the preview of It's a Bird! It's a Plane!: A Superhero Anthology.
"Villainous Origins" by Jessica West
A woman is making her nightly walk home through the woods. A man attacks her, but she defends herself. He's undeterred. She thinks about the time she met someone she called Justice. It was in the woods about twenty years earlier, when she was attacked by her stepdad.
This story can be read in the preview of World Domination: A Supervillain Anthology.
"Lovesick: Chasing the Storm" by Agustin Guerrero
The narrator recounts some meetings between himself and another superpowered person. There were sparks at the first meeting. They fought and lived to fight another day. He relates the progression in their encounters.
This story can be read in the preview of Powerless Against You.
Find a Superhero Short Story, Cont'd
"Flying Fast, Falling Hard" by Kim Strattford
Tom Sullivan was a pilot in the Air Force; now he doesn't need a plane to fly. He meets with Marta, the head of the Superhero Alliance. Tom has been accepted for membership. There's a condition, though: he has to improve his fighting ability. His training is to start immediately.
This story can be read in the preview of Under the Cape: An Anthology of Superhero Romance.
"Bedtime Story" by Scott Bachmann
Liza tells her kids a Paragon adventure, a story from her old life. They're classified, but she can omit certain details. It's about the Serpent Lord, a man who could control minds. It started when a man named Rodney Gilliam robbed a secret lab and some other sites. The Defense Force was called in to help.
"Bedtime Story" can be read in the preview of The Good Fight Anthology.
"The Token Superhero" by David F. Walker
Alonzo Ramey was born with the genetic anomaly that causes superpowers. Fortunately, his powers were of the Standard variety. His father warns him that white folks wouldn't take kindly to a colored boy with superpowers. He ends up getting offered a position with Teen Justice Force.
This story can be read in the preview of Octavia's Brood: Science Fiction Stories from Social Justice Movements. (53% in)
"Pygmalion" by Seanan McGuire
At age ten, the narrator found out her mother was Galatea, the most powerful superwoman in the world. She also figured out that her father was Zenith, the most powerful superhuman. She, however, had no powers of any kind, and felt like she could never be good enough. The turning point came when her mother's secret identity was revealed, putting her at risk.
This story can be read in the preview of Unmasked: Tales of Risk and Revelation. (18% in)
"Dream Knights" by L. A. Banks
Cassandra walks through the sleet to her morning train. As she walks down the subway steps, she sees a Watcher. She always sees one the night before one of her dreams. Aware of her vulnerability, she takes the necessary steps. When she boards the train, there are more Watchers.
Most of "Dream Knights" can be read in the preview of The Darker Mask: Heroes From the Shadows.
Find a Superhero Short Story, Cont'd
"Ms. Liberty Gets a Haircut" by Cat Rambo
A group of superheroes are having pizza and beer. Ms. Liberty is a cyborg, X is a genetically constructed being, Kilroy is an alien and Dr. Arcane is a magic-user. Dr. Arcane believes the group dynamic isn't right. They decide to interview some potential new members.
Some of this story can be read in the preview of Behind the Mask: A Superhero Anthology.
"There's Going to Be a Fight in the Cafeteria on Friday and You Better Not Bring Batman" by Lamar Giles
Cornell almost misses his bus stop because he's going over his list of superheroes. He was picked for the game on Friday, where students choose superheroes to face off against each other. The problem is, you can't repeat names, and there aren't many options left. He looks to his brother for help.
In this story, the characters just talk about superheroes.
Some of it can be read in the preview of Black Boy Joy: 17 Stories Celebrating Black Boyhood. (60% into preview)
The Wild Cards Series
The Wild Cards universe is populated with Aces and Jokers—people endowed with superhuman powers and those with bizarre conditions.
It's an alternate history. After WWII, an alien virus hit the Earth, mutating those exposed to it. Some use their abilities for good, some for evil and some blur the lines.
This series is written for adults.
There are some short story anthologies in this series, such as Wild Cards I: Expanded Edition, and Wild Cards II: Aces High.
---
I'll keep adding short stories about superheroes as I find more.