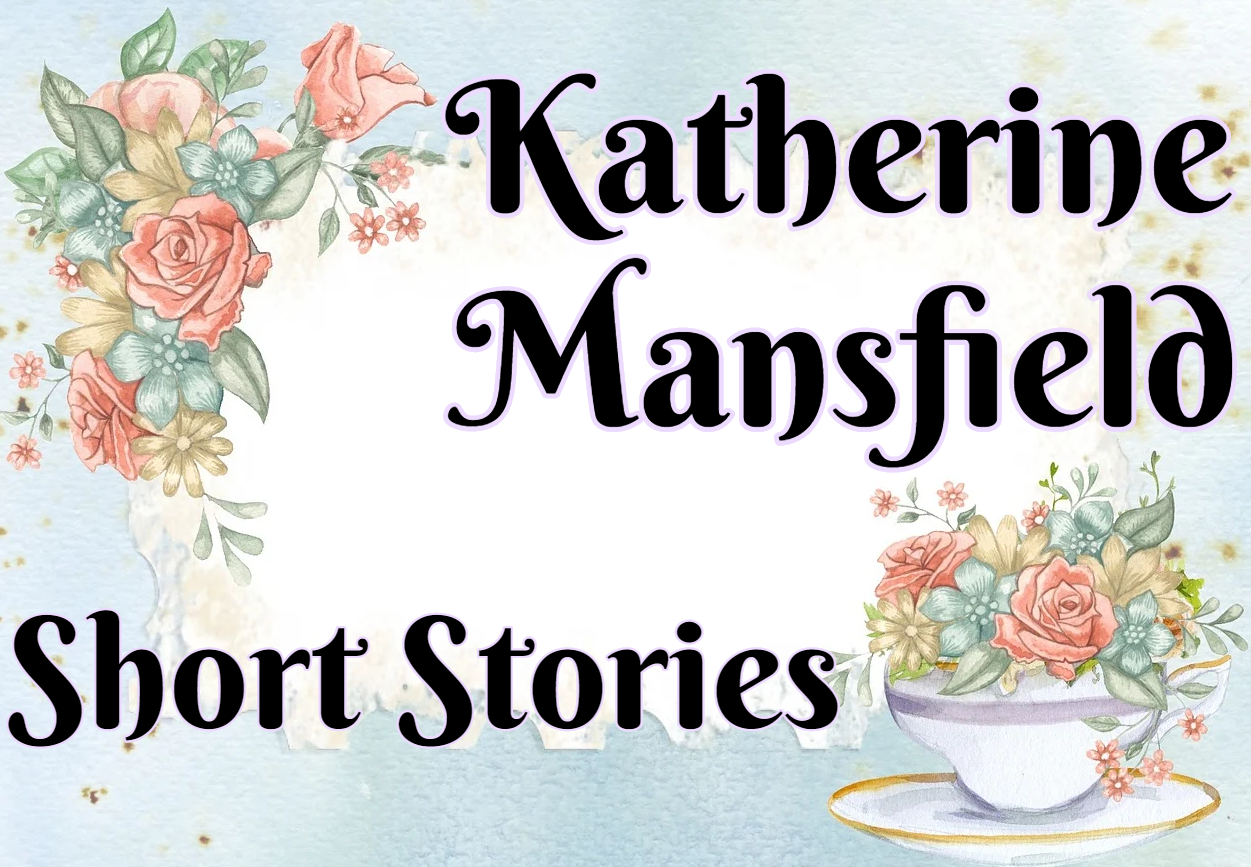 This page has a list of Katherine Mansfield short stories for your consideration. I've included an approximate word count and links for online reading where possible.
Katherine Mansfield Short Stories
Bliss
Bertha Young is happy with everything in her life. She's throwing a dinner party, and one of the guests is her friend Pearl. Bertha's husband doesn't really like Pearl, but she hopes they will grow to like each other.
This story can be read in the preview of The Complete Short Stories.
How Pearl Button Was Kidnapped | 3,100 words
Pearl Button is swinging on her front gate while her mother does her weekly ironing. Two women come by and start talking to Pearl. They lead her away with them.
This story can be read in the preview of The Best Short Stories of Katherine Mansfield.
The Tiredness of Rosabel 
After she gets off work as a clerk at a hat counter, Rosabel thinks about her life and the customers she dealt with at the shop. Among them was a young woman trying on hats with her boyfriend. Rosa imagines what her life would be like if she were her.
This is the first story in the preview of Stories.
The Garden-Party | 5,400 words
The Sheridans, an upper-class family, are making preparations for a garden party. The weather is perfect, and the grounds are beautiful. As Laura Sheridan attends to various aspects of the preparation she hears some news. There's been an accident.
This is the first story in the preview of 50 Great Short Stories.
The Fly | 2,150 words
Old Mr. Woodifield visits his former boss at work. When Woodifield mentions their sons who were killed in World War I, the boss becomes disturbed.
This is the second story in the preview of 50 Greatest Short Stories.
Miss Brill | 2,000 words
A middle-aged woman takes a weekly Sunday walk. This time she takes out her fur to wear. She likes to observe and listen to people, but she overhears something that upsets her.
At "Lehmann's"
Sabina works all day at the shop and café of Herr Lehmann. Frau Lehmann, his wife, is expecting a baby and nearing her delivery day. A young man comes in to the shop and pays extra attention to Sabina.
The Canary
A woman talks about her old pet, a canary. She doesn't want to remove the big nail where she hung the cage. It sang beautifully. It kept her company throughout her daily routine. She loved him.
Read "The Canary"
A Cup of Tea
Rosemary Fell has been married two years and is very rich. One winter afternoon she visits a little antique shop she likes. The proprietor shows her a little enamel box that's very expensive. Outside the shop, she's approached by a young woman asking for the price of a cup of tea. Rosemary sees it as a opportunity for a charitable adventure.
Read "A Cup of Tea"
A Dill Pickle 
After six years a woman and man meet again in a cafe. He talks about his life away from her and of shared experiences. She compares his recollections with her own. They fall into their old pattern.
The Doll's House | 2,800 words
The Burnell children are given a beautiful doll house as a gift. They are allowed to bring their classmates to see it, so they choose who gets to come to their house.
The Escape
A husband and wife miss their train after staying at a hotel. The wife blames her husband for this problem. He wasn't attentive enough to the details. They take a carriage instead. She's bothered by lots of things. He's not paying attention to her preferences.
Read "The Escape"
Frau Brechenmacher Attends a Wedding
Frau Brechenmacher gets the children to bed and prepares her husband's uniform. They're going to attend a wedding which has already started. The guests enjoy themselves, and Frau Brechenmacher believes she will too.
"Frau Brechenmacher Attends a Wedding"
Her First Ball | 2,600 words
Eighteen-year-old Leila, a country girl, goes to her first society ball with her cousins, city girls with more social experience.
Life of Ma Parker
Ma Parker cleans a gentleman's flat once a week. On this day he asks about her grandson. He died; they buried him yesterday. Not knowing what to say, the man makes an awkward comment about the funeral. She goes about her duties and thinks about her life, which has been a hard one.
Read "Life of Ma Parker"
A Man and His Dog
Mr. Potts is an insignificant little man with ill-fitting clothes. He gets delayed on his way home from work; the bus has broken down. He's tired from the night before when he stayed up looking after his wife.
This is one of Mansfield's unfinished stories, but I think it's fairly satisfying as it is.
Read "A Man and His Dog"
Marriage a la Mode | 3,850 words
William is on the way to visit his wife and kids who have moved to the suburbs. William thought they had been happy, but his wife, Isabel, wanted a change. He has an eye-opening visit with his wife and her friends.
Sixpence | 2,230 words
Dicky is almost always a good boy. He has rare times when he gets into a mood and rebels. Dicky's mother is entertaining Mrs. Spears one afternoon when Dicky starts acting up. He breaks a plate and runs off. Mrs. Spears offers some child-rearing advice.
Read "Sixpence"
Sun and Moon  2,250 words
Sun and Moon, a young boy and girl, are home while their parents are preparing for a party. They're being put to bed before it starts.
Read "Sun and Moon"
The Wind Blows
Matilda is awakened by the wind; it makes her feel unsettled. Her mother doesn't want her to go to her music lesson because of the high wind, but Matilda wants to go anyway.
The Woman at the Store
The female narrator, her brother Jo, and their acquaintance Jim are traveling in the heat, looking forward to stopping for refreshment at a place Jim knows. He says the man of the place is generous with his whisky, and the woman is attractive and welcoming. They arrive at a lonely establishment and are greeted by a disheveled woman with a rifle.
The Young Girl | 2,260 words
Mrs. Raddick gets the narrator to attend to her two children,  while she gambles. The daughter is seventeen. She's impatient with her mother and disagreeable. The son is only twelve. They go to a fancy place for refreshments.
Read "The Young Girl"
---
As I come across more Katherine Mansfield short stories they will be added to this page.