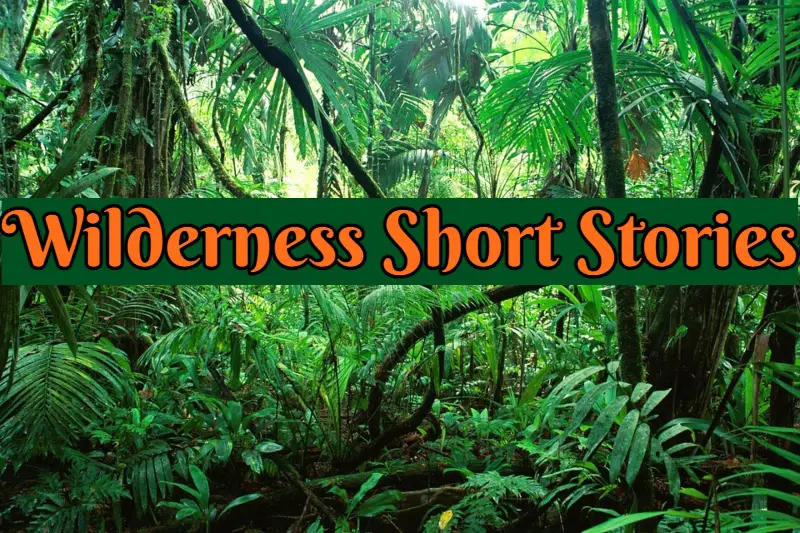 Wilderness Short Stories
These short stories take place in some type of wilderness that is completely or mostly untouched by humans. They could take place in a tropical jungle, a frozen tundra or anywhere in between.
"The Devil's Club" by Peggy Rothschild
Jessie doesn't like visitors or talking about her past. The man at her door, Al, has managed to track her down in Alaska. He insists on coming in. He wants money.
This story can be read in the preview of Heartbreaks & Half-Truths: 22 Stories of Mystery and Suspense. (58% in)
A man who lives in the wilderness prepares his wife's body for burial. There is an incident that night, which the narrator claims explains the mystery of why his cabin had a boarded window. (Summary)
This story can be read in the preview of 100 Great American Short Stories. (80% into preview)
"Honor and . . ." by Sandra Brown and C. J. Box
Joe Pickett is scouting the Gros Ventre Range, filling in as game warden. He hears high snapping sounds in the distance. They were gunshots, and not all of the same caliber. It doesn't sound like hunters. He weighs his options. Another sound settles it for him. This story also features Lee Coburn.
It can be read in the preview of Matchup. (15 % into preview)
"The Myth of Rain" by Seanan McGuire
Julie has been tracking a spotted owl for almost two days. She finally finds the nest. She plans on saving them. Many places have dried up. The Pacific Northwest is still doing alright, by comparison. The rich are moving to the best places while everyone else gets left behind. There isn't much time for the wildlife, either.
This story can be read in the preview of Loosed Upon the World: The Saga Anthology of Climate Fiction.
"Father, Son, Holy Rabbit" by Stephen Graham Jones
A father and son are lost in a snow storm. They have no idea which way to go. They're cold and hungry. The father only has a knife. It's been days. One time, after waking up, the boy tells his father about a rabbit he dreamed. The thought keeps them going. The father goes out looking for the rabbit.
This story can be read in the preview of The New Black: A Neo-Noir Anthology.
"A Sunrise on the Veld" by Doris Lessing
A fifteen-year-old boy wakes up at 4:30 AM to go hunting. He's excited and energetic, loving life and feeling he is in control of everything.
This is the sixth story in the preview of African Stories.
"The Short Happy Life of Francis Macomber" by Ernest Hemingway
The Macomber's are an American couple on an African safari. They have a guide, Wilson, a professional hunter, who will lead their outing. It is revealed that Francis had panicked in an earlier hunt when a wounded lion charged at him.
This is the first story in the preview of The Complete Short Stories of Ernest Hemingway.
"Softly Spoke the Gabbleduck" by Neal Asher
Tameera, her brother Tholan, and his assistant Anders are accompanied by a guide on Myral hunting gabbleduck. The species isn't native to the planet, but have been rumored to be there. Their trip is interrupted when Tameera kills a sheq, a native species. This puts them in danger, both from the sheq and the authorities.
This story can be read in the preview of The Gabble And Other Stories. (8% in)
A captured French soldier escapes but gets stranded in the desert, and encounters a panther.
This is the second story in the preview of Great Short Stories of the Masters.
"The Walk Up Nameless Ridge" by Hugh Howey
Over sixty thousand feet up Mount Mallory on the planet Eno, one of the three climbing teams rests. The narrator is ashamed to admit he doesn't want either of the other teams to make it. He wants the glory of being the first to summit this mountain. Governments and alpine clubs gave up conquering it long ago. Now, individuals who have climbed the highest peaks on their own worlds try to immortalize themselves on Mount Mallory.
This story can be read in the preview of Machine Learning: New and Collected Stories. (30% in)
"The Vegetable Man" by Luigi Ugolini
The narrator recounts a story told him by a green man. He had a degree in Natural Sciences and explored the Amazon and Mato Grosso. He found many wonders, including a new plant beyond classification—tall as a person, with thick and fleshy leaves, reddish branches, and long white hair.
"The Vegetable Man" can be read in the preview of The Weird: A Compendium of Strange and Dark Stories. (88% in)
Canute built a shanty near Rattlesnake Creek on the Nebraska plain. He's been there ten years and gets what he can from working the land. He drinks heavily, and as a very big man, is capable of consuming large amounts before it has any effect. He's lonely and joyless. One spring, the Yensen's move into the area. Canute starts associating with the family.
This story can be read in the preview of Cather Novels & Stories. (1% in)
In the Yukon, a man is traveling on foot with a husky in the wilderness to meet some acquaintances. It's –75 degrees and even though he's careful, he breaks through some ice and soaks his boots, necessitating a fire.
Read "To Build a Fire" (+ Analysis)
"To the Man on the Trail" by Jack London
A group of men are in the Malemute Kid's cabin for the holidays. A stranger named Westondale comes in, tells a story about following some men who stole from him, talks about his family, and asks to be awakened in a few hours so he can continue his pursuit. Shortly after he leaves, the police arrive. (Summary)
"Wilderness" by Dean Koontz
Addison, a boy of eight, has a lonely life. He lives with his mother in an isolated house surrounded by forest. He's never seen another person. His mother banishes him from the house for days at a time. He's comfortable in the woods and with the animals.
The beginning of "Wilderness" can be read in the Amazon preview.
"The Seed from the Sepulchre" by Clark Ashton Smith
Falmer and Thone are orchid hunters, exploring a tributary of the Orinoco. When Thone falls ill, Falmer continues on to a site where rumor says a treasure was left in some ruins. Falmer returns changed; he is surly, distracted, and uncommunicative. Thone thinks his partner might have picked up a tropical infection. They decide to go back to the main river.
Read "The Seed from the Sepulchre"
"The Most Dangerous Game" by Richard Connell
Raisnsford is on a ship headed for the Amazon. He's a big-game hunter. While on the afterdeck smoking his pipe, he hears the sound of gunshots in the distance. When he investigates, an accident puts him in a dangerous situation.
Read "The Most Dangerous Game"
"The Interlopers" by Saki
Two feuding family patriarchs encounter each other in the forest. An accident gives them some time to talk about their problems.
"A Dreadful Night" by Edwin L. Arnold
The narrator recounts an episode from five years ago when he was hunting in Colorado. He left his camp alone in the afternoon. He wounded a buck and pursued it into untouched wilderness. When he caught up with it, he found himself on the brink of a slippery slope above a cavernous mouth in the ground.
Read "A Dreadful Night"
"A Mountain Journey" by Howard O'Hagan
A trapper is traveling alone in the wilderness with his goods. He's exhausted but he presses on to a cottage where he can rest in warmth and safety.
"Pond Time" by Gretel Ehrlich
Madeleine is flying to Alaska to find the daughter of her deceased husband whom he had with another woman. The engine fails and the pilot is forced into a crash landing.
"Wild Honey" by Horacio Quiroga
Gabriel Benincasa, an accountant, feels a need to leave city life for a while to test himself in the jungle. His godfather warns him that he won't last in the jungle and tries to look out for him.
"The White Silence" by Jack London
Mason, Ruth (his wife), and the Malamute Kid are on the Yukon trail, low on food, with a long trip in front of them. They know they will have to eat some of the dogs. They reach a high bank that proves difficult for the weakened dogs to climb.
"The Music on the Hill" by Saki
Sylvia has convinced Mortimer Seltoun to marry her. She takes him away from Town to a remote country house. It's a wild-looking place. Sylvia is surprised when Mortimer expresses a belief in Pan, ancient Greek God of the wild.