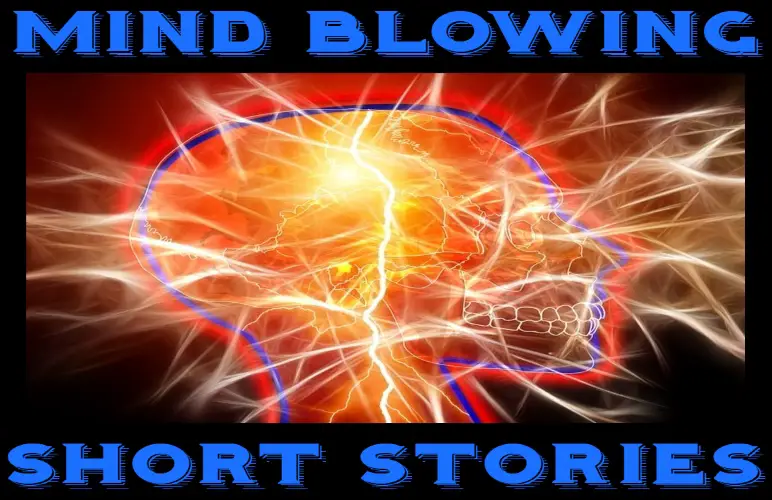 These mind blowing short stories have profoundly affected and amazed many readers. Some are in imagined worlds; others are in the world we recognize. They might make us think about something new, reconsider something we thought was understood, or dizzy us with possible implications. Or maybe they'll give you a jolt you won't forget.
Of course, sometimes a particular story is mind blowing because we read it when we were kids. It wouldn't necessarily have the same effect on an adult reader. Timing is an important factor. I hope this is the right time for you to discover one of these excellent stories. See also:
Mind Blowing & Mind Bending Short Stories
A Perfect Day for Bananafish | J. D. Salinger
Muriel speaks on the phone with her mother about her husband, Seymour, who has returned from the war. Her mother is worried about Seymour's driving and his general mental condition. Meanwhile, Seymour is on the beach, where he meets a young girl and tells her about the bananafish.
This is the first story in the preview of Nine Stories.
You're killed in a car accident on your way home. You're concerned about the family you're leaving behind, which the narrator tells you is what he likes to see. It turns out you're going to be reincarnated. (Summary & Analysis)
Good Country People | Flannery O'Connor
Mrs. Hopewell is a widow who runs her farm. Her daughter, Joy, has an artificial leg from a hunting accident as a child. Mrs. Hopewell is a Christian; Joy is an atheist with a Ph.D. Mrs. Hopewell likes "good country people", like her hired tenants, the Freemans. She and Mrs. Freeman like exchanging platitudes. Joy is introverted and believes she has life figured out. One day, a traveling Bible salesman calls on Mrs. Hopewell. (Summary & Analysis)
Flowers for Algernon | Daniel Keyes
A mentally retarded man undergoes a procedure to vastly increase his intelligence. He keeps a diary of his progress and personal interactions.
He-y, Come On Ou-t | Shinichi Hoshi
In a certain village, after a big storm, the people discover a hole in the ground. It's about a meter wide, but they can't figure out how deep it is. It seems to have no bottom. They think about what should be done with it.
The Rats in the Walls | H. P. Lovecraft
The narrator restores his ancestral home, Exham Priory, in England. He recounts some of his family history, including an ancestor who was supposedly cursed by God, and tales of murder and infestation by bats and rats. After moving in he hears sounds in the walls.
Mind Blowing Stories, Cont'd
The Night Face Up | Julio Cortazar
A man on a motorcycle has an accident. After he's given an anesthetic at the hospital, he dreams he's a Motecan Indian fleeing from Aztec warriors centuries ago in Mexico.
Singing My Sister Down | Margo Lanagan
The narrator, a young boy, accompanies his family to the tar pit. The Chief orders the boy's older sister into the pit. After she picks a spot, her family walks out to join her. They have mats to spread their weight, so they can be on the tar as she sinks. She has shamed her family.
The Gentle Seduction | Marc Stiegler
A twenty-five -year old woman lives by a mountain. Her friend Jack, thirty-three years old, tells her about the Singularity, a headband that connects people to computers, and nanotechnology for rejuvenating the body and mind. He's eagerly looking forward to all these advances, but she's resistant. When he moves away for work, they gradually lose touch. She marries a forest ranger and has a family.
The Jaunt | Stephen King
A family is waiting at the Port Authority Terminal for a jaunt—a teleportation—to Mars. Jaunting is common, but this is the family's first trip. Mark's company has transferred him to the Mars branch for two years. While they wait, he and his wife, Marilys, explain jaunting to their kids. It's vital to be under anesthetic during the jaunt.
Lamb to the Slaughter | Roald Dahl
When Mary Maloney's husband comes home from work, he drinks but doesn't want to eat. After some stalling, he tells her something he's been thinking about for a while that changes everything. She's dazed by the news; mechanically, she goes to the freezer to get something for their supper.
Cool Air | H. P. Lovecraft
The narrator explains why he's afraid of cool air. He lived in a New York boardinghouse. Above him lived Dr. Muñoz, a recluse. One day while writing, the narrator had a heart attack. He struggled to make it to the doctor's door. When it opened, he was hit by a rush of cool air.
Mind Blowing Stories, Cont'd
The Interlopers | Saki
Ulrich is out patrolling his forest with a rifle. He's not hunting the usual game; he wants to catch his neighbor, Georg, poaching on his land. Their families have a long standing feud over the territory, going back to their grandfathers. They hate each other intensely. Ulrich leaves his men on a hill and walks deeper into the growth.
The Last Question | Isaac Asimov
Multivac is a supercomputer that analyzes, and provides solutions for, many human problems and questions. One day, in 2061, two of its attendants, Adell and Lupov, have a conversation about how long Earth's energy will last. The output has already been drastically increased due to Multivac's analysis. Still, they figure twenty billion years is probably the limit. They decide to ask Multivac how to massively decrease entropy in the universe.
The Cask of Amontillado | Edgar Allan Poe
The narrator, Montresor, tells the story of how he sought revenge against a man, Fortunato, who insulted him. He was careful to hide his feeling of ill-will toward the man. They meet one evening at a carnival, after Fortunato has been drinking. Using Fortunato's knowledge of wine as bait, Montresor says he has paid full price for a shipment of Amontillado that might not be genuine. His target insists on lending his expertise immediately.
Read "The Cask of Amontillado"
The Algorithms for Love | Ken Liu
Elena is on a weekend leave from the institution. She's going with Brad to a bed-and-breakfast on the conditions that she take her medication every four hours and not be left alone. Elena designs dolls with A.I. that allows them to converse with their owners. The models have become increasingly complex, propelling her company to great success.
Read "The Algorithms for Love"
The Long Sheet | William Sansom

Four groups of captives are being held in a long rectangular metal structure with skylights. Three feet off the ground, running through all the cells, is a long white sheet soaked with water. The wardens tell the captives that they will be released when their section of sheet has been wrung bone dry.
---
I'll keep adding mind blowing short stories and mind bending short stories as I find more.