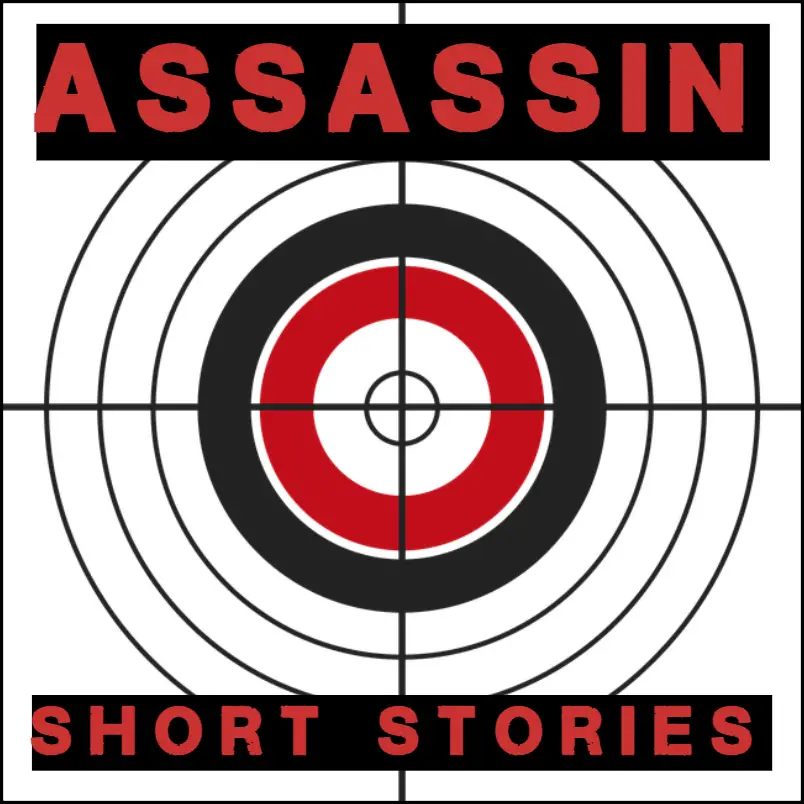 ---
A second chance at life and an amazing ability, Michael Mace faces gangs and a genius assassin.
Get After Death by Dean Koontz free on Audible
---
These short stories all feature assassins, hit men or bounty hunters. The bounty hunter stories have their own section at the bottom. Occasionally, the job is carried out by a non-professional. See also:
Hit Men or Assassin Short Stories
"Johnny Mnemonic" by William Gibson
Johnny preps his shotgun and heads for the Drome bar. His last client, Ralfi, has put out a contract on him. Johnny has to settle it. It seems the information stored in his head was stolen from dangerous people. They want it gone. The presence of Ralfi's bodyguard complicates things.
"Johnny Mnemonic" can be read in the preview of Cyberpunk: Stories of Hardware, Software, Wetware, Revolution and Evolution.
"Answers to Soldier" by Lawrence Block
Keller flies to Portland and then drives to Roseburg. He checks into his hotel, settles in a bit, and finds the little print shop in the phone book. He looks it over, then goes to a Mexican restaurant for some food. The next morning, he goes back to the print shop for some business.
This story can be read in the preview of Hit Man. (6% in) All the stories in this book are about Keller and his jobs.
"The .50 Solution" by Lee Child
A rich man approaches an assassin about a job. The negotiation goes a little different than usual. He's very particular about the type of weapon that has to be used. The assassin always chooses the weapon based on the circumstances. They come to an arrangement.
This story can be read in the preview of Bloodlines: A Horse Racing Anthology.
"Trade for the Working Man" by Matt Phillips
Cody Ropes, a hitman, is almost sixty but still has good aim. He talks about a job he did on a motel owner for a Mexican cartel. He explains how he got into this line of work. He talks about his first job, and what he does with the money.
This story can be read in the preview of Dead-End Jobs: A Hitman Anthology.
"Keller the Dogkiller" by Lawrence Block
Keller catches a cab to the airport. He goes to Baggage Claim and locates a woman holding a sign that says "Niebauer". He introduces himself as Mr. Niebauer and says his flight was fine. They drive to Manhattan together. He doesn't usually work in New York, where he lives, but there are special circumstances—he needs the work, it will only take a few days, and the target is a dog.
This story can be read in the preview of The Crooked Road: Ellery Queen Presents . . . (17% in)
"Incident at a Diner" by Chris Miller
A man and woman are at a diner, having a secret meeting. They talk about their relationship, and whether they can keep going. The place is populated by the usual crowd, except for two men who really stand out. They're big with nice suits and slicked back hair. They sound like they're from New Jersey.
Almost all of this story can be read in the preview of the above anthology, Dead-End Jobs.
The following two stories are in the anthology These Guns for Hire.
"They Always Get You" by Victor Gischler
Blake gets a phone call at his country house from an old associate. His former boss, Whispering Lenny, knows where he is. He's put an open contract out on Blake, and an assortment of assassins are on the way. Blake's a bit out of practice, but he prepares for the worst. On top of this, he has to keep tabs on a brush fire that's approaching his house.
"Another Rock 'N' Roll Hit" by Raymond Benson
An assassin has a job tonight. He's at a Vegas hotel, up in plenty of time to prepare. Meanwhile, Geovanni's girlfriend tell him there's a contract out on him. He's a powerful music executive and impresario. A mobster, Jimmy "Spoons" Scarlotti, controls the music scene in Vegas. Giovanni has been ignoring his rules.
"An Assassin in Time" by S. A. Asthana
Navy Seal Jessica Kravitz recovers from the effects of the time jump. She's done it before, but there are always side-effects. She's on a highly classified, very important, and expensive mission. Previous jumps have familiarized her with the grounds. This time, she should be able to reach her target.
This story can be read in the preview of AT THE EDGES: Short Science Fiction, Thriller and Horror Stories. (17% in)
"The Greatest Trick of All" by Lee Child
A hit man always found a way—he was great at his job, but that's over now. He learned from the best, including the greatest trick of all from a man named Ryland—getting paid twice for one job. Ryland had a long and problem-free career.
This story is in Greatest Hits: Original Stories of Hit Men, Hired Guns and Private Eyes.
Detective Silverman visits Reverend Lansing for his expertise. Silverman's in charge of the county's witness protection program. They're protecting a man who's going to testify against Tommy Doyle, a gang boss. They got word from an informant that a hit man has been hired to get rid of the witness. The informant was murdered before he could convey the details. Before dying, he was able to leave a note with a Bible verse on it.
This story can be read in the preview of More Twisted: Collected Stories Vol II. (16% in)
"Infinite Assassin" by Greg Egan
The narrator is surprisingly stable across parallel worlds. The Company recruited him to go into the whirlpool when reality starts shuffling. This is caused by a rare reaction to a drug called "S". Most of its users are concentrated in ghettos. The narrator gets sent to one such place, Leightown, to deal with the latest anomaly. He's dressed to blend in and dropped off by helicopter close by.
This is the first story in the preview of Axiomatic. (Select Kindle first then Preview)
"And Death His Legacy" by George R. R. Martin
The Prophet, Norvel Arlington Beauregard, comes out of the South preaching Americanism. Many supporters rally around him. Meanwhile, Maximilian de Laurier is near death with terminal cancer. He's a wealthy, influential man but feels he hasn't accomplished anything significant.
This story can be read in the preview of Dreamsongs: Volume 1. (77% into preview)
"Waiting for Godstow" by Martin Edwards
Claire practices her grief-stricken expression in the mirror. She'll need it soon for the authorities. She's waiting for Zack to call to tell her that her husband is dead. The time passes slowly. She gets a call, but it's not from Zack. She tries to figure out what to make of it. Zack calls next, saying everything is done.
This story can be read in the preview of The Mammoth Book of Locked-Room Mysteries & Impossible Crimes. (14% in)
"The Prize of Peril" by Robert Sheckley
Raeder is holed up in a dingy apartment. A bullet smashes through the widow. Gunmen have the exits covered, and he knows he's dead this time. Raeder is a contestant on a television show. He can hear the live commentary on his pocket television set. If he can survive for the agreed upon time, he will win two hundred thousand dollars.
This story can be read in the preview of Dangerous Games. (22% in)
Jeremiah and Sweet Gum, cousins, ride down a dirt road in a dilapidated jalopy. They've made some sort of promise to their uncle Simon. Jeremiah pulls into a hotel, which bothers Sweet Gum. He wants to get right to their business. They asks the hotel clerk how to find a man, Nathan Motley. Sweet Gum gets hostile during the exchange. Jeremiah wants to gather some information.
This story can be read in the preview of Extenuating Circumstances: Stories of Crime and Suspense. 
---
For another relevant collection, check out The Killing Spirit: An Anthology of Murder for Hire. It has many short stories as well as a few other selections.
---
Mr. Renshaw, a hit-man, is back home after a successful job. The target was Hans Morris, owner of the Morris Toy Company. There's a package waiting for Renshaw. It's postmarked five days ago from Miami, where he's just come from. He opens it cautiously. There's a toy set from the Morris Toy Company.
"Everything's Eventual" by Stephen King
Dinky Earnshaw, a nineteen-year-old dropout, has a good job. It doesn't pay a lot, but it comes with a house, a car, and weekly delivery of what he wants. He's not allowed to contact any of his old friends. He's also not allowed to save any money—whatever is left at the end of the week has to be discarded. Dinky has only met his boss, Mr. Sharpton, once. He doesn't see who drops off his pay or the cleaners. Mr. Sharpton recruited Dinky for a special ability he possesses.
"Keller's Double Dribble" by Lawrence Block
Keller watches a competitive game of half-court basketball at a playground. He was drawn to it, but basketball depresses him. He goes to a restaurant for a very spicy lunch, and then goes home. Three days later, he's in Indiana on a job. There's  a witness to some impropriety who must be taken care of.
Two hit men, Max and Al, enter a diner to get some food and to wait for their target to arrive. They're looking for a boxer, Ole Andreson, whom their employer has a grudge against.
"We Can Get Them For You Wholesale" by Neil Gaiman
Peter Pinter is a moderate man who loves a bargain. When he finds out his fiance Gwendolyn is seeing another man, he takes out a "contract" on her life. He arranges a meeting in a seamy pub to discuss the details.
Read "We Can Get Them For You Wholesale"
Alice Leiber thinks she's being murdered. No one else knows—not her husband, David; or the doctors and nurses. She's been targeted by a small assassin. Doctor Jeffers tells David that Alice is going to need lots of support to get through these feelings.
"The Easter Egg" by Saki
Lady Barbara is in Knobaltheim for Eastertide. The Prince of said township will be making a public appearance. As a woman of note, Lady Barbara is consulted about how to make the event worthy of the distinguished guest. An acquaintance suggests dressing up her child as an Easter angel and having him present the Prince with a large decorative egg.
Read "The Easter Egg"
We see some vignettes from the life of a hit man, from childhood to old age, including some firsts and some deaths.
Read "The Hit Man"
Bounty Hunter Short Stories 
"Mad Dog" by Stephen D. Rogers
A man wakes up with a rifle in his mouth. Mad Dog wants to take him for a ride. She's been hired to deliver him to someone.
This is the first story and can be read in the preview of All Due Respect 2020.
"Patton Bounty Hunter: The Beginning" by Kurt James
A man and his dingo forge through the snow. They're headed for Ridgway, Colorado, on a tip from a Mexican bandit, Lucille. He's looking for Cash Jackson, the man who killed his wife. He's driven by hatred and revenge.
This story can be read in the preview of Patton Bounty Hunter: Short Story Collection 1.
"Chaff" by Greg Egan
El Nido is fifty thousand square kilometers of engineered Amazon rainforest, contiguous to the original. It's under the control of its designers. Getting an accurate map is impossible. Attempts to destroy it with biological weapons or by burning have proved futile. Guillermo Largo, a biochemist, disappears into El Nido with highly classified genetic tools. The narrator receives orders to enter El Nido and bring Largo back alive.
Some of this story can be read in the preview of the collection Luminous. (6% into Kindle preview)
"Stalker" by Ed Gorman
It's been over eleven years but Robert, with the help of bounty hunter Slocum, has found the man he's been looking for. Slocum suggests that Robert wait outside while he goes in, but Robert insists on being there. Slocum can make it look like they had to kill him, but Robert wants the man to go to prison.
Star Wars Short Stories
I really liked Tales of the Bounty Hunters. It has 5 stories about IG-88, Dengar, Bossk, Zuckuss and 4-LOM, and Boba Fett. The one about IG-88 is my favorite; I know opinion is divided on this one, but I still remember it fondly after 25 years. A lot of it can be read in the preview.
---
---
I'll keep adding short stories about assassins, hit men & bounty hunters as I find them.