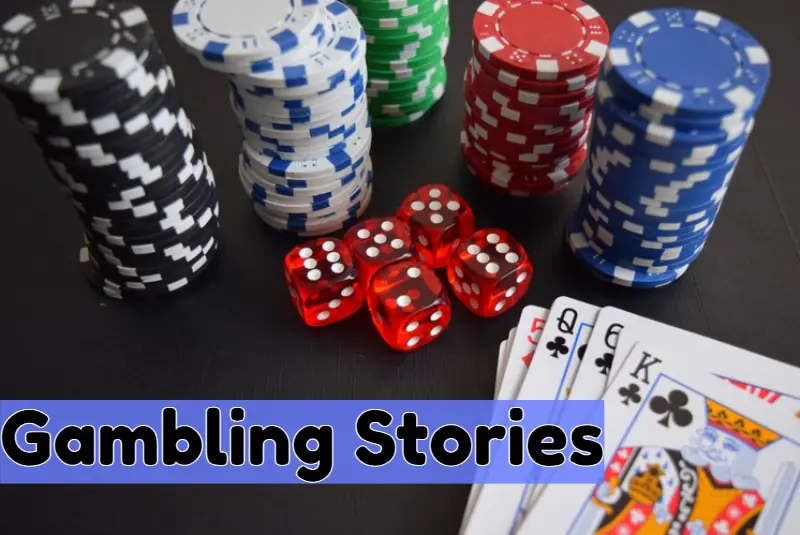 These gambling short stories have action in casinos or have characters who make bets, including in card games.
Gam

bling

Sh

ort

Stor

ies
"The Queen of Spades" by Alexander Pushkin
Hermann is an engineer in the Russian army. Tomsky tells him a story about his grandmother, a countess, who won a large sum playing cards because she knows a three card secret. The countess is still alive, so Hermann schemes to learn the secret from her.
This is the first story in the preview of Russian Short Stories from Pushkin to Buida. (35% into preview)
"(The Traveler's Story of) A Terribly Strange Bed" by Wilkie Collins
A man in Paris visits a gambling house. He goes on an impressive winning streak. He eventually breaks the bank. He gets some advice on how to protect his winnings.
This story can be read in the preview of The Black Lizard Big Book of Locked-Room Mysteries. (50% into preview)
"The Celebrated Jumping Frog of Calaveras County" by Mark Twain
At the request of a friend, the narrator calls on old Simon Wheeler to get the story of a man named Leonidas Smiley. Smiley was a betting man, and quite lucky. He would bet on anything. He had a dog that he won a lot of money with. Most of all, though, he was known for his bets on an unusual frog.
This is the first story in the preview of Book of Mark Twain's Short Stories. (15% into preview)
"A Chance to Get Even" by Lawrence Block
Richard Krale is hosting a poker game. It's after midnight and the game is coming to a close, with Krale significantly down. His luck doesn't turn in the last few hands, and he tries to extend the game. The guys have had enough, and they start cashing out. Taggert is the last one there, because Krale has to write him a check. He asks Taggert to stay and play some heads up rounds.
This story can be read in the preview of Catch and Release. (14% in)
"The Rocking-Horse Winner" by D. H. Lawrence
A middle-class woman, successful but perpetually short of money, lives with her two children. She is unlucky, but her son isn't: when he rides his rocking-horse, he's able to work himself into a state where he can pick the winner of a horse race.
This is the first story in the preview of Big Book of Best Short Stories. (2% into preview)
"Mr. In-Between" by Walter Mosley
Master Vincent meets with Clive Ford about a job on the recommendation of his mentor, Crow. A large sum of money is owed and the debtor wants to pay but remain anonymous. Vincent's job is to play in a high-stakes poker game in Brooklyn and win. The game has been fixed so the money will go to him and then to the client, minus Vincent's fee.
This story can be read in the preview of Dead Man's Hand: Crime Fiction at the Poker Table. (21% in)
Short Stories About Gambling, Cont'd
It's an exceptional year in California for strawberries, causing the market price to drop. The Hattori's start arguing for the first time in their marriage, and Mr. Hattori explores other ways of making money. He hears about a house in a nearby town where people can make their fortune. He visits the house one day while his wife and five children wait in the car. It's two in the afternoon, and he only plans to briefly check it out. (Summary)
Darlene, a hotel maid, is upset when a guest leaves her a quarter tip. She's a single mother of two with lots of expenses. Inside the envelope is a note saying it's a lucky quarter. The man was polite enough and didn't leave a mess, so she soon gets over it. After work in the lobby, she decides to rid herself of the quarter by putting in the slot machine. It hits and quarters start pouring into the tray.
"Man from the South" by Roald Dahl
The narrator is at a hotel, having a beer by the pool. An older, well-dressed man sits down by him. An American cadet who was enjoying himself in the pool also sits down. The cadet takes out cigarettes. The older man and the cadet disagree on the reliability of his lighter. The older man bets that the young man's lighter won't flame ten times in a row without missing one. He's willing to wager his Cadillac.
"Dip in the Pool" by Roald Dahl
Passengers on a cruise ship are dining when it starts swinging heavily. Mr. Botibol takes the opportunity to talk to the purser. The Captain makes an estimate on how much distance will be covered each day. The passengers can make bets on it. Botibol wonders if this patch of rough weather was accounted for in the estimate. It gives him an idea.
"Taste" by Roald Dahl
At their dinners a wine connoisseur, Richard, and his host, Mike, make small bets on whether the expert can identify the wine being served. At one such dinner, Richard is a bit distracted by his host's daughter, Louise. His attention returns to the meal when Mike unveils a special wine. Both men are confident; the betting gets out of hand.
Dahl has lots of great short stories. You can get them all in The Complete Short Stories Volume 1 and Volume 2. The three above are in volume 1.
Short Stories About Gambling, Cont'd
---
The next two stories can be found in High Stakes: 8 Sure-Bet Stories of Gambling and Crime.
"Bet on Red" by Jeff Abbott
Sean has been sent to Las Vegas to get rid of Bobby and fly home with Vic's money. He doesn't really want to kill Bobby, but those are the orders. Bobby wants to make a bet that he can pick up the beautiful redhead at the bar. Bobby will put up $1,000. If he wins, Sean has to try and resolve his recent difficulties with Vic.
"Breathe Deep" by Donald E. Westlake
Chuck, a blackjack dealer, stands at his table at 3:30 in the morning. A small, old man in a raincoat walks up to his table. He's more interested in talking than playing a game. He has a fatal attraction to places like this. Chuck thinks about calling security.
---
"Las Vegas Charley" by Hisaye Yamamoto
Charley, as he's known, is one of the few Japanese people living in the city of Las Vegas, drawn by the hope of striking it rich. He's a dishwasher in a Chinese restaurant, working ten hours a night and making a good wage. At the end of each month, he's penniless. Despite this, his life isn't dreary—he's popular with his workmates and is excited by the possibility of hitting it big. He's sixty-two now; we learn his history, including his time as a boy in Japan, his eventual marriage and sons, his time farming, his time in the internment camp during the war and more.
"The Ledge" by Stephen King
Norris is in Cressner's penthouse apartment, forty-three stories up. He's been having an affair with Cressner's wife, Marcia, and is in love with her. Cressner is a powerful man, so this meeting was unavoidable. He explains to Norris that a plan is in motion that will result in Norris going to prison for a long time for drug possession. But Cressner loves making wagers, so he offers Norris a way out. If he succeeds he can have Marcia and $20,000.
"The Killing of Bad Bull" by Alan Dean Foster
Bull Threerivers is in a casino in Salvador, where he can blend in reasonably well. His own people want to kill him. Bull has an unusual sense for electricity—he can smell it and sense its flow. He started working in electronics repair in his teens and was masterful at it. Eventually, he realized he could use his special ability in a more lucrative way and started visiting casinos.
"New Year for Fong Wing" by Monfoon Leong
Fong and Lee, restaurant workers, get paid. Lee wants to gamble, but Fong is worried about what his wife will think. Fong's sons were killed in wars, and now he has no male heir. Feeling depressed, he agrees to go gamble with Lee.
At a dinner party a banker argues that capital punishment is preferable to life imprisonment. A young lawyer disagrees, saying that he would rather life in prison than death. They bet two million rubles that the lawyer can't stay isolated for fifteen years.
"A Piece of Pie" by Damon Runyon
The narrator is having dinner with his friend Horsey in Boston. They overhear a man say he would make a large bet that Joel Duffle could outeat anyone. Horsey knows a man, Nicely-Nicely Jones, who he knows can outeat anyone. They agree to a large wager. Horsey and the narrator go looking for Nicely-Nicely Jones.
Read "A Piece of Pie"
"A Bread and Butter Miss" by Saki
Bertie and Odo are discussing which horse they should bet on in an upcoming race. There is no clear favorite. Sir Lulworth adds to the confusion with an insider tip. When Lola says she dreamt of the race, everyone is attentive.
---
I'll keep adding short stories about gambling as I find more.