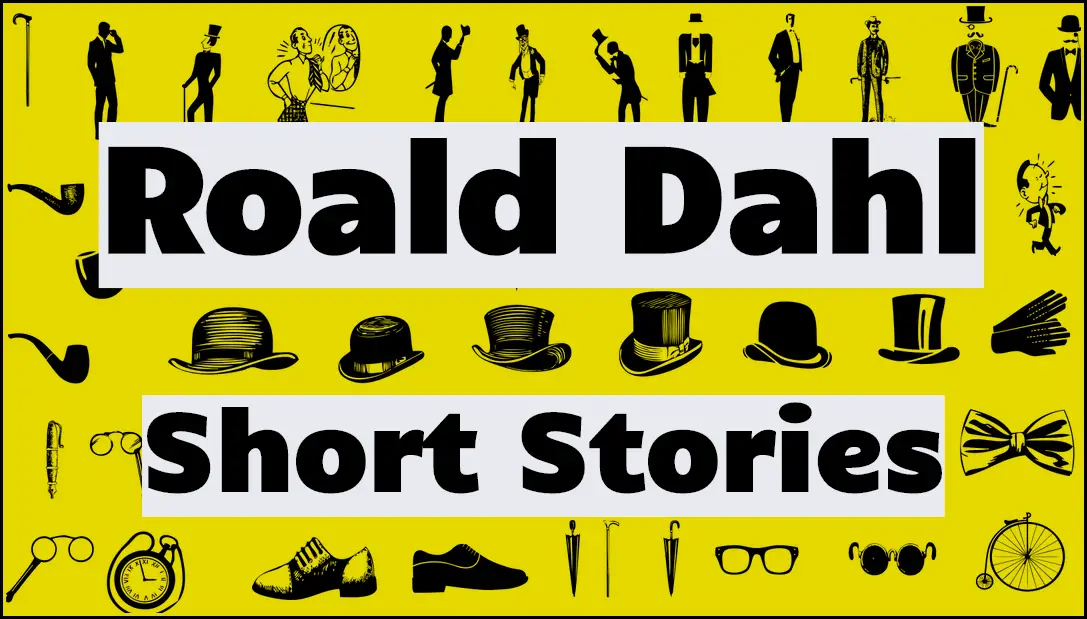 Roald Dahl Short Stories
Roald Dahl short stories are known for being clever, unsettling and highly entertaining. Many Roald Dahl short stories have a surprise ending, but whether they do or not his stories are engaging from beginning to end.
Some Roald Dahl short stories are a bit on the long side for a short story, but they don't feel like it. I've included an approximate word count and a link for easy reading where possible. If you're a big fan and want to own all the Roald Dahl short stories, you can get them in The Complete Short Stories Volume 1 and Volume 2. 
What is Roald Dahl's Most Famous Short Story?
Out of all the Roald Dahl short stories, I think there are only two possibilities:
"The Landlady"
"Lamb to the Slaughter"
Both of these Roald Dahl short stories are memorable and frequently anthologized. If you haven't read them yet, you're in for a treat.
Roald Dahl Short Stories
Here are some Roald Dahl short stories, both well-known and lesser known. I hope you find some great Roald Dahl short stories here.
Skin | 3,350 words
A panhandler passes an art gallery and sees a painting by a man he knew over thirty years ago. The painter's work is now very valuable. The panhandler has a tattoo on his back, drawn by this master, so he goes inside to show the crowd.
"Skin" can be read in the Amazon preview of Skin and Other Stories.
The Great Automatic Grammatizator | 6,800 words
Adolph Knipe has just finished building an automatic computing machine, the most advanced type ever made. His boss, Mr. Bohlen, is pleased with their success, but Adolph isn't excited. Mr. Bohlen insists that Adolph take a vacation and relax, but he comes up with an even bigger idea.
This story can be read in the preview of The Umbrella Man and Other Stories.
Nunc Dimittis
The narrator, Lionel, writes the story of his outrageous behavior toward a friend of his, Janet. He's ashamed and embarrassed by how things went. The trouble started when he escorted Gladys home one evening. She roped him into staying a while and told him a secret. She also told him that Janet had said something about him.
Some of this story can be read in the preview of Mark Twain's Medieval Romance. (70% in)
The Landlady | 3,550 words
Billy Weaver, a young, inexperienced salesman arrives in Bath. He starts the next morning. In the meantime, he needs a place for the night. While looking for a hotel, he comes across a private Bed and Breakfast. After some vacillation, he knocks on the door. A very nice lady invites him in. (Summary and Analysis)
Read "The Landlady"
Roald Dahl Short Stories, Cont'd
The Wish | 1,460 words
A tremendous length of carpet stretches through the hallway ending at the front door of a house. The boy who lives there suddenly notices its possibilities. He imagines that its three colors represent different things—the red is hot coals, the black is snakes, and the yellow is safe. He tries to make his way across the carpet. (Summary)
Katina
Peter, Fin and the narrator, RAF pilots, help at a Greek village in the aftermath of a German bombing. They find a little girl sitting on a stone not moving. She's bleeding fast; they take her back to the landing field to see the doctor. Her name is Katina, and she lost her family in the bombing. She becomes a member of the squadron.
Madame Rosette
The Stag and Stuffy, pilots, are on a short leave in Cairo. They check into a hotel for a long bath before going out to shop. Stuffy is attracted to a sales clerk who sells him sunglasses. The Stag knows a woman, Madame Rosette, who can arrange a meeting with any girl in Cairo. Stuffy decides to give her a call.
The Mildenhall Treasure
Gordon Butcher rides his bike to the farm where he left his tractor the day before. Ford hired him but the land belongs to a man named Rolfe. The ground has to be deep-plowed for sugar-beet, which means going down ten to twelve inches. After many hours of work, the plough strikes something and Gordon has to stop to investigate.
Roald Dahl Short Stories, Cont'd
Vengeance is Mine Inc.
The narrator and George talk about their lack of funds and the expense of living in New York. They talk about Lionel Pantaloon, a newspaper columnist who says insulting things about socialites. They realize that the people mentioned in his column would be upset with Pantaloon and want to get revenge. This gives them an idea for a potentially profitable business.
"Mr. Botibol"
Mr. Botibol, odd-looking and self-conscious, meets Mr. Clements about a business deal. He agrees to sell his company to Mr. Clements for the offer price, which was too low. They have a meal and drink alcohol, which Botibol rarely does. He reveals that he has never had any success in life. Botibol goes home and listens to a Beethoven symphony. He gets wrapped up in the experience, imagining himself the composer of the piece and the conductor of an orchestra. It's a lot of fun.
Ah, Sweet Mystery of Life
The narrator's cow is ready to mate. Rummins has agreed to let him use his famous bull. While helping the narrator bring the cow over, Claud tells him Rummins has a special way of doing things. When they arrive, Rummins asks the narrator if he wants a heifer or a bull.
An African Story  | 5,550 words
A pilot gets a story from an old man in a remote location. The old man thinks he hears a noise. He goes outside and listens. He hears the high-pitched yelp of a dog coming from the shed of his worker, Judson.
Roald Dahl Short Stories, Cont'd
Beware of the Dog | 5,070 words
Peter Williamson, an injured WWII pilot, manages to keep flying his Spitfire. He's lost a leg. He feels fine and thinks about how he'll land the plane and surprise everyone with the news. Suddenly he feels bad; he knows he won't make it.
The Bookseller
William Buggage owns a rare book shop where he's assisted by Miss Tottle. She pays little attention to the shop and Buggage pays almost none. The real money is made in the back room. Today alone, three cheques have come in. They target people with titles and anyone else who has money.
The Boy Who Talked with Animals | 6,700 words
The narrator goes to Jamaica to relax. He feels something unsettling permeating the whole island. A maid tells him about a tourist who was killed only two months ago. On his second evening a fisherman dumps an enormous turtle on the beach. People start making claims on the meat and shell. A boy tries desperately to save the turtle.
The Butler | 1,200 words
A newly rich man, George Cleaver, moves into an expensive London house. He hires an expensive French chef and an English butler. The Cleaver's throw dinner parties to climb the social ladder. Something about the dinners isn't really working, though. His butler explains that the wine is the problem, so George decides to become an expert.
Roald Dahl Short Stories, Cont'd
Death of an Old Old Man
Charlie is known as an excellent pilot, but he's terrified of going up again. It's been getting worse every time. He's been anticipating the order since last night. He doesn't want to lose fifty years of his life.
Dip in the Pool | 4,300 words
Passengers on a cruise ship are dining when it starts swinging heavily. Mr. Botibol takes the opportunity to talk to the purser. The Captain makes an estimate on how much distance will be covered each day. The passengers can make bets on it. Botibol wonders if this patch of rough weather was accounted for in the estimate. It gives him an idea.
Edward the Conqueror
Louisa calls her husband, Edward, for lunch. He has a bonfire going to clear out the brambles. Very close to the fire is a large stray cat. She takes it inside. It seems to show appreciation for the piano music she plays. Edward doesn't like the cat. Louisa comes to believe it's the reincarnation of a famous composer.
Galloping Foxley | 5,600 words
The narrator has taken the same train to work for thirty-six years. He's a man of habit and is comforted when everything stays the same. One morning  his routine commute to work is disturbed by a new train passenger. He's bothered by the intrusion. There's something familiar about this stranger. He tries to identify the newcomer.
Roald Dahl Short Stories, Cont'd
Genesis and Catastrophe: A True Story
A doctor assures a woman that her newborn son is healthy. She's very worried. She's given birth to three children who've all died. She finds it hard to believe that this one will be any different. The doctor does his best to convince her.
Georgy Porgy
The narrator is a fairly well-rounded person. The one area he feels he's lacking is with women. Physical contact with them is repugnant to him; he even avoids shaking hands. He's a curate with a large number of spinsters in his parish. Fending them off makes him jumpy.
The Great Switcheroo
Vic and Mary are among the group at Jerry and Samantha's for a cocktail party. Vic is attracted to the hostess, Samantha. He wants to make a pass at her but several things make it too risky. As he considers the complications, an idea starts forming in his mind. It's a bit of a long shot. For one thing, Jerry would have to agree to it.
The Hitch-Hiker | 4,200 words
A man picks up a hitch-hiker and asks him about his work, but the hitch-hiker only reveals that he's in a skilled trade. After talking about how fast the car can go, the driver accelerates, only to be pulled over by the police. He is very worried but the hitch-hiker isn't.
Roald Dahl Short Stories, Cont'd
Lamb to the Slaughter | 3,900 words
A pregnant woman, Mary Maloney, gets her husband a drink when he comes home from work. He needs a little time before he's ready to talk. Tonight, he drinks more than usual. She wants to fix him something to eat, but he doesn't want anything. The mood is a bit tense. He has something important to tell her.
Man from the South | 4,625 words
The narrator is at a hotel, having a beer by the pool. An older, well-dressed man sits down by him. An American cadet who was enjoying himself in the pool also sits down. The cadet takes out cigarettes. The older man and the cadet disagree on the reliability of his lighter. The older man bets that the young man's lighter won't flame ten times in a row without missing one. He's willing to wager his Cadillac.
Mrs. Bixby and the Colonel's Coat | 6,000 words
Mrs. Bixby makes a monthly visit to her old Aunt Maude. However, she spends the majority of the time with another man. After doing this for many years, the man gives her a beautiful present. She loves it but soon realizes she'll have to explain how she came to have such an expensive item. She comes up with a plan to keep it.
"Mrs. Bixby and the Colonel's Coat"
My Lady Love, My Dove | 5,360 words
A wealthy couple has guests for the weekend. The wife doesn't like either of them, but they play a good game of bridge. She doesn't like the things they say. She tells her husband that they should have some fun by spying on their guests.
Roald Dahl Short Stories, Cont'd
Neck
Sir Basil Turton inherits his father's business and title. He's much in demand by the women in London. A foreign woman, Natalia, swoops in and marries him. The narrator attends a dinner party with the Turtons. Lady Turton behaves indiscreetly, paying undue attention to a male guest. Her husband is aware, but he doesn't take any action.
Only This
In an English cottage, an old woman lies in bed. She hears bombers flying overhead and thinks of her son in the Royal Air Force, imagining that she's in the plane with him.
Parson's Pleasure | 9,300 words
Mr. Boggis, an antiques dealer, surveys a village, making note of the farmhouses. He's disguised as a clergyman. He buys valuable items from unsuspecting country dwellers, paying them very little and reselling for a huge profit. He has a gift for reading people and talking to them in the most effective way. On one trip, he makes the find of his life and puts his considerable skill to use.
A Piece of Cake | 4,700 words
A pilot recounts something that happened to him during wartime. He can't remember everything—not before, only when it happened. There was trouble, but he was flying too low to bail out. It continued to get worse.
Roald Dahl Short Stories, Cont'd
Pig
Lexington becomes an orphan at twelve days old. His parents get shot trying to get into their own home. He gets taken in by a seventy-year-old aunt. She's a vegetarian. She home-schools him, shelters him from the outside world, and teaches him to cook.
Poison | 4,300 words
The narrator arrives home around midnight. His roommate, Harry, still has the light on in his room. He lies motionless in his bed, terrified, because a poisonous snake is under the covers on his stomach. It's been there for hours and he can't take it much longer. They try to figure out what to do.
Princess Mammalia
Princess Mammalia is a plain girl until her seventeenth birthday when she suddenly becomes beautiful—the most beautiful girl in the realm. With her newfound beauty comes power. She gradually uses it more and more.
The Ratcatcher (Claud's Dog) | 4,200 words
A ratcatcher is called to a farm by special order of the health department. The ratcatcher is an off-putting man, but he knows his job well. He comes up with a plan to eliminate the rats, and he shares his knowledge with the owners.
Roald Dahl Short Stories, Cont'd
Rummins (Claud's Dog) | 3,700 words
Claud tells Rummins that his hayrick is infested with rats and is drawing the attention of the authorities. Rummins enlists the help of a few men to tear it down. While they work, the narrator thinks back a few months when the rick was built and remembers a significant detail.
Mr. Hoddy (Claud's Dog) | 2,650 words
Claud and Clarice go to her father's place, Mr. Hoddy's, for the evening. Clarice warns him that her father will ask him how he's going to support her. He's not to mention the greyhounds; her father doesn't approve. Claud speaks vaguely about his money-making ideas. Mr. Hoddy presses him for details, making it a bit uncomfortable.
Mr. Feasy (Claud's Dog)
Gordon and Claud are going to the greyhound track with their dog, Jackie. They have two dogs that look exactly alike. They've been racing the slower one for two months so it has a well known reputation as a loser. Today, they're going to bring the faster dog and pass it off as the same one. They're going to bet heavily on it to win. A big obstacle is Mr. Feasey, the proprietor, who has a great memory and a great eye for dogs.
Royal Jelly | 8,000 words
A new mother, Mabel, is worried because her baby has been losing weight since birth. Her husband, Albert, isn't so worried. He thinks things will improve in time. He's a bee expert. While reading about bees, he makes a connection between them and the situation with his new daughter. It gives him an idea.
Roald Dahl Short Stories, Cont'd
The Soldier
Robert is out walking late at night trying to keep his mind on good memories. His thoughts go to earlier in the day when his wife discovered a splinter in his foot. Somehow, he hadn't noticed it. She tests his sensation with a pin. He remembers some examinations he had at the doctor's a year ago.
Someone Like You
Two friends reunite over drinks. It's been five years. The narrator's friend has been fighting in the war the whole time. He's changed and they find it hard to start talking. They have several drinks. He talks about the power he had over people's lives.
The Sound Machine | 5,375 words
Klausner has invented a machine that captures sound frequencies inaudible to humans and makes them understandable. He tries the machine out one night and hears a terrible shriek. The problem is he can't identify where it's coming from.
The Surgeon
Dr. Sandy is in his office with a recent patient, a young man who was in a serious car accident. It's been seven weeks and the man is recovered. He's a Saudi Arabian Prince. He wants to give the doctor a sum of money, but the doctor doesn't accept any payment beyond his regular salary. The Prince accepts this but insists that the doctor takes a gift from the King. Refusing would be a grave insult. He takes a velvet pouch from his jacket.
Roald Dahl Short Stories, Cont'd
Taste | 5,250 words
At their dinners a wine connoisseur, Richard, and his host, Mike, make small bets on whether the expert can identify the wine being served. At one such dinner, Richard is a bit distracted by his host's daughter, Louise. His attention returns to the meal when Mike unveils a special wine. Both men are confident; the betting gets out of hand.
They Shall Not Grow Old
Two pilots sit outside the hangar. A third man, Fin, has been gone for two and a half hours. He should have been back by now. Even if he hadn't been shot down, he would have run out of fuel. Last night, he started talking about getting married.
The Umbrella Man | 2,400 words
While waiting for a taxi, a mother and daughter are approached by an older man who wants to sell them an expensive umbrella, cheaply. He explains that he's forgotten his wallet and just needs cab fare to get home.
The Way Up to Heaven | 5,000 words
Mrs. Foster is always punctual while her husband seems to take pleasure in delaying her for her appointments. Mrs. Foster plans to fly to see her daughter and granddaughters in Paris. On the morning of her trip, Mr. Foster stresses her unbearably by making her wait for him.
Roald Dahl Short Stories, Cont'd
William and Mary | 10,000 words
Mary Pearl receives a letter from her lawyer following her husband's death. Her husband had been approached by a doctor with an unusual plan for him. He went ahead with it, even though Mary was against the idea.
" A letter of farewell from William? Probably, yes. A formal letter. It was bound to be formal—stiff and formal. The man was incapable of acting otherwise. He had never done anything
informal in his life."

—William and Mary
Yesterday was Beautiful
An English pilot ejects from his plane and lands on a Greek island. His foot is injured. There's no one in sight. He searches the deserted town for a boat that can take him to the mainland.
---
I'll keep adding Roald Dahl Short Stories as I find more.