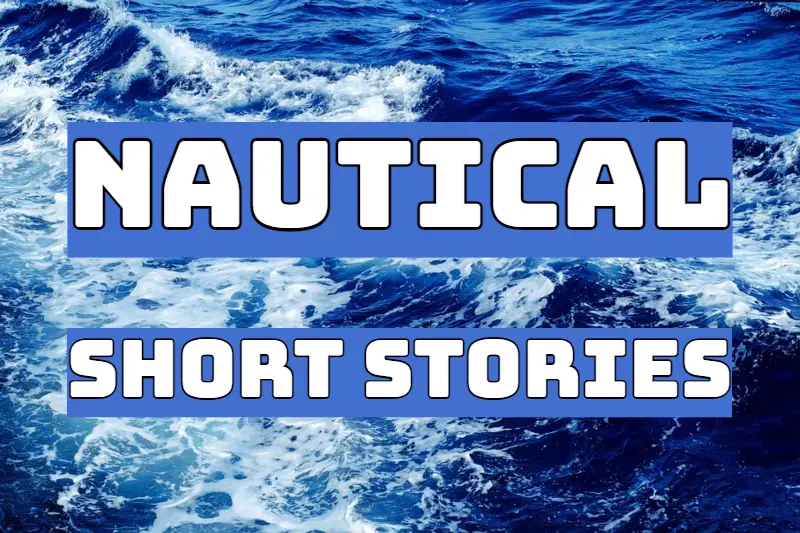 These short stories about the sea, the ocean or ships have action that occurs on a boat or near a body of water. Usually, the setting will be an important part of the plot. See also:
Find a Short Story About the Sea, Ocean or a Ship
"Widow Voyage" by Philip Wylie
Crunch and his companion admire a sea boat, the Evangeline IV. In fact, it doesn't deserve the praise, as it needs a lot of work. They plan on fixing it up. It needs a new engine, which is an expense they can't afford. Money they owe will be due in two months. The general opinion is that they didn't make a good purchase.
This story can be read in the preview of Crunch & Des: Classic Stories of Saltwater Fishing.
"MS. Found in a Bottle" by Edgar Allan Poe
The narrator, a seasoned traveler, boards a ship for the Sunda Islands. He notices signs in the sky and sea of an impending storm. The Captain disagrees. The ship is hit badly. Amid the chaos, he finds another survivor.
This is the seventh story in the preview of Complete Tales and Poems. 
"Mr. Arcularis" by Conrad Aiken
Mr. Arcularis goes on a sea voyage to England to help himself recover from an operation.  He meets Miss Dean, a beautiful young woman, and they talk. He feels he is falling in love with her.
This story can be read in the preview of The Collected Short Stories of Conrad Aiken.
Dry | Brady Golden
Cashell is on Lake Tanner in a motorboat. It's a drought year, and the water is low. Earlier, a ski boat was punctured by something and got hung up. His customers had to be brought in by the park ranger. Cashell gets out a mallet and crowbar to break it free. He bangs his hand against the underwater object and suffers an odd injury.
This is the first story in the preview of Fearful Fathoms II: Collected Tales of Aquatic Terror. (25% into preview)
"Dark Waters" by Freeman Wills Crofts
Weller, a lawyer, is panicked when his client, Marbeck, wants his stocks to be sold—the stocks are long gone. Discovery of this fraud will mean prison. Weller can only think of one way out of the situation. If Marbeck were dead, he could falsify papers that would put him in the clear. Marbeck takes a boat across the river to go to Weller's home for their card game.
This story can be read in the preview of Bodies from the Library: Lost Tales of Mystery and Suspense from the Golden Age of Detection. (82% in)
Short Stories About the Sea, Cont'd
"Trapped" by Yukari Kousaka
Alarms ring on a vessel doing deep sea research. The divers haven't come back.
This story can be read in the preview of The Deep: An Anthology of Dark Microfiction. (82% in)
"Falk: A Reminiscence" by Joseph Conrad
An experienced ship commander relates a story from when he was a young captain. He didn't enjoy the company of his crew, and the previous captain seems to have been involved in some shady dealings. Moored nearby is a ship captained by a man named Hermann. Also on board are his wife and four children, and his nineteen-year-old niece who is perfectly attractive. Falk, another visitor, feels a rivalry toward the young captain over the niece.
This story can be read in the preview of Complete Short Stories. (45% in)
"John Redding Goes To Sea" by Zora Neale Hurston
The villagers thought John was an unusual child, and his mother agreed. He was imaginative and prone to day dreams. He's drawn to the sea, and wants to leave his small Florida village when he grows up. John's mother is against it but his father is supportive. When the time comes, John is determined to go. While waiting, he meets Stella and unexpectedly gets married, which puts his plans on hold. (Summary)
Read "John Redding Goes to Sea"
Ghost Story | Ethan Rutherford
Soren and Hana live in an apartment with their two sons. One night, the boys want a bedtime story, a scary one. He tells them the story of the Seal Lady. When Soren was twelve, he went to Anchorage for the summer to be with his father, who captained a small fishing boat. Before going out one day, Soren walked into the woods and ended up at an out-of-the-way house.
Some of "Ghost Story" can be read in the Amazon preview of Farthest South & Other Stories.
The Sea Raiders | H. G. Wells
A retired man takes an afternoon walk along the English coast. He notices a pinkish form far below surrounded by some kind of animals. He makes his way closer, and is shocked by what he finds.
Three Skeleton Key | George G. Toudouze
The narrator relates the most terrifying experience he's had. He was working with two other men in a lighthouse. The night watchman woke everyone at two in the morning. A large ship was sailing right for them. It missed them but then came around and headed for them again. They tried to figure out what was going on. When they examined the ship with their binoculars, they were alarmed at what they saw.
Short Stories About the Ocean, Cont'd
The Open Boat | Stephen Crane
Four men are floating in a dinghy after their boat went down. They are rowing and bailing water, trying to make it to shore.
A Saucer of Loneliness | Theodore Sturgeon
A man rushes into the sea to help a woman. It's hard to find her in the tumult, and a panicked search ensues. Years earlier, she had a remarkable experience in a park that affected her deeply.
The Sea Devil | Arthur Gordon
A Florida man takes his rowboat out at night to cast his net. He wants to catch some fish, but he catches a manta ray instead.
The Voice in the Night | William Hope Hodgson
A schooner is approached by a small rowboat. The passenger doesn't want any lanterns out or any direct contact with the crew. He only asks for some food to be floated out to him. He leaves after getting it, but returns soon after.
Off the Mangrove Coast | Louis L'Amour
Four men steal a boat and set out to sea. One of them, Limey Johnson, knows of a ship that sank of the mangrove coast with fifty thousand dollars in a safe. They will split it four ways—unless something happens to improve each person's share.
The Seed from the Sepulchre | Clark Ashton Smith
Falmer and Thone are orchid hunters, exploring a tributary of the Orinoco. When Thone falls ill, Falmer continues on to a site where rumor says a treasure was left in some ruins. Falmer returns changed; he is surly, distracted, and uncommunicative. Thone thinks his partner might have picked up a tropical infection. They decide to go back to the main river.
Read "The Seed from the Sepulchre"
After the Storm | Ernest Hemingway
A fisherman comes across a sunken ship and tries to plunder its riches.
Kilifi Creek | Lionel Shriver
Liana, a young woman traveling in Africa, arranges to stay with an older couple in Kilifi. She thinks nothing of imposing on their hospitality. She's been swimming in Kilifi Creek, a large river by American standards. On the fourth day of her stay, she swims a different route and ends up a bit farther out than she expected.
Short Stories About the Sea, Cont'd
Soaked in Seaweed: or Upset in the Ocean | Stephen Leacock
Mr Blowhard joins the Saucy Sally as second mate. He leaves with Captain Bilge and the rest of the crew. Everything goes well until the third day when Blowhard is told there was an incident involving the first and third mates.
This is a parody of the sea faring adventure story.
The Colomber | Dino Buzzati
When Stefano turns twelve his father takes him aboard his ship. While they're out sailing, Stefano spots something mysterious. His father turns pale when he sees what it is—a colomber, which is bad news for Stefano.
The Edge of the Shoal | Cynan Jones
A man is out fishing in a kayak. He catches only one, which is unusual. He has his father's ashes with him. He's near the bay where he and his father used to cook their food, but it's occupied. He heads out to sea to allow time for the bay to empty. A storm develops.
A Descent into the Maelström | Edgar Allan Poe
While resting after a mountain climb, an older man tells his companion a story. Years ago, he and his two brothers were caught in a hurricane while on a boat.
Read "A Descent into the Maelström"
The Blue Jar | Isak Dinesen
A rich Englishman who only cares about collecting rare China is sailing with his daughter when the ship catches fire. His daughter is left behind in the confusion. She is rescued by a young sailor, and they float in the lifeboat for nine days before being picked up.
Song for a Lady | Charles Beaumont
A newlywed couple book passage aboard the Lady Anne, an old ship taking its farewell voyage. They receive an inhospitable welcome. The other passengers are British; the couple, being American, assume that is the problem. Two passengers, Burgess and Mckenzie, do their best to convince the couple to cancel their trip.
From Flores | Ethel Wilson
Captain Findley Crabbe commands the fishboat Effie Cee on its way home. He diverts their course when they spot a red flag flying near an isolated Indian family's home. The sky is overclouded but the weather report is good. A young passenger aboard is eager to get home.
---
I'll keep adding short stories about the sea, the ocean or ships as I find more.