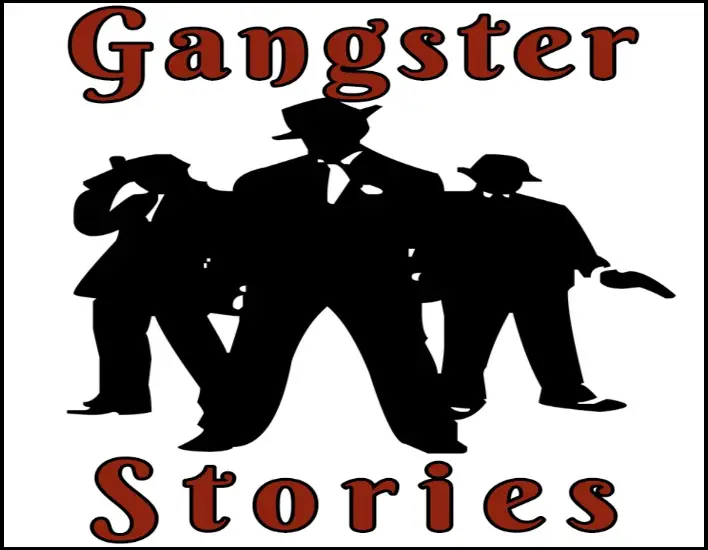 These gangster stories feature gangs in some form, whether they're organized or more small-time. The gangster stories that are more in the vein of organized crime are listed first.
Gangster & Mafia Short Stories
"Johnny Mnemonic" by William Gibson
Johnny preps his shotgun and heads for the Drome bar. His last client, Ralfi, has put out a contract on him. Johnny has to settle it. It seems the information stored in his head was stolen from the Yakuza. They want it gone. The presence of Ralfi's bodyguard complicates things.
"Johnny Mnemonic" can be read in the preview of Cyberpunk: Stories of Hardware, Software, Wetware, Revolution and Evolution.
"Vice Grip" by Matthew A. Goodwin
Vinnie "Rust" Ruzicano reminisces about his rise to power. As a skinny, weak kid, he used to hang out with his friend Gian outside a convenience store. One day, a big man with a metallic hand caused a commotion. Vinnie was fascinated by him, especially with what turned out to be his cybernetic arm. Vinnie managed to get himself a job.
"Vice Grip" can be read in the preview of Neo Cyberpunk: The Anthology.
A man has been watching Dolan, a crime boss, for seven years. He follows him as much as his schedule as a teacher allows. He's gotten to know the man's routine well. Dolan is always accompanied by two large guards. Dolan had the man's wife killed because she witnessed something and was going to testify. He's been trying to come up with a plan for revenge. One day, while driving he thinks maybe he could somehow trap Dolan on the road.
This longer story can be read in the preview of Nightmares & Dreamscapes: Stories.
"How Quini the Squid Misplaced His Klobucar" by Rich Larson
The narrator wants Nat to help him rip off Quini the Squid, a man who runs a large criminal empire. They both hate him for different reasons. Nat had a relationship with him that was abusive. The narrator was blamed for someone else's mistake during a job, resulting in a beating and no pay. The dual motives of profit and revenge make it an appealing job for both. Quini is in possession of a valuable piece of art.
This is the first story in the preview of The Year's Top Hard Science Fiction Stories 5.
"The King" by Isaac Babel
The wedding ceremony is over. The cooks and hired help are preparing for the feast. A young stranger enters the premises. He's looking for Benya Krik, known as the King, because he runs Moldavanka. He has an important message from Aunt Hannah about a new police chief.
This story can be read in the preview of Odessa Stories. (49% in) This whole collection is about Benya Krik.
Detective Silverman visits Reverend Lansing for his expertise. Silverman's in charge of the county's witness protection program. They're protecting a man who's going to testify against Tommy Doyle, a gang boss. They got word from an informant that a hit man has been hired to get rid of the witness. The informant was murdered before he could convey the details. Before dying, he was able to leave a note with a Bible verse on it.
This story can be read in the preview of More Twisted: Collected Stories Vol II. (16% in)
Gangster Stories, Cont'd
At a familiar dive bar, the narrator sees a guy he's seen there before. They get talking about some trouble the guy is in. He tells a bit of his "work" history, which started with muling—transporting keys of coke and later selling for the Martinez Brothers. One day recently, he took a chance.
This story can be read in the preview of The Cocaine Chronicles. (43% in)
"Kings and Queens" by Elsie Chapman
Ming goes to her family-owned restaurant after school. There's a lot of prep to be done for an engagement dinner they're hosting tomorrow. Ming's older sister, Yun, is upstairs in bed, unable to move; she was shot. Someone calls in a "special" order. As a member of the Kings and Queens, Ming understands what this means.
Some of this story can be read in the preview of Hungry Hearts: 13 Tales of Food & Love. (70% into preview)
"Gunfight at the Golden Gator" by Tyson Blue
Roger James, a Larey County Deputy, is headed back to the Sheriff's office with his partner, Tim Foster in the very early morning. The Mullis brothers, who's criminal empire rules the southern part of the county, have put out a hit on Roger. His testimony could put Woodrow Mullis in jail for a long time. They get a call from dispatch about a disturbance at the Golden Gator, a hangout in Mullis territory.
Some of this story can be read in the preview of A Time For Violence: Stories With an Edge. (67% into preview)
"Bet on Red" by Jeff Abbott
Sean has been sent to Las Vegas to get rid of Bobby and fly home with Vic's money. He doesn't really want to kill Bobby, but those are the orders. Bobby wants to make a bet that he can pick up the beautiful redhead at the bar. Bobby will put up $1,000. If he wins, Sean has to try and resolve his recent difficulties with Vic.
This story can be found in High Stakes: 8 Sure-Bet Stories of Gambling and Crime.
---
They're definitely not short, but there's nothing like The Godfather books if you want a story of organized crime. Take a look at all the novels set in the Corleone's world.
You also won't go wrong with the Donnie Brasco books, both fiction and non-fiction.
---
"Burning Desire" by KM Rockwood
Aunt Regina throws a party to boost Roger's spirits—his upcoming wedding has been called off. His former bride-to-be is a rich woman. Loss of access to this money is a bigger worry for Roger because he has outstanding debts. The syndicate has demanded a payment of $10,000 by midnight, and he doesn't have it.
This story can be read in the preview of Heartbreaks & Half-Truths: 22 Stories of Mystery and Suspense. (44% in)
"The Youngest Brother" by Sara Dobie Bauer
Duncan Sadler, the youngest of four brothers, is in a bar after his father's funeral. A woman playing pool with some associates has been watching him. She's going to start a conversation and then get him into the alley.
This story can be read in the preview of Agents & Spies Short Stories. (8% in)
"The Death of Jack Hamilton" by Stephen King
Some people don't think it was John Dillinger the authorities shot outside the Biograph Theater. Among other things, they cite a scar on the dead man's lip that they claim Dillinger didn't have. Homer Van Meter, a member of John Dillinger's gang, says it's not true—Dillinger is dead. He tells the story of how he got the scar. The gang escaped out the back of the Little Bohemia Lodge, commandeered a car and got out of there. The police pursued and there was a gunfight.
"Vince's Dragon" by Ben Bova
Vince is a young gangster. He wants to make something of himself, but so far the Family only gives him small-time jobs. One day, he gets a chance. Louie wants him to torch a warehouse. It's a risky job. Burning it down isn't so hard, but getting away clean with it is. When Vince gets inside the warehouse, it has an unexpected resident.
This story is in the anthology Dragon's of Darkness.
At the National Museum in Naples, the narrator meets an older man—intelligent, unaffected and with some money. The climate of Naples is good for his health. He's correct and moderate in his habits. They spend a few evenings together before the narrator gets called away to care for an ill friend. While he's away, the older man has a consequential experience.
Read "Il Conde"
"Hidden Ribbon" by John Shirley
It's 2044 on the rooftop shack town of the BP building in Los Angeles. Giorgio cautiously crosses a swaying rope bridge. He leaps into an open window as a bullet hits the concrete behind him. He's met at gunpoint by Banker, the landlord, who orders him out. He doesn't want any trouble; he can see Limmy and his second-in-command pursuing Giorgio.
Some of this story can be read in the preview of Brave New Love. (33% in)
Two hit men, Max and Al, enter a diner to get some food and to wait for their target to arrive. They're looking for a boxer, Ole Andreson, whom their employer has a grudge against.
---
Gangster Stories, Cont'd
The following two stories are in the anthology These Guns for Hire.
"They Always Get You" by Victor Gischler
Blake gets a phone call at his country house from an old associate. His former boss, Whispering Lenny, knows where he is. He's put an open contract out on Blake, and an assortment of assassins are on the way. Blake's a bit out of practice, but he prepares for the worst. On top of this, he has to keep tabs on a brush fire that's approaching his house.
"Another Rock 'N' Roll Hit" by Raymond Benson
An assassin has a job tonight. He's at a Vegas hotel, up in plenty of time to prepare. Meanwhile, Geovanni's girlfriend tell him there's a contract out on him. He's a powerful music executive and impresario. A mobster, Jimmy "Spoons" Scarlotti, controls the music scene in Vegas. Giovanni has been ignoring his rules.
Other Gangster Stories
"On the Sidewalk, Bleeding" by Evan Hunter
A boy lies bleeding in the rain on the sidewalk. He's been stabbed. His jacket identifies him as a Royal, a member of a local gang. He can't speak. He thinks about Laura.
This is the first story in the preview of The Best of Manhunt.
"The Destructors" by Graham Greene
The newest member of a gang of boys, T, shows up late one day. He's gotten some information about a house they had talked about once. It has a beautiful, antique look inside, and most significantly, the owner is going to be away for two days. He has a plan. The gang votes on it.
This story can be read in the preview of Twenty-One Stories. (Select "Kindle" version)
"Enemy Territory" by William Melvin Kelley
Young Tommy is sent on an errand by his mother; he is to take Mister Bixby's hat back to him. This means crossing the street onto the turf of Valentine's gang, a group of neighborhood kids.
"Death of a Tsotsi" by Alan Paton
Spike is in a reformatory in South Africa. He is a member of the tsotsis, a black gang. Spike gets visits from his mother, sister and her friend Elizabeth, whom they want him to marry. He also gets visits from his old associates. Spike knows he has to decide which way he will go, and prepares for the consequences.
"The Challenge" by Mario Vargas Llosa
An older man informs three men that a member of their gang, Justo, will be fighting the Gimp, a member of a rival gang. The men prepare for the encounter and talk about what led up to it.
---
I'll keep adding mafia and gangster short stories as I find more.