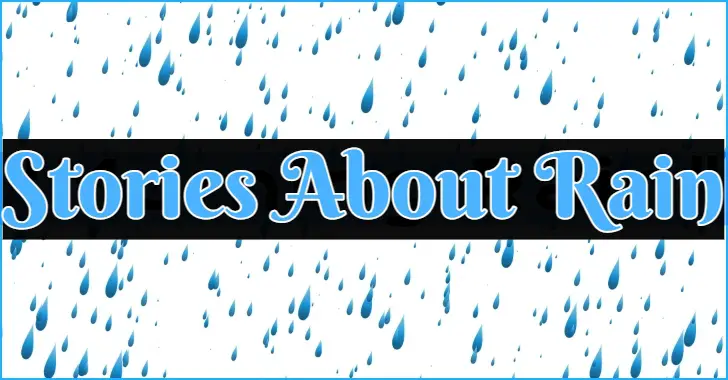 In these short stories about rain, rain plays an important part in the plot.
Short Stories About Rain
Sadako's father is visiting from San Francisco. They talk at the breakfast table. Her husband has gone to work and the baby is napping. Sadako tries to encourage communication but her father and husband are reluctant. (Summary and Analysis)
On a very stormy night, a salesman calls on the narrator, warning him of the dangers of lightning. He tries to sell the narrator a lightning rod. Each strike of lightning makes his pitch more urgent, as he tries to convince the narrator of the great danger he's in. (Summary)
This story can be read in the preview of Classic Short Stories: The Complete Collection. (73% in)
The villagers thought John was an unusual child, and his mother agreed. He was imaginative and prone to day dreams. He's drawn to the sea, and wants to leave his small Florida village when he grows up. John's mother is against it but his father is supportive. When the time comes, John is determined to go. While waiting, he meets Stella and unexpectedly gets married, which puts his plans on hold. (Summary)
Read "John Redding Goes to Sea"
A young girl goes to a cobbler for some help for her brother. He has his arm stuck in a tree, and there's a storm coming. They walk together and talk about nature.
"All Summer in a Day" by Ray Bradbury
Humans are living on Venus. The children are eagerly awaiting an event that scientists have confirmed: it will stop raining for two hours, the only break from rain in seven years. The kids speculate about what the sun is like. One student remembers the sun from Earth, but the others don't believe her.
Short Stories About Rain, Cont'd
"The Long Rain" by Ray Bradbury
Four survivors of a rocket crash on Venus are trudging through the jungle in heavy rain. They're looking for a Sun Dome, a structure with hot food, dry clothes, and an artificial sun inside. The rain is unceasing. It puts a great mental strain on the travelers. They press on as they try to maintain their resolve.
Read "The Long Rain"
An American couple is on vacation in Italy. The wife looks out the window at the rain and sees a cat huddled under a table. She wants to go down and take it out of the rain.
"What Happened During the Ice Storm" by Jim Heynen
There is freezing rain one winter. Everyone thinks it's beautiful until it gets dangerous and the livestock has to be moved inside.
Read "What Happened During the Ice Storm"
While her husband is waiting out a storm at a local store, Calixta is at home. She goes to bring in her laundry from the front porch when she sees an old love, Alcee. She invites him inside.
"Rain, Rain, Go Away" by Isaac Asimov
The Wrights and the Sakkaros are neighbors. The Sakkaros like to be out in the sun but they rush inside at the possibility of rain. The Wrights are curious about them, so they invite the Sakkaros's out to a carnival.
---
I hope you found some great short stories about rain.