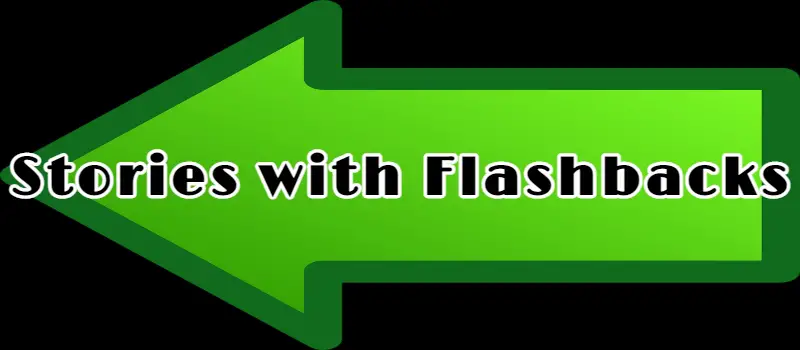 These flashback stories contain at least one flashback, but usually have several. Many of these stories with flashbacks are well known, but I hope you find something new here too.
Stories with Flashbacks
"The Short Happy Life of Francis Macomber" by Ernest Hemingway
The Macombers are an American couple on an African safari. They have a guide, Wilson, a professional hunter, who will lead their outing. It is revealed that Francis had panicked in an earlier hunt when a wounded lion charged at him.
This is the first story in the preview of The Complete Short Stories of Ernest Hemingway.
"The Snows of Kilimanjaro" by Ernest Hemingway
On the African savannah, a man's leg is rotting with gangrene. His wife tries to comfort and encourage him. As he waits for death, he thinks about his life.
This story can also be read in the above preview of The Complete Short Stories of Ernest Hemingway. (62% in)
"Mono no Aware" by Ken Liu
The remaining 1,021 humans are aboard the Hopeful, headed for 61 Virginis. Hiroto's family followed the evacuation plan of the Japanese government, as citizens of other nation's followed theirs. The situation didn't go smoothly. Hiroto monitors the solar sail that powers the vessel. (Summary)
This story can be read in the preview of The Future is Japanese (12% in)
"Shiloh" by Bobbie Ann Mason
Leroy has been off work for four months since getting hurt. His wife, Norma Jean, supports them both by working at a drugstore. Leroy is glad to be home with his wife, but he's worried that she's drawing away from him—maybe his presence reminds her of their son who died as a baby.
This story can be read in the preview of Shiloh & Other Stories.
A Southern spinster, Emily Grierson, has died. She had been a recluse, so the townspeople are curious about her and her house. The narrator recounts episodes from her life. (Summary & Analysis)
This story can be read in the preview of A Rose for Emily and Other Stories. (18% in)
Flashback Short Story Examples
During the American Civil War, Carter Druse, fighting for the North, falls asleep at his sentry post but wakes in time to catch a spy for the South.
This story can be read in the preview of The Devil's Dictionary, Tales, & Memoirs.
"Everything Stuck to Him" by Raymond Carver
A woman visiting Milan for Christmas wants to hear a story from when she was a kid. She's told about a young couple who lived under a dentist's office. They were in love and ambitious. Their baby was three months old. The young man plans a hunting trip with an old friend of his father's. (Summary & Analysis)
Read "Everything Stuck to Him"
"I Walk Between the Raindrops" by T. C. Boyle
The narrator and his wife are in Kingman, Arizona, staying at a Motel 6. He goes to the local bar to wait for his wife while she goes antiquing. A woman from the other side of the bar comes over to him, introduces herself, says she has ESP, and asks if he wants to play a game. He gently rebuffs her. She talks to herself and persists in trying to get his attention. He recalls a wild fire disaster, an incident when his wife worked for the Suicide Prevention Hotline, and a time they tried to play matchmaker.
This story can be read in the preview of I Walk Between the Raindrops: Stories. (10% in)
"Runaway" by Alice Munro
Carla and Clark live in a mobile home. Their neighbor, Sylvia, returns from a trip to Greece. Carla stays out of sight in the barn. She wonders if Clark knows yet. He has a temper and has had run ins with several people in the area. Carla's worried about her goat, Flora, that's been missing two days. Sylvia calls for Carla to come help with the house tomorrow. Clark has been ruminating on a scheme for a while and he wants Carla to start it.
Some of this story can be read in the preview of Runaway. (12% in)
Mabel arrives at Clarissa's place for a party. Immediately, she has the suspicion that something is wrong. Walking to the far end of the room and looking in the mirror confirms her fears. Her dress isn't right. She couldn't afford the latest style so she had one made from a cheaper pattern, old-fashioned, modeled after a picture from a Paris fashion book that looked charming on the page. Mabel has always had issues with inferiority, and now, in a room full of fashionably dressed people, these feelings surface. She becomes consumed with how she looks and how she is viewed by the other attendees.
Flashback Short Story Examples
"The Half-Skinned Steer" by Annie Proulx
Mero Corn is informed that his brother, Rollo, has been clawed to death by an emu. Mero, a retiree, decides that he will drive from Massachusetts to Wyoming for the funeral. On the way, he thinks about his father's girlfriend, who, years ago, had told him a disturbing story about a luckless rancher and a half-skinned steer.
"Aftermath" by Mary Yukari Waters
Japan is becoming Americanized following its defeat in WW II. Makiko, a widow, worries that her son will forget his heritage and his father.
"You're Ugly, Too" by Lorrie Moore
Zoe Hendricks is an unmarried history professor. She lives alone and has trouble connecting with men. She likes using humor, often at the expense of whoever is nearby. Her sister invites her to a Halloween party.
"Mrs. Dutta Writes a Letter" by Chitra Banerjee Divakaruni
Mrs. Dutta, an elderly, Indian widow, moves to her son's home in America. She tries to adjust to American customs. A friend from India writes her a letter, asking if she's happy in America. Mrs. Dutta thinks about how to respond.
"Paris 1991" by Kate Walbert
Rebecca and her husband, Tom, go to Paris to conceive a child. Rebecca thinks often of her mother, Marion, who died a few months earlier.
"The Daffodil Sky" by H. E. Bates
A man returns to a town after many years away. He's looking for Cora Whitehead, a woman he used to see. We hear the story of their relationship and of a decision he made that changed everything irrevocably.
Flashback Short Story Examples
"The Last Lovely City" by Alice Adams
Benito Zamora, a doctor and widower, is invited to a dinner party by a young woman. He sees several people he is acquainted with, but he keeps to himself a lot.
"The Elephant Vanishes" by Haruki Murakami
An elephant, the ward of a Japanese town, disappears along with its caregiver. The narrator follows the story of the elephant closely, clipping all the news articles and thinking about what happened.
"Last Night" by James Salter
Marit, a woman dying of cancer, asks her husband, Walter, to help her die quickly. He agrees to give her an overdose of her medication. They have one last night out with a family friend, and then prepare for the end.
"The Sky is Gray" by Ernest Gaines
James is an eight-year-old black boy in the 1930's South. He has a bad toothache but didn't tell his mother about it, not wanting to be a crybaby and knowing they can't afford to have it pulled. After he tries aspirin and a prayer cure with his aunt's help, without success, his mother discovers the problem.
"Han's Crime" by Shiga Naoya
Han, a circus performer, severs his wife's carotid artery during their knife throwing act; she dies immediately. Han is arrested and, along with the circus manager and stagehand, is questioned by a judge about the death. He tries to determine if it was premeditated or accidental.
"Black is My Favorite Color" by Bernard Malamud
Nat Lime, a Jewish bachelor, is drawn to African-American people. He thinks about his experiences with them, which never seemed to go the way he wanted.
"The Pagan Rabbi" by Cynthia Ozick
The narrator hears that a renowned rabbi and childhood friend, Isaac, has committed suicide. He visits Isaac's widow and learns that he had become fixated on nature before his death.
"The Northern Lights" by Joy Harjo
Whirling Soldier is a Native American Vietnam War veteran. In flashbacks, we see his childhood, his war days and his post-war life. He has struggled with drug and alcohol use.
Flashback Short Story Examples
"Wunderkind" by Carson McCullers
Frances, fifteen, arrives at the home of her piano instructor, Mr. Bilderbach. She is nervous; her playing has deteriorated lately. She has her lesson, and thinks about her history with her instructor, recent events that worry her, and her hopes and concerns.
"Swaddling Clothes" by Yukio Mishima
Toshiko and her husband had hired a nurse. She gave birth to an illegitimate child in their house; they were unaware of the pregnancy until the birth. The situation has a strong effect on her, making her think about modernization and class differences.
"The Rememberer" by Aimee Bender
A man experiences rapid, reverse evolution. He goes from man to ape to sea turtle, losing about a million years a day.
Read "The Rememberer" (Pg 3)
A maid, Laura Kimble, is on trial for beating a white man, Clement Beasley. He went to the house of her employer, Mrs. Clairborne, to collect on a loan. Beasley says that when he found her absent and saw the maid packing up the silver he thought Mrs. Clairborne had left town and was sending for her things—things she had put up as collateral for the loan. When he tried to take the furniture, Laura intervened.
Doctor Harry checks on Granny Weatherall, a bed-ridden woman of almost eighty. She's uncooperative and wants him to leave. She thinks about what she'll do tomorrow. She has to go through her box of letters from George and John. She doesn't need the children finding them. She thinks about her life, including the time she was left at the altar.
Read "The Jilting of Granny Weatherall"
The narrator, a high school teacher, reads in the paper that his younger brother, Sonny, has been arrested for dealing heroin. Their lives have gone quite differently—Sonny, a jazz musician and drug user, and the narrator who is educated and living in a middle-class neighborhood—so the narrator feels guilt over not having been able to help his brother more.
Lois, a widow, lives alone with her pictures—paintings and sketches of landscapes. She's drawn to them although they make her uneasy. From nine to thirteen, Lois went to a summer camp where she made friends with Lucy, and they kept in touch by letter over the winters. Lois had an affecting experience in her final year at the camp.
Read "Death by Landscape" (PDF)
---
I'll keep adding examples of short stories with flashbacks as I find more.