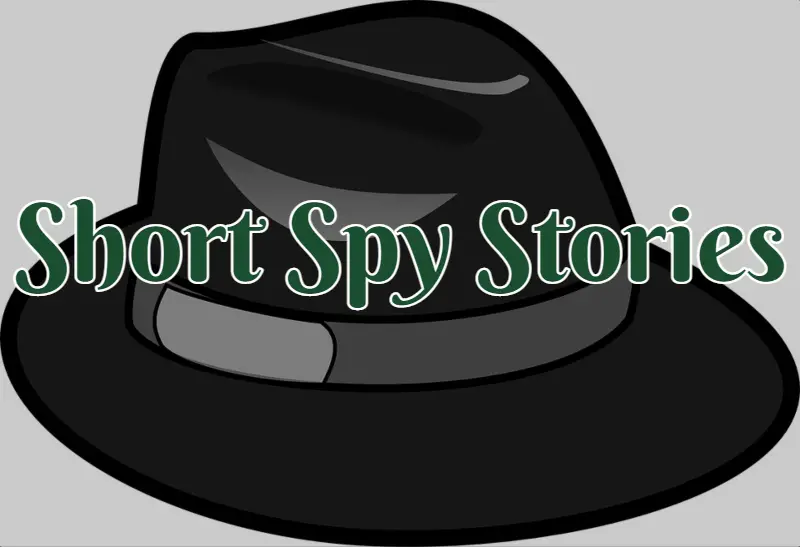 These spy stories have spies, secret agents, or people who are suspected to be, or are, involved in espionage of some kind. For some espionage novellas, check out The Mammoth Book of Short Spy Novels. See also:
Spy Short Stories
During the American Civil War, Carter Druse, fighting for the North, falls asleep at his sentry post but wakes in time to catch a spy for the South.
This story can be read in the preview of The Devil's Dictionary, Tales, & Memoirs.
"The Hairless Mexican" by W. Somerset Maugham
R. wants Ashenden to go to Italy. Back at the hotel, Ashenden gets the details—a man known as the Hairless Mexican is expected to arrive tonight by train. He has his vices, but R. has used him before and found him reliable. He will do the talking. Ashenden is to accompany him and provide the money when it's needed.
This story can be read in the preview of The Big Book of Espionage. (9% in)
"Somewhere in France" by Richard Harding Davis
Marie Gessler is a German who can pass as French. Her career in espionage began when she stole blue-prints for Captain Ravignac of the French Aviation Corps. Her main motivation was simply a love for intrigue. Ravignac's brother, Charles, worked to clear him of treason charges and prove that Marie was the culprit. Ravignac killed himself in his cell, and Charles disappeared from public view shortly after. Marie was good at her work and advanced.
This story can also be read in the above preview of The Big Book of Espionage. (21% in)
The End of the String | Charles McCarry
The narrator, an undercover operative, is in a hotel bar in Ndala. He notices a large man watching him. Suddenly, the man is gone. The narrator is in the area to meet with an agent. After their meeting, he's approached by a police officer and taken to the city's most popular night spot.
Over two thirds of this story can be read in the Amazon preview of Agents of Treachery.
"The Youngest Brother" by Sara Dobie Bauer
Duncan Sadler, the youngest of four brothers, is in a bar after his father's funeral. A woman playing pool with some associates has been watching him. She's going to start a conversation and then get him into the alley.
This story can be read in the preview of Agents & Spies Short Stories. (8% in)
"A Cozy for Christmas" by Charlotte Macleod
While her husband, Max, is away solving a mystery, Sarah visits family at the boarding house they run. Mrs. Gates, an elderly boarder, is finishing up the tea cozies she promised to make for the Holly fair at church. Sarah has the difficult job of finding appropriate presents for her in-laws, and thinks one of the cozies would be nice. Getting one turns out to be a bit complicated.
Some of this story can be read in the preview of Mistletoe Mysteries: Tales of Yuletide Murder. (22% in)
Spy Stories, Cont'd
Powers | David D. Levine
It's May of 1960 in Frank's office at the CIA. He's visited by the Deputy Director of Intelligence, who brings Frank in on project AQUATONE. An advanced jet that's been gathering intelligence over Russia is missing, along with its pilot. As the resident Soviet expert, Frank is called on to piece together what happened.
This story is set in the Wild Cards universe, and has characters who have special powers.
The Bruce-Partington Plans | Arthur Conan Doyle
Holmes is bored with the caliber of crime in London when he receives a telegram informing him of an urgent visit from his brother Mycroft. A young man was found dead on the train tracks. He had on him the plans for a top secret government submarine; the most important pages were missing.
Read "The Bruce-Partington Plans"
The Assistant Producer | Vladimir Nabokov
General Golubkov is a member of the White Warriors Union, a counterrevolutionary anti-Soviet society. They indoctrinate the young, help the locals, and spy on the Soviet government. Golubkov is ambitious and versatile—he also has ties to the Soviets and the Germans.
A Curious Experience | Mark Twain
In the winter of 1962-63, a boy, aged fourteen or fifteen, shows up at the recruiting office at Fort Trumbull, wanting to enlist. The commandant objects, saying the boy is too young and too small. He feels for the boy, though, and allows him to stay a while. He listens to the boy's story. He relents, and let's the boy join, although not as a soldier.
A German spy knows that his cover has been blown and he's being pursued by English authorities. He has vital information to communicate to his government, so he comes up with a plan: he finds a man named Stephen Albert in the phone book and heads for his home.
The Boy with Yellow Eyes | Gloria Gonzalez
Norman, a boy who loves reading, and Willie, an athletic boy, are riding in a train car when they discover a Nazi spy in an adjacent car.
Spy Stories, Cont'd
In the Shadow of War | Ben Okri
During the Nigerian Civil War, a young boy, Omovo, notices a woman in a black veil walking by his house every day for a week. He later learns that the soldiers are looking for her, claiming she is a spy and enemy supporter.
I Spy | Graham Greene
Young Charlie Stowe sneaks downstairs at night to his father's tobacco shop. He was teased at school because he'd never smoked a cigarette before. He's going to get one. He's worried about getting caught.
The Case of the Dixon Torpedo | Arthur Morrison
Hewitt, an investigator, receives a visit from Mr. Dixon. The drawings of a top secret torpedo have been stolen from his office. He doesn't suspect either of his employees. No one had entered or left the office during the time in question. Hewitt and Dixon set off for the office.
Read "The Case of the Dixon Torpedo"
Calloway's Code | O. Henry
Calloway is on assignment as a war correspondent for the New York Enterprise. He manages to inform his paper of the details of the decisive battle on the day it occurs, even though outgoing communication is censored. The paper received a cablegram of perplexing nonsense from Calloway. His coworkers searched without success for some meaning, until it was shown to Vesey, a young reporter.
Black Box | Jennifer Egan
A spy relates information about her mission and some of the tricks and techniques of a spy, in general. She is with her designated target for a short time, to gather what information she can. She's been outfitted with advanced technology—recording and communication devices—to update her handlers on her progress.
Success of a Mission | Dennis Lynds
The Minister of Defense explains the emergency—the enemy attacks in three days and they can't repel it. They need the locations of the ammunition dumps, supply depots and fuel stores to win this battle. Captain Hareet and Lieutenant Frank, posing as husband and wife on vacation, are going to be sent to the Capital. They must get the information they need without the enemy realizing it.
Destiny City | James Grady
Four al Qaeda members talk about their plans. They're approached by three strangers who get hostile. The threat is handled but now there's a loose end. The al Qaeda's plan is soon to be carried out. They don't want to risk leaving any witnesses who could interfere.
---
I'll keep adding spy short stories as I find more.