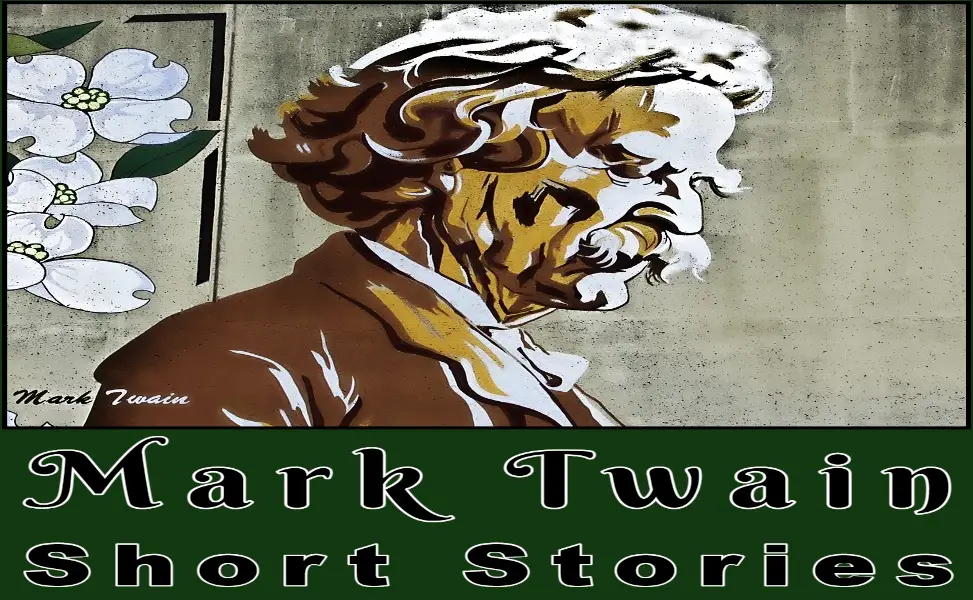 Mark Twain Short Stories List
Mark Twain is known mainly for his novels, but he also wrote many short stories. In fact, it was a short story, "The Celebrated Jumping Frog of Calaveras County", that first gained him wide recognition. That story, as well as many others, is presented below with a brief teaser. I hope you find some new Mark Twain short stories to enjoy. The short stories with PDF links are noted below.
If you're interested in a book, you can get everything in The Complete Short Stories of Mark Twain. (Amazon)
Mark Twain Short Stories
"A Burlesque Autobiography"
Twain goes back a long way to describe the important people in his family's lineage. His is a noble house. His ancestors were noteworthy citizens of their time. There are definite tendencies that have recurred in his ancestors.
"Two or three persons having at different times intimated that if I would write an autobiography they would read it when they got leisure, I yield at last to this frenzied public demand and herewith tender my history."
This story can be read in the preview of The Complete Short Stories. (select in table of contents)
"The Celebrated Jumping Frog of Calaveras County"
At the request of a friend, the narrator calls on old Simon Wheeler to get the story of a man named Leonidas Smiley. Smiley was a betting man, and quite lucky. He would bet on anything. He had a dog that he won a lot of money with. Most of all, though, he was known for his bets on an unusual frog.
This is the first story in the preview of Book of Mark Twain's Short Stories.
"The Story of the Bad Little Boy"
Jim is a bad little boy. He has a mother who isn't sick, pious or anxious over him, as would usually be the case in a story like this. He disobeys and misbehaves without any twinges of conscience. Things seem to go better for Jim than they generally do for bad children.
"This Jim bore a charmed life—that must have been the way of it. Nothing could hurt him."
This is the second story in the preview of Book of Mark Twain's Short Stories.
Mark Twain Short Stories, Cont'd
"The Story of the Good Little Boy"
Jacob is a good little boy. He's obedient, learns his lessons, and is always on time for Sunday-school. He never skips school, or lies, or plays mean tricks. Jacob loves to read the stories of good little boys and the rewards they receive. He hopes such a book will be written about him one day.
This story can be read in the preview of The Complete Short Stories. (select in table of contents)
"Luck"
The narrator attended a banquet in honor of an English military captain. An old acquaintance, a clergyman, told him that in private the man was a fool. Surprised, the narrator gets the story from him. It seems all the captain's successful campaigns were the result of a terrible blunder.
". . . and so it was exceedingly painful to see him stand there, as serene as a graven image, and deliver himself of answers which were veritably miraculous for stupidity and ignorance."
"A Dog's Tale"
A dog recounts her history. Her mother was a collie that liked making a show of her education, which was superficial. She liked using words and phrases she had heard without regard for the meaning. She was also kind, gentle and brave. When the narrator grows up, she's sold, which is very sad for them both. She ends up in a fine home. One day, a situation arises that tests her character.
Read "A Dog's Tale" (PDF)
"Glove Purchase in Gibraltar"
The narrator recounts his glove purchase from the previous night. An attractive saleslady showed him gloves that were nothing like what he wanted, but her compliments made it hard for him to refuse them.
Mark Twain Short Stories, Cont'd
"Jim Baker's Blue-Jay Yarn"
The narrator knew a man, Jim Baker, who understood animal talk. Apparently, animal speech varies just as human speech does, by education, vocabulary level and excitability. He told the narrator a story of a blue jay, a complicated creature who was very determined.
Read "Jim Baker's Blue-Jay Yarn" (PDF)
"The Man That Corrupted Hadleyburg"
Hadleyburg is an honest and upright town. A mysterious stranger is holding a grudge against a few citizens, but rather than seeking revenge against the individuals he wants to corrupt the whole town. He launches his scheme by dropping off a sack of gold coins at the Richards' home. A note explains that the coins will be awarded to whoever can repeat the wise advice that was given to the stranger years ago.
Read "The Man That Corrupted Hadleyburg"
"My Watch"
The narrator's new watch has kept perfect time for eighteen months. One night, he accidentally lets it run down. He takes it to the jeweler's to have it set. The jeweler adjusts the regulator, despite the narrators protests. The watch soon starts gaining time.
Read "My Watch"
Mark Twain Short Stories, Cont'd
"Science vs Luck"
A group of boys are on trial for playing games of chance, which are against the law in Kentucky. An accomplished lawyer, Jim Sturgis, is appointed to defend them. People think it's a shame he's being given an unwinnable case. After several restless nights, Sturgis is struck with an inspired idea for a defense.
Read "Science vs Luck"
"How the Author Was Sold in Newark"
The author recently lectured in Newark to a society for young gentlemen. During an afternoon meeting, a young man told him how distressed he was over his uncle who had lost all emotion. He never laughed or cried. The author tells the young man to bring his uncle and that his speech is sure to elicit both reactions from the poor fellow.
"Wit Inspirations of the 'Two-Year-Olds'"
The narrator doesn't like when infants make smart remarks. He remembers that his own smart remarks as a child weren't appreciated. He recounts one such episode when he was two weeks old. His relatives were discussing what his name should be.
Mark Twain Short Stories, Cont'd
"Eve's Diary"
Eve starts a diary, beginning with the first day she arrived on Earth. She tries to make sense of her situation. She views herself as an experiment. She notices the other being like her that she thinks is called a man. They start spending some time together. Soon, she takes over the job of naming the animals.
"I arrived yesterday. That is as it seems to me. And it must be so, for if there was a day-before-yesterday I was not there when it happened, or I should remember it."
"A Curious Experience"
In the winter of 1962-63, a boy, aged fourteen or fifteen, shows up at the recruiting office at Fort Trumbull, wanting to enlist. The commandant objects, saying the boy is too young and too small. He feels for the boy, though, and allows him to stay a while. He listens to the boy's story. He relents and let's the boy join, although not as a soldier.
"The Invalid's Story"
The narrator is only forty-one years old but looks worse. He lost his health due to an incident that occurred two years ago. He found out that his best friend from childhood had died. His last request was for the narrator to take his remains home to his parents. He went immediately to the train station and witnessed the coffin being loaded. Soon after he sees a man tampering with it but finds it's a different container. He knows now that there was actually a mix up.
---
I'll keep adding Mark Twain short stories as I read more.