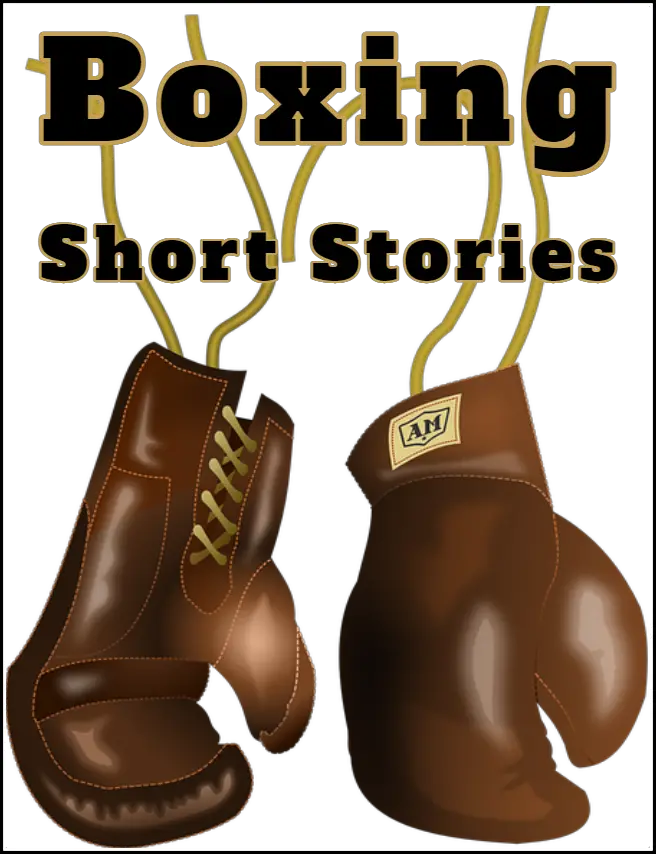 Here are some short boxing stories to check out. They might have in ring action, training, or characters could simply talk about boxing.
Boxing Stories
"Puncher's Chance" by Doug Allyn
Mick McGuire is preparing for his comeback fight after a shoulder injury. His sister Jilly, who's also fighting on the same card, hurts him with a body shot in sparring. Mick realizes his shoulder has lost some mobility, leaving a gap in his defense. Against an experienced boxer or trainer he'll only have a puncher's chance before it's exploited. This development turns out to be even more devastating, as Mick's father reveals a secret.
This story can be read in the preview of The Best American Mystery Stories 2017. (29% in)
"He Swung and He Missed" by Nelson Algren
Rocco had been fighting since he was a boy. At fifteen he leaves school and starts boxing. At nineteen he marries Lili. Rocco makes some money, winning and losing with equal frequency. He fought anyone, and no one ever knocked him out. As Rocco's career nears its end, a promoter makes him a special offer.
"He Swung and He Missed" is in Boxing's Best Short Stories.
"The Monkey Look" by F. X. Toole
The narrator is a cut man and he's very good at his job. He used to be a trainer, but he's too old now. He tells the story of working with Hoolie Garza, a Mexican featherweight. He's a skilled, tough fighter, but a bleeder. His manager, Ike, is a friend, so the narrator agrees to work a fight for small money. He also has the potential to get a big payday.
A lot of "The Monkey Look" can be read in the Amazon preview of Million Dollar Baby: Stories from the Corner.
"The Pit of the Serpent" by Robert E. Howard
Costigan steps ashore in Manila, from the ship the Sea Girl. He sees some of the crew of the Dauntless, and has a feeling there's going to be trouble. Costigan is the heavyweight champion of his vessel, so he can handle himself. He has some drinks and ends up in a dance hall. He talks to a beautiful woman and they sit down. They get interrupted by Bat Slade, a champion boxer from the Dauntless.
"The Pit of the Serpent" is in Waterfront Fists and Others: The Collected Fight Stories of Robert E. Howard.
"Waterfront Fists (Stand Up and Slug!) by Robert E. Howard
The Sea Girl and the Ruffian are docked in Honolulu. Steve Costigan is going to box the best man from the Ruffian. A few hours before the fight, he's challenged by one of his own shipmates, Sven Larsen, a huge man. He wants to prove to a woman that he's the toughest guy on his ship. Steve has a few things to take care of before the bout.
Read "Waterfront Fists"
Boxing Stories, Cont'd
"They Call Me Hurricane" by Rocky Callen
Aida "the Hurricane" Maya is a boxer, the only girl on her team. She struggles with depression, but her routines and medication help. She's hoping to get into the Golden Gloves Tournament.
This story can be read in the preview of Ab(solutely) Normal: Short Stories That Smash Mental Health Stereotypes.
"Steel" by Richard Matheson
Kelly and Pole board a train with a large covered object. They get it to their seat with difficulty. They talk about getting their cargo new parts. It's an old model, though, so it won't be easy. Pole thinks it's worn out, and won't be able to take any hits. Kelly thinks there's still plenty left in it. They're headed for a bout.
The beginning of "Steel" can be read in Steel: And Other Stories.
"Thicker Than Water" by Paul Gallico
Tommy and Joey White were boxers. Tommy was a champion with the heart of a lion; Joey was technically excellent but had no heart—as soon as he got hit, he was done. When Tommy is killed in action in WWII, it falls to Joey to take care of the family. Tommy's old trainer works with Joey, but he isn't confident that Joey has what it takes.
"The Croxley Master" by Arthur Conan Doyle
Robert Montgomery is at his desk, feeling despondent. He's assisting Dr. Oldacre in his practice. Montgomery is earning his medical degree. His final year at the University is approaching, but he doesn't have the money to pay for it. He decides to ask Dr. Oldacre for a loan. He refuses the request. An irate man enters the office looking for a prescription. A confrontation ensues.
Read "The Croxley Master" (scroll down)(This story is also in Tales of the Ring and Camp: Boxing and War Stories.)
"The Higher Pragmatism" by O. Henry
Jack is in love with Mildred, a woman above him socially and financially. He explains his situation to a vagrant. The vagrant, an ex-boxer, tells Jack the story of his career, which he believes serves as a parallel to Jack's situation—he couldn't stand up to the professionals.
"Death of a Prize Fighter" by Robert Switzer
Billy Murdoch, a boxing manager, is getting out of town. One of his fighters, Tony, just died of a cerebral hemorrhage, and people are acting like it's his fault. A man approaches him at the airport and asks about it, but Billy knows not to say anything. He gets on the plane. He thinks about the events of the night. Tony was stunned at the end of the first round. Billy sent him out for the second because it was the best business decision.
"Death of a Prize Fighter" is in Boxing's Best Short Stories.
"Amigo Brothers" by Piri Thomas
Two seventeen-year-old boys in a poor neighborhood train together as boxers. They are best friends, and successful fighters. They know that eventually they will have to fight each other to see who will be the Boys Club's Golden Gloves representative.
Boxing Stories, Cont'd
"Independence Day" by A. B. Guthrie, Jr.
On Independence Day in 1920, a boxing match is scheduled between Bill the Butch, a young German, and the Fairfax Soldier, an ex-military boxing champ. The crowd is solidly against Bill, but one spectator, Charlie, has mixed feelings.
"A Matter of Seconds" by Ellery Queen
The narrator tells the story behind the story of the memorable fight between the Champ and Billy Bolo. Ellery was called to a meeting of some notable boxing insiders ninety minutes before the fight. Billy had been kidnapped. The ransom was $100,000. They wanted Ellery to be a part of the payoff.
"A Matter of Seconds" is in Boxing's Best Short Stories.
"The Last Blow" by Octavus Roy Cohen
Whitey manages and coaches The Kid to an impressive start in his boxing career. When he turns twenty, The Kid starts to think Whitey is holding him back; he decides to terminate their relationship.
"A Piece of Steak" by Jack London
Tom King is an aging prize-fighter preparing for a bout. He doesn't have a sparring partner or enough food to be at his best. Money is tight and the tradesmen won't give him credit anymore. He needs the win bonus from his next fight for himself, his wife, and his kids.
"Return to Kansas City" by Irwin Shaw
While Eddie sleeps Arline cries near his bed and wakes him up. Eddie is a boxer. Arline feels ignored because he spends his time training and sleeping. They are in New York; she wants to visit her family and friends in Kansas City.
"Fifty Grand" by Ernest Hemingway
Jack Brennan, the welterweight champion, is preparing for a bout against Jimmy Walcott. Jack's training is off, and his mindset isn't right. His trainer, Jerry Doyle, tries to be positive but he has to admit that Jack doesn't look like he should.
Read "Fifty Grand"
---
I'll keep adding boxing stories as I find more.