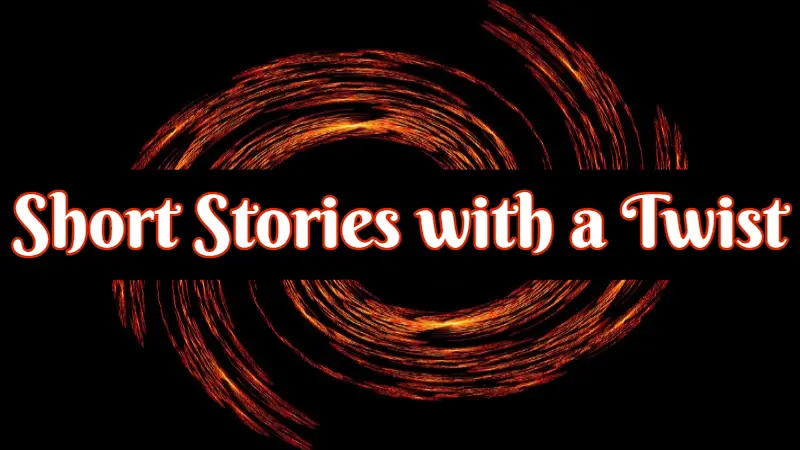 These short stories with a twist all have a surprise or unexpected ending. Sometimes the reveal is sudden; other times it's more gradual. See also:
Short Stories With Twist Endings
Here are some great short stories with twist endings. I hope you find something unexpected here.
A Southern spinster, Emily Grierson, has died. She had been a recluse, so the townspeople are curious about her and her house. The narrator recounts episodes from her life. (Summary & Analysis)
This story can be read in the preview of A Rose for Emily and Other Stories. (18% into preview)
"The Good Food" by Michael Ezell
Jensen's ship touches down on a jungle world, a planet that was terraformed two hundred years prior. It's been decades since anyone visited. He's accompanied by Roy, a dog that's been enhanced to allow some communication. He's also assisted by his ship's AI system, Moira. Jensen's been sent to collect some samples due to an anomaly that was detected. Some of the planet's growth has been cleared, although there are no life-forms other than insects.
This story can be read in the preview of Beyond the Stars: At Galaxy's Edge. (28% into preview)
A man who lives in the wilderness prepares his wife's body for burial. There is an incident that night, which the narrator claims explains the mystery of why his cabin had a boarded window. (Summary)
This story can be read in the preview of 100 Great American Short Stories. (80% into preview)
"Never Have I Ever" by Karen M. McManus
Grace is at Katie's party after curfew, but it's ok because her parents are away. They start playing Never Have I Ever, and Grace gets teased a bit for not having any fun because she hasn't done any of the things that come up. The group gets a surprise when they hear the voice of Caleb Manning, who's known for getting into trouble. Grace invited him.
This story can be read in the preview of Up All Night: 13 Stories Between Sunset and Sunrise. (8% in)
"The Story of an Hour" by Kate Chopin
A woman receives the news that her husband has been killed in a train accident. She processes the news over the next hour, experiencing a range of emotions.
"The Story of an Hour" (Includes Summary & Analysis)
"A Continuity of Parks" by Julio Cortázar
A man returns to a novel he has been reading for a few days. At his estate, in his study, he sits in his favorite chair and starts the last few chapters. The story comes back to him easily, and he becomes immersed in the narrative again. (Summary & Analysis)
Short Stories With a Twist
"The Open Window" by Saki
A man is visiting the country for some relaxation. While waiting to be introduced to all the members of the household, a young girl tells him the story of their tragic family history. (Summary & Analysis)
"The Sniper" by Liam O'Flaherty
At night a sniper waits on a rooftop. He risks lighting a cigarette which alerts a nearby sniper of his presence.  They exchange some fire. The sniper feels trapped, but he knows he has to get off the roof before enemy forces converge on him. (Summary & Analysis)
"Cemetery Path" by Leonard Q. Ross
Ivan is known in his village as a timid, fearful man. When he walks home at night he goes the long way around the cemetery, even though it's cold. One night he is challenged to cross the cemetery. (Summary & Analysis)
"An Occurrence at Owl Creek Bridge" by Ambrose Bierce
A man is on a bridge in Alabama, his hands bound and a rope around his neck. He's a civilian, a confederate sympathizer, and is being held by Federal soldiers. He's been sentenced to hang from Owl Creek Bridge during the American Civil War.
Read "An Occurrence . . ." (Includes Analysis)
Laurie starts kindergarten and comes home every day with stories of a classmate, Charles, who's constantly getting in trouble for being "fresh". Laurie's parents wonder about Charles' parents and worry that he's a bad influence on their son. (Summary & Analysis)
"Burning Desire" by KM Rockwood
Aunt Regina throws a party to boost Roger's spirits—his upcoming wedding has been called off. His former bride-to-be is a rich woman. Loss of access to this money is a bigger worry for Roger because he has outstanding debts. The syndicate has demanded a payment of $10,000 by midnight, and he doesn't have it.
This story can be read in the preview of Heartbreaks & Half-Truths: 22 Stories of Mystery and Suspense. (44% in)
Short Stories With a Twist
"A Horseman in the Sky" by Ambrose Bierce
During the American Civil War, Carter Druse, fighting for the North, falls asleep at his sentry post. We learn how he joined the Union forces.
This story can be read in the preview of The Devil's Dictionary, Tales, & Memoirs. (5% into preview)
"Pink Bow Tie" by Paul Jennings
A boy is called to the principal's office for the second time in his two days at the school. His hair, which was black yesterday, is now white. Dyeing your hair is against school policy, but the boy maintains he didn't. He claims it's because of a strange experience on the train. (Summary)
"The Last Leaf" by O. Henry
A few tenants in an apartment building are painters/artists. One of the tenants gets pneumonia, and she can see a vine from her deathbed window. She says she's going to die when the vine loses its last leaf.
This story can be read in the preview of 50 Greatest Short Stories. (46% into preview)
"The Gift of the Magi" by O. Henry
A poor, married couple try to figure out how to get each other a nice Christmas present. (Themes)
This story can be read in the preview of The Gift of the Magi and Other Stories. (37% into preview)
Detective Silverman visits Reverend Lansing for his expertise. Silverman's in charge of the county's witness protection program. They're protecting a man who's going to testify against Tommy Doyle, a gang boss. They got word from an informant that a hit man has been hired to get rid of the witness. The informant was murdered before he could convey the details. Before dying, he was able to leave a note with a Bible verse on it.
This story can be read in the preview of More Twisted: Collected Stories Vol II. (16% in)
Short Stories With a Twist
"To Serve Man" by Damon Knight
Earth is visited by the Kanamit, a half pig and half human alien race. They bring gifts—ways of increasing food production, power generation, and other helpful things. Some people question their altruism, so the Kanamit are subjected to a lie-detector.
This story can be read in the preview of The Best of Damon Knight. (35% into preview)
"A Bad Night For Burglars" by Lawrence Block
A burglar is rifling through a drawer in the bedroom. He's too distracted to hear the homeowner, Archer Trebizond, approaching from behind. He's surprised, not just at being caught, but at the sight of a gun in Trebizond's hand. The burglar has had a bad run of luck lately.
This story can be read in the preview of Enough Rope. (7% in)
"Without Jonathan" by Jeffery Deaver
Marissa is driving to Green Harbor on a road that she drove many times with Jonathan. Now, she thinks about her life without him. She doesn't want to speculate about his death. She's on her way to meet Dale. She's looking forward to dating again. Thoughts of Jonathan can be overwhelming, but Marissa's determined to start a new life.
This story can be read in the preview of Twisted: The Collected Stories of Jeffrey Deaver. (22% in)
A hand addressed package is left at the door of Arthur and Norma Lewis. Inside is a contraption with a button on it, and a note saying that Mr. Steward will call on them at 8 PM. He arrives at the appointed time and makes them a startling proposition.
This is the first story in the preview of The Box: Uncanny Stories. (31% into preview)
"The Stolen Party" by Liliana Heker
Rosaura has been invited to Luciana's birthday party. Rosaura's mother works as a maid for Luciana's mother. She doesn't like the idea of her daughter going to "a rich people's party." (Summary & Analysis)
Short Stories With a Twist
"Desiree's Baby" by Kate Chopin
Desiree had been adopted as a toddler. She is now an adult with a baby of her own. She and her husband, Armand, are very happy. After a while, there are some whispers about the baby's background. (Summary & Analysis)
This story can be read by selecting it in the table of contents of The Awakening, and Selected Short Stories.
"Click!" by Lawrence Block
After some time out hunting, in a manner of speaking, Dandridge returns to the mountain lodge for a drink. He starts talking to another man seated at the bar. They drink and discuss hunting, focusing on a feeling of disillusionment with it—the thrill is gone. Dandridge has found an interesting work around for this problem.
This story can be read in the preview of Enough Rope. (81% in)
"The Bully" by Jeffery Deaver
Henry is in the Eagle tavern when he spots his bully, Stan Whitcomb, a very big man. He wants to get out of there, and hopes his friend Larry won't notice any problem. Henry has complained to the Sheriff's Department about Stan and now he has to again after Stan confronts him.
This story can be read in the preview of Exit Wounds. (22% in)
"The Lottery" by Shirley Jackson
On a summer morning, citizens of a small village are anticipating the annual "lottery", a local tradition that is believed to bring a good harvest. The children gather first, making their usual preparations. The women and men arrive and make sure their whole family is present. Mr. Summers arrives with the black wooden box.
This story can be read in the preview of Brave New Worlds: Dystopian Stories. (10% in)
"The Day of the Execution" by Henry Slesar
Warren Selvey, a prosecuting attorney, has just secured his first big conviction. The accused has been found guilty and will get the death penalty. He's not a junior anymore. He takes in the admiration of his peers, and looks forward to celebrating with Doreen.
This story can be read in the preview of Alfred Hitchcock's Mystery Magazine Presents Fifty Years of Crime and Suspense. (50% in)
Short Stories With a Twist
"The Weekender" by Jeffery Deaver
The narrator and Toth are driving fast on an empty road. There's no cops yet. They've just come from robbing a drugstore, and it didn't go well. Complications led to them taking a hostage. They see pulsing lights up ahead. They turn off and head for a town that Toth knows where they can find an empty house and wait it out.
This story can be read in the preview of The Best of the Best American Mystery Stories: The First Ten Years. (52% in)
"Bowery Station, 3:15 A.M." by Warren Moore
A man descends into Bowery Station. He sees a girl standing alone on the Brooklyn-bound side of the platform. Her lips are moving and she's tense; he can tell what she's getting ready to do. The Brooklyn train approaches.
This story can be read in the preview of Dark City Lights: New York Stories. (78% in)
"Swiftwing 98" by Peter O'Donnell
Inspector Lestrade gives his new Detective Sergeant an assignment—prevent a woman, Eva Kossuth, from being murdered. She defected from Hungary and is coming to live in England. Her country believes she's been a spy for the west. She'll be arriving today by train, and they need to be prepared.
This story can be read in the preview of Daggers Drawn. (24% in)
"Chip Assassin" by Mark Gardner
Josephine and Doug investigate the scene of a murder. The potato chip killer has struck again, leaving  a sour cream and onion this time.
This story can be read in the preview of Stories on the Go: 101 Very Short Stories by 101 Authors. (87% in)
When Ignatius Agarbi is appointed Nigeria's Minister of Finance no one notices. No previous minister had lasted long or accomplished much. Ignatius vows to root out corruption, even among the highest levels of authority. After catching several offenders, General Otobi gives Ignatius a special assignment. (Summary)
Read "Clean Sweep Ignatius" (Page 9)
Short Stories With a Twist
"The Right Kind of House" by Henry Slesar
A man from New York, Mr. Waterbury, driving a fancy car, enters Aaron Hacker's real estate office in Ivy Corners. He's looking to retire to a quiet town. He saw a house on the outskirts that seems right to him. Hacker is disappointed to find it's the house of old Sadie Grimes. He's had the listing for five years and knows it won't sell due to the exorbitant asking price and her unwillingness to negotiate. Mr. Waterbury thinks if spoke to her personally they could work something out.
"The First Day of School" by Jeffery Deaver
Jim Martin makes the morning walk to Thomas Jefferson Middle School. It's the first day, so he's excited and nervous. He remembers some significant moments from prior school years.
Read "The First Day of School"
"Barney" by Will Stanton
A scientist and his assistant have gone to a deserted island for an experiment—to attempt to increase the intelligence of a rat, Barney. Unfortunately, the assistant proves to be a problem and has to be let go.
Read "Barney"
"Time Enough At Last" by Lynn Venable
Henry Bemis wants to read a whole book. He hasn't been able to because he just doesn't have the time. His wife and his work at Eastside Bank and Trust take up every moment. One day at work, he sneaks away to the vault with a magazine in his pocket. His timing turns out to be fortuitous, as he hears a thunderous crash from above.
Billy Weaver, a young, inexperienced salesman arrives in Bath. He starts the next morning. In the meantime, he needs a place for the night. While looking for a hotel, he comes across a private Bed and Breakfast. After some vacillation, he knocks on the door. A very nice lady invites him in. (Summary and Analysis)
Read "The Landlady"
Short Stories With a Twist
"Wish You Were Here" by Frank Jones
A woman buys an unusual garden gnome, but it disappears soon after. She starts getting postcards that are signed from the gnome.
Mathilde is married to a minor government official. They're of modest means, but Mathilde has expensive tastes. When they get invited to a party, she borrows a necklace from a rich friend.
A woman responds to a letter she received about her son. He doesn't live at home anymore and she's afraid of him. She reads about him in the paper sometimes. She relates some of the troubling incidents from their past, starting with the disappearance of their cat.
"Two Thanksgiving Day Gentlemen" by O. Henry
An older, upper-class man has a tradition of treating a local destitute man to a hearty Thanksgiving meal. One year, the poor man arrives at their meeting place in a state that puts their tradition in jeopardy.
"Test" by Theodore L. Thomas
Robert Proctor, a young man, is out having a pleasant drive with his mother. When he tries to pass a blue convertible, it swings in front of him, clipping the front of his fender. Robert's car is knocked to the left.
Read "Test" Read "Test" (simpler version)
Short Stories With a Twist
"The Reticence of Lady Anne" by Saki
Egbert enters his drawing-room with some uncertainty. He tries to smooth things over with his wife. They had argued, so he tries to get her talking again, but she's uncooperative.
"The Interlopers" by Saki
Ulrich is out patrolling his forest with a rifle. He's not hunting the usual game; he wants to catch his neighbor, Georg, poaching on his land. Their families have a long standing feud over the territory, going back to their grandfathers. They hate each other intensely. Ulrich leaves his men on a hill and walks deeper into the growth.
"The Chef" by Andy Weir
Doris wakes up in a hospital. Her doctor tries to find out what she can remember. She knows there was an explosion, and that she had been visiting her father, but is hazy on the other details. She can remember that she's a professional chef, and she tells the doctor about her work.
"Ruthless" by William de Mille
Judson and Mabel Webb are preparing to leave their mountain cottage for the winter to return to the city. When they left last winter, someone broke in and stole some of Judson's liquor. He expects the thief to return, so he prepares a surprise.
Braling is out at night walking with his friend Smith, headed for home. They talk about their unhappy marriages. Braling is hopeful that things are taking a turn for the better. He's planning a trip to Rio and claims his wife won't even know he's gone. When they reach Braling's home, he reveals how he's going to pull it off.
Read "Marionettes, Inc."
---
I'll keep adding short stories with unexpected endings, surprise, and twist endings as I find more.