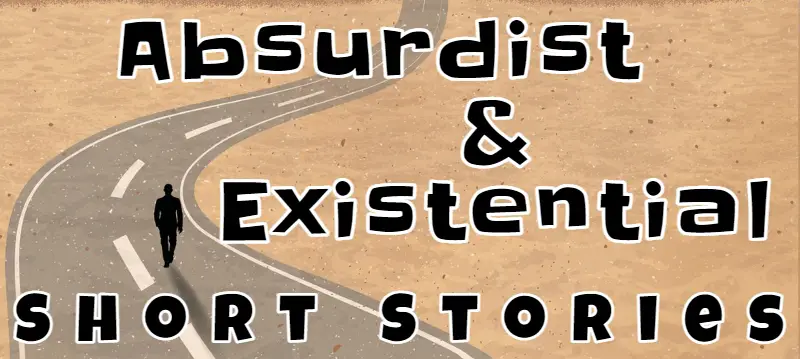 These absurdist short stories and existential short stories feature characters who can't find meaning in life. They might also contain the message that life is pointless, or have characters who feel despair over life or have a pessimistic world view. Sometimes this message is illustrated by suffering. They often have characters going through purposeless actions, and have non-traditional structures. Others have narrators who relate seemingly meaningless things. See also:
Absurdist or Existential Short Stories
A linguistics Professor visits Ain Tadouirt, in the warm country. He goes to the cafe of Hassan Ramani, a man he had met ten years earlier. After finding out his old acquaintance is dead, he gets a local to show him where to buy some goods he is looking for. They set off on a walk.
In an introduction to this story, John L'Heureux said "Not Kafka, not Sartre, not Beckett, not one of them has explored the horrors…of meaninglessness, of man at the mercy of a universe without purpose or design or justification, in quite the way Bowles explores it here."
This story can be read in the preview of The Stories of Paul Bowles. (42% in)
"A dog came running crazily toward them on three legs. Not until it got quite close did the Professor hear its steady low growl."

—A Distant Episode
Before the Law | Franz Kafka
A man tries to gain access to the law. He waits for years, but the doorkeeper prevents him from entering. The man tries various bribes to gain entry.
This parable could illustrate the futility of searching for meaning in life, or the indifference of the universe to humans.
This story can be read in the preview of The Complete Stories.
"The Hanged Man" by Edward Bryant
Rockaway is hanging upside down from a tree branch, a tight nylon rope around his ankles. Owen refuses to cut him down. They talk while Rockaway suffers.
This story can be read in the preview of Among the Dead and Other Events Leading to the Apocalypse. (24% into preview)
In The Penal Colony | Franz Kafka
A visiting dignitary is given a tour of a penal colony, particularly its justice/torture machine. The machine is falling out of favor, and an officer wants the visitor to speak to the commandant against it.
The Wall | Jean-Paul Sartre
Pablo is accused of being a war criminal. He is held in a cell with two other men. They are all informed they will be executed. They each deal with the news differently.
This story illustrates Sartre's existentialism.
Ex Oblivione | H. P. Lovecraft
A dying man dreams he is in a valley and finds a concealed bronze gate. He wants to know what's on the other side, but future dreams give him contradictory answers.
This story has the philosophical message that nothingness is better than life, possibly based on some of the work of Schopenhauer.
This story can be read in the preview of The Great Old Ones: Complete Lovecraft. (select in table of contents)
A Country Doctor | Franz Kafka
A doctor experiences several surreal events when he's called out during a winter's night to treat a sick man.
This surreal tale of a doctor's effort to reach a sick boy can be read as an argument for existentialism.
Absurdist & Existential Short Stories, Cont'd
Dante and the Lobster | Samuel Beckett
Before visiting his aunt for supper, a man goes about his daily errands. He brings lobster with him, but is surprised that it's still alive.
This story introduces some recurring Beckett themes such as living passively, aimlessness, and the meaninglessness of life.
Symphony No. 2 | Daniil Kharms
A fickle narrator begins telling the story of Anton Mikhailovich but doesn't get far.
This story is very short and funny.
Blue Notebook No. 2 | Daniil Kharms
The narrator talks about a redheaded man who is missing some important things.
Another short, funny one.
Andrey Semyonovich | Daniil Kharms
Andrey spits into a glass of water with an unexpected result. Then his dog does something even more unexpected.
A Sonnet | Daniil Kharms
The narrator has a mathematical problem. He seeks the opinion of others in his community.
What They Sell In the Shops These Days | Daniil Kharms
Two men disagree on how long one of them has been waiting for the other. The argument escalates.
Absurdist & Existential Short Stories, Cont'd
Silence | Carlos Bulosan
A man moves several times, trying to get away from the silence. He lives by a park, by a bakery, and by a college. He feels isolated in each place. He fills his days with work, but his evenings are empty. One day, looking out his window, he sees a girl reading a book. It has a profound effect on him.
Africa Kills Her Sun | Ken Saro-Wiwa
Bana writes a letter to Zole, a girlfriend from his youth. He'll be executed tomorrow morning. Rather than bemoan his fate, he thinks those who have to keep living are the real condemned ones. He and his two accomplices have pleaded guilty to armed robbery and demanded death. They took the power of judgment away from the corrupt authorities.
A Shower of Gold | Donald Barthelme
Peterson, a sculptor with little money, agrees to appear on a game show, Who Am I?, that stresses an extremely pessimistic view of life. He says he's not sure if he believes in absurdity. Soon after, strange things start happening.
Sleep | Larry Brown
Louis, an older man, is woken up by his wife, as he is every night. She can hear noises, and he has to check the house. His wife's sleep has been disturbed for years. He stalls as long as he can but eventually gives in and gets up.
---
I'll keep adding short stories about absurdism or existentialism as I find more.