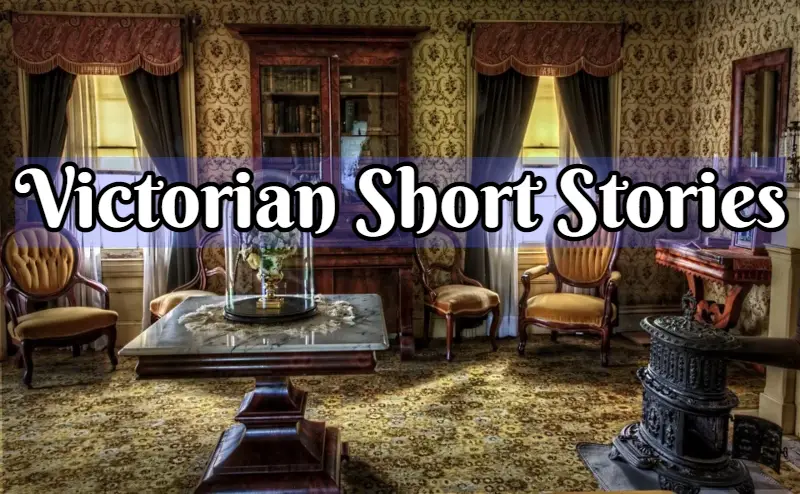 This page contains short stories written and set during England's Victorian or Edwardian eras. See also:
Victorian Short Stories 
This section compiles stories written and set during the Victorian era, from about 1830-1900.
"(The Traveler's Story of) A Terribly Strange Bed" by Wilkie Collins
A man in Paris visits a gambling house. He goes on an impressive winning streak. He eventually breaks the bank. He gets some advice on how to protect his winnings.
This story can be read in the preview of The Black Lizard Big Book of Locked-Room Mysteries.
"A Scandal in Bohemia" by Arthur Conan Doyle
Dr. Watson drops in on Holmes after some time apart. Holmes has received a note saying a masked visitor would come by that evening with a sensitive case. The man is tall, muscled and richly dressed. He's a Count of Bohemia. A picture that could cause problems for the King of Bohemia is in the possession of Irene Adler. His attempts to retrieve it have failed.
This is the first story in the preview of Big Book of Best Short Stories: Mystery & Detective.
"The Old Nurse's Story" by Elizabeth Gaskell
An elderly nurse, Hester, tells children the story of their mother, Rosamond. After being orphaned at age five, Rosamond was taken by Hester to Furnivall Manor House, where Miss Furnivall, a great-aunt, lived. There's also a companion and servants. Hester soon notices some unusual happenings at the manor.
"Wildgoose Lodge" by William Carleton
The narrator is summoned to a secret meeting at midnight. It's a gloomy winter evening. There are about forty people present. He senses a ferocious spirit to the gathering. A plan of vengeance is announced.
Read "Wildgoose Lodge"
"The Bloomsbury Christening" by Charles Dickens
Nicodemus Dumps, a fifty-year-old bachelor, is ill-tempered and enjoys making others miserable. His nephew, Charles Kitterbell, wants him to be godfather to his soon-to-be-born child. Nicodemus thinks of some ways he could be excused from this chore.
Read "The Bloomsbury Christening"
"George Walker at Suez" by Anthony Trollope
George Walker is in Cairo on the advice of his doctor. He also believes his business associates were somehow in on it, wanting him out of the way for a while. After meeting an acquaintance, he goes to Suez. He's not happy there, and the people aren't friendly. His acquaintance leaves with his family soon after. At the hotel, George gets an unexpected visit from a notable Arab man.
"Eveline's Visitant" by Mary E. Braddon
At a masked ball at the Palais Royal, Hector quarreled with his cousin Andre over a woman. It was fierce, and Andre was killed. Before dying, Andre told Hector that he would be back to ruin Hector's life. Hector inherits the estate and becomes rich.
Read "Eveline's Visitant"
"A Toy Princess" by Mary de Morgan
A long time ago, there was a country where people hardly spoke, never expressed opinions, and never expressed their emotions. The king of this country married a princess from another country where things were very different. She was unhappy and her health suffered. The queen eventually gave birth to a daughter, Ursula. Before dying, the queen was visited by her fairy godmother, Taboret. They had a long talk.
Read "A Toy Princess"
"The Revenge of Her Race" by Mary Beaumont
Mrs. Denison, a foreigner, sits with an English girl. Mrs. Denison is ill, and is glad her husband isn't there to see it. She can't bear to see her children. She tells the English girl that the children must be all English, not Maori.
Read "The Revenge of Her Race" (PDF Pg. 5)
"Markheim" by Robert Louis Stevenson
Markheim visits an antique dealer after hours on Christmas day. The owner is used to these visits. He tells Markheim he won't inquire much about the item's provenance, but he'll have to be compensated for his discretion. Markheim surprises the dealer by saying he's not there to sell, but to buy. He needs a present for a lady. The dealer suggests an item, which upsets Markheim. He's on edge.
"Strange Event in the Life of Schalken the Painter" by Joseph Sheridan Le Fanu
Schalken is in love with Rose. His proposal is rejected by her guardian who has matched her with a rich and mysterious older man. When he arrives they are shocked by him, but the marriage has already been agreed to.
"The Cone" by H. G. Wells
Raut, an artist, is sitting with Mrs. Horrocks in her home. Raut asks if her husband knows about them, but she assures him he doesn't. As they talk about their feelings for each other, they hear the door click shut. Mr. Horrocks stands in front of them. They aren't sure how much he has heard.
Edwardian Short Stories 
These stories were written in the Edwardian era, from 1901-1910.
"The Blue Cross" by G. K. Chesterton
Valentin, head of the Paris police and famous investigator, is in London on the trail of criminal mastermind Flambeau. While having breakfast at a restaurant, Valentin gets his first lead when he learns that two clergyman had stopped in earlier and one of them had made a mess before leaving. Valentin is open to oddities so he follows up on this unusual incident.
This story is the first appearance of the famous Father Brown. It can be read in the preview of Father Brown: Complete Collection.
"The Monkey's Paw" by W. W. Jacobs
The Whites live in an out-of-the-way place, and the weather is bad. Despite this, they receive a visit from Sergeant-Major Morris, who tells them interesting stories. Mr. White urges him to tell the story of something he had only mentioned before, a monkey's paw. The visitor is hesitant, but he tells it.
This story can be read in the preview of The Monkey's Paw and Other Tales.
"The Reticence of Lady Anne" by Saki
Egbert enters his drawing-room with some uncertainty. He and Lady Anne had an argument earlier that hasn't been resolved. He tries to smooth things over with her. His benign remarks are met with silence. He pours himself some tea and tries again, but she's still uncooperative.
---
I'll keep adding Victorian era short stories as I find more.