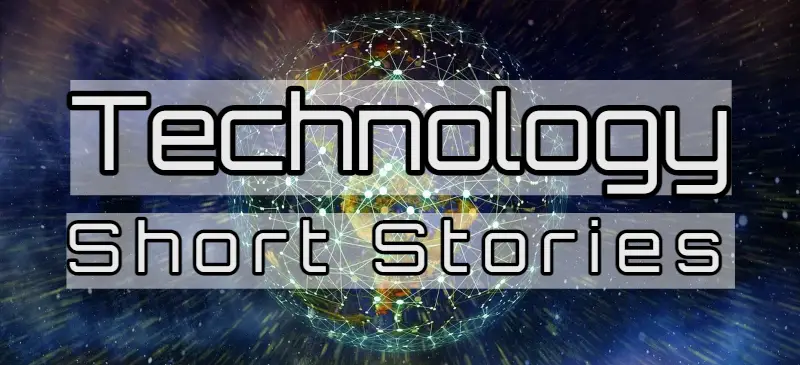 These short stories about technology deal with current and hypothetical technologies and their effects on people's lives. For stories about more specific types of technology, see:
Short Stories About Technology
The narrator's fifteen-year-old daughter, Katie, wants to use the relive box to experience when she was nine, before her mother left. Her father thinks she's been using it too much, and wants her to wait until the weekend. He uses it a lot himself, mostly to relive happier times with his ex wife.
This story can be read in the preview of The Relive Box and Other Stories. (10% in)
Mrs. Faniglia receives a letter from KidLuv, makers of the I CAN SPEAK™ device for babies. She returned the one she purchased, so an associate addresses her concerns. The device doesn't read the babies mind. It recognizes aural patterns and then makes it seem like the baby is speaking. The mask doesn't look like your baby, but the upgraded version does, which they are pleased to offer her at no extra charge.
This story can be read in the preview of In Persuasion Nation. (30% in)
"There Will Come Soft Rains" by Ray Bradbury
At 7 AM an automated house rings the alarm clock and prepares breakfast. It gives some practical reminders and says it's time to go to school and work. Otherwise, the house is strangely silent. (Summary & Themes)
This story can be read in the preview of The Stories of Ray Bradbury. (93% in)
"Signal" by John Lanchester
A family is going to visit an old friend of the father's, Michael, who made a fortune. He invited them to his huge estate in North Yorkshire. The trip is a bit stressful. When they arrive, they're met by a very tall man trying to get phone reception who ignores them. Michael soon arrives, though, and things get a bit easier. Michael has invited about two dozen people to his place, and it doesn't seem to have been planned very well.
Some of this story can be read in the preview of Reality and Other Stories. (20% in)
Short Stories About Technology, Cont'd
"After Yang" by Alexander Weinstein
A family is eating breakfast when Yang slams his head into his cereal. The young daughter, Mika, finds this very funny, but the parents know something is wrong. Her mother whisks her out of the kitchen and her father tries to figure out what to do. Yang will probably need a reboot. Mika wants to see her "brother" but the father's efforts to fix Yang are unsuccessful. He has to call the company.
Some of this story can be read in the preview of Children of the New World: Stories. (15% in)
"Black Box" by Jennifer Egan
A spy relates information about her mission and some of the tricks and techniques of a spy, in general. She is with her designated target for a short time, to gather what information she can. She's been outfitted with advanced technology—recording and communication devices—to update her handlers on her progress.
"Likes" by Sarah Shun-lien Bynum
A father scrolls through his daughter's Instagram, trying to get a sense of how she's doing. She doesn't talk to him much. He drives her to physical therapy twice a week for joint problems. Her mood varies, and she doesn't feel like she has friends. She's going to try out for a part in the "Nutcracker."
"The Machine Stops" by E. M. Forster
Most humans live below the surface of the Earth, communicating with each other through video screens and rarely going anywhere. A machine takes care of everything for them. Vashti and Kuno, mother and son, live apart and have different views of their society – she is content while he is dissatisfied. He once visited the surface without permission. Soon, some new rules are instituted.
Read "The Machine Stops" (Novelette)
"Mika Model" by Paolo Bacigalupi
The beautiful young woman who comes into the station looks familiar to Detective Rivera. She's a Mika Model, an ultra-realistic robot marketed as a girlfriend. They're designed to be appealing to men, and Rivera feels the effect immediately. Mika wants a lawyer, which is unprecedented for an artificial being. He thinks it might be a prank, but then Mika takes something out of her bag that changes things.
Read "Mika Model"
---
I'll keep adding short stories about technology as I find them.