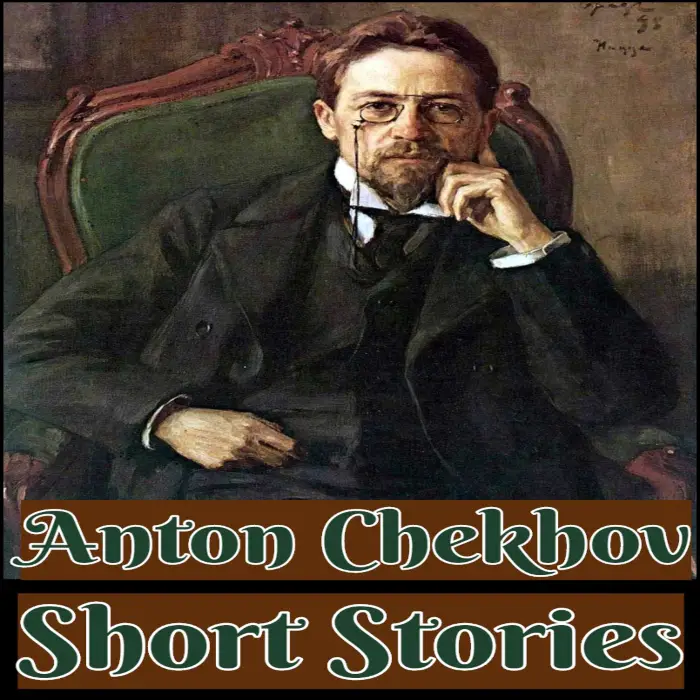 This page compiles short stories by Anton Chekhov, who's considered one of the masters of the form. Links for reading and an approximate word count are provided where possible. I have the Selected Stories of Anton Chekhov, which has 30 selections but there are volumes available with many more. The short stories with PDF links are noted below.
Anton Chekhov Short Stories
Anyuta | 1,645 words
Anyuta lives in a cheap hotel room with a third-year medical student, Klotchkov. He's trying to learn and memorize anatomy. Anyuta has lived with five other men like him; they all left her behind when they moved on to a better life.
This story can be read in the preview of Stories of Anton Chekhov.
The Death of a Government Clerk | 1,015 words
A government clerk, Ivan, sneezes while at the opera, accidentally spraying the man in front of him. The man works in another government department. Ivan is terribly embarrassed. He apologizes and is told to forget it. Ivan can't relax after his faux pas. He wants to be sure everything is fine.
This story can be read in the above preview of Stories of Anton Chekhov.
Small Fry | 1,300 words
Nevyrazimov is a lowly government clerk, working on Easter eve. He's trying to write a note of congratulations to a higher ranking man, with the hope of getting a small promotion. He resents his lot in life.
This story can also be read in the above preview of Stories of Anton Chekhov.
The Huntsman | 1,855 words
A hunter, Yegor, lazily walks down a country road on a stifling day. A woman, Pelagea, gets his attention and walks with him. She wants Yegor to come visit sometime. He doesn't see the point in it.
This story can also be read in the above preview of Stories of Anton Chekhov.
The Lady with the Pet Dog | 6,720 words
Dmitri is unhappily married, unfaithful to his wife, and has a low opinion of women. While on vacation he meets a young woman, also married, and they have an affair. After Dmitri returns to his routine he finds that he can't stop thinking about her.
This story can be read in the preview of Stories of Anton Chekhov.
The Malefactor | 1,535 words
Denis Grigoriev is brought before a magistrate after being spotted by the watchman stealing nuts from the rails. Grigoriev is questioned about his crime, and he explains himself.
This story can be read in the above preview of Stories of Anton Chekhov.
The Requiem (Panikhida) | 2,060 words
After a church service, Andrei Andreich, a shopkeeper, is accosted by Father Grigory. Andreich's daughter had recently died, and the priest is upset over the way Andreich described her in his commemoration.
This story can also be read in the above preview of Stories of Anton Chekhov.
The Bet | 2,850 words
At a dinner party a banker argues that capital punishment is preferable to life imprisonment. A young lawyer disagrees, saying that he would rather life in prison than death. They bet two million rubles that the lawyer can't stay isolated for fifteen years.
Vanka | 1,615 words
An orphan, Vanka, apprenticed to a shoemaker surreptitiously writes a letter to his grandfather. He asks to be taken to live with him, so he can escape his life of deprivation and mistreatment.
This is the third story in the preview of Great Short Stories of the Masters.
The Darling | 4,850 words
Olenka falls in love with Kukin, a theater owner who complains to her of the difficulties of his profession. They marry and she helps with the theater. She tells people it's the most important thing in the world. When Kukin goes to Moscow on business, she has a difficult time getting by without him. He gets delayed.
This is the ninth story in the preview of Classic Short Stories.
Fat and Skinny | 785 words
Two men—schoolmates as boys—meet unexpectedly at a train station and are delighted to see each other. They talk about their lives; one bit of information changes the thin man's view of his old friend.
"Fat and Skinny" can be read in the preview of Fifty-Two Stories.
An Upheaval
Mashenka, the governess, returns to the Kushkins' house after a walk to find everyone upset. In the corridor, she realizes the lady of the house is in her room. (Summary)
About Love | 3,840 words
When some friends are talking about love, Alehin tells his own story on the subject. After University he returned to his father's farm to pay off the debt. When he's elected an honorary justice of the peace, he makes the acquaintance of Luganovitch, vice-president of the circuit court. He also meets Luganovitch's young wife, Anna, whom he finds lovely and fascinating. He thinks of her often.
Read "About Love"
Anna on the Neck | 5,300 words
Anna and Alexietch have just gotten married. He's much older than she is. Anna is unhappy. She married out of necessity—her family is very poor. As the new couple travels by train, she wonders if her father and brothers have any food. She puts up with this uninteresting man to avoid falling back into poverty.
Read "Anna on the Neck"
The Bishop | 6,450 words
Bishop Pyotr is tired and unwell. While at an evening service, he sees his mother, Marya, or a woman who looks just like her. He hasn't seen her in nine years and is moved by the experience. When he arrives home, he's informed that his mother visited earlier with a grandchild and would come back tomorrow.
Read "The Bishop"
A Chameleon | 1,390 words
A police superintendent comes across a commotion in the street. A man has chased down a dog that had bitten his finger. He wants justice so the superintendent tries to identify the dog's owner.
A Day in the Country | 2,360 words
A young girl runs through the street frantically looking for Terenty the cobbler. Her brother has gotten his arm stuck in a tree and there's a storm coming. They set out together for the forest and talk about nature.
Easter Eve | 4,350 words
The narrator waits for a ferry to cross the river to attend an Easter service. It's late in arriving. The monk who works on the ferry, Ieronim, is mourning the death of his friend, a fellow monk. They talk on the way.
Gooseberries | 4,025 words
Nicolai wants his own farm with gooseberry bushes where he can live out his life. He makes it his entire focus; he becomes stingy and marries an old, wealthy widow whom he has no feelings for.
Read "Gooseberries" (PDF)
A Horsey Name | 1,190 words
Bulddeef has a bad toothache. He's tried everything. The dentist says it must be pulled. Bulddeef doesn't want that. His steward, Ivan, remembers a conjurer who could cure toothaches. Bulddeef wants to send him a telegram but there's a problem—Ivan can only remember the man's first name.
Read "A Horsey Name"
The House With the Mezzanine | 7,000 words
Lydia Volchaninov is occupied with the local government, particularly in helping the masses. Her sister, Genya, doesn't do anything serious; she reads all day and is otherwise idle. The narrator, a landscape painter, becomes acquainted with them. Lydia doesn't like him because he doesn't support her causes. He and Genya get along well.
Read "The House With the Mezzanine"
An Incident | 1,960 words
Vania and Nina, young children, wake up one morning tired and unmotivated, until they hear that the cat has had kittens. The children become focused on the kittens, losing interest in their usual activities. The rest of the family doesn't care very much.
Intrigues
Doctor Shelestov is getting ready for a meeting. He was involved in an incident and has to give an accounting of himself. He stands in front of the mirror, practicing an appropriate expression to show how unconcerned he is. He also plans on arriving late and feigning boredom as well.
Ionitch | 7,075 words
Dmitri Ionitch is appointed district doctor. He makes the acquaintance of the Turkins, the most cultivated and talented family in the area. He meets their eighteen-year-old daughter, Ekaterina, who's beautiful and plays the piano. Dmitri gets busy with his work and can't visit for some time. Eventually, he goes back to attend to a migraine. He soon finds another reason to visit.
Read "Ionitch"
A Journey by Cart | 3,635 words
Maria rides home by cart after a trip into the city. She's eager for it to be over. She's bored with her life of teaching and carrying out the same routine. Khanoff, a landowner, pulls up by her in an open carriage. He's on his way to visit an acquaintance.
Read "A Journey by Cart"
The Kiss | 7,665 words
A man at a dinner party is mistaken for someone else and kissed by an unknown woman in the dark. It affects him deeply and fires his imagination.
The Man in a Case | 5,250 words
Byelikov is a teacher—strict, narrow-minded and obsessed with propriety and following the rules. When a new teacher, Kovalenko, moves into the area, some people think his sister, Varinka, would make a good match for Byelikov.
Read "The Man in a Case" (PDF)
Misery | 2,285 words
Iona Potapov is the driver of a horse-drawn sleigh. His mind isn't on his work due to a recent tragedy. He tries to talk to his passengers about his feelings.
Oh! The Public | 1,360 words
Podtyagin swears off drinking and devotes himself to his work as a ticket collector on a train. He rouses his crew at one in the morning and starts demanding to see everyone's tickets.
Read "Oh! The Public" (PDF)
A Problem | 2,690 words
The Uskov family has a serious matter to discuss, so they send their servants away for the evening. Sasha Uskov has forged a promissory note and is now in debt. His uncles have gathered to debate the merits of their options: paying the debt to avoid scandal or letting Sasha go to trial and face the consequences of his crime.
Read "A Problem" (PDF)
Rothschild's Fiddle | 4,110 words
Yakov is the coffin-maker in a little town. People don't die often enough for him to make a good living. He lives like a peasant in a one-room hut with his wife, Marfa. He also earns a little money playing the fiddle. One day Marfa falls ill.
The Siren
Justices of the court withdraw to the chamber. The Presiding Judge disagreed with the others. His dissenting opinion must be recorded. Everyone is hungry and eager to leave. The secretary starts talking about food.
Read "The Siren"
A Slander | 1,500 words
A schoolmaster, Serge, is at the wedding reception he has arranged for his daughter. He goes into the kitchen with the cook, Marfa, to admire the food. When he smacks his lips in appreciation, an usher makes a little joke. Serge is outraged when a false rumor about him spreads.
Sleepy | 2,320 words
Varka, a servant girl of thirteen, is obligated to do numerous household chores during the day and tend to the baby all night. She thinks about her tragic family history.
The Student | 1,500 words
Ivan, a young clerical student, is returning home after shooting. Not wanting to go home, he stops at a camp fire where two widows warm themselves after supper. He tells them the story of Peter's denial of Jesus.
Read "The Student"
A Work of Art 
A doctor saves the life of a boy, the only son of his mother. They are poor bronze dealers, so they have no money to pay. To express their deep gratitude, the boy presents the doctor with an antique bronze work of art. It's not to the doctor's taste.
---
I'll keep adding Anton Chekhov short stories as I find more.