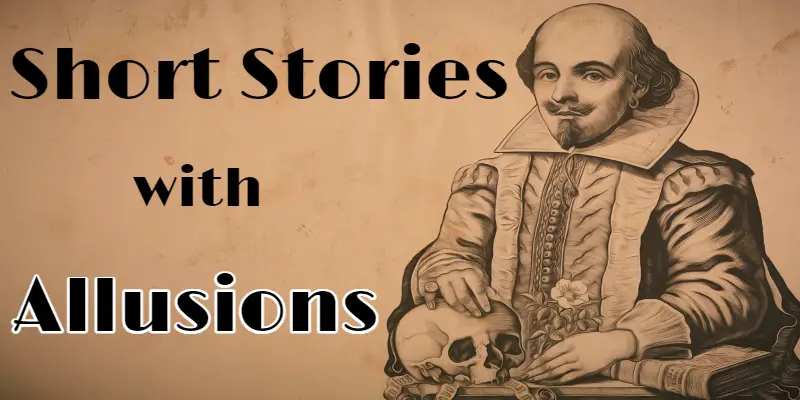 These short stories with allusions have parts that call other things to mind, along with their implications, that influence or enhance our understanding of the story. The stories contain allusions to the Bible, Shakespeare, other literature, history and probably other things.
In parentheses following the story description are examples of the allusions found within. Some of the stories have more allusions than the ones mentioned.
Short Stories with Allusions
On the African savannah, a man's leg is rotting with gangrene. His wife tries to comfort and encourage him. As he waits for death, he thinks about his life. (Bierce's An Occurrence at Owl Creek Bridge, James' The Middle Years)
This story can be read in the preview of The Complete Short Stories of Ernest Hemingway. (62% in)
"The Gift of the Magi" by O. Henry
A poor, married couple tries to figure out how to get each other a nice Christmas present. (Themes) (Various biblical)
This is the first story in the preview of The Gift of the Magi and Other Stories.
"'Repent, Harlequin!' Said the Ticktockman" by Harlan Ellison
The Ones Who Keep The Machine Functioning Smoothly become aware of a disruption, the Harlequin, a man who pulls pranks that throw off their carefully planned schedule. This rebel is becoming a hero to some; they need to find out who he is. Being on time is of the utmost importance—it can even affect how long someone lives. (Thoreau's Civil Disobedience, Bolivar, Napoleon, Robin Hood, Dick Bong, Jomo Kenyatta, 1984 & Jesus)
"There Will Come Soft Rains" by Ray Bradbury
At 7 AM an automated house rings the alarm clock and prepares breakfast. It gives some practical reminders and says it's time to go to school and work. Otherwise, the house is strangely silent. (Summary & Themes) (Teasdale's There Will Come Soft Rains)
This story can be read in the preview of The Stories of Ray Bradbury. (93% in)
Short Stories with Allusions, Cont'd
"Gimpel the Fool" by Isaac Bashevis Singer
Gimpel, the narrator, is an adult orphan who gets turned over to the baker as an assistant. He admits that he's "easy to take in", and the villagers all play him for a fool. When he talks about leaving, the villagers try to convince him to marry Elka, a prostitute. (Biblical Hosea)
"Gimpel the Fool" is the first story in the Amazon preview of Collected Stories. (7% into preview)
A nineteen-year-old woman is going to leave home with a sailor. She thinks about her life, mulling over the decision she has to make. (Various Christian, Mythological & Irish)
This story can be read in the preview of Dubliners. (select in table of contents)
"The Handsomest Drowned Man in the World" by Gabriel Garcia Marquez
A drowned man washes up on the beach. While carrying him into the village, the men notice he is heavier and taller than any man they've seen. While the women clean him up to prepare him for burial, they see that he's an amazing specimen, the most impressive man they've ever seen. (Biblical Jonah, Gulliver's Travels, Zeus, Quetzalcoatl, St. Steven, Estevanico & Odysseus)
"Janus" by Anne Beattie
Andrea, a successful real estate agent, has a favorite bowl that she displays in homes she's selling. She feels the bowl is responsible for her success. (Roman god Janus)
Read "Janus" (scroll down slightly)
The narrator relates a time from her childhood. Her father is a fox farmer; he raises foxes , skins them, and then sells the skins to fur traders. The narrator helps her father with some of the related chores. She prefers this work to helping around the house. She keeps hearing that she will soon do more around the house and behave in a more girl-like way. (Robinson Crusoe)
Feld is a shoemaker who wants his daughter, Miriam, to marry Max, a young man pursuing his education. After Feld tries to set them up, his assistant, Sobel, quits. (Summary) (Biblical Jacob, Rebecca & Laban)
Short Stories with Allusions, Cont'd
"That in Aleppo Once…" by Vladimir Nabokov
The narrator writes a letter to his Russian friend working as a novelist in America. He chronicles his failed marriage, including a separation that occurs during a train trip and his jealousy. (Shakespeare's Othello)
Delia supports her abusive, cheating husband by washing clothes. He comes up with a plan to get rid of her, to take up with his mistress. (Various biblical)
"Pierre Menard, Author of the Quixote" by Jorge Luis Borges
The narrator, a French academic, outlines the works of Pierre Menard, an author. According to the narrator, these are merely Menard's visible works. He is going to focus on what he believes to be the authors' unparalleled achievement—some chapters of the novel Don Quixote. (Don Quixote)
Read "Pierre Menard, Author of the Quixote"
"Fish" by Jill McCorkle
A dying man's youngest daughter remembers his life, including time they spent together and his depression. (Jesus)
Laura, an American, is in Mexico City after the Mexican Revolution working for the revolutionary cause and its leader, the socialist Braggioni. Braggioni indulges himself and tries to seduce Laura. Her religious and revolutionary ideals are tested. (T. S. Eliot's Gerontion)
Mrs. Cope owns a large farm. She is protective of her property and feels she is good at handling whatever comes up. One day, three boys visit her; the father of one of the boys used to work for Mrs. Cope. That boy, Powell, remembers the farm and has been telling his friends about it. They want to enjoy farm life for a while. (Biblical Shadrach, Meshach & Abednego)
---
I'll add more short stories with allusions as I find them.