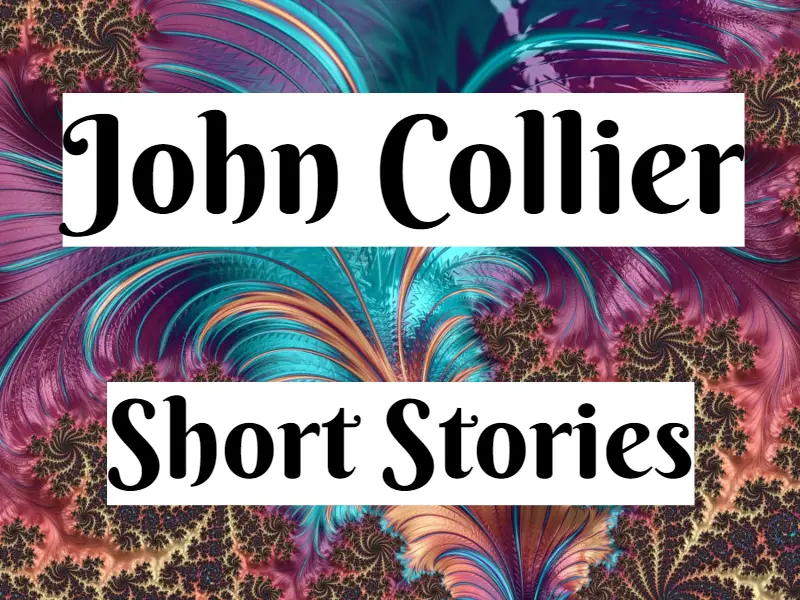 John Collier wrote many memorable short stories. They were often in the fantasy category, featuring strange happenings and dark situations. Good news if you're looking for a book. Fancies and Goodnights, Volumes 1 & 2 (Amazon) contain all 60 of Collier's printed stories.
John Collier Short Stories
"Bottle Party"
Franklin Fletcher dreams of the finer things in life but they don't come to him. He decides to console himself with a hobby. While checking the shops, he's drawn in to one of them by a ship in a bottle. The proprietor shows him various things in bottles, including what he claims are genies. Another supposedly contains the most beautiful girl in the world. Franklin is intrigued with the merchant's stock.
This story can be read in the preview of Fancies and Goodnights: Vol 1.
"De Mortuis"
Dr. Rankin is in his cellar, doing some patchwork on the floor. He touches it up and smooths it to a professional finish. He hears his door closing upstairs, heavy footsteps and then the voices of Bud and Buck, calling out to him. They want him to come fishing, but he's not feeling particularly sociable. He says he has some patients to see.
This story can also be read in the preview of Fancies and Goodnights: Vol 1.
"The Chaser"
Alan Austen enters an out-of-the-way shop. It's tiny with little furniture. The merchant, an old man, only has about a dozen jars and bottles for sale. He talks about one of his offerings which is very expensive. Alan is looking for a love potion. He's concerned about the price of such a valuable mixture. (Summary & Analysis)
"Evening Primrose"
A poet breaks away from the world which doesn't appreciate his talents. He's free now—he lives at Bracey's Giant Emporium, a department store. He, and others, hide out during the day and come out at night. He only has to avoid the night-watchman.
"Back For Christmas"
Dr. and Mrs. Carpenter are hosting a farewell get together before they leave for the doctor's lecture tour in America. His friends want him back in England for Christmas; Mrs. Carpenter assures them she will see to it. She has a habit of promising him for social gatherings and always follows through. They leave tonight. Mrs. Carpenter takes care of the last minute details. Dr. Carpenter has other plans.
"Incident on a Lake"
Mr. Beaseley is fifty, works long days at his drugstore, and is hounded by his wife, Maria. His only enjoyable diversion is reading about incredible things—Ripley's Believe-it-or-Not in the daily paper and his weekly edition of Nature Science Marvels. When he inherits a large sum of money, he decides to travel and explore some of these incredible things firsthand. Maria doesn't make it easy for him.
"Little Memento"
Eric is out walking in the country when he is called over by a neighbor, an old man. After making conversation about their community, the old man shows Eric his museum, a collection of items that all have something in common.
"Over Insurance"
Alice and Irwin are a very happy young couple and madly in love. They think of each other all the time and spend all the time they can with each other. It's a perfectly rapturous existence. One day while rushing home to Alice, Irwin is nearly hit by a taxi. He's appalled with the possibility of being separated from his love like this.
"Squirrels Have Bright Eyes"
The narrator falls in love with a woman—tall, darkly suntanned, a hunter and all-round superb creature. Her penthouse is adorned with the heads and skins of her prey. He wants to marry her but she's devoted to her current lifestyle. He's crushed by her refusal and decides to do away with himself.
"The Steel Cat"
Walter Davies arrives at the Hotel Bixbee with a black box that he guards carefully. He gets the bell-hop to bring him a piece of cheese. They start talking about Davies' new invention, the Steel Cat. He offers the bell-hop a demonstration, which involves his mouse, Georgie.
"Three Bears Cottage"
The Scrivener's hen has laid two eggs. Mrs. Scrivener boils them for breakfast, giving the white one to her husband and keeping the brown one for herself. Mr. Scrivener takes exception to her keeping the best one. They argue about how the food has been getting divided.
"The Touch of Nutmeg Makes It"
The narrator and his coworker Logan see a new man at the mineralogical institute. He's solitary and seems unhappy. One day they invite him to lunch. This leads to some regular association. A friend of Logan's recognizes the newcomer. He's a journalist and remembers the man from a story.
"Wet Saturday"
Mr. Princey has his daughter, Millicent, go over the details of a serious occurrence—so serious that he believes she could be put in a criminal-lunatic asylum, or possibly hanged. Millicent was out in the stable putting away the croquet set. Withers, the curate she's in love with, stopped by with some happy news. She reacted to it badly.
"Witch's Money"
Foiral is on his way back to his village. He encounters a raving madman. He says he's been walking the area for weeks and now he's found what he was looking for. Foiral doesn't see anything. The man loves what he's seeing in the environment. He wants to stay in the village but Foiral tells him there are no rooms. The madman starts exploring a bit and Foiral tries to keep an eye on him.
"Bird of Prey"
The house called the Engineer's House is deserted. It's dilapidated. Birds and other critters don't even take shelter in it. The last occupant only stayed a month. A married couple, Edna and Jack Spaulding, used to live there with their pet parrot. They liked the house and were happy. One night the old parrot got attacked. Jack rushed out and just caught a glimpse of something leaving the scene.
Read "Bird of Prey" (Warning: Spoilers in the introduction)
---
I'll keep adding John Collier short stories as I find more.