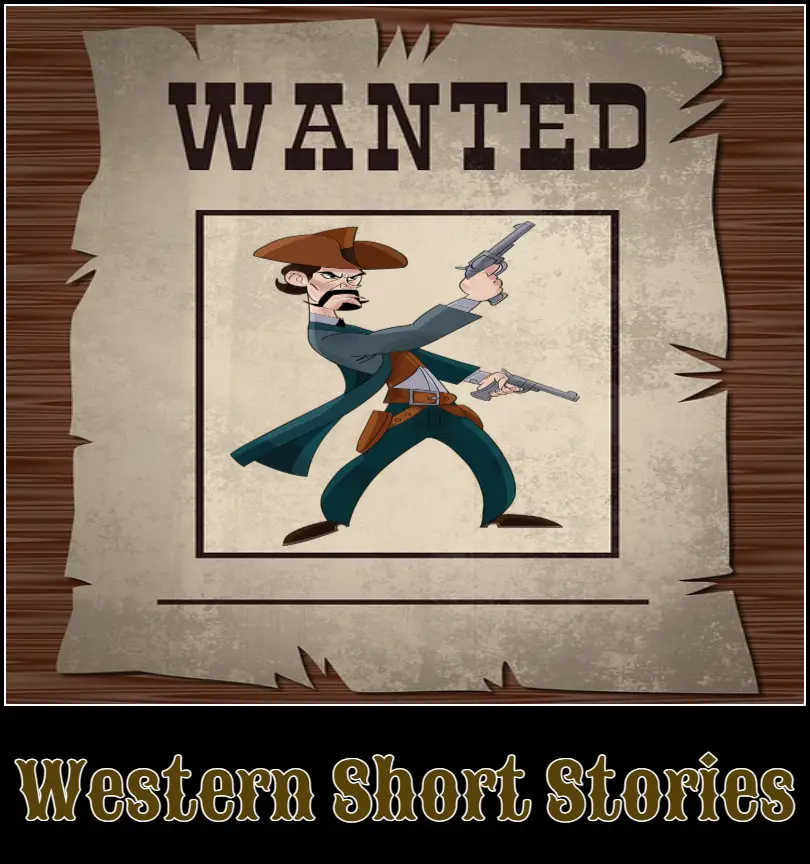 Here are some short stories of the wild west. In a separate section at the bottom, there are "weird west" stories, which are westerns mixed with fantasy, horror or sci-fi.
Western Short Stories
"The Gift of Cochise" by Louis L'Amour
Angie Lowe stands in her cabin doorway with a shotgun. A group of Apaches face the cabin, including Cochise, the leader. Angie has killed several of his men defending her property. They talk about her husband, her children, and her right to live there.
This story can be read in the preview of A Century of Great Western Short Stories. (22% in)
"The Tin Star" by John M. Cunningham
Toby, a deputy, tells Sheriff Doane that he'll be leaving after this business with Jordan and his gang. He doesn't think the job is worth it. Doane put Jordan away years ago, and he knew this day was coming. His train is arriving today. Doane is older now, with arthritis in his hands. The mayor, Mettrick, urges Doane to resign and get out of town while he can.
This story can be read in the preview of A Century of Great Western Short Stories. (44% in)
"The Trouble With Dudes" by Johnny D. Boggs
Lin Garrett does low-level work on a ranch to keep clothed and fed. He used to be a lawman, someone people treated with respect. When a group of city boys come to the ranch to experience the West, the foreman wants Lin to show them around. He's not happy with the idea, but there's nothing he can do about it.
This story can be read in the preview of Law of the Gun. (22% in)
"Lead Storm in Concho City" by C. William Harrison
Five riders close in on a man huddled behind a dead horse. Far back on a ridge is "Blacky" Starr, a young man on horseback. He knows he can't catch up in time. The riders start firing, and the lone man appears to have been hit. One of the riders pulls up next to the man and fires down twice. "Blacky" charges ahead and fires.
This story can be read in the preview of The Pulp Western Anthology: Vol 1. (10% in)
"Trail of the Apache" by Elmore Leonard
Eric Travisin is the agent at Camp Gila, in charge of overseeing over two hundred White Mountain Apaches. He works with Coyotero Apache scouts, and his interpreter, Barney Fry. He's succeeded in turning the Apaches into peaceful farmers. One day, a delegation arrives led by Lieutenant de Both, of sixteen hostile Chiricahua Indians. Travisin has orders to assimilate them into the Camp Gila White Mountain reservation.
This long story can be read in the preview of The Complete Western Stories of Elmore Leonard. (13% in)
"The Outcasts of Poker Flat" by Bret Harte
In an effort to improve their town, the citizens of Poker Flat expel a group of undesirables from their midst. They set out for the next settlement, making a difficult mountain journey. On the way, they meet up with a couple headed for Poker Flat, who share some provisions and direct them to a cabin to rest.
This story can be read in the preview of The Mammoth Book of Western Short Stories. (24% in)
"Hewey and the Wagon Cook" by Elmer Kelton
Doughbelly Jackson is a chuckwagon cook, and a bad one—he doesn't wash his hands, his beans have rocks in them, his biscuits are hard, and he puts canned tomatoes in everything. Hewey is getting sick of eating bad food every day.
This story can be read in the preview of The Cowboy Way: Stories of the Old West. (14% in)
"The Silver Noose" by Jackson Lowry
After escorting a stage coach, Deputy Marshal Mason Barker hears screams from inside the way station. He approaches, ready to draw his gun. There's a body hanging by the neck from a rafter. There's excitement and laughter from the onlookers. Barker demands to know what's going on. The station agent, Silas, says the man was already dead and they're just having some fun.
This story can be read in the preview of The Traditional West. (14% in)
"The Caballero's Way" by O. Henry
A ranger, Lieutenant Sandridge, searches for the Cisco Kid, a murderer with a quick temper and quick draw.
"Wine in the Desert" by Max Brand
Durante is riding to see Tony, a man with a vineyard who'll offer him refreshments. Durante has about a day's head start before the body is found and the sheriff comes after him. Tony has an efficient system built to gather water during the rainy season and pump it into iron tanks. It's a perfect resting point during Durante's flight from justice.
Read "Wine in the Desert"
"The Great Slave" by Zane Grey
Siena knows it's his fate to be the chief of the Crows and bring his bride north and become father to a great people. At sixteen he's the last hope of his tribe. He's a hunter and is fully in touch with his environment. The tribe is visited by some desperate white men. Siena divides the tribe's fish with them. They repay his kindness by offering him a wonderful shooting stick.
Read "The Great Slave"
Weird West Short Stories
"Abishag Mary" by Frances Rowat
Abishag Mary, a pirate, came ashore in the midwest. She has a treasure, and her steps leave wet footprints behind. She's not used to being on land. She eventually comes upon a cabin with a suspicious woman. The woman had prayed for help, and now Abishag Mary is here.
This story can be read in the preview of The Weird Wild West. (12% in)
"The Red-Headed Dead" by Joe R. Landsdale
Reverend Jebediah Mercer is on horseback on a high hill. There was a shooting star last night, a face in the clouds this morning, and now black funnels in the sky. He knows what's coming. He dashes down the hill, looking for cover. He comes upon an empty cabin. The storm gets ever closer.
This story can be read in the preview of Dead Man's Hand: An Anthology of the Weird West. (15% in)
"Hellfire on the High Frontier" by David Farland
Morgan Gray sits alone at a campfire. He's been trailing a skinwalker, but lost it when it took on bear form and went into the high rocks. The Stranger suddenly appears at the campfire. They met seven years ago, and The Stranger did Morgan a favor. He knew there'd be a price, and now The Stranger wants Morgan's help. There's a clockwork gambler who's on a killing spree. He's due to strike again soon. He's good with a gun and very hard to kill.
This story can be read in the preview of Dead Man's Hand: An Anthology of the Weird West. (53% in)
For more weird westerns you can also check out: