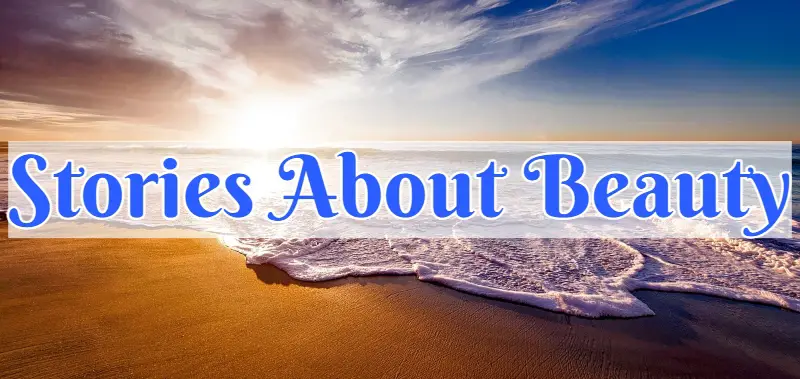 These short stories about beauty and aesthetics deal with beauty in people, things and the environment. They look at true beauty, outer and inner beauty, beauty standards and any other facet of beauty.
For a relevant anthology aimed at a young adult audience, check out Such a Pretty Face: Short Stories About Beauty (The intro and beginning of the first story can be read in the preview).
Short Stories About Beauty & Aesthetics
In a beauty parlor, Leota gossips with her client, Mrs. Fletcher. They cover a lot of subjects including Leota's boarders, the Pikes; Mrs. Fletcher's pregnancy; and the traveling freak show in town, featuring the petrified man.
This is the third story in the preview of The Collected Stories of Eudora Welty.
"An Act of Vengeance" by Isabel Allende
Dulce Rosa is the daughter of Senator Orellano, the most powerful man in the province, and enjoys the advantages of her position. She's charming and good-looking but also develops a reputation for great beauty. Eventually, the tide of the Civil war turns and Tadeo Cespedes marches against the province. There's no way her father's defenses can hold out.
This story can be read in the preview of Short Stories by Latin American Women: The Magic and the Real. (36% in)
A beautiful young maid persuades Emilyan to marry her. They live in a small cottage on the edge of the city. One day, the king passes by and sees Emilyan's wife. He's struck by her beauty and can't stop thinking of her. He wants her for himself, but can't think of how to get her. He puts the matter before his advisors and they have an idea—work Emilyan to death at the palace and then the king will be free to take the widow. Emilyan reports for duty and works hard, harder than the king and his advisors thought possible. (Summary & Analysis)
"The Birthmark" by Nathaniel Hawthorne
Aylmer, an accomplished scientist, marries the beautiful Georgiana. She has a small birthmark on her left cheek. Most men have viewed it positively while women have been critical of it. Aylmer becomes fixated with removing the mark.
This story can be read in the preview of Mosses from an Old Manse. (5% in)
"The Penthouse Apartment" by William Trevor
Mr. and Mrs. Runca are preparing for a visit from the crew of a magazine. Their apartment is going to be featured in it for its beauty. The magazine is sending flowers that Mrs. Runca will arrange herself. The Runca's maid, Bianca, invites another of the apartment's residents, Miss Winton, up to see it. The caretaker, Mr. Morgan, is also there, attending to a pipe. He likes to drink.
This story can be read in the preview of The Collected Stories. (67% into Kindle preview)
"Marigolds" by Eugenia W. Collier
Lizabeth recalls a time when she was fourteen, in Maryland, during the Depression. A woman in her neighborhood, Miss Lottie, lives in a dilapidated home, but has a colorful marigold garden. She's an outcast, and the children make her a target of taunts. (Summary & Analysis)
This is the first story in the preview of Breeder and Other Stories. 
"The Japanese Quince" by John Galsworthy
Mr. Nilson perceives a peculiar sensation in his throat, leading him to take a morning walk in the nearby gardens to shake this uncomfortable feeling. During his trip, he sees Mr. Tandram which makes him feel awkward because they have never spoken even though they're neighbors. They recognize the beauty of their surroundings.
Short Stories About Beauty & Aesthetics, Cont'd
"The Handsomest Drowned Man in the World" by Gabriel Garcia Marquez
A drowned man washes up on the beach. While carrying him into the village, the men notice he is heavier and taller than any man they've seen. While the women clean him up to prepare him for burial, they see that he's an amazing specimen, the most impressive man they've ever seen.
The narrator describes Legeia—a woman of rare knowledge, singular beauty and gifted with languages. She had unusually large and full eyes. She fell ill.
Read "Ligeia"
"The Miracle of the Birds" by Jorge Amado
The narrator claims a miracle occurred in a Brazilian town, one that can be attested to by hundreds of people. Ubaldo is a balladeer, known for his success with women. Captain Ezequiel is a hired killer, and the husband of Sabô, a bold beauty.
"The Gesture" by Gil Brewer
Nolan lives on a private island with his wife, Helen. A photographer, Latimer, is visiting, shooting a picture story of the island. Nolan likes having Helen isolated; he doesn't like other men looking at her beauty. Latimer and Helen are spending time together. Nolan knows he has to do something.
"Princess Mammalia" by Roald Dahl
Princess Mammalia is a plain girl until her seventeenth birthday when she suddenly becomes beautiful—the most beautiful girl in the realm. With her newfound beauty comes power. She gradually uses it more and more.
"Deer Woman" by Paula Gunn Allen
Two young men, Ray and Jackie, drive around one afternoon looking for women. When they stop at a tavern after dark, they find out about a stomp dance nearby. They go over there with a third guy. He soon meets a beauty and leaves. Ray and Jackie keep talking to women and generally enjoying themselves. As morning nears, they spot two strikingly beautiful women.
Short Stories About Beauty & Aesthetics, Cont'd
Mabel arrives at Clarissa's place for a party. Immediately, she has the suspicion that something is wrong. Her dress isn't right. She couldn't afford the latest style so she had one made from a cheaper pattern, old-fashioned, modeled after a picture from a Paris fashion book that looked charming on the page. Mabel has always had issues with inferiority, and now, in a room full of fashionably dressed people, she becomes consumed with how she looks and how she is viewed by the other attendees.
Hazel Morse was a beautiful blonde, an ex model who was fun and popular with men. When she starts showing signs of her age, she wants to marry a man, Herbie, but he isn't interested. She starts drinking and hanging out with a new group of people.
"The Fat Girl" by Andre Dubus
Louise is a young, fat girl who doesn't feel accepted by family or friends. When she goes away to college, she follows a strict diet and loses seventy pounds. When she goes home to visit, it leads to a lot of changes in her life.
Read here (PDF)
"Janus" by Anne Beattie
Andrea, a successful real estate agent, has a favorite bowl that she displays in homes she's selling. She feels the bowl is responsible for her success.
Read "Janus" (scroll down slightly)
"Where Are You Going, Where Have You Been?" by Joyce Carol Oates
A rebellious fifteen-year-old girl encounters an older man in a parking lot. He later shows up at her place when she's home alone to ask her to go for a ride with him.
Read "Where Are You Going . . ."
---
I'll keep adding short stories about beauty and aesthetics as I find more.