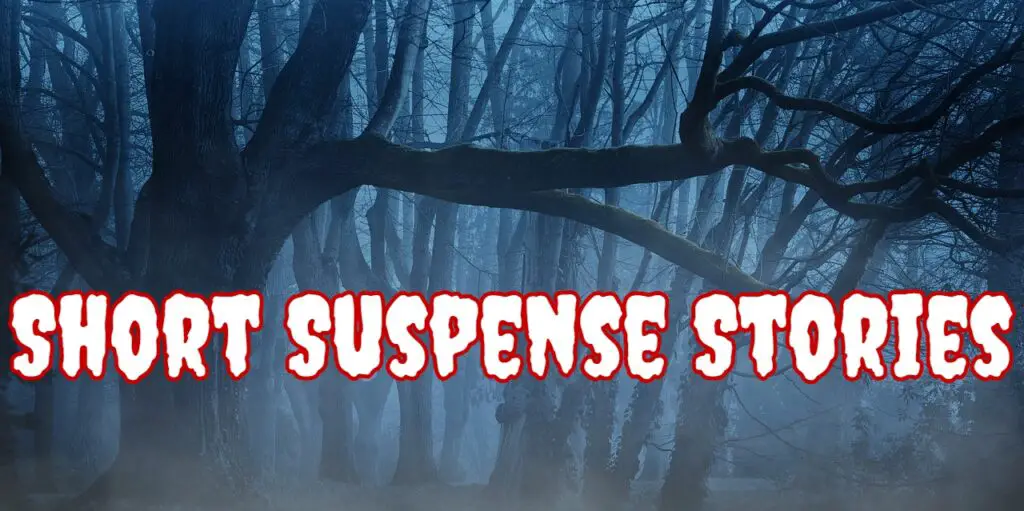 These suspense short stories have a mystery that has to be solved, or a tense situation that will keep readers wondering. For younger readers, check out Two-Minute Mysteries. In the Amazon preview, you can read the first three stories—a restaurant robbery, a delivery driver suspected of murder, and a possible suicide. See also:
Mystery & Suspense Short Stories
Abigail feels light-headed as she's driving home. Three-quarters of the way there, she sees a "Detour" sign. She thinks about ignoring it, but it's not in her nature. She follows the signs through the country roads.
"Detour" can be read in the preview of Night, Neon: Tales of Mystery and Suspense.
"A Scandal in Bohemia" by Arthur Conan Doyle
Dr. Watson drops in on Holmes after some time apart. Holmes has received a note saying a masked visitor would come by that evening with a sensitive case. The man is tall, muscled and richly dressed. He's a Count of Bohemia. A picture that could cause problems for the King of Bohemia is in the possession of Irene Adler. His attempts to retrieve it have failed.
This is the first story in the preview of Big Book of Best Short Stories: Mystery & Detective.
"Puncher's Chance" by Doug Allyn
Mick McGuire is preparing for his comeback fight after a shoulder injury. His sister Jilly, who's also fighting on the same card, hurts him with a body shot in sparring. Mick realizes his shoulder has lost some mobility, leaving a gap in his defense. Against an experienced boxer or trainer he'll only have a puncher's chance before it's exploited. This development turns out to be even more devastating, as Mick's father reveals they're in debt.
This story can be read in the preview of The Best American Mystery Stories 2017. (29% in)
"Hot Springs" by James Crumley
Benbow and Mona Sue are hiding out at a mountain cabin. They're waiting for her to give birth. Then they'll go to Canada; no one will follow them there. Mona Sue warns that R. L. is coming. Benbow took off with his money and with Mona Sue.
This story can be read in the preview of The Best of the Best American Mystery Stories: The First Ten Years. (18% in)
"The Speciality of the House" by Stanley Ellin
Laffler takes Costain to Sbirro's, a dismal looking restaurant. Laffler has an extremely high opinion of the establishment. Costain is the only person at work who has shown an appreciation for fine food, so Laffler wants to share this experience with him. There are no menus. Occasionally, a special is served. Their meal begins with a rather bland broth.
This classic mystery can be read in the preview of The Speciality of the House. (18% into Kindle preview)
Mystery and Suspense Short Stories, Cont'd
"The Cat's Paw" by Stanley Ellin
Mr. Crabtree has taken a room in a boarding-house because it's near the public telephone in the hallway. This allowed him to include the phone number on a job application. He was a perfect match for the job description, and he's anxiously awaiting a response. Two weeks later, a call with a job offer comes through. It seems an ideal position.
This story can also be read in the above preview of The Speciality of the House. (53% into Kindle preview)
"Death on Christmas Eve" by Stanley Ellin
The family lawyer goes to the Boerum house to visit Charlie, who's wife, Jessie, has died. Charlie's sister, Celia, answers the door. The authorities have cleared Celia in the death, but the lawyer makes it clear he knows she did it. There's lots of tension in the house. Celia is planning on getting rid of Jessie's things.
This story can also be read in the above preview of The Speciality of the House. (82% into Kindle preview)
Jeremiah and Sweet Gum, cousins, ride down a dirt road in a dilapidated jalopy. They've made some sort of promise to their uncle Simon. Jeremiah pulls into a hotel, which bothers Sweet Gum. He wants to get right to their business. They asks the hotel clerk how to find a man, Nathan Motley. Sweet Gum gets hostile during the exchange. Jeremiah wants to gather some information.
This story can be read in the preview of Extenuating Circumstances: Stories of Crime and Suspense. 
"The Man Who Knew How" by Dorothy Sayers
Pender reads a mystery while riding the train. The man sitting across from him has an unsettling expression, which upsets Pender. They get talking about murder mysteries. The man claims to know a sure and undetectable way of killing people, by adding a simple solution to the targets bath water. Pender becomes obsessed with scouring the newspaper for reports of people dying in the bath.
This is the second story in the preview of A Moment on the Edge: 100 Years of Crime Stories by Women.
"The Love of a Good Woman" by Alice Munro
A museum in Walley has a box of optometrist's instruments that were owned by D. M. Willens, who drowned in the Peregrine River decades ago. It was found by an anonymous donor. Three boys who were out exploring on a spring morning first spotted the car and the body submerged in the river. In another thread, Enid is providing homecare for Mrs. Quinn, a young woman dying of kidney failure.
This longer story, not a traditional mystery, can be read in the preview of Family Furnishings: Selected Stories. (13% into Kindle preview)
Suspense and Mystery Short Stories, Cont'd
"The Blue Cross" by G. K. Chesterton
Valentin, head of the Paris police and famous investigator, is in London on the trail of criminal mastermind Flambeau. While having breakfast at a restaurant, Valentin gets his first lead when he learns that two clergyman had stopped in earlier and one of them had made a mess before leaving. Valentin is open to oddities so he follows up on this unusual incident.
This story, which is the first appearance of the famous Father Brown, can be read in the preview of The Complete Father Brown Mysteries.
"The Murders in the Rue Morgue" by Edgar Allan Poe 
The narrator shares a residence with Dupin, a man with superior analytical skills. They like spending their time in seclusion reading, writing, and talking to each other. One day, they read a newspaper report of the violent murder of two women.
This story can be read in the preview of The Black Lizard Big Book of  Locked-Room Mysteries. (7% in)
"Justice" by Pamela Blackwood
William can't sleep. He's sore from work and his bed is empty. He gets up, goes outside, and sits on his front porch. He imagines Hannah coming back to him. There's a terrible barking of dogs down the road.  The next day, he hears there was a killing near his place.
The first few pages can be read in the Amazon preview of Best American Mystery Stories 2020.
On Monday afternoon, a government man meets with Colonel Peterson. There's intel on a weapon that can do significant damage, and it's going to be used on Saturday morning. The government is looking to IAS, run by Peterson, to get the information they need. An Algerian professor and journalist is the best lead—he's recently been in contact with the group in question. He'll need to be taken to a black site.
This story can be read in the preview of Thriller 2: Stories You Just Can't Put Down. (17% in)
"The Bully" by Jeffrey Deaver
Henry is in the Eagle tavern when he spots his bully, Stan Whitcomb, a very big man. He wants to get out of there, and hopes his friend Larry won't notice any problem. Henry has complained to the Sheriff's Department about Stan and now he has to again after Stan confronts him.
This story can be read in the preview of Exit Wounds. (22% in)
Mystery and Suspense Short Stories, Cont'd
"Before Insulin" by J. J. Connington
Wendover wants his friend, Chief Constable Driffield, to look over a situation that has come up. Robin Ashby was the sole heir to his father's money, provided he came of age. He had been sick for years with no treatments helping. As a last resort, he put himself under the care of a French doctor and his English nurse. Robin lived just long enough to inherit the money and leave a will.
This story can be read in the preview of Bodies from the Library: Lost Tales of Mystery and Suspense from the Golden Age of Detection. (26% in)
"The Inverness Cape" by Leo Bruce
Sergeant Beef recounts a violent crime that shocked him. An old lady was clubbed to death in view of her wheelchair-bound sister. They were kindly ladies, and rich. Eventually, their nephew Richard, a spendthrift, came to live with them.
This story can also be read in the above preview of Bodies from the Library: Lost Tales of Mystery and Suspense from the Golden Age of Detection. (61% in)
"Dark Waters" by Freeman Wills Crofts
Weller, a lawyer, is panicked when his client, Marbeck, wants his stocks to be sold—the stocks are long gone. Discovery of this fraud will mean prison. Weller can only think of one way out of the situation. If Marbeck were dead, he could falsify papers that would put him in the clear.
This story can also be read in the above preview of Bodies from the Library: Lost Tales of Mystery and Suspense from the Golden Age of Detection. (82% in)
"Before and After" by Peter Antony
Nurse Stephens discovers the body of her employer, Mrs. Carmichael, on a summer morning. She had a tiny hole in her right temple. Inspector Swallow is in charge, but he also brings in Mr. Verity, a man with a remarkable record for solving crimes. The time of death is determined to have been 10:30 to 11:00 the previous night. The problem is, Mrs. Carmichael was alone at that time.
This story can be read in the preview of Bodies from the Library 2: Forgotten Stories. (58% in)
"My Heart is Either Broken" by Megan Abbott
Lorie is dealing with the loss of her daughter, Shelby, but in a way that people disapprove of. The police and reporters are still asking questions. Lorie and her husband have told the story of Shelby's disappearance many times. There are some inconsistencies with eyewitness accounts.
This story can be read in the preview of The Best American Mystery Stories 2014. (31% in)
Suspense and Mystery Short Stories, Cont'd
"The Frightening Frammis" by Jim Thompson
Mitch is trying to hitchhike back to Los Angeles. He'd recently robbed his wife and some business associates and had nearly twenty thousand dollars. Now, after falling victim to a scam while riding the train, he has nothing. He figures getting back to his wife is probably his best bet. A big Cadillac slows down, and the woman in the passenger seat looks him over. Mitch catches a ride and finds himself with another opportunity.
This story can be read in the preview of Alfred Hitchcock's Mystery Magazine Presents Fifty Years of Crime and Suspense. (13% in)
"Oh, Yeah" by Mario Acevedo
The narrator and Enrico have taken on Canela as a third partner in a job. They've done time before and they don't want to again. Canela is their guarantee—he's not too bright, so if anything goes wrong they'll ditch him. They go over everything with Canela, and make sure he knows the plan.
This story can be read in the preview of Hit List: The Best of Latino Mystery. (35% in)
"The Dead Witness, or, the Bush Waterhole" by Mary Fortune
A detective is riding through the Australian bush and plains. A young photographer who had been staying in a public-house has been missing for a few days. A contact informs the detective that some cattle have uncovered a large blood stain in a field. They make an appointment to investigate the scene.
"The Case of the Dixon Torpedo" by Arthur Morrison
Hewitt, an investigator, receives a visit from Mr. Dixon. The drawings of a top secret torpedo have been stolen from his office. He doesn't suspect either of his employees. No one had entered or left the office during the time in question. Hewitt and Dixon set off for the office.
Read "The Case of the Dixon Torpedo"
"Miss Hinch" by Henry Sydnor Harrison
An old woman and a clergyman on the subway talk about the latest sensational story—Miss Hinch, an actress and expert impersonator, killed John Catherwood with a sword. She was seen minutes after the killing, but then seemingly disappeared for the next ten days. With her uncanny ability to become someone else, the police—and a famous detective, Jessie Dark—are stumped.
"A Study in Emerald" by Neil Gaiman
The narrator, who is looking for a roommate, meets a man who deduces he has just been tortured in Afghanistan. They agree to share accommodations in Baker Street. The narrator's roommate is a consulting detective. He is visited by Inspector Lastrade of Scotland Yard.
Mystery and Suspense Short Stories, Cont'd
Medford, from the American School of Archaeology at Athens, goes to visit his friend, Henry, an amateur archaeologist living in the desert. When he arrives, Henry isn't home. The servant, Gosling, says he was invited to some unexplored ruins. Medford waits for his friend's return.
"The Cross of Lorraine" by Isaac Asimov
Rubin is hosting the monthly gathering of his club, the Black Widowers. Their custom is to have an interesting guest who agrees to answer all questions put to him. Tonight's guest is the Amazing Larri, a stage magician who debunks supernatural claims. The conversation eventually turns to a mystery that even Larri can't solve.
"The Whole Town's Sleeping" by Ray Bradbury
Lavinia and Francine walk to Helen's house. Francine is worried about the Lonely One, someone who's been strangling women in the area. Lavinia is dismissive of the danger. They take a short cut through the ravine. They come across the body of a missing woman. Francine is distraught; Lavinia convinces her to continue their evening.
Read "The Whole Town's Sleeping"
"Have A Nice Death" by Antonia Fraser
Sammy Luke, an English novelist, is in New York. His latest book is on the best-seller list. He's in the city to do some television appearances. The trip has gone surprisingly well. The concerns expressed by his wife, Zara, and others seem unfounded. While staying at his hotel, he gets a call that changes his mood.
---
I'll keep adding mystery & suspense short stories as I find more.