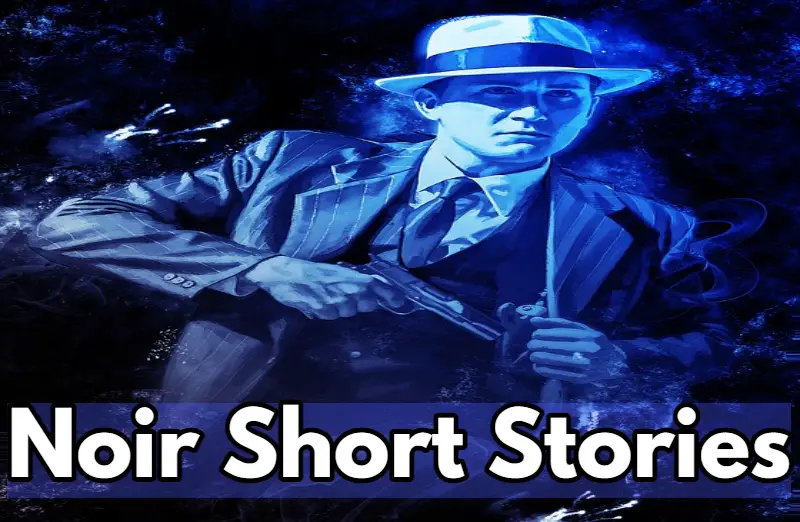 Noir fiction blurs the lines between right and wrong, features seriously flawed characters, and doesn't shy away from violence. Hardboiled fiction often features a detective fighting against corrupt authorities or criminals. Pulp also falls into this category, and also includes other crime stories.
Noir Short Stories
"Easy as A-B-C" by Laura Lippman
A contractor is hired to completely redo his grandparents old house. They died, and it was bought by Dierdre, a young woman. They become involved. He does the work for free or at cost. He tries to keep the relationship from his wife and his crew.
This story can be read in the preview of Baltimore Noir (Akashic Noir).
"Mulholland Dive" by Michael Connelly
Detective Clewiston arrives at an accident scene. He's an accident reconstructionist. He handles all the Mulholland Drive fatalities. It's late; he's been called in while off-duty. A car has gone over a precipice and the driver killed. He was a known and rich man, so everything has to be done thoroughly. Clewiston starts analyzing the scene.
This story can be read in the preview of Los Angeles Noir.
"Missing Gene" by J. Malcolm Garcia
A man was in Kandahar for a year working as an electrician. Life is very different now that he's back. He lives with Fran, who's attending night school. He likes to throw a knife against the wall. For three weeks, he hasn't seen one of the regulars at his hangout, Gene. He thinks Gene just drove off. He plans on leaving too.
This story can be read in the preview of Kansas City Noir. (34% in)
"White Trash" by Jerome Charyn
Prudence has been on a crime spree: robberies and six murders connected with them. Her picture is up all over the place. She goes to the Bronx to hide out, on the advice of an old cellmate. She heads for the address provided by her.
"White Trash" can be read in the preview of Bronx Noir. If you like the Akashic series, there are over a hundred volumes in it. And if you don't like it, there are still over a hundred volumes.
"Reflections of the Past" by Bev Vincent
Greg is back in his hometown, back in his parents house. It's empty now, and he could use a new start. He had unpaid bills and a dead-end job. Only his siblings know he's there, but he gets a call from an old high school classmate. He's surprised—he thought his mother had told him she was dead. She wants to meet at a bar.
This story can be read in the Amazon preview of Mickey Finn Vol. 1: 21st Century Noir.
"Getting Violated" by David Haggerty
The guards are holding up breakfast, and the inmates are getting restless. The narrator's on his own in the cafeteria; his partner, Ritchie, hasn't shown up. Deputy Larsman arrives, which means there's a problem. He questions the narrator about his actions the previous night, including when he last saw Ritchie.
This is the second story in the preview of Mickey Finn Vol. 1: 21st Century Noir.
Noir Short Stories, Cont'd
"Bee Canyon" by Susan Straight
The narrator remembers the phantom, a man who used to throw rocks at cars on the freeway, steal, and once, even stabbed a deputy. He almost shot him, but the situation was complicated. A rock smashed his windshield at dusk. He was injured by the shards, but managed to pull over. He called in the incident.
This story can be read in the preview of Orange County Noir. (33% in)
"Spurs" by Tod Robbins
Jacques is a dwarf employed by a circus. He has no friends. He becomes infatuated with a fellow performer, Jeanne, a bareback horse rider. One day, Jacques inherits an estate after his prosperous uncle dies. He uses this gain to attract Jeanne.
"Spurs" can be read in the preview of The Best American Noir of the Century.
The following five stories are also in that anthology.
"The Gesture" by Gil Brewer
Nolan lives on a private island with his wife, Helen. A photographer, Latimer, is visiting, shooting a picture story of the island. Nolan likes having Helen isolated; he doesn't like other men looking at her beauty. Latimer and Helen are spending time together. Nolan knows he has to do something.
"Faithless" by Joyce Carol Oates
The last time Cornelia and Constance Nissenbaum saw their mother was the day before she disappeared forever. She was late coming down to breakfast. They could feel something was wrong. It was time to leave for school, but they couldn't go. They started searching. They found her lying on her bed, disheveled and breathing heavily. Their recollection and interpretation of the morning's events would vary.
"The Paperhanger" by William Gay
The doctor's wife is home with her four-year-old daughter, Zeneib, while workers are renovating the place. She has a hostile exchange with the paperhanger before leaving the room. She goes to her car in the driveway and calls Zeneib.
"When the Women Come Out to Dance" by Elmore Leonard
Lourdes is working as Mrs. Mahmood's personal maid. Lourdes was a mail-order bride whose husband died under highly suspicious circumstances. Mrs. Mahmood is interested in hearing about what happened. She talks of some concerns about her own husband.
Noir Short Stories, Cont'd
"The Hoarder" by Bradford Morrow
The narrator has always been a hoarder, starting with things he could find like seashells, bird nests, butterflies, and pottery shards. His older brother, Tom, thought he was weird. His mother left and the family moved around a lot. When he got old enough to get a job, he developed a new obsession.
A lot of "The Hoarder" can be read in the preview of The Uninnocent: Stories.
"Hasidic Noir" by Pearl Abraham
While taking mikvah, a Jewish detective hears some gossip about a high-profile murder in the Hasidic community. The victim was one of the two men in line to inherit the Grand Rabbinic Throne. There had been a long-standing rivalry between the two congregations. Although he hasn't been officially hired on the case, the detective finds it hard to resist. It's rare for violence to erupt in this community and they like to keep things quiet. He'll have to be careful.
Some of this story can be read in the preview of Brooklyn Noir. (63% in)
---
Hardboiled, Pulp & Noir Short Stories
"On the Sidewalk, Bleeding" by Evan Hunter
A boy lies bleeding in the rain on the sidewalk. He's been stabbed. His jacket identifies him as a Royal, a member of a local gang. He can't speak. He thinks about Laura.
This is the first story in the preview of The Best of Manhunt.
"Stabbing in the Street" by Elizazar Lipsky
Wiley, the assistant district attorney, gets a call in the early morning. There's been a stabbing, and there are witnesses. The victim, an Englishman, is at the hospital. Wiley goes to the station. Present are three of the victim's associates, a woman, and the perpetrator, who doesn't speak English. Wiley tries to find out what happened.
This is the first story in the preview of The Best of Manhunt 2.
"Mad Dog" by Stephen D. Rogers
A man wakes up with a rifle in his mouth. Mad Dog wants to take him for a ride. She's been hired to deliver him to someone.
This is the first story in the preview of All Due Respect 2020.
"(The Traveler's Story of) A Terribly Strange Bed" by Wilkie Collins
A man in Paris visits a gambling house. He goes on an impressive winning streak. He eventually breaks the bank. He gets some advice on how to protect his winnings.
This story can be read in the preview of The Black Lizard Big Book of Locked-Room Mysteries.
"The Two Bottles of Relish" by Lord Dunsany
A salesman tells a story that those in the know want to hush up. A woman, suspected of being murdered, completely disappeared. A man named Steeger was the prime suspect. He's in possession of the money she had. He says she left the country. The salesman relates all the details to his flat mate, who has a knack for seeing what others miss.
This story, one of the most famous mysteries ever, can be read in the preview of The Black Lizard Big Book of Locked-Room Mysteries. But only if you're ready.
"An Almost Perfect Crime" by William F. Smith
A man entered a telephone booth, closed the door, and fell over dead a few minutes later with an ice pick in his back. A thorough report has been filed, recording every detail about the scene. It's handed over to Detective Stone.
This story can be read in the preview of The Mammoth Book of Perfect Crimes & Impossible Mysteries.
"The Diamond Wager" by Dashiell Hammett
Alexander West has always been eccentric. He eventually became an American minister in the diplomatic corps. After retiring, he visits his old friend, the narrator. West is wearing a fine diamond ring. He says he won it because of a prank he pulled. He shocks his friend by claiming to have stolen four million francs worth of jewels.
This story can be read in the preview of The New Mammoth Book of Pulp Fiction.
"Cry Silence" by Fredric Brown
A man's train is late. The station agent points out another man, Bill Meyers, and says he's a murderer. He got away with it, though, because he claimed to be deaf. Bill was mean to his wife. She developed feelings for the hired hand. Bill went deaf at the same time.
This story can be read in the preview of The Black Lizard Big Book of Black Mask Stories.
"Father, Son, Holy Rabbit" by Stephen Graham Jones
A father and son are lost in a snow storm. They have no idea which way to go. They're cold and hungry. The father only has a knife. It's been days. One time, after waking up, the boy tells his father about a rabbit he dreamed. The thought keeps them going. The father goes out looking for the rabbit.
This story can be read in the preview of The New Black: A Neo-Noir Anthology.
---
I hope you found a great noir short story here. I'll continue to add more as I find them.