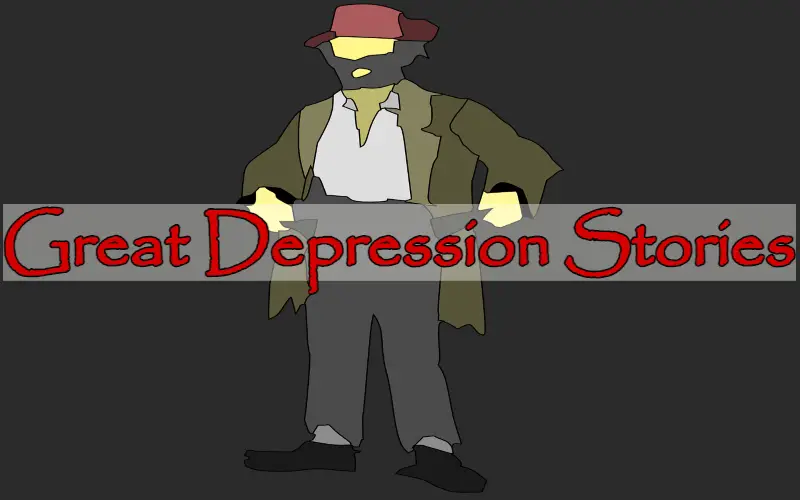 These Great Depression short stories are set during that period or have characters remembering that time.
Short Stories Set During the Great Depression
"Marigolds" by Eugenia W. Collier
Lizabeth recalls a time when she was fourteen, in Maryland, during the Depression. A woman in her neighborhood, Miss Lottie, lives in a dilapidated home, but has a colorful marigold garden. She's an outcast, and the children make her a target of taunts. (Summary & Analysis)
This is the first story in the preview of Breeder and Other Stories. 
Johnny and Roy live across the street from a mass of natural rock, known as the rockpile. It's a popular play spot for the neighborhood kids. The boys are warned to stay away from it by their parents, who think it's dangerous. One day while sitting on the fire escape, some of Roy's friends ask him to come with them.
This story can be read in the preview of Going to Meet the Man: Stories. (14% in)
In the Depression-era, Rose lives with her father and stepmother in a poor area. Her stepmother relates the story of a local man who gets attacked. She also threatens Rose with a "royal beating."
This is the first story in the preview of Alice Munro's Best: Selected Stories. (25% into preview)
"The Sign of the Cat" by Sandra Havriluk
Chet lives with his Grandma while his father is away working in Florida so he can send money home. They're sharing their supper with three men, "askers" or "hoboes", as people call them, but not Grandma. She knows Chet's father could be in the same situation. Chet doesn't like having to share with these strangers.
"Walker Brothers Cowboy" by Alice Munro
After going bankrupt, the Jordan family moves to the poor side of town in Ontario. One day the narrator, a young girl, goes with her father, now a door to door salesman, on some of his sales calls.
Great Depression Short Stories, Cont'd
"I Stand Here Ironing" by Tillie Olsen
While a remarried mother of five irons, she thinks about how she raised her first child, Emily, and what she would do differently.
Some of this story can be read in the preview of Tell Me a Riddle, Requa I, and Other Works.
"A Christmas Memory" by Truman Capote
A young boy, "Buddy", lives with various relatives including his elderly distant cousin who is his best friend. The family is poor, but "Buddy" and his cousin save their pennies each year for some special holiday food and to buy a present for each other.
"Stones in My Passway, Hellhound on My Trail" by T. C. Boyle
An accomplished blues musician, Robert, is playing in a club. There is a flashback to his youth when he saw a poisoned dog die. Between sets he spends time with Beatrice; another woman, Ida, looks at him intently.
"Looking for Mr. Green" by Saul Bellow
During the Great Depression, George Grebe works delivering relief checks to handicapped people. He has difficulty finding some of the recipients, particularly Mr. Green.
"Wishing for Christmas" by Kirsti Harris
Shirley remembers when she was eight in New Haven in 1939. The family is very poor. A month before Christmas, her father gathers the children and tells them they won't be having Christmas this year.
"The Deep" by Anthony Doerr
Tom is born in 1914 in Detroit. He grows up without a father, and his mother runs a boardinghouse near the salt mines. At four, it's found he has a heart defect; his life expectancy is eighteen, at best. Tom can't exert himself. He struggles in school. He spends a lot of time at home to stay safe.
Read "The Deep"
Great Depression Short Stories, Cont'd
"The Cave Dwellers" by Joseph Mitchell
A reporter remembers the winter of 1933 when the newspaper wanted lots of stories about human suffering. He spent a lot of time talking to defeated and desperate people, many of whom talked because they thought he was a relief investigator. He gets a tip on a couple who lived in a cave in Central Park. (This piece is reportage but it reads like a short story.)
"Cow-Pats" by Frank Sargeson
The narrator remembers when he had to work on the farm as a boy with his brothers. Their boots were full of holes and when there was a frost they'd get really cold. One of the boys found a way to warm up his feet.
"An Attempt at an Explanation" by Frank Sargeson
The narrator's mother supported them by sewing. On Sundays they went to church and she read to him from their big Bible. One day when he he told his mother he was hungry, she didn't respond. Usually, she would get up and get him something.
"A Man and His Wife" by Frank Sargeson
During the slump, the narrator lived in a shed that used to be a stable. He was joined by Ted, who was having problems with his wife. Ted had a dog and, later, became attached to a pet canary.
"A Field of Wheat" by Sinclair Ross
A married couple in their late thirties, beaten down from years of hard work, lives in poverty on their farm. This year the husband's wheat crop is the best it's ever been, and there is hope of a large payout as wheat prices are high.
---
I'll keep adding short stories about the Great Depression as I find more.