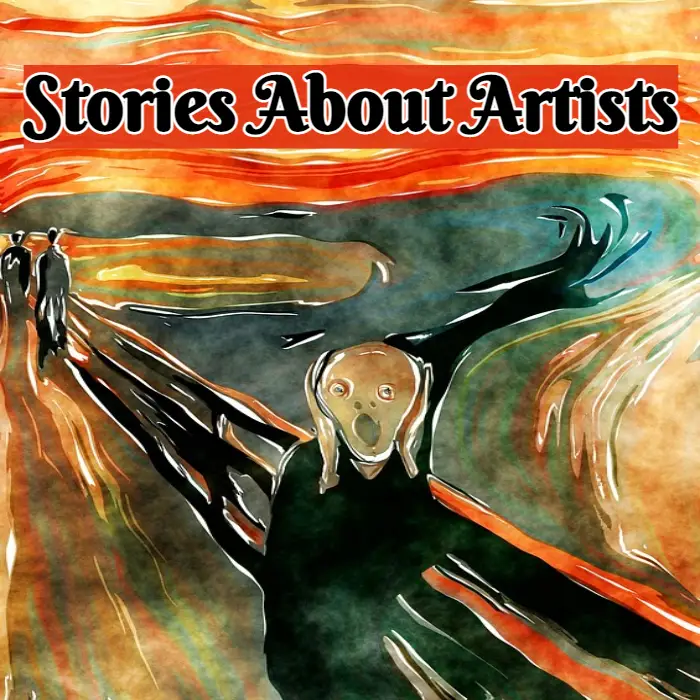 These stories feature artists and the art they create or are trying to create. Some stories show the artist's process or their struggles. Others simply contain art as an important part of the plot. Most of the stories I've come across are about painting, but I'll include stories with other art forms if I find them. See also:
Short Stories About Art & Painting
A panhandler passes an art gallery and sees a painting by a man he knew over thirty years ago. The painter's work is now very valuable. The panhandler has a tattoo on his back, drawn by this master, so he goes inside to show the crowd.
"Skin" can be read in the Amazon preview of Skin and Other Stories.
"The Last Leaf" by O. Henry
A few tenants in an apartment building are painters/artists. One of the tenants gets pneumonia, and she can see a vine from her deathbed window. She says she's going to die when the vine loses its last leaf.
This is the fourth story in the preview of 50 Greatest Short Stories.
"Medusa's Child" by Kim Antieau
Matthew, an artist, invites a woman to his place who was on the steps of his apartment building. She had extraordinary eyes that he had to paint. She livens up through the evening and starts talking business. She wants something in return for being his model.
This story can be read in the preview of Obsession: Tales of Irresistible Desire. (19% in)
"Suzanne Valadon: A Woman Who Dared" by Caddy Rowland
Suzanne is an artist's model, which is the main role women play in the world of painting. She has higher aspirations, and has used her connections to learn to paint, as well.
This story can be read in the preview of Stories on the Go: 101 Very Short Stories by 101 Authors. (25% in)
"Crazy Beautiful" by Cat Rambo
One of the participants on a college forum starts a discussion about art. Meanwhile, the police are interviewing people, investigating an art theft. In another thread, Dr. Nouri is part of the team that developed the first truly creative AI. It was programmed to consume and create art.
This story can be read in the preview of The Magazine of Fantasy & Science Fiction. (20% in)
Short Stories About Art or Painting, Cont'd
"Flavia and Her Artists" by Willa Cather
Imogen is visiting her friend Flavia, but she's not enthusiastic about it. Flavia's husband read to her as a child. Also present will be Mr. Roux, a writer who's the special attraction of the evening, as well as a varied collection of other artists. The group engages in spirited discussions.
This story can be read in the preview of Collected Stories. (12% in)
As a little girl, Rosamond loves reading picture books, particularly when the illustrations bring the story to life perfectly. She's disappointed when they under-represent the text or are inaccurate. Her father, a publisher, explains that there aren't many good artists for that kind of work. Rosamond is determined to become such an artist when she grows up. At twenty-one, when she's close to achieving her goal, she falls in love with a reader for her father's publishing house, Allen Goddard.
"The Road Virus Heads North" by Stephen King
Richard Kinnell, a horror writer, stops at a yard sale on the way home from a writer's conference. He spots a picture and is immediately struck by it. It's of a man with sharp teeth driving a car over a bridge at sunset. He has to have it. The woman running the sale, Judy, recognizes him from his work. She tells him the story of the painting. It was done by a local man who killed himself at twenty-three. Before ending his life, he burned all of his work except for this painting.
"Stationary Bike" by Stephen King
Richard Sifkitz, a freelance artist, gets the results of the physical he had been putting off. His cholesterol is 226 and marked in red. His doctor gives him a speech about that, his weight and where his current pattern is leading him. On his way home on the bus, Richard gets an idea for a painting, inspired by a metaphor his doctor used. He works at it diligently, even losing a few pounds during the process. Halfway through he also buys a stationary bike and has it put in the basement of his building facing a bare wall. He plans on creating a variation of the painting on the wall.
"Vermeer to Eternity" by Anthony Horowitz
The narrator's wife has an elderly friend who moves in down the road from them. She's of little means since her husband died. The couple invite her over for dinner. The lady mentions a painting that could be valuable. This makes the man think of an old university friend.
Short Stories About Painting or Art, Cont'd
"The World of Apples" by John Cheever
Asa Bascomb, eighty-two years old, wonders why he hasn't been given the Nobel Prize. He's been awarded just about every other honor a poet can receive. His reputation rests largely on just one of his many volumes—The World of Apples. Admirers visit his home in Italy almost daily. One day, he has an experience that makes his thoughts run along more carnal lines.
"The World of Apples" is in The Stories of John Cheever, as well as many other excellent selections.
"Old Light" by Barry Targan
A young art student does portraits of tourists. One of her customers is Corporal John Palmer, a young man who repeatedly returns. He plans on getting back to boat building after the war. They start seeing each other regularly.
"The Bull" by Saki
A farmer, Tom Yorkfield, gets a visit from his half-brother, Laurence, a painter of animals.
"Art Work" by A. S. Byatt
Debbie has a high paying job at a woman's magazine which supports her and her husband, an artist. He is very particular about colors, insisting they be complementary. Their cleaning woman, Mrs. Brown, dresses eclectically and prefers art with any combination of colors, even clashing ones.
"The Secret Lives of Dieters" by Perri Klass
Polly, an artist at Ground Zero Graphics, is stuck at home, recovering from an illness. Her coworker, Donald, who lives in the building across from hers, brings her food and some work. He talks about work, his girlfriend and the diet they're on. Polly falls in love with Donald. She thinks of him all the time and starts drawing scenes from his life.
A doctor saves the life of a boy, the only son of his mother. They are poor bronze dealers, so they have no money to pay. To express their deep gratitude, the boy presents the doctor with an antique bronze work of art. It's not to the doctor's taste.
Short Stories About Art or Painting, Cont'd
George and Alice Smith are on vacation in France. George is an art lover and is distracted. There's a rumor that Picasso is visiting some friends in a nearby town. George would love to buy a Picasso painting, but the cost is prohibitive.
"—And He Built a Crooked House—" by Robert A. Heinlein
Quintus Teal, an architect, expounds on what a house really is, to his friend Bailey. He's disappointed in his colleagues' ordinary take on house design. He sees a house as a living, dynamic, changing thing. When Bailey dismisses the ranting with a comparison to the fourth dimension, it gives Teal an idea.
"De Daumier-Smith's Blue Period" by J. D. Salinger
John Smith applies as an instructor at a Montreal correspondence art school. He embellishes his credentials and adopts the name Jean de Daumier Smith. The job turns out less glamorous than he expected. He finds himself dissatisfied with the student work that he encounters. He is impressed by the work of a nun, Sister Irma.
Pierre is a hack painter who's looked down on by other artists. He produces imitations of the works of some masters for a dealer, Magus, who sells them to unsophisticated buyers. Magus introduces Pierre to a man named Vervelle, who's interested in art and has a marriageable daughter.
Peter Hovenden walks with his daughter, Annie, on the street outside the shop of Owen Warland. Owen was apprenticed to Peter, now retired, as a watchmaker. Peter wonders what Owen has been busy at for the past six months, as he's sure it has nothing to do with watches. He approves of practical work, like that of a blacksmith, rather than whatever foolishness Owen is pursuing. Owen overhears the remarks and gives them some thought.
Read "The Artist of the Beautiful" 
---
I'll keep adding short stories about painting and art as I find more.