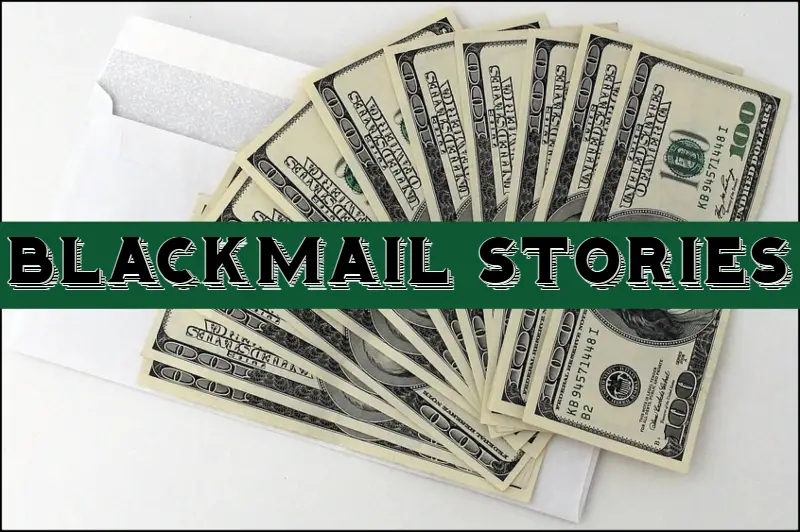 These blackmail stories all have a blackmailer or someone being blackmailed.
Blackmail Stories
"The Cat's Paw" by Stanley Ellin
Mr. Crabtree has taken a room in a boarding-house because it's near the public telephone in the hallway. This allowed him to include the phone number on a job application. He was a perfect match for the job description, and he's anxiously awaiting a response. Two weeks later, a call with a job offer comes through. It seems an ideal position.
This story can be read in the preview of The Speciality of the House. (53% into Kindle preview)
"The Devil's Club" by Peggy Rothschild
Jessie doesn't like visitors or talking about her past. The man at her door, Al, has managed to track her down in Alaska. He insists on coming in. He wants money.
This story can be read in the preview of Heartbreaks & Half-Truths: 22 Stories of Mystery and Suspense. (58% in)
"The Payoff" by Susan Perabo
Anne and Louise make clay projects in art class. After softball practice, Louise wants to go back in and get hers because it's cooled down now. The side doors are still open, but the students are gone. They go down to the basement to the art room. Louise looks through the window and pulls back in surprise. Anne looks and is also jolted by what she sees—Ms. McDaniel and the principal.
Almost all of this story can be read in the preview of Why They Run the Way They Do: Stories. (14% in)
"The Books Always Balance" by Lawrence Block
Myron Hettinger gets a letter at his office on a Tuesday morning. It has no return address, nor is there any other way of telling who it's from. There's nothing written inside. It contains only a picture of Myron and Sheila Bix, his mistress. Another letter arrives on Thursday.
This story can be read in the preview of Enough Rope. (57% in)
"The Honest Blackmailer" by Patricia Moyes
Harry, after working as a police officer and then a private investigator, became a blackmailer. He set up a profitable business and everything went well for years. When he lost some clients due to events outside his control, he wanted to make up the lost revenue. He chose a politician who had steadily paid for a long time, informing him that their arrangement would have to change.
"You Could Call It Blackmail" by Lawrence Block
David gets a call from Ellie, an old friend. She's worried and wants to meet soon. They meet at a quiet restaurant two days later. Ellie is thinking about having an affair, and asks David for some advice.
"Blackmail" by John Galsworthy
As Charles Granter, a large man, walks down Chelsea street to the Embankment, he's followed by someone who looks down on his luck. This other man confirms that they're alone, and then asks Granter for ten pounds. He says if he gets the money he won't say anything to Granter's wife about the flower-girl Granter just visited.
William Buggage owns a rare book shop where he's assisted by Miss Tottle. She pays little attention to the shop and Buggage pays almost none. The real money is made in the back room. Today alone, three cheques have come in. They target people with titles and anyone else who has money.
---
I'll keep adding blackmail stories as I find more.