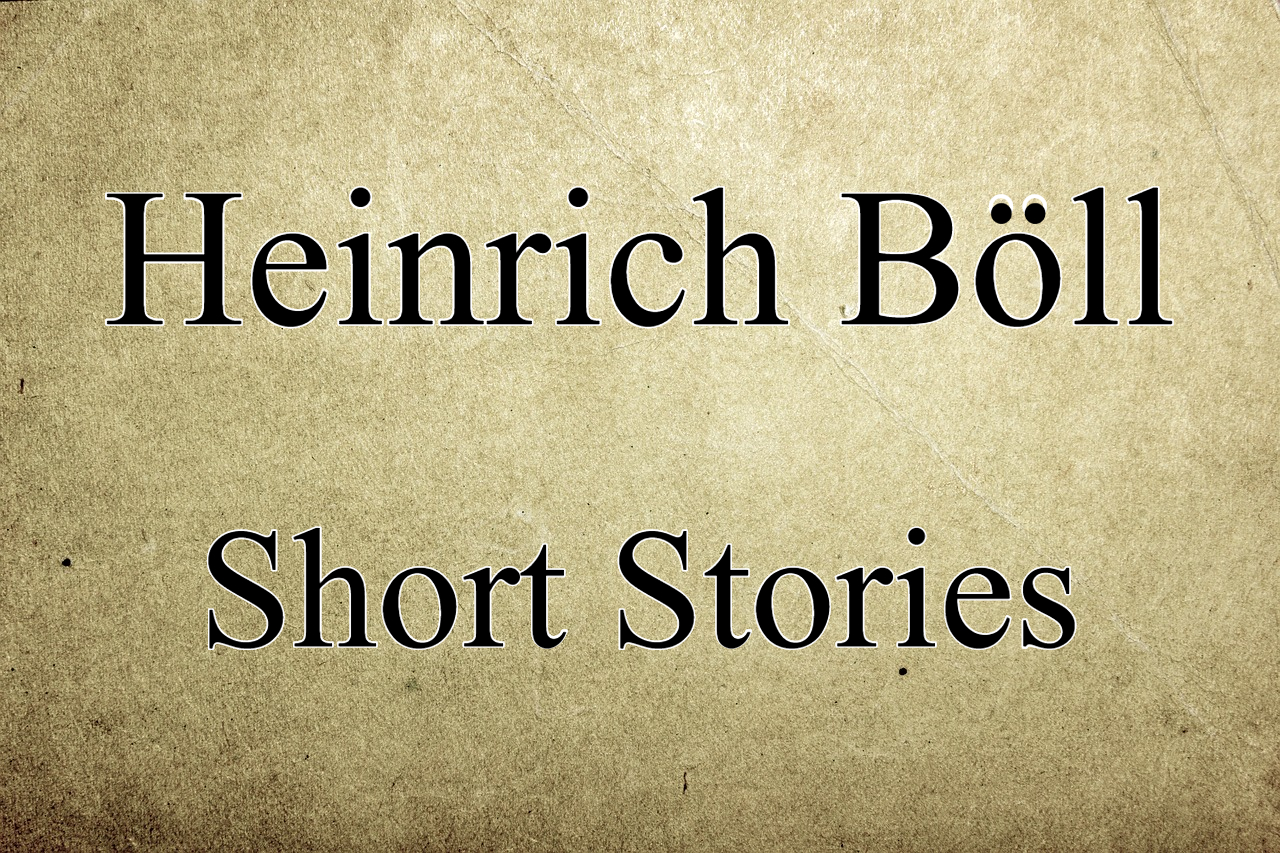 Heinrich Böll is a winner of the Nobel Prize for Literature and is one of Germany's best known writers. If you'd like a book, The Collected Stories of Heinrich Böll looks like the best one. It doesn't claim to be complete, but it's the most thorough volume I've seen.
Across the Bridge
Ten years ago the narrator was an errand boy of sorts for the Reich Gun Dog and Retriever Association. Three times a week—Monday, Wednesday and Saturday—he took the train over the Rhine River. Being on the bridge always scared him. To calm his nerves, he would keep focused on a house on the other side. He used to see a woman cleaning the floors and windows. He became obsessed with her cleaning schedule.
Read "Across the Bridge" (first story in preview)
Action Will Be Taken 
The narrator recounts the time he was employed in Alfred Wunsiedel's factory. He went with seven other candidates for an aptitude test. He realized the test had begun earlier than his fellows. Wunsiedel was obsessed with taking action, and required his employees to be constantly busy. The narrator is a man of leisure, but managed to fit in to the company culture.
Anekdote zur Senkung der Arbeitsmoral (Anecdote Concerning the Lowering of Productivity)
A shabbily dressed fisherman dozes in his boat. A smartly dressed tourist taking pictures engages him in conversation. He's surprised to find the man doesn't intend to go out fishing. He caught enough earlier. The tourist explains what a missed opportunity this is.
Read "Anekdote . . ."
The Balek Scales
The narrator tells the story of his grandfather, who lived in a village that was controlled by the Balek family. The people would bring their flax, mushrooms and herbs to Frau Balek, who would weigh everything on the only scale in the village, and pay them.
A Case for Kop
Lasnov hangs out at the train station and tries to trade with the soldiers. One day the stationmaster tells him a case has arrived for Kop, a local merchant. The news spreads quickly and there's much speculation about the case's contents.
Children Are Civilians Too
A wounded soldier argues with a hospital sentry. He wants to go outside to buy a cake from a child but it's against the rules. He asks if the child come come in but that's also against the rules.
Read "Children Are Civilians Too" (ninth story in preview)
Christmas Not Just Once a Year 
Shortly after WW I, a German family is showing "symptoms of disintegration".  In 1947, when the family's Christmas tree was being taken down, it fell over, causing Aunt Milla to scream for almost a week. Uncle Franz offered a solution to the problem that caused issues of its own.
Daniel the Just 
Daniel is a forty-one-year-old man who is tired from the effort of wearing his "put-on" face all day. His wife is worried about a young boy, Uli, who is taking his entrance exams soon. She wants her husband to do something for the boy. Daniel remembers his uncle who used to always say, "If only there were justice in this world."
The Death of Elsa Baskoleit
The narrator remembers living near a shopkeeper, Baskoleit, a cheerful man with a daughter who danced. When he moves back into town years later, things have changed.
Drinking in Petöcki
A soldier is getting drunk. He realizes he doesn't have any money to pay his bill. He's starting to feel very good, though, so he continues drinking.
Read "Drinking in Petocki" (seventh story in preview)
The Laugher
The narrator is embarrassed when people ask what business he's in. Other people can state their occupation without needing to explain it—he can't. He's a laugher, which inevitably leads to further questions.
Like a Bad Dream
The narrator and his wife invite the Zumpens over for dinner. Mr. Zumpen is chairman of a committee that awards contracts for housing projects, and the narrator wants to win the bid.
Murke's Collected Silences
Murke is an editor at the Department of the Cultural Word at Radio House. He's working on a special assignment from the Director. He's editing two radio lectures given by a prominent cultural critic, Professor Bur-Malottke. Malottke used the word "God" many times and wants it replaced with something else.
My Pal With the Long Hair
The narrator is walking by when the military police cordon off a block and search for cigarettes. He goes to see a contact to sell some of his cigarettes. He's told his room has been searched. He sees a woman reading the paper at a nearby table. He finds it impossible to stop looking at her.
Read "My Pal With the Long Hair" (second story in preview)
My Uncle Fred 
The narrator relates a time from his boyhood when his uncle came home after WWII. The family was looking forward to some aid, as times were tough, but his uncle did nothing but eat, sleep and smoke.
The Post Card
An assistant manager at a textile firm recalls the day he received an important postcard that set his future path in motion.
Rise, My Love, Rise
The narrator stands at a deteriorated grave, crying. He asks his love to rise. He becomes aware of a shadow behind him and hurries away. He puts some distance between himself and the grave. He can't see or hear anyone, but he still senses the shadow.
Read "Rise, My Love, Rise" (fourth story in preview)
The Seventh Trunk
The narrator has been trying to finish reading a story for thirty-two years. Part one appeared in a small periodical which ceased publication before part two. It was a perfect story that has been on his mind ever since. He relates his search for the story and author.
Stranger, Bear Word to the Spartans We . . .
The narrator arrives at what seems to be a school. There's a place for the dead outside; the living are taken to the art room. He's carried up the stairs on a stretcher. He's feverish, hurts all over and is disoriented.
Read "Stranger, Bear Word . . ." (sixth story in preview)
That Time We Were in Odessa
The narrator relates the time when he and his fellow new recruits were in Odessa waiting to be flown to the Crimea. The weather isn't favorable for flying, so they have to wait in the barracks there a few days. It's dirty and full of lice with little to do. On the third day they manage to sneak out.
Read "That Time We Were in Odessa" (fifth story in preview)
This is Tibten!
The narrator performs his work duties carefully even though his post isn't commensurate with his education. He works at the Tibten train station, announcing the name to the passengers. He is satisfied with his job.
The Thrower-Away
The narrator is reluctant to tell people what he does for a living. He works in the basement of a large insurance firm. He sorts the incoming mail into what is useful and what must be thrown away.
Unexpected Guests
The narrator has grown used to all the animals living in his home. His wife is always taking in a new stray creature. She also cannot say no to peddlers, so they have numerous useless item on hand. They are low on money and food.