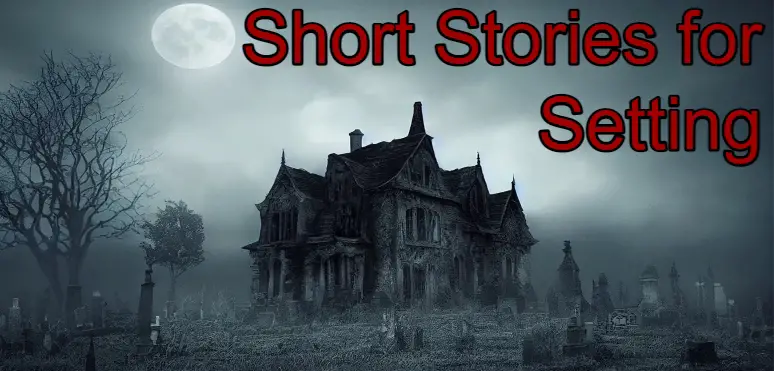 Here are some short stories for teaching and studying setting. Of course, almost every short story has an identifiable setting that contributes to the story's effect, but the setting is particularly important in these selections. See also:
Short Stories for Setting
Three young men are out late driving, drinking and using drugs. When they get to Greasy Lake they see a parked car. Thinking a man they know is in the car with a girl they decide to harass him a bit. It turns out to be a stranger who gets upset at the interruption; the confrontation escalates quickly.
This story can be read in the preview of Greasy Lake and Other Stories.
A woman's husband, a doctor, confines her to the upstairs bedroom of their summer house. He diagnoses her with a "hysterical tendency" and "nervous depression". She chronicles her confinement in her journal; the treatment doesn't have a positive effect on her condition. (Summary)
This story can be read in the preview of The Yellow Wall-Paper and Other Stories.
"The Portable Phonograph" by Walter Van Tilburg Clark
The earth is battle-scarred and the buildings are gone. Four men are gathered in a cave enjoying a fire. The host managed to save a few books and a phonograph. He agrees to take it out and play a song. (Summary)
"The Fall of the House of Usher" by Edgar Allan Poe
The narrator visits his friend Roderick who, along with his sister, is suffering from an unusual illness. Roderick's sister dies, so the narrator helps him entomb her in the house before a permanent burial is arranged.
A man is traveling on foot in the Yukon with a husky. He's headed for a camp where there'll be companions, fire and hot food. It's –75 degrees and even though he's careful, he breaks through some ice and soaks his boots.
Read "To Build a Fire" (+ Analysis)
Short Stories for Setting, Cont'd
"The Sniper" by Liam O'Flaherty
At night a sniper waits on a rooftop. He risks lighting a cigarette which alerts a nearby sniper of his presence. They exchange some fire. The sniper feels trapped, but he knows he has to get off the roof before enemy forces converge on him. (Summary & Analysis)
"The Veldt" by Ray Bradbury
A family lives in a futuristic house that automatically meets all their needs, including a nursery for the children that can create any scene they want. The mother starts to have misgivings about the nursery and wants it checked out.
"Act of Faith" by Irwin Shaw
WW II is over. Sergeant Seeger and his friends, both privates, are getting together what money they can for a weekend trip to Paris. Seeger was awarded a Purple Heart, and has saved the lives of his friends. They're still short on funds. Luger pistols are selling at high prices, and Seeger has one.
"A Field of Wheat" by Sinclair Ross
A married couple in their late thirties, beaten down from years of hard work, lives in poverty on their farm. This year the husband's wheat crop is the best it's ever been, and there is hope of a large payout as wheat prices are high.
"The Far and the Near" by Thomas Wolfe
An express train passes by a cottage on the outskirts of a town for over twenty years. On each pass, the train's engineer blows the whistle which brings a woman from the cottage, and later her daughter, to the window, and they all wave at each other. This means a lot to the engineer.
"Lamb to the Slaughter" by Roald Dahl
Mrs. Maloney's husband comes home from work in a bad mood. He eventually tells her that he's leaving her. She is dazed by the news. She automatically starts getting supper ready. She selects a frozen leg of lamb from the deep freeze.
Short Stories for Setting, Cont'd
"The Interlopers" by Saki
Ulrich is out patrolling his forest with a rifle. He's not hunting the usual game; he wants to catch his neighbor, Georg, poaching on his land. Their families have a long standing feud over the territory, going back to their grandfathers. They hate each other intensely. Ulrich leaves his men on a hill and walks deeper into the growth.
"The Good Doctor" by Adam Haslett
A psychiatrist makes a long drive to see a patient who's been getting her prescriptions renewed by phone. He wants to engage her in some talk therapy and better understand her situation.
"The Demon Lover" by Elizabeth Bowen
Mrs. Drover goes to her shut-up house to get some things. It has been abandoned because of WWII. It's dusty and cracked from the bombings. She's surprised to see a letter for her on the hall table. She takes it upstairs to read.
Read "The Demon Lover"
Almeda Roth is a poet who becomes interested in Jarvis Poulter, a rich widower. Roth takes a nerve medication for insomnia. One day, Roth is panicked to see a dead woman slumped against her fence. She goes to Poulter for help.
"The Masque of the Red Death" by Edgar Allan Poe
Prince Prospero and his nobles are gathered in an abbey to avoid a deadly plague that is decimating the general population. The prince holds a masquerade party to entertain his guests and pass the time.
---
I'll keep adding short stories for setting as I find them.