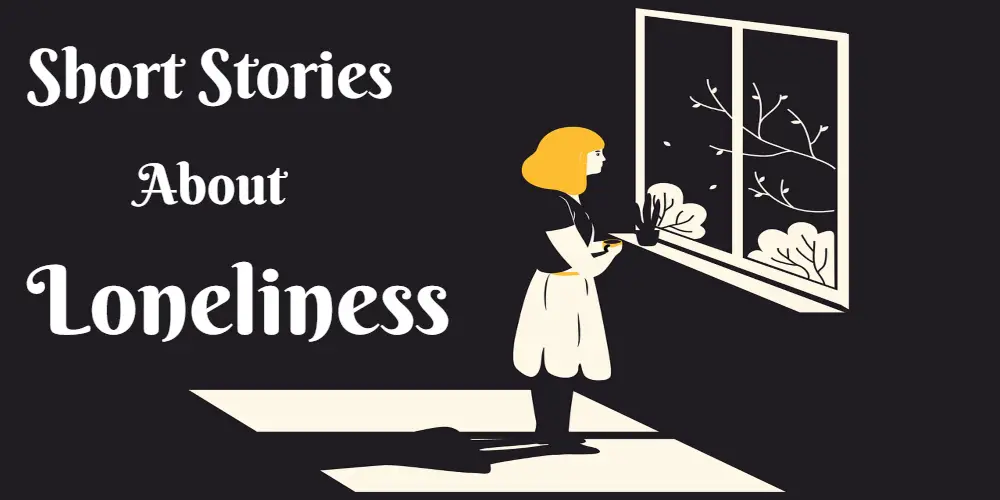 These short stories about loneliness and isolation deal with the various feelings people experience when they're forced to be on their own more than they want. They also feature characters who are seeking connection or those who have company but are disconnected from those around them. It's a common literary theme, closely related to Community | Connection. See also:
Short Stories About Loneliness or Isolation
"Scattered Showers with a Chance of Daikaiju" by S. G. Browne
Etsuko is concerned about the weather this weekend. She's been invited to the birthday party of one of the popular girls. Her father is a meteorologist so, if it rains, her classmates will act like it's somehow her fault. The forecast is good, for the weather and for daikaiju. There hasn't been an attack this far south in many years.
This story can be read in the Amazon preview of Lost Creatures: Stories. (10% in)
"Some Zombie Contingency Plans" by Kelly Link
Soap crashes a party in the suburbs. He talks to an attractive girl, Carly. Soap has been recently released from prison. His friend Mike, who was inside with him, has moved away. Soap thinks a lot about zombies and art. Carly wants to know why he was in prison.
"Some Zombie Contingency Plans" is the first story in the preview of The Living Dead. (13% in)
"State Change" by Ken Liu
Rina checks her refrigerators every night, especially the one by her bed that holds her ice cube. It seems like it's getting smaller. When a child is born, their soul materializes in the form of an object that must be kept close to the body. Rina lives cautiously and stays detached from others.
This story can be read in the preview of The Paper Menagerie and Other Stories. (32% in)
"Hands" by Sherwood Anderson
Wing Biddlebaum lives in isolation in a small town. Over twenty years ago he was a teacher, but a boy made an accusation against him which caused the citizens to run Wing out of town.
This story can be read in the preview of Collected Stories. (10% in)
Reefy is an old man with a huge nose and hands. He used to be a doctor. He married a wealthy woman who inherited a large farm. She died within a year of their union. We hear the story of Reefy and how he came to meet the woman.
This story can be read in the preview of Collected Stories. (16% in)
"The Gay Old Dog" by Edna Ferber
Jo Hertz is a plump, lonely bachelor of fifty. The narrator tells us Jo's story from the age of twenty-seven when his mother died and she got him to promise to put his life on hold until his three sisters were cared for.
This is the first story in the preview of 100 Years of the Best American Short Stories. (29% in)
"A Meeting in Middle Age" by William Trevor
Mrs. da Tanka and Mr. Mileson, strangers, meet and board a carriage together. She is married and has been married two other times. He's a lifelong bachelor. They don't talk much. They've come to some sort of arrangement, brokered by a mutual acquaintance, that isn't immediately clear. We learn some of their personal histories.
This is the first story in the preview of The Collected Stories of William Trevor. (Go into Paperback preview first, then select Kindle, 4% in)
Short Stories About Loneliness or Isolation, Cont'd
Roselily, an unmarried woman with three children, is getting married. She thinks about how her life will change by marrying a member of the Nation of Islam and moving to Chicago. She doesn't know a lot about her fiancé or his religion, but she's willing to change her life for her children's sake.
This story can be read in the preview of In Love & Trouble: Stories of Black Women. (Kindle preview, 30% in)
"The General's Day" by William Trevor
General Suffolk, an elderly man, prepares for his day and has breakfast. He's going to walk to the village and have coffee at a café, with the hope of meeting a woman. The General used to be an important man. He enjoyed himself with women, money and alcohol. Now, there isn't much in his life.
This is the third story in the preview of The Collected Stories. (Kindle preview, 27% in)
An orphan apprenticed to a shoemaker surreptitiously writes a letter to his grandfather, asking to be taken to live with him, so he can escape his life of deprivation and mistreatment.
This is the third story in the preview of Great Short Stories of the Masters. (73% in)
Mr. Duffy begins an innocent relationship with a married woman, Mrs. Sinico. After spending a lot of time together, Mrs. Sinico takes Mr. Duffy's hand.
"Maggie Meriwether's Rich Experience" by Jean Stafford
Maggie, an American abroad, is invited to a party at a Baron's. Her escort assures her everyone speaks English and she'll fit in just fine. She understands French, but is experiencing a block when it comes to speaking it. She realizes early on that it's going to be a difficult evening.
This story can be read in the preview of The Collected Stories of Jean Stafford. (28% into preview)
"My Pal With the Long Hair" by Heinrich Böll
The narrator is walking by when the military police cordon off a block and search for cigarettes. He goes to see a contact to sell some of his cigarettes. He's told his room has been searched. He sees a woman reading the paper at a nearby table. He finds it impossible to stop looking at her.
Read "My Pal With the Long Hair" (second story in preview, 12% in)
"Terminal" by Lavie Tidhar
Some people have chosen to leave Earth for Mars in cheap, individual, one-way spaceships. They have various reasons—some are sick, some have nothing to lose, some are loners. The occupants are able to communicate along the way.
This story can be read in the preview of The Year's Best Science Fiction: Thirty-Fourth Annual Collection. (46% in)
Short Stories About Loneliness or Isolation, Cont'd
"Mazer in Prison" by Orson Scott Card
Mazer is responsible for defeating the invading Formic force as a lower-level officer. Now, he's the commander-in-waiting for the next confrontation—the human attack on the Formic home world and colonies. He will be in the Solar system, communicating and coordinating all the fleets by ansible. The problem is it will take decades for the fleets to reach their targets. Mazer has been sent out on a near-lightspeed courier, away from and then back to Earth, during which time he will only age about five years.
This story can be read in the preview of Federations. (8% in)
George Fisher lies awake thinking about an accident he saw earlier. A man was hit and killed by car. He was stoic during his final minutes of life. George has sleepless nights sometimes where he imagines himself saying things he doesn't actually say to people.
This story can be read in the preview of The Complete Stories. (22% in)
"The Spinoza of Market Street" by Isaac Bashevis Singer
Dr. Fichelson, a philosopher, lives by the rationalist teachings of Spinoza. He lives on a small income after being fired from his post as librarian at a synagogue, due to his views, which contradict Jewish doctrine.
Some of this story can be read in the preview of The Spinoza of Market Street and Other Stories.
"The Overcoat" by Nikolai Gogol
A poor government clerk, Akaky, gets teased at work over his ragged overcoat. He tries to get it repaired, but the tailor declares it a lost cause. Akaky lives on a strict budget to save up for a new one.
This one is longish, but is worth the time. One of my favorites.
The beginning of "The Overcoat" can be read in the Amazon preview of The Overcoat and Other Stories.
A family is gathered around a baby in a basket, doting over him and admiring his little features. They try to figure out who the baby looks like. (Summary and Analysis)
It's a woman's first day working as a live-in nanny who goes to school at night. She adjusts to her new routine and misses her own home.
This story is the first chapter of the novel Lucy. It can be read in the Amazon preview. (15% in)
"I Walk Between the Raindrops" by T. C. Boyle
The narrator and his wife are in Kingman, Arizona, staying at a Motel 6. He goes to the local bar to wait for his wife while she goes antiquing. A woman from the other side of the bar comes over to him, introduces herself, says she has ESP, and asks if he wants to play a game. He gently rebuffs her. She talks to herself and persists in trying to get his attention. He recalls a wild fire disaster, an incident when his wife worked for the Suicide Prevention Hotline, and a time they tried to play matchmaker.
This story can be read in the preview of I Walk Between the Raindrops: Stories. (10% in)
Short Stories About Loneliness or Isolation, Cont'd
"The Bet" by Anton Chekhov
At a dinner party, a banker argues that capital punishment is preferable to life imprisonment. A young lawyer disagrees, saying that he would rather life in prison than death. They bet two million rubles that the lawyer can't stay isolated for fifteen years.
Eric, eight years old, is from a line of farmers. His father often drinks at the tavern with Jamie, a neighboring farmer and friend. Jamie was forced to sell his farm, and Eric's father bought it. Jamie's wife left him and he has no children. He spends a lot of time at Eric's home. They celebrate Jamie's thirty-fourth birthday together.
Krebs comes home after the First World War and keeps to himself. His mother wants him to do something with his life and meet people.
"Dancing to the Shipping Forecast" by Dan Powell
The narrator is in a seaside house waiting for someone to come home. Neither the narrator nor the man's family has heard from him since he left.
"The Elephant Vanishes" by Haruki Murakami
An elephant, the ward of a Japanese town, disappears along with its caregiver. The narrator follows the story of the elephant closely, clipping all the news articles and thinking about what happened.
"The Naked Lady" by Madison Smartt Bell
A sculptor's friend throws a drinking party for him to get his mind off an unrequited love. They are roommates who live roughly and in poverty.
Two soldiers take a weekly Sunday rest and meal at a little spot in the country. They become acquainted with a milk maid who passes by.
A middle-aged woman takes a weekly Sunday walk. She likes to observe and listen to people, but she overhears something that upsets her.
Short Stories About Loneliness or Isolation, Cont'd
"No Door (Part 1)" by Thomas Wolfe
A man talks about how he has spent much of his life alone. He describes how other people—people with comfortable lives and lots of warm contact—react to his situation.
This story has four parts, but part one can be read as a story in its own right.
"A Clean Well-Lighted Place" by Ernest Hemingway
An old man sits alone in a café and drinks, as is his custom. Two waiters talk about the man's life and wish he would go home.
Read "A Clean, Well-Lighted Place"
"The Omnibus" by Arthur Quiller-Couch
On a sweltering day in London, eleven people ride an omnibus. A young boy boards the bus, headed for the docks. He's alone and setting out into the world for the first time.
Emiko Toyama, a Japanese poet and widow, gets a letter from Alden Walunga, a young Eskimo man in a federal penitentiary. Despite their differences, she begins a correspondence with him and learns a lot about his life.
"The Painted Door" by Sinclair Ross
John walks five miles from his farm to his father's to help him with chores. His wife Ann doesn't want him to go because they're expecting a storm and she wants the company. He says he'll ask their neighbor Steven to drop in to play cards while he's gone. Ann decides to do some painting to pass the time. After a while the weather turns bad.
"In Another Country" by Ernest Hemingway
The narrator, a young man, is getting physical rehabilitation for a leg wound received at the front in WW I. Four other young men are also getting therapy. They hang out together after their sessions at the Café Cova.
An eleven-year-old boy, Jerry, is vacationing with his mother at the beach. Jerry joins a group of older boys who are swimming, but because he is young and foreign they ignore him. They are swimming through a rocky tunnel and Jerry is also determined to do it.
Short Stories About Loneliness or Isolation, Cont'd
"Swimming Lessons" by Rohinton Mistry
Kersi lives in an apartment complex in Toronto and compares it to a housing complex he remembers from India. He writes letters to his parents back home. Kersi fantasizes about women but doesn't have any real contact with them. He signs up for swimming lessons.
"You're Ugly, Too" by Lorrie Moore
Zoe Hendricks is an unmarried history professor. She lives alone and has trouble connecting with men. She likes using humor, often at the expense of whoever is nearby. Her sister invites her to a Halloween party.
"Souvenir" by Jayne Anne Phillips
Every year, Kate sends her mother a Valentine's Day card, timed to arrive exactly on February 14th. This year she has forgotten. She calls her mother that evening instead. The next day she finds out that her mother is in the hospital.
"The Door in the Wall" by H. G. Wells
Lionel Wallace is a successful politician who has become preoccupied with a memory from his childhood. While wandering around he had come across a green door on a white wall and, although he thought he might get in trouble for it, he entered. He found a perfect garden with tame animals and friendly people. Eventually, it vanished and he was alone again.
In a garden during July, the narrator focuses on a few conversations taking place between people who are walking. The narrator intersperses this with descriptions of the garden and an accounting of the slow progression of a snail.
"The Man Who Lived Underground" by Richard Wright
An unnamed man is hiding from the police. In his desperate state he lifts a manhole cover and, despite the rushing water below, jumps in. He explores the tunnels and thinks about his options.
This story is a novella.
"The Tenant" by Bharati Mukherjee
Maya Sanyal has just found an apartment in Iowa with the help of her friend, Fran. Maya is an Indian immigrant who broke with tradition, having married an American man and lived in the country for ten years. Her husband left her, leaving her on her own in America and still isolated from her Indian family.
Short Stories About Loneliness or Isolation, Cont'd
"Community Life" by Lorrie Moore
Olena, a librarian, meets Nick, a political campaigner, and they start a relationship. She misses her parents who were killed in a car crash. Olena keeps to herself a lot, while Nick interacts with many people.
"Day of the Butterfly" by Alice Munro
Helen remembers Myra, a girl from her Grade Six class. Myra is the target of ridicule and bullying, and doesn't play with the other girls. One day Helen catches up with Myra as they're walking to school. They have a friendly talk. Helen is worried that this small bond with Myra will hurt her social standing.
"Adventure" by Sherwood Anderson
When Alice Hindman was sixteen, she had an affair with a young man, Ned Currie. Ned plans on going to the city for work and then returning for Alice. While she waits, she becomes employed as a clerk and saves her money.
"1933" by Mavis Gallant
When Mr. Carette dies, his wife and two daughters move to a smaller apartment. The move is unsettling for the children. Mme. Carette speaks little English and one of the landlords, Mme. Grosjeans, speaks no French, making connection difficult.
"Do Stay, Giraffe" by Wolfgang Borchert
A man stands alone during a windy night in a train station. The darkness is oppressive. He is approached by a young woman who asks him to come with her.
"The Man without a Country" by Edward Everett Hale
Lieutenant Philip Nolan is accused of conspiracy. When found guilty, he proclaims that he never wants to hear of the United States again. He is sentenced to live out his life at sea, and the crew is ordered not to tell him anything about the United States.
"The Third and Final Continent" by Jhumpa Lahiri
A man leaves India in 1964 to live in London. After five years, he is offered a job in America, at the library of MIT. At the same time, his marriage is arranged back in Calcutta. He gets married and moves to Boston to start his new life.
"The Third and Final Continent"
Short Stories About Loneliness or Isolation, Cont'd
A woman loses her purse. She thinks back on the events of the evening to figure out what happened to it. She had several shallow interactions; she sifts through the details.
"Like a Family" by Meg Pokrass
A secretary for an architectural firm lives in the city in a small room. She waits for an important phone call.
"The Japanese Quince" by John Galsworthy
Mr. Nilson perceives a peculiar sensation in his throat, leading him to take a morning walk in the nearby gardens to shake this uncomfortable feeling. During his trip, he sees Mr. Tandram which makes him feel awkward because they have never spoken even though they're neighbors.
"Wunderkind" by Carson McCullers
Frances, fifteen, arrives at the home of her piano instructor, Mr. Bilderbach. She is nervous; her playing has deteriorated lately. She has her lesson, and thinks about her history with her instructor, recent events that worry her, and her hopes and concerns.
"The Field of Mustard" by A. E. Coppard
Dinah, Amy, and Rose are gathering kindling in the woods. They talk about their relationships with each other and men, and their lives.
"Her Lover" by Maxim Gorky
A student lives across from a woman with a questionable reputation. She greets him but he tries to avoid her. One day she asks him for a favor – she wants him to write a letter for her.
"The Woman at the Store" by Katherine Mansfield
The female narrator, her brother Jo, and their acquaintance Jim are traveling in the heat, looking forward to stopping for refreshment at a place Jim knows. He says the man of the place is generous with his whisky, and the woman is attractive and welcoming. They arrive at a lonely establishment and are greeted by a disheveled woman with a rifle.
Short Stories About Loneliness or Isolation, Cont'd
"Bontsha the Silent" by I. L. Peretz
Bontsha's death makes no impression on anyone. He was not cared for, suffered many injustices, and lived in loneliness. He never protested his lot in life. While his death goes unnoticed on earth, it has the opposite effect on heaven.
"A Saucer of Loneliness" by Theodore Sturgeon
A man rushes into the sea to help a woman. It's hard to find her in the tumult, and a panicked search ensues. Years earlier, she had a remarkable experience in a park that affected her deeply.
"To See the Invisible Man" by Robert Silverberg
A man is found guilty of the crime of coldness and sentenced to a year of "invisibility." He receives a mark on his forehead that identifies him as someone to be ignored.
Read "To See the Invisible Man"
The narrator and McDunn are manning a lighthouse. It's a lonely life with lots of time for thinking about the sea. McDunn reveals it's the anniversary of an unusual event; it might happen again.
"And Sarah Laughed" by Joanne Greenberg
Sarah has been preparing the farmhouse for her son Abel and his new bride, whom the family hasn't met yet. Sarah's husband Matthew is deaf, as are all of their children. They didn't learn sign language, and their home has always been silent.
Read "And Sarah Laughed" (Pg 23 of document)
"Evil Robot Monkey" by Mary Robinette Kowal
Sly, a monkey, is working clay at a potter's wheel. He is startled by a group of children outside his Plexiglass window. He makes his displeasure known to the group.
Emily Johnson, who lives in a boarding house, notices a few small items have gone missing from her room. One day she catches someone leaving her place. She plans to confront the tenant.
Short Stories About Loneliness or Isolation, Cont'd
"Silence" by Carlos Bulosan
A man moves several times, trying to get away from the silence. He lives by a park, by a bakery, and by a college. He feels isolated in each place. He fills his days with work, but his evenings are empty. One day, looking out his window, he sees a girl reading a book. It has a profound effect on him.
"The Ice Man" by Haruki Murakami
The narrator met her husband at a ski resort. He is an Ice Man. She was curious and approached him. He didn't talk about himself but he knew all about the narrator's past. He can't read minds but he has this gift. Her family is against their relationship.
"Profession: Housewife" by Sally Benson
Dorothy and Joe Grannis are newly married. A couple they invited over declined the invitation. They don't have many friends. Dorothy quit her job when she married, and now tries to stretch her housekeeping tasks over the day.
"A Ride Out of Phrao" by Dina Nayeri
Shirin, an Iranian, runs into financial difficulties while living in America. She joins the Peace Corps and moves to a village in Thailand where she teaches English to children. Her grown daughter, Leila, lives in New York and quickly adapted to American life. Shirin had difficulty with this. They had a falling out.
"Migrants" by Elizabeth Tallent
Sissy, a high school student, lives with her father, a salesman, in a rented farmhouse in Colorado. Her mother ran off with a man to Los Angeles. Sissy is unhappy—she's lonely, misses her mother, and doesn't like where she lives. While she's riding her bike one day, a caravan of Mexican farm workers drives past her. She's glad something new is happening.
"Regret" by Guy de Maupassant
A sixty-two year old bachelor thinks about his lonely life, and of a woman that he has always loved.
Ruby comes in to her cabin out of the rain. She and her husband, Clyde, live in an isolated area. She hardly ever sees anyone else and is lonely. She has no T. V. or radio—the newspaper is her link to the outside. When she opens it up, she's surprised to read her own name.
"So On He Fares" by George Moore
Ulick, ten-years-old, lives with his mother in a cottage in Ireland. His father, a soldier, is away from home. Ulick wants to watch the boats pass, but his mother is controlling and strict, confining him to the garden. He dreams of running off.
Short Stories About Loneliness or Isolation, Cont'd
"Sophistication" by Sherwood Anderson
The Winesburg County Fair is on, bringing many people into town. George doesn't feel a connection to his fellow townspeople but he is interested in Helen, who wants to escape small-town life, as he does.
"Another Time" by Edna O'Brien
Nelly, feeling a great mental strain, leaves London for a seaside resort. She hopes to experience some sort of redemption. The reality of the trip soon sets in—a shabby hotel with a disappointing view, and people she'd like to avoid.
"All Sorts of Impossible Things" by John McGahern
James, a teacher, and Tom, an agricultural instructor, are out hunting on a Sunday. James is lonely, and has had a romantic disappointment. He's known for always wearing a hat, even indoors. Tom has a heart defect, and is concerned about providing for his family.
Read "All Sorts of Impossible Things"
"The Escape" by J. B. Stamper
Boris is being led down a long hallway to the solitary confinement cell. He was caught in an escape attempt. He's terrified of his punishment and begs to be spared. He promises he'll never do anything wrong again.
"The Country of the Kind" by Damon Knight
When the narrator pulls up to a car lot, the attendant recognizes him and shrinks away. The man gets a torch out of the adjacent shed and proceeds to melt parts of his car. He leaves, and coming across a tennis match, he orders the players away. They obey him quickly. He follows one of the players and confronts her. She does her best to ignore him.
"Calling Mexico (The Window)" by Ray Bradbury
Colonel Freeleigh is confined to his home in a wheelchair. He's to have no excitement as it affects his heart. The neighborhood boys aren't allowed to visit anymore. He makes secret calls to an old friend in Mexico to get some exposure to the outside world.
Short Stories About Loneliness or Isolation, Cont'd
"The Canary" by Katherine Mansfield
A woman talks about her old pet, a canary. She doesn't want to remove the big nail where she hung the cage. It sang beautifully. It kept her company throughout her daily routine. She loved him.
Read "The Canary"
"Death of a Traveling Salesman" by Eudora Welty
R. J. Bowman, a traveling salesman for a shoe company, is back on the road after a bout of influenza. He's still not feeling well. He's also lost. He eventually drives to the edge of a ravine and can't prevent his car from going over the edge. He gets out before it rolls down the bank. He starts heading for a house on a hill.
Read "Death of a Traveling Salesman"
"A Journey by Cart" by Anton Chekhov
Maria rides home by cart after a trip into the city. She's eager for it to be over. She's bored with her life of teaching and carrying out the same routine. Khanoff, a landowner, pulls up by her in an open carriage. He's on his way to visit an acquaintance.
Read "A Journey by Cart"
---
I'll keep adding short stories about loneliness, isolation and alienation as I find more.