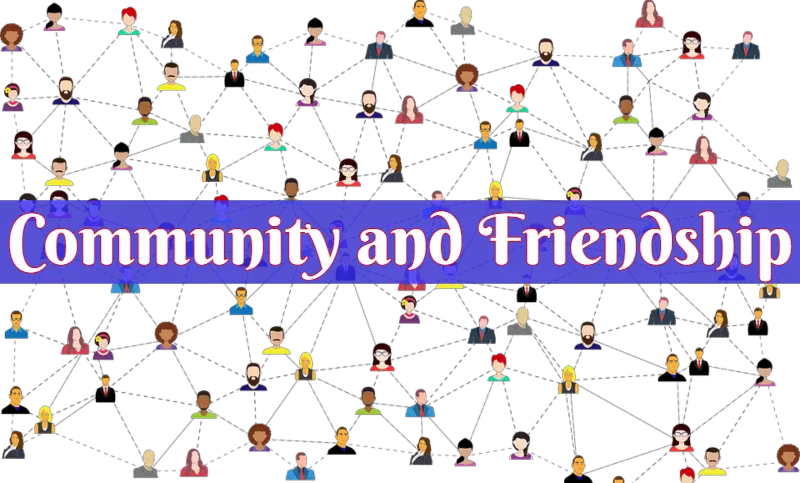 These short stories focus on friendship, the value and expectations of community, and the importance of personal connection. They could also feature characters who are searching for connection and community.
Some stories are more focused on the pressure society puts on people to conform. They can be compared with:
Short Stories About Friendship & Community
"A Friendship" by William Trevor
Francesca and Margy spend a lot of time together. Margy works at an antique shop and is involved with the owner, a married man. Francesca is married to Philip, a successful lawyer. They have two young sons who cause a lot of mischief. Francesca and Philip have a big argument over a prank the boys pulled at home.
This is the second story in the preview of Selected Stories. (26% into preview)
"In the Cemetery Where Al Jolson is Buried" by Amy Hempel
The narrator visits her friend, who is dying of cancer, in a California hospital. The friend wants to talk about trivial things. The narrator has waited two months to visit. (Summary & Analysis)
Read "In the Cemetery Where Al Jolson is Buried"
"Alaree" by Robert Silverberg
A spaceship, the Aaron Burr, makes an emergency landing for repairs on an unexplored planet. They make contact with an alien, a pale-green humanoid. His name is Alaree, and he refers to himself as "we". Alaree returns to visit the crew throughout the repairs, and they learn about each other.
This story can be read in the preview of The Robert Silverberg Science Fiction Megapack. (13% into preview)
Martin and Pugh are on the planet Libra, staffing an outpost that looks for mining deposits. It's only been the two of them for six months, so they're looking forward to some new company. A craft lands and ten clones emerge—five men and five women, engineers in Planetary Exploitation. They have great team chemistry and thrive in each other's company.
Some of this novelette can be read in the preview of the anthology Clones. (24% into preview)
"Inertia" by Veronica Roth
Claire's former best friend, Matt, has been in a car accident. He doesn't have long left. He's requested her for a last visitation, a procedure that will allow them to reexperience shared memories. She's surprised because they haven't spoken in six months.
Some of this story can be read in the preview of The End and Other Beginnings: Stories from the Future. (20% into preview)
"A Newspaper Story" by O. Henry
The movement of a daily newspaper is tracked, along with the uses it's put to. (Summary)
Read "A Newspaper Story"
"The Legend of the Rubbish Heap" by Lillian Jackson Braun
Moose County was booming in the mid-nineteenth century. Otto and Carl, fifteen-year-olds, arrived from Germany. They stuck together and worked, learned and tried to rise in the world. In their thirties, they had become very successful.
This story can be read in the preview of Short and Tall Tales: Moose County Legends. (43% in)
Short Stories About Friendship & Community, Cont'd
"The Portable Phonograph" by Walter Van Tilburg Clark
The earth is battle-scarred and the buildings are gone. Four men are gathered in a cave enjoying a fire. The host managed to save a few books and a phonograph. He agrees to take it out and play a song. (Summary)
Emiko receives a letter from Alden, a twenty-three year old prisoner-patient in a federal penitentiary. He had read an old poem of hers in an Asian American magazine. He encloses an essay he wrote for the prison periodical and asks her to critique it. He feels strongly about the treatment of his people and Christianity. She's not sure about writing back. She's old enough to be his mother, they're from different cultures, and of course, he's incarcerated. She decides to make a tactful reply.
"Makes the Whole World Kin" by O. Henry
A burglar enters a residence through a window. He lights a cigarette, looks around, and takes his time. There's a dim light coming from the back room. He hopes to find something valuable there, like money or a watch.
Read "Makes the Whole World Kin"
"Price's Always Open" by John O'Hara
Mr. Price runs an all-night diner. His place is frequented by students, locals and out-of-towners, who break off into a few small groups.
"That Summer" by Safia Moore
The narrator remembers a summer he was sure someone would die. He is outside with Ivan when Noel comes by asking if they want to see Mrs. Walsh topless. The Walsh's were the only Catholic family in their Protestant neighborhood.
"Seventy Thousand Assyrians" by William Saroyan
An Armenian man is always on the lookout for fellow Armenians – a generous estimate says there are only two million in the world. He strikes up a conversation with a barber who is Assyrian.
Read "Seventy Thousand Assyrians"
Short Stories About Friendship & Community, Cont'd
"The Plague Children" by Jack Hodgins
A small town's farms are invaded by a group of young people who pick hallucinogenic mushrooms from their land. The townspeople try everything to keep their property private.
A mother and father are preparing for their son's eighth birthday. The son gets hit by a car on his way to school one morning, but seems all right and makes his way home. Shortly after, he loses consciousness.
"Great Day" by David Malouf
The Tyler family gathers to celebrate the seventy-second birthday of its patriarch, Audley.
"The Green Door" by O. Henry
A man is handed a card on the street for "The Green Door". He locates the door and knocks.
"The Way We Live Now" by Susan Sontag
An unnamed man is showing symptoms of a disease, which turns out to be AIDS. His friends visit him in the hospital. They try to cheer him up, and they talk about his progress and behavior among themselves.
"B. Wordsworth" by V. S. Naipaul
In a poor area in Spain, in the 1940's, a young boy lives with his mother. An unusual, older man comes by and asks if he can watch the bee's in the family's yard. They talk for a while and a friendship develops.
"Dear Marsha" by Judie Angell
During summer vacation, Martha starts corresponding with a pen pal, Anne Marie. They talk about their difficulties and have a lot in common.
Short Stories About Friendship & Community, Cont'd
"One Autumn Night" by Maxim Gorky
A man arrives in town without money or any acquaintances in the area. He goes looking for food, and comes across a woman in a similar situation.
"Great Moves" by Sandy Asher
Annie has been asked to the Valentine's Day dance by the two most popular boys at school and she can't decide who to go with. When they approach her friend, Brenda, for advice they turn their attention to her, with both boy's now wanting to go with Brenda.
"Yellow Woman" by Leslie Marmon Silko
A young, married Pueblo Indian woman leaves home and has an affair with a Navajo man who lives in the mountains. She speaks of an old story from her people of a mountain spirit who abducts women; she suggests that is what happened to her in this case.
"Keeping Company" by Claire Kemp
William doesn't want his wife, Nora, to keep company with anyone but him. One day two men, James and Dennis, move in next door. They strike up a friendship, and Nora gets together with them when her husband is out.
"Accident" by Dave Eggers
"You" get out of your car after a traffic accident after you ruined a Camaro carrying three teenagers. You're worried about how they're going to react.
"Saint Emmanuel the Good, Martyr" by Miguel de Unamuno
Don Emmanuel is the priest of a small village. He is loved and respected by everyone, and does many things to help the community. A man who had left the village years ago for America returns, bringing atheistic ideas with him. This man has many talks with Don Emmanuel.
Short Stories About Friendship & Community, Cont'd
In fourteen short vignettes we meet some of the residents of Eatonville, Florida. It is a small African-American community. The anecdotes are often humorous, describing the eccentricities, perceptions, crimes, entertainments, and tall-tales of the townspeople.
Read "The Eatonville Anthology"
A doctor saves the life of a boy, the only son of his mother. They are poor bronze dealers, so they have no money to pay. To express their deep gratitude, the boy presents the doctor with an antique bronze work of art. It's not to the doctor's taste.
"Roses, Rhododendron" by Alice Adams
Jane looks back on the summer she was ten, when she and her mother moved to a small town to open an antique shop. While her mother, Margot, gathers stock for the store, Jane checks out the town. She meets a young girl, Harriet, and they become good friends.
"Mrs. Cross and Mrs. Kidd" by Alice Munro
Mrs. Cross and Mrs. Kidd live at Hilltop Home, a nursing facility. They have known each other for eighty years. They have stayed fairly close, even though there are many differences between them. Their daily routine changes with the arrival of a new resident, Jack, a fifty-nine-year-old who can't speak due to a stroke.
"Invitations" by Carol Shields
On Monday the narrator receives an invitation to an art exhibition. She is pleased and thinks about what she will wear. On Tuesday she receives an invitation to a cocktail party for the same evening.
Albert Brock is ushered into a psychiatrist's office. He calls himself "The Murderer". He's been destroying machines lately, especially ones that keep him connected with others. He finds them intrusive and annoying.
Short Stories About Friendship & Community, Cont'd
"The Pleasure of Her Company" by Jane Smiley
Philip and Frannie move in next to Florence, a single nurse. The women become friends, and Florence spend a lot of time at her place. Florence is curious about marriage; she wants Frannie to talk about it, but she doesn't.
"Telemachus, Friend" by O. Henry
Telemachus Hicks tells the story of his mutilated left ear, which he claims is a relic of true friendship. He spent all his time with his best friend Paisley Fish. When they meet the Widow Jessup they are both attracted to her. The make a pact that they will court her fairly and equally, and that it won't interfere with their friendship.
"The Only Man on Liberty Street" by William Melvin Kelley
Jennie sees a white man, Mr. Herder, visit her home once or twice a week. Her mother says he is her father. One day he arrives with some belongings; he says he's going to stay. Jennie starts seeing an angry looking white woman pass by her house in a carriage.
"After the Fair" by Dylan Thomas
A young woman, Annie, is looking for a place to sleep. She's on a fair grounds after hours. She looks into tents and stalls. She finds a baby in a pile of straw. Leaving it behind, she knocks on a trailer door where the light is still on.
"The Mateship Syndrome" by Thelma Forshaw
A man nicknamed "The Ace" goes to his older sister's house. She only sees him when there's some trouble even though they only live a few streets apart. They have a drink. Ace tells her about a talk he had with his boss. Now his mates are treating him differently. He was offered the job of shop manager.
"The Moving" by James Still
A family has their wagon loaded and is ready to leave town. There's no work, so the father wants to take his chances somewhere else. The community is generally against their decision to leave.
---
I'll keep adding short stories about friendship, community and connection as I find more.