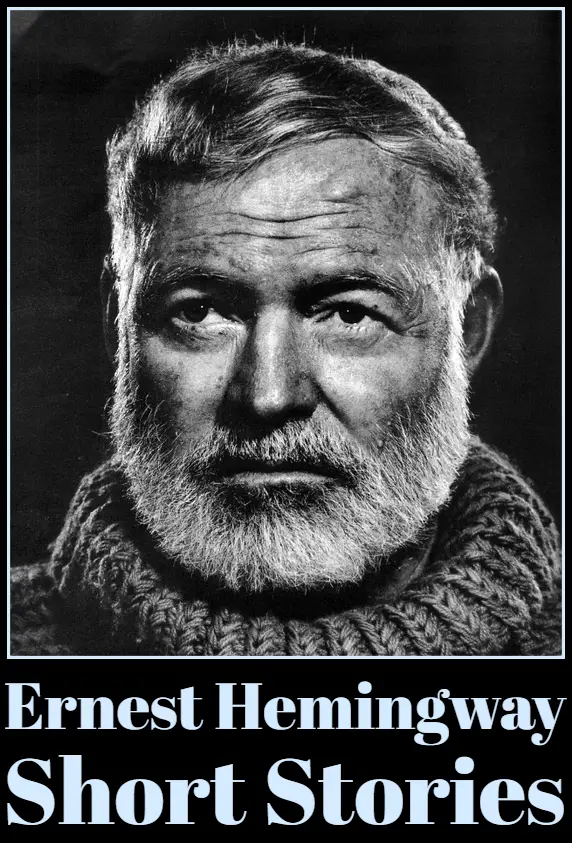 Here is a selection of Ernest Hemingway's short stories. I will continue to add to this page as I read more. If you're interested in a collection, The Complete Short Stories of Ernest Hemingway is the one to go with. It has all of his previously published stories as well as seven new to this edition.
If you're looking for Hemingway's shortest story, that seems to be "One Reader Writes". A few other very short ones include, "Old Man at the Bridge", "Banal Story", and "On the Quai at Smyrna".
Hemingway Short Stories
The Short Happy Life of Francis Macomber
The Macomber's are an American couple on an African safari. They have a guide, Wilson, a professional hunter, who will lead their outing. It is revealed that Francis had an embarrassing incident in an earlier hunt.
This is the first story in the preview of The Complete Short Stories of Ernest Hemingway.
The Capital of the World
Paco works in Madrid as an apprentice waiter at the Luarca. He loves his work and does it well. The hotel is home to a group of bull fighters who've fallen on hard times for varying reasons. They try to maintain respectability as their funds diminish. Paco would like to become a bullfighter himself.
This is the second story in the above preview of The Complete Short Stories of Ernest Hemingway. (45% in)
The Snows of Kilimanjaro
On the African savannah, a man's leg is rotting with gangrene. His wife tries to comfort and encourage him. As he waits for death, he thinks about his life.
This is the third story in the above preview. (62% in)
Old Man at the Bridge
During the Spanish Civil War, an old man sits on the roadside, exhausted and discouraged.  Everyone is fleeing from the advancing fascist army.
This is the fourth story in the above preview. (89% in)
The following 14 stories can be read in the preview of The Complete Short Stories of Ernest Hemingway. First select Kindle, then go into the preview.
Up In Michigan
Jim moves to Hortons Bay and buys the blacksmith shop. He lives above it and eats at D. J. Smith's place. Liz, a neat woman with a jolly face, works at the Smith's. She likes everything about Jim and thinks of him all the time. Jim doesn't seem to notice her much. He talks, hunts and fishes with D. J. Smith and a couple of other men. (7% in)
On the Quai at Smyrna
Refugees wait at the docks to be evacuated. Inexplicably, they scream at midnight. Conditions are unsettling and tragic. (13% in)
Indian Camp
Nick, his father, and Uncle George board a rowboat. They're going to the Indian camp, where a woman is sick. On the other side of the bay, they follow a trail to a shanty. Inside is a young Indian woman who's been in labor for two days. (16% in)
"She screamed just as Nick and the two Indians followed his father and Uncle George into the shanty."
The Doctor and the Doctor's Wife
The doctor hires some local Indian men to cut up a stray log for him. Dick Boulton arrives with his son Eddy and another man, Billy. The logs had been lost from a steamer and drifted onto the beach. The crew might not retrieve them if it isn't worth their time. When Dick makes a comment about the logs being stolen, it sparks an argument. (22% in)
The End of Something
Nick and Marjorie row along the shore where the lumber mill used to be. They head across the bay. They're fishing for trout but not getting any bites. They go ashore and continue fishing from there. (27% in)
The Three-Day Blow
Nick walks through an orchard to a cottage at the top of a hill. He meets up with Bill. They drink and talk about the wind, reading, baseball and their fathers. Then the conversation turns to something that Nick has recently dealt with.
This story can also be read in the preview of 50 Great Short Stories. (Pg. 16)
The Battler
Nick recovers after being thrown off a train. He has a sore eye, some scrapes and a torn pant leg. While following the track on foot to the next town, he sees a fire off to the side. He approaches it cautiously. He steps into the firelight and greets the man sitting beside it. (46% in)
"Nick waited behind the tree and watched. The man looked to be alone. He was sitting there with his head in his hands looking at the fire. Nick stepped out and walked into the firelight."
A Very Short Story
A soldier recuperates from an injury in the hospital. He and a nurse, Luz, fall in love and want to be married. He goes back to the front. After the armistice they make plans. (57% in)
Soldier's Home
Krebs went to war in 1917 and came home to Oklahoma the summer of 1919, after the fanfare around returning soldiers had died down. Krebs wants to talk, but no one wants to hear about the war anymore. He has to make things up to get anyone interested and then he doesn't want to talk anymore. He keeps to himself, spends his time aimlessly and thinks a relationship would be too complicated. His mother wants him to do something with his life and meet people. (60% in)
The Revolutionist
A communist revolutionary travels by train in Italy in 1919. He has suffered for his cause. He's shy, quiet and has no money. He's looked at many pictures and bought reproductions of the ones he likes. He's assisted by fellow comrades. (70% in)
Mr. and Mrs. Elliot
The Elliot's try to have a baby. Hubert is a poet with lots of money. He kept himself pure until marriage. He's surprised that so many women don't seem to care if men have been through the gutter. We're told how they came together and what their life is like. (71% in)
Cat in the Rain
An American couple is on vacation in Italy. The wife looks out the window at the rain and sees a cat huddled under a table. She wants to go down and take it in out of the rain. (76% in)
Out of Season
A young American couple are staying in an Italian village. They hire a local, Perduzzi, to take them fishing. He has been drinking and wants money to buy more. The wife is concerned about being followed by the authorities. (81% in)
Cross-Country Snow
Nick and George are skiing in Switzerland. When the lift reaches its peak, Nick jumps out; George is already on the slopes. They get stopped by some soft snow. They talk about skiing. At the end of the trail they walk to an inn for a drink. (89% in)
My Old Man
The narrator tells the story of being with his father in Italy and France when he worked as a jockey. His father had an argument with some people after winning a race in Italy. In France he eventually buys his own horse to train and ride.
This is the third story in the preview of 100 Years of the Best American Short Stories.
A Simple Enquiry
A major, his orderly and an adjutant are snowed in at a hut. The major retires to his room for the evening. He calls his orderly in and asks him if he has ever been in love with a girl.
Ten Indians
After some Fourth of July festivities in town, Nick gets a ride back home with Joe Garner and his family. Joe stops to drag a sleeping Indian out of the road into the bushes. Joe's boy Carl makes an insulting comment about Indians and says Nick has an Indian girl. Joe asks if that's true, but Nick denies it.
A Canary for One
An American lady and an American couple are riding a train headed for Paris. The single lady has a canary she bought in Palermo. It will be a gift for her daughter. She's hard of hearing and can't sleep for fear of a crash. She says American men make the best husbands. When her daughter fell in love with a man in Vevey, she took her away.
The Good Lion
A good lion lives in Africa. It has wings on its back, which the bad lions make fun of. The good lion eats pasta and scampi, while the bad lions eat all kinds of other animals and people, as well. A lioness, the most wicked of them all, makes trouble for him and threatens to kill him.
The Gambler, the Nun, and the Radio
A Mexican man, Cayetano, and a Russian are brought to a convent hospital after being shot. They were drinking coffee at an all night restaurant when a man came in shooting at Cayetano. He was hit in the abdomen twice, and the Russian was accidentally hit in the thigh. The police try to get the details from Cayetano but he claims he didn't see who did it. Also staying at the hospital is a writer, Mr. Frazer, who listens to the radio.
Now I Lay Me
Signor Tenente (Nick Adams) lies awake through the nights, feeling if he closes his eyes in the dark, his soul will leave his body. He passes the time by imagining his old fishing spots in great detail. Sometimes he fishes four or five streams in a night and makes up new ones. When he can't fish, he prays for all the people he's ever known. Other nights, he tries to remember everything that's ever happened to him, before the war and back to childhood. He shares the room with another man.
Today is Friday
Three Roman soldiers are at a drinking establishment late at night. The Hebrew proprietor serves them wine. He makes a special mixture for one of them who has a bad stomach. They talk about the man they crucified that day, and how he didn't come down off the cross.
This is a story/play.
Che Ti Dice La Patria?
Two men travel near Savona. They let a man ride on the outside of their car with them into Spezia. They stop to eat at a restaurant where the waitresses are very friendly. They continue through the suburbs of Genoa.
A Pursuit Race
William Campbell is the advance man for a traveling burlesque show. As long as he keeps ahead of it he gets paid. The manager of the burlesque troupe, Mr. Turner, catches up to him in Kansas City. William is intoxicated; Mr. Turner suggests he take a cure.
Wine of Wyoming
During prohibition, a man drinks beer at the home of the Fontan's, French immigrants. Madam Fontan turns away some drunk people, saying they have no more. She complains to the narrator about her daughter-in-law. She invites him back for dinner with her and her husband.
After the Storm
The narrator gets into a physical altercation. He's being choked. He manages to pull his knife and cut his way out. He leaves to avoid any repercussions. He takes a skiff out to sea. There's been a storm, which has wrecked a cruise ship. He decides to plunder its riches.
An Alpine Idyll
Nick and John  have come down the mountain after a ski trip. They pass a peasant's funeral on their way into town. They stayed skiing too long. The sun spoiled the snow during the day. They stop at an inn for a drink, and to catch up on their mail. They hear the story of the funeral.
Banal Story
A man eats oranges; more significant events occur in other parts of the world. He reads from The Forum, a magazine for intellectuals.
Read "Banal Story"
Big Two-Hearted River
Nick Adams is back in Seney after experiencing something that has damaged him psychologically. He finds the outside soothing. He spends time at a river, fishing, and camps out.
A Clean Well-Lighted Place
An old man sits alone in a café and drinks, as is his custom. Two waiters talk about the man's life and wish he would go home.
Read "A Clean, Well-Lighted Place"
A Day's Wait
A young boy has a temperature of a hundred and two. The doctor leaves three different pills and a schedule for taking them. His father attends to him while he stays in bed.
"I sat at the foot of the bed and read to myself while I waited for it to be time to give another capsule. It would have been natural for him to go to sleep, but when I looked up he was looking at the foot of the bed, looking very strangely."
Fathers and Sons
Nick Adams drives home after a hunting trip with his son. He remembers his time hunting as a boy. His father had extraordinary eyesight. He was well versed on fishing and shooting but not on intimate matters. Nick remembers his boyhood hunting friends, Billy and Trudy.
Read "Fathers and Sons"
Fifty Grand
Jack Brennan, the welterweight champion, is preparing for a bout against Jimmy Walcott. Jack's training is off, and his mindset isn't right. His trainer, Jerry Doyle, tries to be positive but he has to admit that Jack doesn't look like he should.
Read "Fifty Grand"
God Rest You Merry, Gentlemen
Doc Fischer and Doctor Wilcox sit in a hospital's reception room. They relate an interesting case to the narrator. Yesterday, an anxious boy of sixteen entered the hospital. He wanted to be castrated on account of his lustful urges. Fischer and Wilcox refused and sent him away still agitated.
"I had been there when he came in. He was a boy about sixteen. He came in with no hat on and was very excited and frightened but determined."
Read "God Rest You Merry, Gentlemen"
Hills Like White Elephants
At a train station, a man and woman have a casual conversation which transitions into something serious. It's not explicitly stated what they're talking about.
Read "Hills Like White Elephants"
Homage to Switzerland
The story is divided into three parts. Each one begins with a man in a Swiss town waiting for a train. The waitress tells him its an hour late. He orders coffee and talks to the waitress. From there circumstances diverge.
In Another Country
The narrator, a young man, is getting physical rehabilitation for a leg wound received at the front in WW I. Four other young men are also getting therapy. They hang out together after their sessions at the Café Cova.
The Killers
Two hit men, Max and Al, enter a diner to get some food and to wait for their target to arrive. They're looking for a boxer, Ole Andreson, whom their employer has a grudge against.
The Light of the World
Two young men are passing through town. They stop at a bar for a drink and then encounter a motley group at a train station. Two of the women there, prostitutes, argue about a boxer they once knew.
The Mother of a Queen
The narrator relates an incident with a man, Paco. His mother's burial plot was paid for five years; he receives a notice that it's expired. The narrator tells him he'll take care of it. Paco insists he'll handle it. A second and third notice soon arrives. On top of this, Paco owes the narrator a significant sum of money.
A Natural History of the Dead
The narrator furnishes the reader with some facts about the war-dead. He talks about the preponderance of male casualties, the fate of mules, the decomposition of bodies, how people die, and other related things.
"Most of those mules that I saw dead were along mountain roads or lying at the foot of steep declivities whence they had been pushed to rid the road of their encumbrance."
Read "A Natural History of the Dead"
One Reader Writes
A woman writes to an advice columnist about her husband. He returned from his military service with some kind of malady and she isn't sure what to do.
The Sea Change
A man and woman have a disagreement over something. She's holding out. He doesn't know what to do. She says she loves him, but that doesn't make him any happier.
'"Couldn't you have gotten into something else? Couldn't you have gotten into some other jam?"

"It seems not," the girl said. "What are you going to do about it?"'
Read "The Sea Change"
The Undefeated
Manuel goes to Retana's office. He knocks but it takes a while to get an answer. Manuel is looking for work. Retana is reluctant to offer him anything. Manuel has only done one bullfight in the last year. He just got out of the hospital after a serious leg injury.
Read "The Undefeated"
A Way You'll Never Be
Nick Adams was wounded in battle and is shell-shocked. He rides a bicycle to his old Captain's encampment. On the way he passes numerous war-dead and military debris. He's able to recreate the main action of the battle.
"Their coats had been opened too and their pockets were out, and they showed, by their positions, the manner and the skill of the attack. The hot weather had swollen them all alike regardless of nationality."