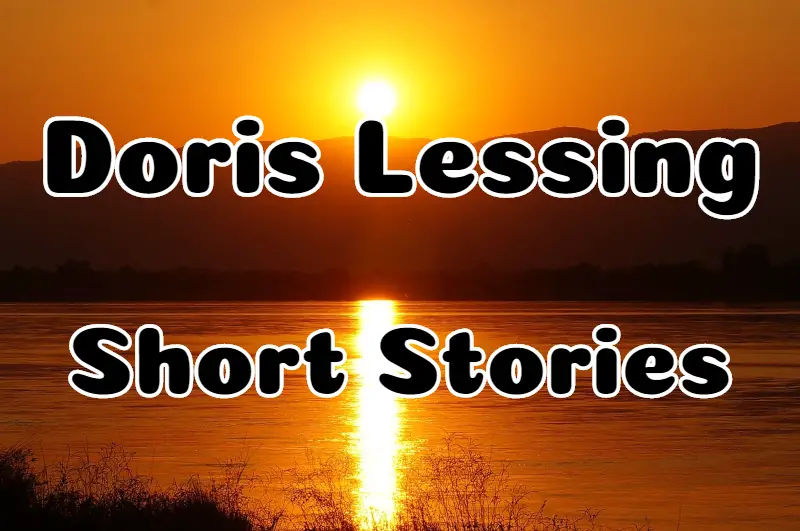 Doris Lessing Short Stories
Doris Lessing was a prolific short story writer. Many of her short stories are set either in Africa, where she grew up, or London, where she lived later. She was awarded the 2007 Nobel Prize in Literature.
If you're interested in a collection, her non-African stories are compiled in the volume Stories, which has 35 selections. African Stories collects every story about Africa, and has 32 selections. Here are some Doris Lessing short stories to check out. Each story has a brief description and an approximate word count where possible. The short stories with PDF links are noted below.
Doris Lessing Short Stories
Flight | 1,900 words
An old man is outside with a homing pigeon. As it tries to fly away, he holds it back. He sees his granddaughter waiting for her fiancé. He gets angry at the thought that she's going away. (Summary)
Read "Flight" (PDF)
The Black Madonna | 5,700 words
Michele, an Italian prisoner of war, is freed when Italy becomes an ally. As a painter and bricklayer, Michele is put into service under the supervision of Captain Stocker to build an artificial model city. It will then be bombed as part of a military performance.
This is the first story in the preview of African Stories.
The Old Chief Mshlanga
A girl grows up on a  white farm in South Africa. She's used to black servants, and being able to treat black people with little respect. When she was fourteen, she was out walking with her rifle and dogs. Walking toward her was a group of three Africans. They don't immediately stand aside, as is the custom. She finds out the identity of the oldest member of the group.
This is the fifth story in the above preview of African Stories.
A Sunrise on the Veld | 3,500 words
A fifteen-year-old boy wakes up at 4:30 AM to go hunting. He's excited and energetic, loving life and feeling he is in control of everything.
This is the sixth story in the above preview of African Stories.
No Witchcraft for Sale | 3,150 words
The Farquars have a son, Teddy. He's loved by Gideon, a servant of the family. When Teddy is six, he makes a disparaging comment about Gideon's son, causing Gideon to distance himself from Teddy. One day Teddy has an accident.
This is the seventh story in the above preview of African Stories.
Debbie and Julie
Julie is a pregnant teen living with Debbie, a prostitute, in her London apartment. Debbie has been very helpful but she's extended a trip with a man and is out of town when Julie's water breaks. Julie follows the plan of going to an unlocked shed where she can give birth.
The Habit of Loving
George wrote to Myra in Australia, asking her to come marry him. The war is over now. She comes for two weeks but goes back. George focuses on his work in the theatre. He has other relationships but still thinks of Myra. George is sixty. He gets back in touch with his first wife.
He
Annie and Mary talk in the kitchen about Annie's husband who's been with another woman for six months. She's a bad housekeeper. Her husband's planning to drop by that night with her money.
Homage for Isaac Babel | 1,200 words
The narrator takes Catherine, a thirteen-year old, to visit his fifteen-year-old friend, Philip, at his school. Catherine is eager to go and wants to borrow a collection of Isaac Babel stories to read because Philip reads them. Philip attends an expensive school and has acquired cultivated tastes.
How I Finally Lost My Heart
The narrator tells how she lost her heart. First, she had lunch and tea with two men she used to be in long-term relationships with. These were her two serious loves, and were difficult to get over. She is preparing to meet someone new with the hope this could be serious as well.
Through the Tunnel | 4,000 words
An eleven-year-old boy, Jerry, is vacationing with his mother at the beach. Jerry joins a group of older boys who are swimming, but because he is young and foreign they ignore him. They are swimming through a rocky tunnel and Jerry is also determined to do it.
"Through the Tunnel" (PDF)
To Room Nineteen
The Rawlings seem to have everything a married couple could want. They have a stable family life, a comfortable home and healthy children. At one point, Matthew Rawlings cheats on his wife, ruining the perfect balance they had.
Read "To Room Nineteen" (PDF)
A Mild Attack of Locusts | 3,150 words
Warning of a swarm of locusts from the north reaches a farm. It's been seven years since the last swarm, so they expect their maize crop to be destroyed.
Not a Very Nice Story
Frederick and Althea marry in 1947, as do Henry and Muriel. Frederick and Henry, both doctors, have the same goals and eventually buy a practice together. The couples move close together. All four of them get along well. After their first night out together when Althea and Muriel meet, they go back home for a drink. Henry and Althea end up travelling together, as do Frederick and Muriel who make a stop along the way.
The Nuisance
The natives and the white men are in conflict. One of the natives, The Long One, works for a white man. He complains about one of his wives. The boss puts up with it because The Long One is a good worker. When it becomes excessive, he loses his patience.
Our Friend Judith | 7,250 words
Judith is a single, childless, English woman who lives alone. Judith's friend narrates the story, speaking about her disposition and life, making judgments on her behavior and interpreting her actions. She's a poet and lives on her own terms. Her friend recounts some incidents that could reveal who Judith really is.
A Room
The narrator moves into a room previously occupied by several people who moved away without a forwarding address or being missed. She can hear her neighbors sometimes, but has little interaction with others.
Wine | 1,900 words
A man and woman go into a Paris café. They have little energy or desire for anything in the café. There is some hostility between them.
The Witness
Mr. Brooke is the odd man out in his office. When the others talk, their coworkers listen; Mr. Brooke gets no acknowledgment. He got a dog thinking this would break the ice with everyone, but it didn't work. He wishes others would want to hear what he has to say about something. When he's fifty-five, a new young woman, Marnie, is hired straight out of school. Her presence changes the atmosphere of the office.
A Woman on a Roof | 3,800 words
During a heat wave, a young woman suns herself on the top of a building. On a nearby roof top, three men are working. They all have different reactions to her.
---
I will continue to add more Doris Lessing short stories to this page as I come across them.