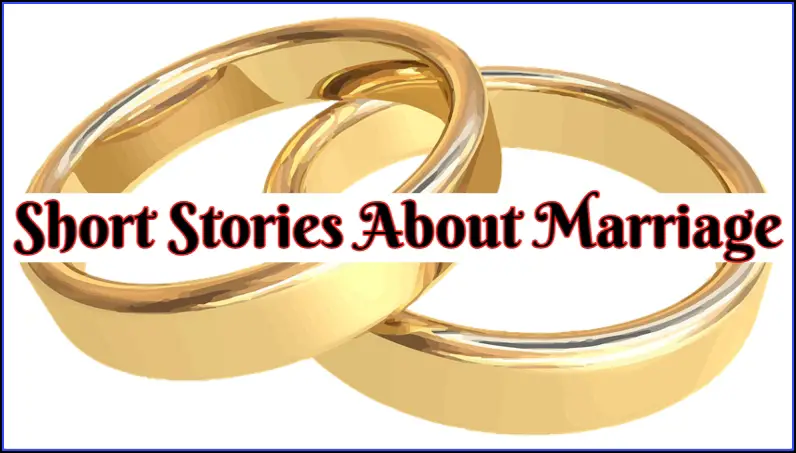 In these short stories about marriage and divorce, the relationship between husband and wife is the driving force. Some stories will feature a character who is focused on marriage, or who is thinking about their marriage. There's a separate heading for Divorce and Separation at the bottom. See also:
Short Stories About Marriage
The Arrangers of Marriage | Chimamanda Ngozi Adichie
A woman from Lagos arrives in America to join her new husband. She discovers the reality of her new life, getting to know her husband, living situation, and American customs.
"The Arrangers of Marriage" is the first story in the Amazon preview of The Granta Book of the African Short Story.
The Enormous Radio | John Cheever
The Westcott's live in an upscale apartment and enjoy music. Mr. Westcott buys his wife a new radio—big, ugly, and able to pick up conversations from neighboring suites.
"The Enormous Radio" is the third story in the Amazon preview of The Stories of John Cheever.
"Love and Bread" by August Strindberg
Falk wants to marry Louisa, but her father doesn't think he earns enough money. After discussing the situation, her father agrees to let them marry but tells Falk that he needs to earn more. They're overjoyed at the news and spend lots of time together. (Summary)
Rediscover Intimacy in Your Marriage With Romantic Texts!
"Runaway" by Alice Munro
Carla and Clark live in a mobile home. Their neighbor, Sylvia, returns from a trip to Greece. Carla stays out of sight in the barn. She wonders if Clark knows yet. He has a temper and has had run ins with several people in the area. Carla's worried about her goat, Flora, that's been missing two days. Sylvia calls for Carla to come help with the house tomorrow. Clark has been ruminating on a scheme for a while and he wants Carla to start it.
Some of this story can be read in the preview of Runaway. (12% in)
"The Brown House" by Hisaye Yamamoto
It's an exceptional year in California for strawberries, causing the market price to drop. The Hattori's start arguing for the first time in their marriage, and Mr. Hattori explores other ways of making money. He hears about a house in a nearby town where people can make their fortune. He visits the house one day while his wife and five children wait in the car. It's two in the afternoon, and he only plans to briefly check it out. (Summary)
Ylla (I'll Not Ask For Wine) | Ray Bradbury
Mr. and Mrs. K are Martians who aren't happy anymore. One day Mrs. K has a dream about a man, tall with blue eyes. This sounds ridiculous to Mr. K, as Martians don't have these traits. She fills in more details of the dream. She thinks it would be fascinating if there were people from another planet who could travel through space to visit them.
This story can be read in the preview of The Martian Chronicles.
Call at Corazón | Paul Bowles
A man and woman are on their honeymoon in South America on a boat tour that stops at small ports. The man wants to buy a monkey to take with them but the woman objects. There is hostility between them. The boats are crowded and full of insects.
This story can be read in the preview of The Stories of Paul Bowles.
The Huntsman | Anton Chekhov
A hunter is walking down a country road when a woman whom he doesn't see often—his wife—starts talking to him.
This story can be read in the preview of Stories of Anton Chekhov. 
"As Good as a Rest" by Lawrence Block
Andrew and Elaine are on vacation in Europe. They hang out with another couple, Harry and Sue Dattner, who are part of the same tour. The Dattners aren't the type of couple they'd usually spend time with. They visit many of the tourist sites and museums. Andrew has lots of interactions with Sue; the same applies to Harry and Elaine.
This story can be read in the preview of Enough Rope. (41% in)
Short Stories About Marriage: Husbands & Wives, Cont'd
The Hartleys | John Cheever
Mr. and Mrs. Hartley arrive at the Pemaquoddy Inn with their young daughter, Anne. They were there eight years ago, and had a good time. Skiing is the main pastime at the inn. It even has a hill with a primitive ski tow as a back-up, for when conditions aren't good on the mountain. Anne only wants to ski with her father, and doesn't participate in the regular lessons.
This is the fifth story in the preview of The Stories of John Cheever.
Rope | Katherine Anne Porter
A married couple have just moved to the country. The husband comes back from the store with some rope but he has forgotten the coffee, which his wife wanted. The rope sets off a discussion and argument about many things.
This is the fifth story in the preview of Collected Stories and Other Writings.
Shiloh | Bobbie Ann Mason
Leroy has been off work for four months since getting hurt. His wife, Norma Jean, supports them both by working at a drugstore. Leroy is glad to be home with his wife, but he's worried that she's drawing away from him—maybe his presence reminds her of their son who died as a baby.
This story can be read in the preview of Shiloh & Other Stories.
"The Piano Tuner's Wives" by William Trevor
The piano tuner, a blind man, married Violet when he was young. They had a full life together. Two years after her death, he married Belle, when he was an old man. Belle wanted to marry him the first time around, but he chose Violet. She used to drive him around for his work, and would describe everything to him. Everyone in the area is aware of the circumstances around their union. Belle feels the lingering presence of her old rival.
This is the first story in the preview of Selected Stories.
"Next Door" by Tobias Wolff
At night, a husband and wife hear the neighbors yelling at each other, their baby crying, their dog barking and see all the lights are on. They're bothered by the commotion, but they don't call the police for fear of retaliation. They try to drown out the noise and distract themselves by watching TV.
This story can be read in the preview of Our Story Begins. (74% in)
"Hester Lilly" by Elizabeth Taylor
Hester Lilly, a young woman and orphan, has come to stay with her older cousin Robert and his wife, Muriel. Muriel didn't want her to come. Robert and Hester have been writing to each other frequently for a while. Muriel is relieved when she sees that Hester is poorly dressed and seems unthreatening. Hester is to do some dictation work for Robert.
This longer story can be read in the preview of Complete Short Stories. (11% in)
"The Literary Life of Laban Goldman"
Laban Goldman takes night school classes. He's proud that another one of his letters has been printed in the paper, and can't wait to read it to the class. His wife wants to go out some evenings, but Laban won't miss his classes.
This story can be read in the preview of The Complete Stories. (72% in)
Short Stories About Marriage: Husbands & Wives, Cont'd
Say Yes | Tobias Wolff
While doing the dishes together, a husband and wife start discussing interracial marriage. The wife thinks it is fine, but the husband believes the cultural differences would be insurmountable. (Summary & Analysis)
"Everything Stuck to Him" by Raymond Carver
A woman visiting Milan for Christmas wants to hear a story from when she was a kid. She's told about a young couple who lived under a dentist's office. They were in love and ambitious. Their baby was three months old. The young man plans a hunting trip with an old friend of his father's. (Summary & Analysis)
Read "Everything Stuck to Him"
"This Blessed House" by Jhumpa Lahiri
A newlywed Indian couple has just moved into a new house in America. As they prepare the house, the wife finds many Christian items left by the previous owners. She likes them and wants to keep them, but her husband disapproves. (Summary)
"The Kiss" by Kate Chopin
Brantain sits in a dim room at the home of Nathalie, who sits by the firelight. He loves her and has made his intentions known during the past two weeks. They talk of inconsequential things. Suddenly, a young man enters the room and, not seeing Brantain in the darkness, walks straight for Nathalie. (Summary)
"An Upheaval" by Anton Chekhov
Mashenka, the governess, returns to the Kushkins' house after a walk to find everyone upset. In the corridor, she realizes the lady of the house is in her room. (Summary)
"The Overcoat" by Sally Benson
Mrs. Bishop can't afford a taxi home from her bridge night. She's annoyed at not having more money. She plans to confront her husband about it. On the subway, she sympathizes with a man in a worn out overcoat. (Summary)
Read "The Overcoat"
"Call If You Need Me" by Raymond Carver
Dan and Nancy are taking a house for the summer to work things out. Their relationship has deteriorated and they've both been seeing other people. (Summary)
Short Stories About Marriage: Husbands & Wives, Cont'd
"Seventeen Syllables" by Hisaye Yamamoto
Rosie's mother, Tome Hayashi, has been writing haikus and submitting them to a daily newspaper that publishes some once a week. Until the dinner dishes were done, Tome did the housework and helped with the tomato harvest, along with the hired Mexican family, the Carrascos. Afterward, she would write at the table, sometimes until midnight. When there's company, Tome talks poetry with the interested party and her husband talks to the other. Rosie has become friends with the Carrasco boy, Jesus, who goes to the same school as her. Both mother and daughter have significant experiences.
"According to Solomon" by Charlotte Perkins Gilman
Mr. and Mrs. Bankside, Solomon and Mary, are generally happy with each other. Solomon loves the Proverbs of his Biblical namesake and always looks for opportunities to quote them. Mary is smart and competent, but a little irreverent for Solomon's taste. One point of difficulty between them is Solomon's method of selecting gifts. He buys Mary expensive and carefully selected things, but doesn't really consider what she would like. One Christmas, she receives a loom from her friend Mrs. MacAvelly, who also teaches her how to use it. Mary picks it up quickly and learns to make high quality items.
"The Jumping-Off Place" by Charlotte Perkins Gilman
Miss Shortridge runs the Jumping-Off Place, a boarding house that is too full at the moment. Still, she's allowing two more visitors due to a previous relationship. The Revered Joseph Whitcomb was her minister for about thirty years and she wanted to marry him. Mrs. Weatherby knew Miss Shortridge since girlhood, and Miss Shortridge saw her get married twice—occasions she will never forget. She's interested in seeing these two significant people again.
"The Fourth Alarm" by John Cheever
A man sits drinking gin on a Sunday morning. He doesn't have much to do. His wife, Bertha, a good-looking young woman, will arrive tomorrow just for a day. She used to be a teacher, but now she lives near the theatre where she performs. She was cast in Ozamanides II, a scandalous show that made her husband want to seek a divorce.
Tears of Autumn | Yoshiko Uchida
Hana Omiya is on a ship going from Japan to the United States. She is seasick and nervous; she has some regret about the trip. She's going to America to marry a man she has never met.
Cat in the Rain | Ernest Hemingway
An American couple is on vacation in Italy. The wife looks out the window at the rain and sees a cat huddled under a table. She wants to go down and take it in out of the rain.
Short Stories About Marriage: Husbands & Wives, Cont'd
Chablis | Donald Barthelme
A man's wife wants a dog, even though she already has a baby. He was against the baby but he got worn down. Now he's imagining the hassle of a dog.
The Kiss | Guy De Maupassant
A woman is upset when her husband leaves. Her aunt thinks she kissed her husband too much, so she explains the power of, and proper use of, the kiss.
The Life You Save May Be Your Own | Flannery O'Connor
An old woman and her daughter live on a run-down farm. The woman hires a drifter, Mr. Shiftlet, to do work around the place in exchange for shelter. She's angling to marry off her daughter to him.
The Storm | Kate Chopin
While her husband is waiting out a storm at a local store, Calixta is at home. She goes to bring in her laundry from the front porch when she sees an old love, Alcee. She invites him inside.
Neck | Roald Dahl
Lady Turton behaves indiscreetly at a dinner, paying undue attention to a male guest. Her husband is aware, but he doesn't take any action.
Here We Are | Dorothy Parker
A newly-married couple is riding a train. They talk about their wedding and what they're going to do. Everything that comes up leads them into a petty disagreement.
This can be read as a short story or a play.
Joining Charles | Elizabeth Bowen
A young woman, Louise, is staying with her husband's family. She's leaving this morning to join him in France. Charles's family reveres him, but Louise isn't eager to go.
Short Stories About Marriage: Husbands & Wives, Cont'd
A Point at Issue!  | Kate Chopin
Eleanor and Charles, newlyweds, go on their honeymoon and then, because of different interests, decide to spend time apart. Local society doesn't approve of married people living this way.
The Other Wife | Colette
A husband and wife go to a restaurant for supper. The man sees his ex-wife seated at a nearby table. The man and his new wife talk about his ex.
Marriage a la Mode | Katherine Mansfield
William is on the way to visit his wife and kids who have moved to the suburbs. William thought they had been happy, but his wife, Isabel, wanted a change. He has an eye-opening visit with his wife and her friends.
Read "Marriage a la Mode"
The Good Deed | Pearl S. Buck
Mr. Pan has moved his mother from China to his home in New York. She is homesick and isolated by the language barrier. The family arranges for Lili, a young Chinese woman, to visit Mrs. Pan. When she finds out that Lili is unmarried with no prospects, she takes it on herself to arrange a match despite the family's insistence that things aren't done like that in America.
Love Must Not Be Forgotten | Zhang Jie
Shanshan has a handsome suitor but she's uncertain about marrying him. She remembers advice from her late mother, not to leap into marriage if she's unsure about it. Shanshan's mother didn't remarry when her husband left, and Shanshan wonders why.
"Noorjehan" by Ahmed Essop
Noorjehan drops out of her English class after nine months. Soon after, she writes a letter to her teacher explaining that her parents are arranging a marriage for her and she needs to prepare. She doesn't want to go through with it, and asks him to come speak to her father on her behalf.
Mrs. Spring Fragrance | Sui Sin Far (Edith Maude Eaton)
Mrs. Spring Fragrance is a Chinese woman who's lived in Seattle for 5 years. She has adapted quickly to the English language and American customs. Next door lives a young woman named Laura, the daughter of Chinese immigrants. Laura's parents want to follow tradition and have her marry a man she's never met, but Laura is in love with an American man. Mrs. Spring Fragrance wants to help.
Short Stories About Marriage: Husbands & Wives, Cont'd
Jaws | Donald Barthelme
William and Natasha tell a cashier at the A&P about their relationship problems, including money issues, an extra-marital affair, and Natasha's biting problem.
Hodel | Sholom Aleichem
Tevye's daughter, Hodel, becomes acquainted with Feferel. When they get engaged, Tevye is upset; he wanted his daughter to marry an educated, wealthy man.
The Letter | Laura Bulger
Domingos, living in Canada, writes a letter to his parents in Portugal. His letter puts a positive spin on things but it's interspersed with his real thoughts on his life and family.
The Painted Door | Sinclair Ross
John walks five miles from his farm to his father's to help him with chores. His wife Ann doesn't want him to go because they're expecting a storm and she wants the company. He says he'll ask their neighbor Steven to drop in to play cards while he's gone. Ann decides to do some painting to pass the time. After a while the weather turns bad.
Blackberries | Ellen Hunnicutt
A man returns to his campsite with freshly-picked blackberries. His wife starts talking about being out of milk, and a theater tour in New York. He talks about frying up some cattails and other things they can do where they are.
This Plumber | Bret Lott
A plumber comes to Rick's apartment to check for a leak in the bathroom. Rick's wife has taken almost everything. The plumber asks if he's moving in or moving out, but Rick doesn't want to give any details.
Playing with Dynamite | John Updike
Fanshawe is in his sixties and has slowed down a lot. His wife is a bit younger and spryer. The narrator gives us a look at Fanshawe's childhood, middle years, his marriage, and how his attitude about life has developed.
The Poison of the Blue Rose | Yasmin Marri
The narrator loves the silence of her house. She gets a visit from her friend Gulab Bibi, who has been getting letters from Rafiq. She wants to be with him but her parents have already arranged a marriage.
Five-Twenty | Patrick White
The Natwicks like to sit on their veranda to watch the traffic. They are getting on in years. The husband, Royal, is in a wheelchair with a hernia, heart trouble, and severe arthritis. The wife, Ella, is still able to get around. They get used to seeing a man in a pink and brown Holden at five-twenty. We're told about their earlier life, how they got together and the dynamic of their relationship.
Short Stories About Marriage: Husbands & Wives, Cont'd
Across the Bridge | Mavis Gallant
Sylvie remembers when she was walking in Paris with her mother. She revealed that she didn't love her fiancé, Arnaud, and instead wanted to marry a man she'd been corresponding with, Bernard. Thinking the match is a sure thing, her mother suddenly throws the wedding invitations into the river.
The Magic Barrel | Bernard Malamud
Leo Finkle, studying to be a rabbi, hears that being married would improve his job prospects. He consults a matchmaker, but is concerned about the commercial nature of the venture and wonders whether love plays any part in it.
Blackbird Pie | Raymond Carver
A man relates his remembrances of an evening at home with his wife. He was in his study when an envelope was slipped under his door. It's a letter from his wife but the man doesn't believe it was written by her. He says it wasn't her handwriting and the tone was out of character for her. The letter says their relationship has come to an end. He hesitates before going to look for her.
Premium Harmony | Stephen King
Ray and Mary have been married ten years. They argue now. Ray smokes and Mary has gained weight. Ray waits in the car while Mary goes into the Quik-Pik. It's really hot.
Shifting | Ann Beattie
Larry and Natalie have known each other since they were ten and are now married. Larry is organized and follows a schedule. Natalie is more imaginative, and has her own interests. When Natalie inherits a car, they have different ideas about what should be done with it.
William and Mary | Roald Dahl
Mary Pearl receives a letter from her lawyer following her husband's death. Her husband had been approached by a doctor with an unusual plan for extending his life. He went ahead with it, even though Mary was against the idea.
Reservations: A Love Story | Peter Taylor
Miles and Franny have just married. They sneak out their country club to go on their honeymoon. Things are going fairly well until Franny gets locked in their hotel bathroom. This escalates into an airing of grievances.
In Another Country | David Constantine
Mr. Mercer receives a letter notifying him that Katya has been found in the ice. He claims he had already told Mrs. Mercer about Katya but she doesn't remember.
The Pleasure of Her Company | Jane Smiley
Philip and Frannie move in next to Florence, a single nurse. The women become friends, and Florence spend a lot of time at her place. Florence is curious about marriage; she wants Frannie to talk about it, but she doesn't.
Short Stories About Marriage: Husbands & Wives, Cont'd
The Bear Came Over the Mountain | Alice Munro
Fiona, seventy-years-old, is preparing to leave home for good. A little over a year ago, she started leaving little notes around the house identifying the contents of drawers. Her husband, Grant, takes her to the facility in January. Fiona remembers many things from her past, so he wonders if she really needs to go.
Spring Storm | Mori Yoko
Natsuo is waiting for the elevator in her lobby. She's very excited, having recently auditioned for a play. She's eager to get home to tell her husband about it.
The Mole | Yasunari Kawabata
Sayoko writes a letter to her husband. She says she dreamed of the mole on her back, which was a source of contention between them. She reflects on details of their marriage, and the history of her mole, including how it became a focus for her.
A Country Love Story | Jean Stafford
Daniel, a professor who has just spent time recuperating in a sanitarium, moves with his younger wife, May, to a place in the country. A distance develops between them with Daniel working on some research and May turning to fantasy to get her through the days.
The Carved Table | Mary Peterson
A remarried woman has dinner with her husband's family. She doesn't express herself much, but silently compares their values.
Celebration | W.D. Valgardson
Mabel fries potatoes while Eric balances on a kitchen chair. Mabel says they need more wood for the stove, but Eric tells her to get it herself. Mabel has been drinking so she responds harshly; Eric has been drinking more, and he escalates the argument. Their arguments have turned violent before, and this one seems to be heading the same way.
"In Dreams Begin Responsibilities" by Delmore Schwartz
The narrator dreams he is in a movie theatre in 1909. He watches a movie about his parents' courtship. He reacts strongly to several parts of the film.
Read "In Dreams Begin Responsibilities"
Short Stories About Divorce & Separation
"Wants" by Grace Paley
A woman runs into her ex husband outside a library where she is returning books that are eighteen years late. They gently argue about their life together and what made things go wrong.
This story can be read in the preview of Enormous Changes at the Last Minute: Stories.
"Popular Mechanics" by Raymond Carver
A man and woman, possibly married, have an argument as he's packing to leave home. The subject of their baby comes up, causing a quick escalation of the conflict. (Summary)
"Access to the Children" by William Trevor
On a Sunday afternoon, Malcolmson goes to his ex-wife's flat and picks up his two daughters, Deirdre and Susie. They don't want to go to the zoo again. It takes a while to settle on something. Malcolmson had had an affair with a woman he met on the train, Diana. It brought on the end of his marriage to Elizabeth. Diana later met someone else and ended things with Malcolmson. Now, he loves Elizabeth again.
This is the second story in the preview of The Collected Stories. (Kindle preview)
"Simple Arithmetic" by Virginia Moriconi
A teenage son and his divorced parents correspond by mail. He has trouble reaching his mother, and his father nags him about various things. (This story focuses more on the relationship between the son and his parents.)
Read "Simple Arithmetic" This story can be found in the anthology Other People's Mail: An Anthology of Letter Stories.
"L. T.'s Theory of Pets" by Stephen King
L. T. likes to tell the story of how his wife left him, but he doesn't like talking about how she's likely dead now, a victim of the Axe Man. Arriving home from work one day he found the garage door open and her car gone. Inside, there's a note from her on the fridge telling him she's left him and detailing her reasons. L. T. believes a lot of their problems came from their two pets—a dog she bought for him and a cat he bought for her. She says she's going to her mother's but she never arrives.
Short Stories About Divorce, Cont'd
The Kid's Guide to Divorce | Lorrie Moore
A young daughter is visiting her mother. They watch movies and have popcorn.
Read "The Kid's Guide to Divorce"
Separating | John Updike
A middle-aged, middle-class couple has plans to separate. They decide to wait until the summer break, so their four children will have time to adjust to the news before returning to school.
The Adulterous Woman | Albert Camus
Janine, a woman in her forties, is riding a bus with her husband, Marcel, on a business trip. She thinks about her marriage. She notices that a French soldier sitting across from her is looking at her a lot.
Read "The Adulterous Woman" (PDF Pg 4)
The Resplendent Quetzal | Margaret Atwood
Sarah and Edward are on a guided tour in Mexico. She sits by a sacrificial well. The guide moves everyone along but Sarah stays. She's not interested in seeing everything. They're here because Edward's latest obsession is pre-Columbian ruins. Edward is even farther behind the group. He's bird-watching, which is one of his long-time interests. They're not close anymore.
Signals | Raymond Carver
Wayne and Caroline go to Aldo's, an elegant new restaurant. They talk about the maître d', who's rumored to have an uncle at the Vatican and to have known some famous people. They try to enjoy themselves, but they get sidetracked with petty bickering.
---
I'll keep adding short stories about marriage and divorce as I find more.