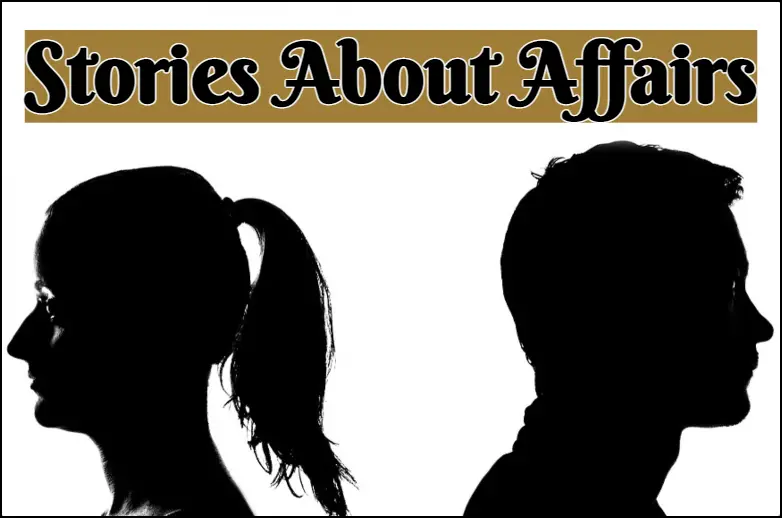 These short stories about cheating wives, husbands, girlfriends or boyfriends have a married character or one in a committed relationship who cheats or has cheated on their partner, either secretly or openly. Some stories might simply have a character who wants to cheat. See also:
Stories About Cheating or Adultery
"The Lady with the Pet Dog" by Anton Chekhov
Dmitri is unhappily married, unfaithful to his wife, and has a low opinion of women. While on vacation he meets a young woman, also married, and they have an affair. After Dmitri returns to his routine he finds that he can't stop thinking about her.
This story can be read in the preview of Stories of Anton Chekhov.
Bertha Young is happy with everything in her life. She's throwing a dinner party, and one of the guests is her friend Pearl. Bertha's husband doesn't really like Pearl, but she hopes they will grow to like each other.
This story can be read in the preview of The Complete Short Stories.
Maria and Juan are a young married couple. Maria works hard, is frugal, and is respected in her Mexican town. She is pregnant. Although she doesn't believe in the remedies of the local medicine-woman, Maria feels she needs honey to prevent her child from being "marked" in some way. She goes to her place, where a young beekeeper, Maria Rosa, also lives.
This is the first story in the preview of Collected Stories and Other Writings.
Rediscover Intimacy in Your Marriage With Romantic Texts!
"Hot Springs" by James Crumley
Benbow and Mona Sue are hiding out at a mountain cabin. They're waiting for her to give birth. Then they'll go to Canada; no one will follow them there. Mona Sue warns that R. L. is coming. Benbow took off with his money and with Mona Sue.
This story can be read in the preview of The Best of the Best American Mystery Stories: The First Ten Years. (18% in)
La Grande Bretêche is an abandoned manor house. Dr. Bianchon is curious about the house, and finds out its history. The deceased owner, Madame de Merret, made arrangements with a lawyer that the house be undisturbed for fifty years. She had a Spanish lover who would visit when her husband was away.
This story can be read in the preview of Stories of Terror and the Supernatural.
"Access to the Children" by William Trevor
On a Sunday afternoon, Malcolmson goes to his ex-wife's flat and picks up his two daughters, Deirdre and Susie. They don't want to go to the zoo again. It takes a while to settle on something. Malcolmson had had an affair with a woman he met on the train, Diana. It brought on the end of his marriage to Elizabeth. Diana later met someone else and ended things with Malcolmson. Now, he loves Elizabeth again.
This is the second story in the preview of The Collected Stories. (Kindle preview)
"Park & Play" by Hannah Tinti
The narrator is a maid at the Park & Play Motel. They get a lot of lodgers who go to the nearby casino. The owner, Shirley, supports her husband who lost both his legs in Iraq. The maid sees a lot of people and a lot of things at the motel.
This story can be read in the preview of The Nicotine Chronicles. (20% in)
Short Stories About Cheating, Affairs, Infidelity & Adultery, Cont'd
"A Friendship" by William Trevor
Francesca and Margy spend a lot of time together. Margy works at an antique shop and is involved with the owner, a married man. Francesca is married to Philip, a successful lawyer. They have two young sons who cause a lot of mischief. Francesca and Philip have a big argument over a prank they pulled at home.
This is the second story in the preview of Selected Stories. (26% into preview)
"Call If You Need Me" by Raymond Carver
Dan and Nancy are taking a house for the summer to work things out. Their relationship has deteriorated and they've both been seeing other people. (Summary)
"The Books Always Balance" by Lawrence Block
Myron Hettinger gets a letter on a Tuesday morning. It has no return address, nor is there any other way of telling who it's from. There's nothing written inside. It contains only a picture of Myron and Sheila Bix, his mistress. Another letter arrives on Thursday.
This story can be read in the preview of Enough Rope. (57% in)
"How to Be an Other Woman" by Lorrie Moore
A woman meets a man while waiting for the bus. He asks about the book she's reading. They start going on dates—movies, concerts and museums. They become involved. He's married.
Some of this story can be read in the Amazon preview of Self-Help.
"Ricochet" by Angela Noel
Owen sets up the gun in his cottage. His brother Huw will be over later and everything will be settled then. There's nothing else for him to do at this point. He's lost too much. (Summary)
Mr. Hutton visits Janet Spence, an unmarried woman. He's flirty and invites her to come to his home the next day for lunch. His wife, Emily, is ill and the visit would be good for both of them. When he returns to his car, he's warmly welcomed back by Doris, his mistress. Mr. Hutton spends some time with her and then returns home to his wife.
Some of this story can be read in the preview of Mortal Coils. 
Short Stories About Cheating, Affairs, Infidelity & Adultery, Cont'd
"Amazing Grace" by Bradford Morrow
The narrator was blinded by an accident at work. After a period of despair, he decided to learn braille and improve his family's life. He eventually wrote an article for a newsletter about his experience, which led to work for a newspaper and speaking engagements. He talks about the morning he experienced a significant change.
"Amazing Grace" is in The Uninnocent: Stories.
Marpo, a twenty-seven year old Filipino man, works as a hired man for the Hosoumes. He's an excellent worker and multi-talented besides. He tells the Hosoume girl, Yoneko, about Christianity, which she was already interested in, as her cousins from the city go to a Baptist church for Japanese people. One early spring evening while Mr. Hosoume is out on an errand, there's a tremendous roar and the house starts shaking. The family and Marpo huddle together outside. Mr. Hosoume returns later in the evening, escorted by two strangers, as he was in a car accident.
Mrs. Washington owns a beauty parlor at the back of her father's funeral home, and they both do well in their businesses. Her life becomes more troubled when she falls in love with a quiet schoolteacher, Mr. Jerome Franklin Washington III, a man ten years younger. She wants to take care of him and buy him things. He was beating her while they were seeing each other, but they got married anyway. She eventually hears some gossip that affects her badly.
John Reddinger, a married, successful man is having an affair with Annie, a woman who works at a gallery. John thinks about past mistakes, whereas Annie can live in the moment. They lose touch around Christmas; John can't reach her at home or at work. He's had other affairs, but he loves Annie. His thoughts stay on her during their separation.
"Pretty Mouth and Green My Eyes" by J. D. Salinger
Lee is home with a woman. When the phone rings he checks with her before answering. It's Arthur, a man who was just at the same party as Lee. He asks if Lee noticed when Joannie, his wife, left the party. She's not home yet. She might have left with the Ellenbogens, but he can't get in touch with them. Lee speculates on her whereabouts and Arthur continues to rant.
"The Five Forty-Eight" by John Cheever
When Blake steps off the elevator after work, he sees a woman he had a brief affair with, but he doesn't want to speak to her now. He realizes she is stalking him. He thinks about their relationship, and believes she will be easy to shake.
Short Stories About Cheating, Affairs, Infidelity & Adultery, Cont'd
Mrs. Marroner and Gerta Petersen are sobbing in their respective rooms in the Marroner house. Gerta, a naive young woman, is a servant to the Marroners and they both like her attitude. Mr. Marroner had to go away on business for about a month, but he was delayed; it's been seven months now. He writes to his wife frequently and often asks about Gerta. After a while, Mrs. Marroner notices a change in Gerta—she seems worried and on edge. Eventually, it becomes clear what's wrong.
Joe and Missie, happy newlyweds, live in a modest house in an all-black community. A new man in town, Otis, opens an ice cream parlor, and makes a show of his gold accessories. He talks about his money and his success with women. Joe and Missie's marriage is put to the test.
"The Difference" by Ellen Glasgow
Margaret Fleming receives a letter from a woman, Rose, who says she is in love with Margaret's husband, George, and that George loves her, too. A friend of Margaret's, Dorothy, comes over and they have a debate about philandering husbands and love.
"Sweat" by Zora Neale Hurston
Delia supports her abusive, cheating husband by washing clothes. He comes up with a plan to get rid of her, to take up with his mistress.
"The Doctor's Son" by John O'Hara
There is an outbreak of influenza and Dr. Malloy is sick. His son, Jimmy, drives the replacement, the medical student Dr. Myers, on his rounds. One of the stops is Mrs. Evans, whom Dr. Myers is attracted to.
"The Painted Door" by Sinclair Ross
John walks five miles from his farm to his father's to help him with chores. His wife Ann doesn't want him to go because they're expecting a storm and she wants the company. He says he'll ask their neighbor Steven to drop in to play cards while he's gone. Ann decides to do some painting to pass the time. After a while the weather turns bad.
"Jaws" by Donald Barthelme
William and Natasha tell a cashier at the A&P about their relationship, including money issues, an extra-marital affair, and Natasha's biting problem.
Short Stories About Cheating, Affairs, Infidelity & Adultery, Cont'd
While her husband is waiting out a storm at a local store, Calixta is at home. She goes to bring in her laundry from the front porch when she sees an old love, Alcee. She invites him inside.
"His Women" by Alice Adams
Meredith wants to get back together with Carter. She says she isn't seeing Adam anymore. He is unsure. He thinks about the women who have been in his life—Isabel, his first wife; Meredith, his second wife; and Chase, with whom he had his most recent serious relationship.
"Janus" by Anne Beattie
Andrea, a successful real estate agent, has a favorite bowl that she displays in homes she is selling. She feels the bowl is responsible for her success.
Read "Janus" (scroll down slightly)
"Shoe" by Heidi Jon Schmidt
The narrator thinks about how she imagines her grandfather; she has never seen a picture of him. When she was a child she found a single shoe in her grandmother's closet. It made her mother angry.
"Mrs. Bathurst" by Rudyard Kipling
The narrator gets the story of Mr. Vickery, a reticent man who deserted the navy. He became infatuated with Mrs. Bathurst, a hotel proprietor known for her generosity.
"Residents and Transients" by Bobbie Ann Mason
Mary is married and lives in Kentucky. She is in her parents place, selling it for them in their absence. Her husband is in Louisville, looking for a home for them. Mary has taken a lover and isn't sure if she wants to leave.
"The Cone" by H. G. Wells
Raut, an artist, is sitting with Mrs. Horrocks in her home. Raut asks if her husband knows about them, but she assures him he doesn't. As they talk about their feelings for each other, they hear the door click shut. Mr. Horrocks stands in front of them. They aren't sure how much he has heard.
Short Stories About Cheating, Affairs, Infidelity & Adultery, Cont'd
"We Can Get Them For You Wholesale" by Neil Gaiman
Peter Pinter is a moderate man who loves a bargain. When he finds out his fiance Gwendolyn is seeing another man, he takes out a "contract" on her life. He arranges a meeting in a seamy pub to discuss the details.
Read "We Can Get Them For You Wholesale"
Eric is out walking in the country when he is called over by a neighbor, an old man. After making conversation about their community, the old man shows Eric his museum, a collection of items that all have something in common.
"Mrs. Bixby and the Colonel's Coat" by Roald Dahl
Mrs. Bixby is given an expensive mink coat by her lover, but she doesn't know how she can explain it to her husband. She comes up with a plan to keep it.
Read "Mrs. Bixby and the Colonel's Coat"
"Will You Please Be Quiet, Please?" by Raymond Carver
Ralph and Marian, both studying to be teachers, get married right after graduation. They get teaching jobs and have two children. They are happy except for one incident that Ralph thinks of more often lately—he believes Marian was unfaithful to him two years ago.
"The Murder" by John Steinbeck
Jim is married to Jelka, a foreign woman. She is perfectly agreeable and caters to all his needs. She doesn't speak much. Jim feels there is a barrier between them.
Read "The Murder" (scroll down)
"Chocolate" by Manju Kapur
Abhay tells his wife Tara that she's fat. She would like to be slim, but her husband makes it hard by always bringing her chocolate. They have difficulty conceiving. Tara begins to think Abhay is having an affair.
"The Bear Came Over the Mountain" by Alice Munro
Fiona, seventy-years-old, is preparing to leave home for good. A little over a year ago, she started leaving little notes around the house identifying the contents of drawers. Her husband, Grant, takes her to the facility in January. Fiona remembers many things from her past so he wonders if she really needs to go.
Short Stories About Cheating, Affairs, Infidelity & Adultery, Cont'd
"The Men Who Murdered Mohammed" by Alfred Bester
Henry Hassel comes home to find his wife in the arms of another man. He could get his revenge immediately but he has a more intellectual plan. He gets a revolver and builds a time machine. He goes into the past.
"One More Dead Body" by Kartar Singh Duggal
Mr. Malkani is desperate for a flat in Rawal Building, government controlled accommodations. It's closer to his work, and he thinks about how much better his life would be.  When the Malkani's finally get in, Mrs. Malkani warns her husband not to work overtime. He starts thinking about improving his life even more.
"At the Pit's Mouth" by Rudyard Kipling
A married man is away working. His wife is keeping company with another man. They are frequently seen around town together. After a while the wife gets a letter from her husband.
"Metonymy, or The Husband's Revenge" by Rachel de Queiroz
A sickly man with some property finds a woman to marry. She is poor and emaciated. She thrives in her new situation. This, combined with her husband's indifference to life, creates distance between them. One day she meets a sergeant.
Read "Menonymy, or The Husband's Revenge"
The Rawlings seem to have everything a married couple could want. They have a stable family life, a comfortable home and healthy children. At one point, Matthew Rawlings cheats on his wife, ruining the perfect balance they had.
"Virga Vay and Allan Cedar" by Sinclair Lewis
Virga and Allan arrange secret meetings and spend time with each other whenever they can. They are afraid of Virga's husband and Allan's wife. Allan thinks of a way that they could be together and Virga agrees to the plan.
Read "Virga Vay and Allan Cedar"
"Let's Tell This Story Properly" by Jennifer Nansubuga Makumbi
Nnam's husband Kayita has died. They lived in Manchester. He had two children in Uganda before he married Nnam. Arrangements were made to hold the funeral in Uganda. Kayita's relatives in Uganda are a bit uncooperative.
Read "Let's Tell This Story Properly"
Short Stories About Cheating, Affairs, Infidelity & Adultery, Cont'd
"Angels at the Ritz" by William Trevor
Gavin and Polly are going to a swingers party, hosted by their friends, Malcolm and Sue. Neither couple has done this before. They simply leave these parties before the pairing off happens. There are about thirty couples at the party. One of the couples targets Gavin and Polly.
"The Rags of Time" by Barry Targan
Thomas Wilkins, an English professor, becomes fixated on a student, Fay Lester. She's beautiful and has the reputation of ruining a career at her previous college. At home, his moody adolescent son, Neil, causes some disturbance in his otherwise temperate life.
"Midnight Mass" by Joaquim Maria Machado de Assis
Mr. Nogueira relates a conversation he had with a thirty-year-old woman when he was seventeen. He doesn't fully understand it to the present day. He was staying with Mr. Menezes, a notary, and his wife, Conceição, in Rio de Janeiro. Menzes goes to the "theater" once a week, really a rendezvous with another woman. On Christmas Eve, Mr. Nogueira is planning on going to a midnight mass. While staying up and waiting, Conceição joins him.
"A Passion for History" by Stephen Minot
Kraft, a historian, has purchased land in Nova Scotia. He's there ahead of his family. He starts an affair with a local woman, Thea. Kraft is known as a radical. He tends to view people and his own experiences through the lens of a historian.
"The Amish Farmer" by Vance Bourjaily
Vance is a writing teacher at a university. He tells his class a story, to show the importance of point of view. Ten years ago, his friend Noel called, saying someone had just tried to kill him. Noel and his wife, Dawn, lived on an Amish farm. There was an attraction between Dawn and their Amish landlord, Daniel.
"No One's a Mystery" by Elizabeth Tallent
The narrator, an eighteen-year-old woman, is riding in a pickup truck with Jack, a married man. When he sees his wife's car in the distance, he pushes her down out of sight. They talk about the future of their relationship.
"Servants of the Map" by Andrea Barrett
Max is a surveyor in the Himalayan mountains. His wife, Clara, had given him letters to take with him, to be opened on certain days. He writes to her about his experiences but leaves out the things that would worry her—the daily hardships, the exhaustion, the loneliness, the teasing from his fellow travelers, and the bodies they find.
Short Stories About Cheating, Affairs, Infidelity & Adultery, Cont'd
"Not a Very Nice Story" by Doris Lessing
Frederick and Althea marry in 1947, as do Henry and Muriel. Frederick and Henry, both doctors, have the same goals and eventually buy a practice together. The couples move close together. All four of them get along well. After their first night out together when Althea and Muriel meet, they go back home for a drink. Henry and Althea end up travelling together, as do Frederick and Muriel who make a stop along the way.
It's almost Christmas. Georgie, the seven-year-old narrator, looks forward to the money he's going to get from his Uncle Rodney—maybe a quarter. The family will be taking the train to his grandpa's place to open their presents. Uncle Rodney has trouble with money. He was helped out by Georgie's dad when he stole some money, although his mother believes it was persecution. Georgie knows that Rodney does carry out business because he's helped him with it. Rodney just likes to keep it quiet because he prefers to do business with ladies instead of men.
Read "That Will Be Fine" 
"The Great Switcheroo" by Roald Dahl
Vic and Mary are among the group at Jerry and Samantha's for a cocktail party. Vic is attracted to the hostess, Samantha. He wants to make a pass at her but several things make it too risky. As he considers the complications, an idea starts forming in his mind. It's a bit of a long shot. For one thing, Jerry would have to agree to it.
"Spunk" by Zora Neale Hurston
A large fearless man openly has a relationship with another man's wife. The cuckolded husband reaches his breaking point.
---
I'll keep adding short stories about cheating wives and husbands as I find more.