Flannery O'Connor was a master of the short story. Admittedly, her stories are not for everyone, but if you like her work, even the longest ones are well worth reading.
If you love O'Connor's stories and want to read them at your leisure, The Complete Stories, linked to below, is the collection for you. This volume contains all of her short stories, from her genesis as a writer through her prime as a short story master. There are 31 stories and the collection is 550 pages.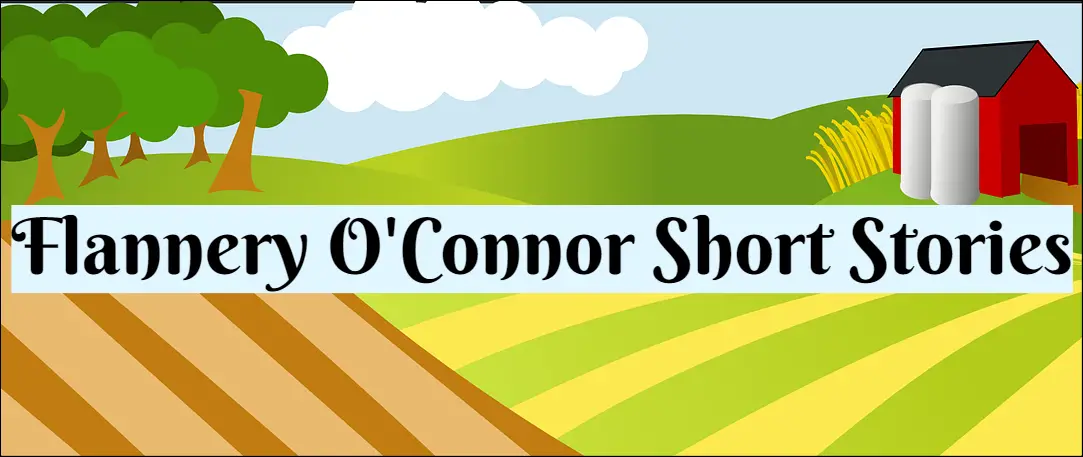 There's a short teaser for each story. I've included links for online reading and an approximate word count where possible. Most of O'Connor's stories are on the longer side by short story standards, but if you enjoy her they feel just right.
Flannery O'Connor Short Stories
The Geranium | 5,000 words
Old Dudley leaves his boarding house in the South to live with his daughter in her New York apartment. Dudley is unhappy with the change, and spends a lot of time looking out the window at a geranium on a neighboring windowsill.
This is the first story in the preview of The Complete Stories.
The Barber
While a man gets his hair cut, his barber ridicules his liberal views, especially his support of a black candidate in the neighborhood.
This is the second story in the preview of The Complete Stories.
Wildcat
There are reports of a wildcat loose in the area. The young men are planning to hunt it down, while "Old Gabriel", an elderly, blind man, is afraid of being attacked by the cat, which he claims to be able to smell.
This is the third story in the preview of The Complete Stories.
The Crop
While doing her daily chore of wiping the crumbs off the dining table, Miss Willerton thinks about ideas for a story. She settles on writing about a sharecropper because it's an arty subject with social implications.
This is the fourth story in the preview of The Complete Stories.
The Artificial N__er | 8,900 words
Mr. Head takes his ten-year-old grandson, Nelson, on a trip into the city. He wants to teach Nelson that the city isn't a great place, so he will be content to live his life in the country.
A Circle in the Fire | 7,600 words
Mrs. Cope owns a large farm. She is protective of her property and feels she is good at handling whatever comes up. One day, three boys visit her; the father of one of the boys used to work for Mrs. Cope. That boy, Powell, remembers the farm and has been telling his friends about it. They want to enjoy farm life for a while.
The Comforts of Home
Thomas looks out his window into the driveway. His mother and a woman he has a low opinion off are getting out of the car. He told his mother if she brought that girl back he was going to leave. His mother wants to help this unfortunate girl who has been in jail and behaves inappropriately around the house. Thomas doesn't believe she can be helped.
The Displaced Person | 17,300 words
A Polish refugee and his family arrive at Mrs. McIntyre's farm to work for her. The man, Mr. Guizac, proves to be an industrious and efficient worker. The Shortleys, a couple who also work on the farm, become concerned about their position. Mrs. McIntyre rules over her little domain, managing her affairs to give herself the most profit.
The Enduring Chill
Asbury, twenty-five-years old, returns home. He's sick. His mother is surprised by how bad he looks. He's in a bad temper and doesn't want to talk. His older sister is the principal of an elementary school. His mother wants him to see Doctor Block, but Asbury knows he can't be helped. He and his sister don't get along.
Enoch and the Gorilla
A famous gorilla from the movies is making a tour of some small theatres. Enoch Emery goes to meet it, with the plan of insulting it. When he gets embarrassed at the event, he decides to do something about it.
Everything That Rises Must Converge | 6,500 words
Julian, a young man, accompanies his mother on a bus ride. It is the 1960's South, and she doesn't like riding alone because of integration. She is poor but is proud that she comes from a once prosperous pre-Civil War family. She also brags about her son to those nearby.
Good Country People | 8,800 words
Mrs. Hopewell is a widow who runs her farm. Her daughter, Joy, has an artificial leg from a hunting accident as a child. Mrs. Hopewell is a Christian; Joy is an atheist with a Ph.D. Mrs. Hopewell likes "good country people", like her hired tenants, the Freemans. She and Mrs. Freeman like exchanging platitudes. Joy is introverted and believes she has life figured out. One day, a traveling Bible salesman calls on Mrs. Hopewell.
A Good Man is Hard to Find | 6,550 words
An extended family is headed to Florida for a vacation. The grandmother wants to go to Tennessee instead, so she talks about an escaped murderer—The Misfit—who is suspected to be on his way to Florida.
Greenleaf
Mrs. May has been running her farm for fifteen years. Her two grown sons live with her but they don't care about the farm. One's a teacher and the other's an insurance salesman. She wakes up to find a bull outside her bedroom window. She wants her hired man, Mr. Greenleaf, to get rid of it. He's not a good worker and his wife annoys Mrs. May even more.
The Heart of the Park
Enoch works the early shift as a gate guard at city park. When his shift ends he always does the same things—looks at women at the swimming pool, gets a milkshake, looks at the animals in cages, and goes to the center of the park to look at something special to him. Today, while he's still at the pool, a man he had seen before, Hazel, catches up to him. He's looking for someone.
Judgement Day
Tanner, an elderly white man from the South, goes to live with his daughter in New York. He thinks he knows how to deal with African-Americans, but when he tries befriending one of his daughter's neighbors, things go wrong.
The Lame Shall Enter First
A boy is in mourning over the death of his mother while his father is focused on helping others. He takes a special interest in a certain troubled child, inviting the boy to stay in their home.
A Late Encounter with the Enemy | 4,300 words
General George Poker Sash is a 104-year-old American Civil War veteran. He gets invited to attend some events because of his age and veteran status. His granddaughter, 62-year-old Sally Poker, prays that he will live to attend her college graduation so everyone will see she has a superior background.
The Life You Save May Be Your Own | 4,800 words
An old woman and her daughter live on a run-down farm. The woman hires a drifter, Mr. Shiftlet, to do work around the place in exchange for shelter. She's angling to marry off her daughter to him.
Parker's Back | 8,200 words
Parker is dissatisfied with his life. He's not sure why he's still with his wife—a deeply religious woman—and she's pregnant. His main focus has been to get tattoos; there's no room left on the front of his body. While driving a tractor, he has an experience that proves to be a turning point for him.
The Partridge Festival
Calhoun is visiting his great-aunts in Partridge. The Azalea Festival is going on, and his aunts assume that's why he's come. Calhoun is interested in what happened ten days ago. A man named Singleton had shot five town dignitaries and one bystander, who was hit with the bullet intended for the mayor. Prior to this, Singleton had been put in a makeshift jail for refusing to buy an Azalea Festival Badge. Now he's back in custody for the killings. Calhoun wants to write a sympathetic piece about Singleton, as an individual who was persecuted by the community.
The Peeler
Hazel is walking downtown where he stops at a demonstration for a potato peeler. He shows how well it works and talks to people in the crowd, including Hazel. Among the crowd is a blind man being led by a young girl. He and the girl start handing out pamphlets to the crowd, which upsets the man selling the peelers.
Revelation | 8,700 words
Mrs. Turpin and her husband are in a doctor's waiting room.  Mrs. Turpin is racist and judgmental, and she attracts the attention of a young woman, who looks at her intently.
The River
Harry, a young boy, is picked up early in the morning by his babysitter, Mrs. Connin. His mother is sick. Mrs. Connin is going to take him to see the Reverend Bevel Summers, a traveling preacher who's going to perform a healing at a local river.
A Stroke of Good Fortune
Ruby has just come back to her apartment after buying some food. She's heavy and in poor health. The climb to her fourth floor suite is going to be very difficult. She holds on to the hope that she and her husband, Bill, will be moving soon. Her younger brother, Rufus, has just come back from the war. Ruby and her husband don't think much of Rufus.
A Temple of the Holy Ghost
Two fourteen-year-old girls, Joanne and Susan, come from their convent school to visit the farm for the weekend. A twelve-year-old girls lives there with her mother. The visitors won't play with the younger girl. Her mother doesn't know how to keep them occupied. Her daughter first offers some unhelpful suggestions but then a good one—the grandsons of a neighbor could come over.
The Train
Haze, nineteen, is travelling by train to Taulkinham. The porter reminds him strongly of a man he used to know; he might even be the man's son. He tries to find a way to talk to him.
The Turkey
Ruller, a young boy, is playing outside when he catches sight of a wild turkey in the bushes. He starts fantasizing about how impressed everyone would be if he caught it. He sees the turkey is injured and decides to go after it.
A View of the Woods
The Pitts family lives with the mother's father on his farm. They moved there ten years ago because her husband didn't have any money. Old man Fortune doesn't like any of them except his granddaughter Mary Fortune. She's like him in appearance and personality. The old man has been selling off pieces of his land, which upsets his son-in-law. He plans on leaving everything to Mary Fortune.
Why Do the Heathen Rage?
Tilman returns home after a two week hospital stay for a stroke. His wife hopes this will be a wake-up call for their grown son, Walter. Mary, their grown daughter, directs the attendants as they stretcher Tilman inside. Walter holds the screen door open. His mother watches him for a sign that he's affected by the situation.
This is O'Connor's shortest story.
You Can't Be Any Poorer Than Dead
Fourteen-year old Francis Tarwater's uncle dies at the breakfast table. He had taken Francis as a baby from another relative, a teacher from the city, and raised and educated him. He had a grudge against this teacher because he once betrayed his confidence. It's the duty of Francis to bury his uncle according to his wishes.
Some of O'Connor's excellent essay on writing short stories can be read here.
What is Flannery O'Connor's Most Famous Story?
I think that has to be "A Good Man is Hard to Find." It seems to be her most widely anthologized story, and probably the most often read.